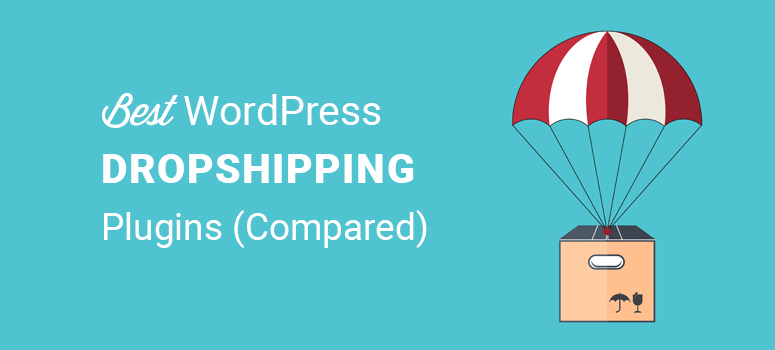 Want to start a dropshipping business with WordPress?
Dropshipping is one of the most profitable and attractive online business because there's little risk involved.
The best thing is that you don't need to invest a lot of money in your inventory too. When a product is ordered from your online store, you purchase it from a third-party vendor and has it shipped directly to the customer. All you need to have is a good internet connection, your laptop, and an online store to display your products.
Why Use a WordPress Dropshipping Plugin?
In order to start a dropshipping business, you'll need to build an online store that is packed with all the features that your business needs. And what can be a better option than to use a great plugin that automatically adds all those features to your site?
In this article, we'll tell you about some of the best dropshipping plugins that come with amazing features. Here are some of the common features that you'll get with these plugins.
Easy way to import products from other dropshipping platforms
Manage imported products right from your dashboard
Handle payments easily
Easy integration with WooCommerce and WordPress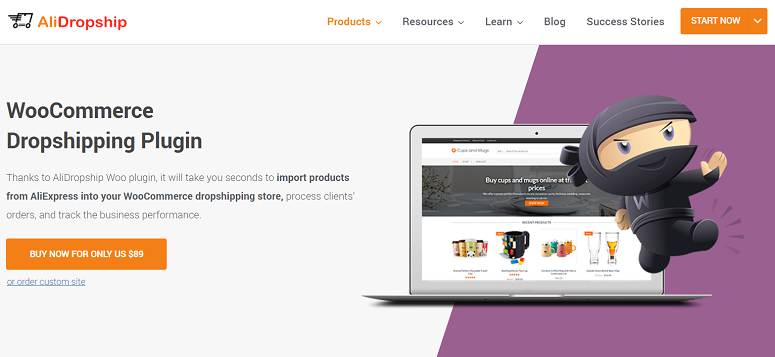 AliDropship is one of the most popular WooCommerce compatible plugin, that lets you import products from AliExpress with a click. This plugin is packed with all the features you need for your dropshipping website. You can earn 8% commission from AliExpress on each purchase made from your website.
With Alidropship, it's easy to send your orders to the AliExpress suppliers without leaving your WordPress dashboard. You can even place your orders automatically as you get new orders from your customer. To make things easier and quicker, you can use the AliDropship Google Chrome extension. This will help you import products to your website one by one or in bulk. You also get to choose several shipping countries and shipping methods all at once.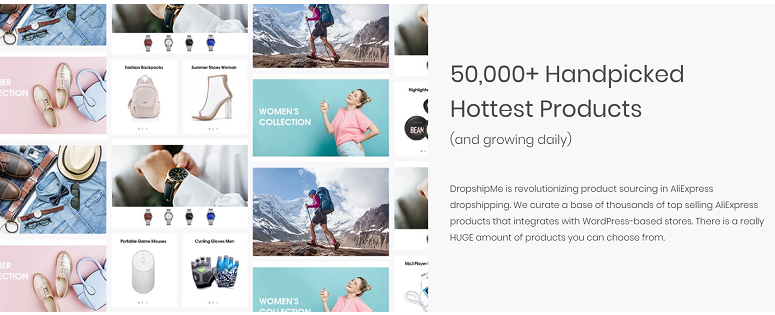 Dropship.me is another great plugin that offers you the easiest option to run your dropshipping business. With this plugin, you can import your products from a collection of more than 50,000 best-selling products within minutes. All the products listed here are hand-picked by experts. This means that you don't have to do any guesswork about which product to choose because all of them are equally good.
The products also come with professional titles and images, so you don't even need to edit them. To build trust and reliability, you can also display real customer reviews for your visitors.
3. WooDropship

WooDropship is an amazing plugin that seamlessly integrates with your WooCommerce enabled WordPress website. All you need to do is to install the plugin and then let it access your store. You can then start importing your products from AliExpress right into your store.
You can also use its Chrome extension to make importing the products even simpler. You even have the flexibility to edit the AliExpress products by changing its title, descriptions, images, etc. to match your website appearance. It also offers you the watermark removal tool that lets you remove any watermark from the product images that you want to list on your site.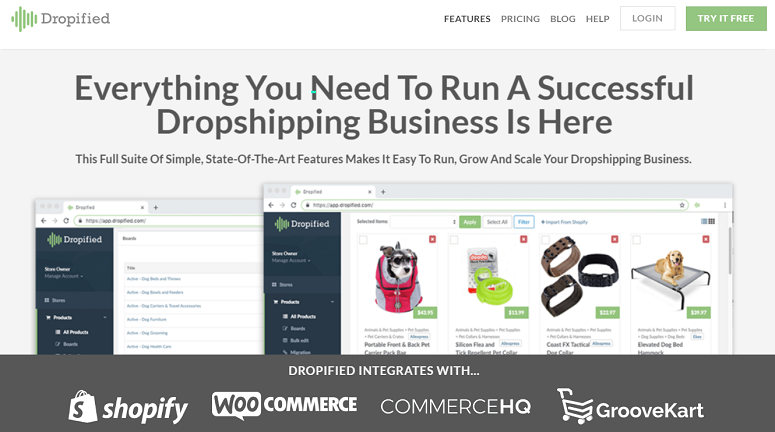 Dropified is a brilliant dropshipping software that comes jam-packed with amazing features. Apart from using it with WooCommerce, you can use it with several other platforms like Shopify, Grovekart, CommerceHQ, etc. This software has made importing the products you want to sell a lot easier. It also automatically updates you about product availability and price changes.
Because of its automated sorting option, you no longer have to keep searching for vendors that ship with trackable numbers. It lets you change the product information while keeping its original details. And if you are not satisfied with a vendor, it offers you the option to change it without any hassle.
5. Ezusy

Ezusy is another WordPress dropshipping plugin that you can try out. With this tool, it's much easier to import any AliExpress product to your WooComerce store. To place an order on AliExpress, you don't have to do anything manually. Just click on the product and Ezusy will take it from there.
Like the above plugins, this one also auto-updates and notifies you about change in the inventory and prices of the product. You can use Ezusy with any theme and it's compatible with several other advanced plugins as well. It is also super easy to set up. But if you have any problem you can simply look at its extensive knowledge base.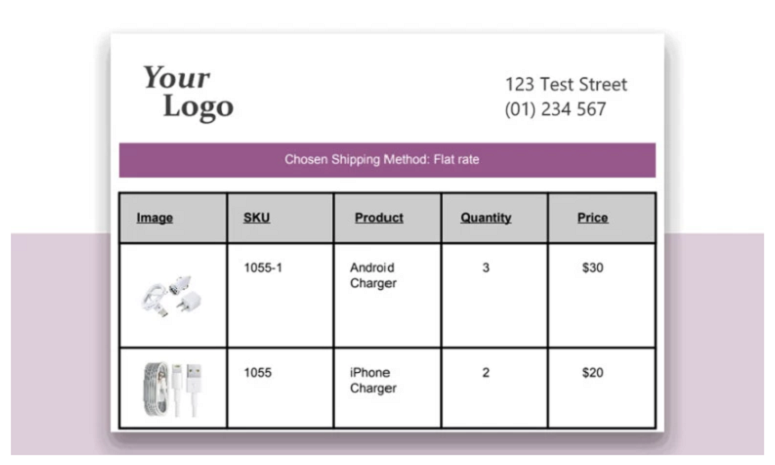 WooCommerce Dropshipping is a robust store management tool for anyone in the dropshipping business. It not only lets you add your products with ease but also simplifies the way you manage your suppliers.
This plugin lets you notify your suppliers as soon as their product is purchased through your store. If you want, you can generate a packing slip and attach it with the order notification email. You can also manage your inventory for your suppliers in one location. You can also quickly assign your inventory to a specific supplier with just a single click.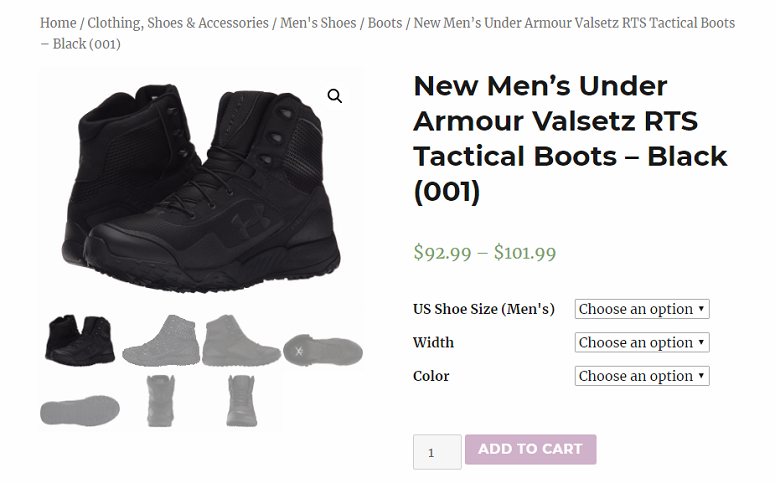 eBay Dropship for WooCommerce is a WordPress dropshipping plugin for you if you want to import affiliate and dropship products from eBay. With just a few clicks, you can have these products right on your Woocommerce store. You can come up with product variation and add multiple sizes, color. material, etc. to diversify the options for your shoppers.
You can also remove phrases from your eBay imported products and add your own phrases too. It also lets you change the entire description, images, and title and add your own to meet your brand needs. This plugin is compatible with the latest versions of WordPress and works seamlessly with all themes.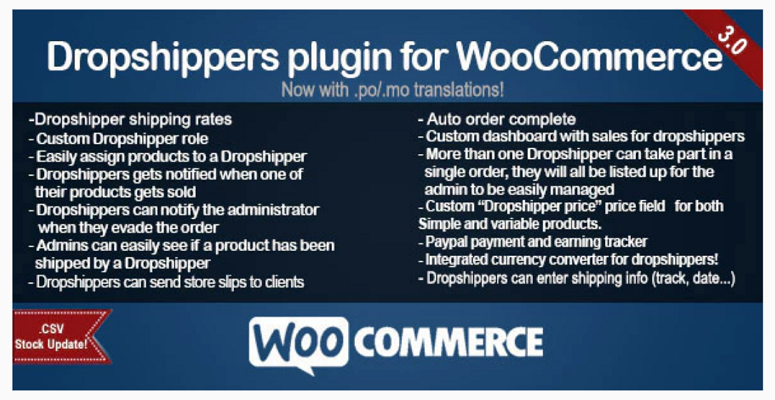 WooCommerce Dropshippers is yet another brilliant plugin that'll convert your WooCommerce website into an amazing dropshipping platform. This plugin comes packed with all the features that a dropshipping website needs.
It also enables you to customize your payment settings. As an admin, you can use PayPal to make payments to your vendors.You even have the option to hide or show the information of your vendors to the buyer.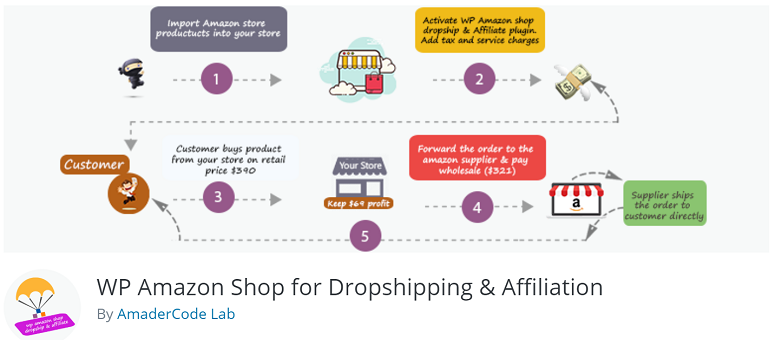 WP Amazon Shop for Dropshippers is a free WordPress dropshipping plugin that offers you the easiest way to import products from Amazon to your WooCommerce website. It comes loaded with amazing features and has great options to maximize your profit in your dropshipping business. With this plugin, it's also easy to handle your affiliate programs.
The plugin lets you have full control over the way you want to display your products. From customizing your Add to Cart button label to adding star ratings and review, it lets you do everything to make your showcase appear appealing and reliable for your users.

Checkout Manager for WooCommerce is a perfect WooCommerce dropshipping plugin to manage your checkout page with ease. You can add or delete and reorder the billing fields, shipping fields and additional fields of your checkout page. It also offers you the options to enable or disable any field from your checkout page.
If you want to make a field mandatory, that's possible too. The plugin also has a premium version that comes with more advanced options. However, the free one is also a great option to start with.
So that's it.
We hope you like this article. If you did, you might also be interested in learning how to make an online store.