Altitude Pro is a beautiful Genesis child theme with lots of options for customizing your homepage content. It features big, bold full-size images on the homepage, and is built on the fast, lightweight Genesis framework. Read our StudioPress Altitude Pro review to find out if this premium theme is right for you.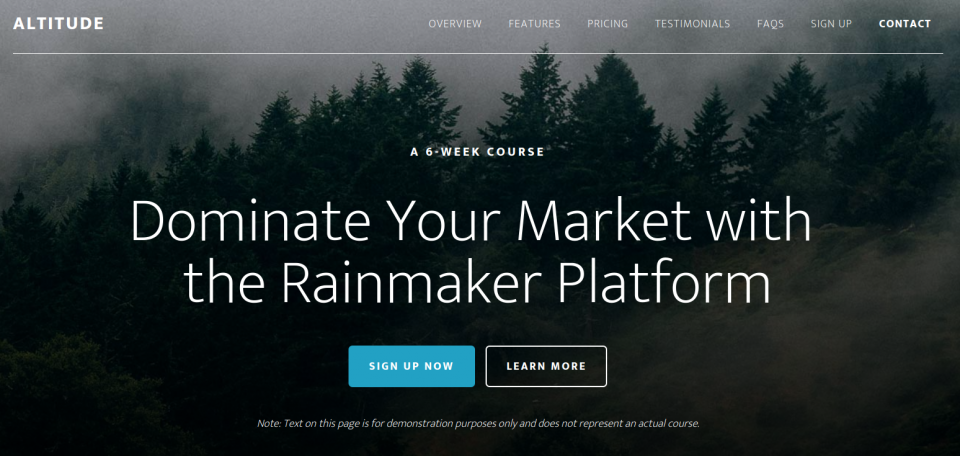 About StudioPress Altitude Pro
The Altitude Pro theme is a child theme of the Genesis framework by StudioPress, so you'll need both the Genesis framework theme and the Altitude Pro child theme in order for it to work.
A child theme is a special type of WordPress theme that inherits its functions from a designated parent theme — you can read more about how child themes work here. StudioPress explains it as a car metaphor: WordPress is the engine, the Genesis framework is the frame and body, and your chosen child theme (in this case, Altitude Pro) is the paint job on top.
The Genesis framework is solidly coded, and built to be fast, lightweight, and flexible. The developers also place emphasis on security and SEO, and every single child theme is fully responsive.
Altitude Pro stands apart from other Genesis themes with its huge background images, scrolling effects, and numerous widget areas to customize your homepage.
Features of StudioPress Altitude Pro
Altitude Pro is a lightweight, well-coded theme that's easy to learn. It has a beautiful modern design with just enough customization options to do the job without overwhelm. Here are a few of its standout features.
Stunning Homepage
The first thing that stands out about this particular StudioPress theme is the eye-catching homepage.
It features a full-width background image at the top of the page, and 3 more background images as you scroll down the page. Each featured image can have content placed over it using widgets, and there are widgetized areas in between each image. Altogether, that makes 7 front page widget areas you can use to build your homepage.
You can replace the images with your own — just keep in mind the default images are 1600 pixels wide and 1050 pixels tall.
Don't want to use all seven? No problem, just delete the image and leave the widget area blank, and it won't be displayed.
Homepage Scrolling Effects
To add even more interest to the homepage, each image dims slightly as the user scrolls down, focusing their attention on the next section.
Unlimited Color Options
Instead of being constrained to a few "skins" to choose from, you can use a color picker to choose your accent color. Or just enter in the hex code of the color you want.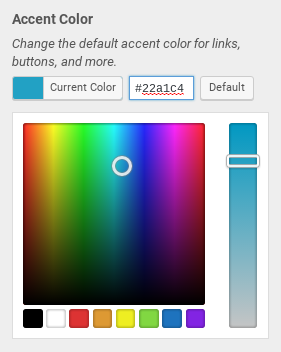 The color you choose will be used for links, hover effects, and the footer background.
Flexible Menu Options
Altitude Pro has two header menu areas available: a Header menu that displays on the right side of the page opposite your site title or logo, and a Before Header that is left-aligned and displays above your site title.
As the user scrolls down the page, the Before Header menu disappears while your logo and Header menu stick to the top of the page.
There's also a footer menu area that displays at the very bottom of the page, immediately above the credits.
Footer Widget Area
Besides the 7 front page widget areas, there's also a footer widget area that displays on every page across your entire site.
Widgets placed in the footer widget area will be displayed at 100% width. If you add more than one widget, they'll stack on top of each other.
The background color of the footer area is determined by the Accent Color you choose in the Appearance » Customize » Colors menu.
Flexible Page Layouts and Templates
Under Appearance » Customize » Site Layout, you can choose to display your pages and posts as full-width, with a left sidebar, or with a right sidebar.
When creating a page, you can choose from the following templates:
Default (as chosen under Site Layout options)
Archive: a sitemap-style listing of all your pages, categories, authors, archive months, and recent posts
Blog: a traditional blog index page that lists your most recent posts. Can be customized under Appearance » Customize » Content Archives
Landing: a basic landing page without navigation, designed to boost conversions
Built-in Breadcrumbs
All Genesis themes have the option to enable and customize breadcrumbs, which improve usability and can also help SEO.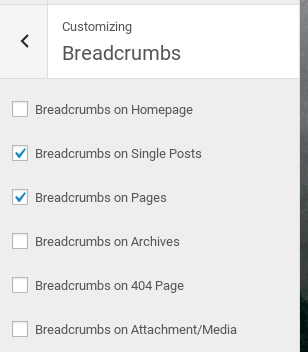 Lightweight and Well-Coded
Altitude Pro and Genesis are well-coded, lightweight themes that don't have the bloat of many other premium WordPress themes.
Because of this, they load quickly, play well with the WordPress core and third-party plugins, and can have SEO benefits for your site.
Documentation and Support
With Altitude Pro you get access to detailed, step-by-step documentation on exactly how to set up your site just like in the demo.
StudioPress also makes available general documentation for the Genesis framework, including code snippets you can use to further customize your theme.
Altitude Pro is available for a one-time purchase fee which allows you to use the theme on an unlimited number of sites. You also get access to unlimited email support. StudioPress is known for the quality and speed of their user support.
Save Money on Themes With Genesis Pro
Altitude Pro is just one of the dozens of Genesis themes, many of which share the features listed above. They're all fast, lightweight, well-coded, and easy to use.
To get access to Altitude Pro, you need to subscribe to the Genesis Pro package which costs $360 per year. With the purchase of Genesis Pro, you get access to and support for Genesis & all the StudioPress-made themes.
You don't have to host on WP Engine to use Genesis Pro but you can get all of these themes for free if you do. Check out our guide How to Get 35+ Premium StudioPress Themes for Free for more details.
Alternatives to Altitude Theme Pro
Altitude Pro is a pretty good WordPress theme, however, you need to either subscribe to Genesis Pro or WP Engine in order to get it. So you may want to explore some of the top WordPress themes in the market. Our top 2 picks are: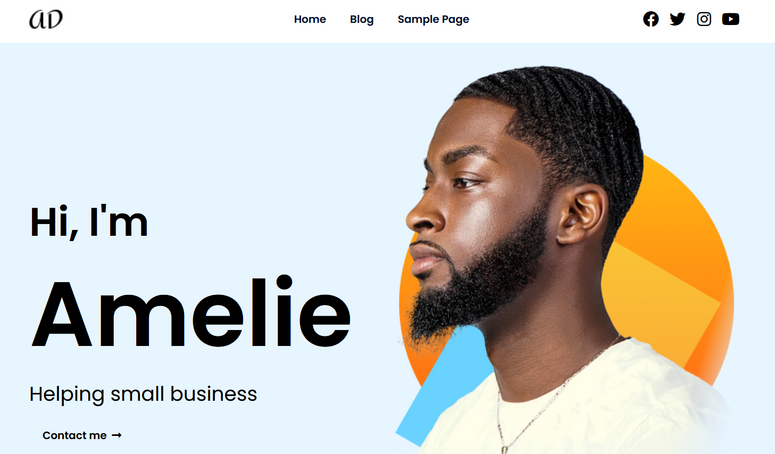 SeedProd is the best website theme builder for WordPress. You'll get prebuilt theme kits inside that you can import and customize using the drag and drop builder.
So it's all under one roof – Your theme, theme builder, page builder, and it even includes coming soon and maintenance mode. So this really is our top pick for any WordPress site.
Even if you're a beginner, you can easily create custom themes, pages, and layouts for your WordPress site. There are tons of page templates that make it so simple to do this in a matter of minutes.
SeedProd comes with readymade page blocks like contact forms, countdown timers, image carousels, animated headlines, background videos, social profiles, and much more.
SeedProd is also a responsive WordPress theme and it's optimized for speed, so you can ensure your site loads quickly and looks great on all devices.

Thrive Themes is one of the most popular themes for WordPress. If you want to maximize conversions on your site, the Thrive is the one for you.
You can choose from premade themes that are responsive and mobile friendly Then there are 100s of design elements included so you can customize the theme to make a unique design for your site.
It comes with an intuitive drag and drog theme builder that makes it easy for anyone to build a stunning website.
Our Score
Altitude Pro is a beautiful theme with a modern, high-impact design that's sure to impress your visitors.
We found the theme to be easy to use with just enough customization options — without the bloat of many other premium themes.
Altitude Pro is built on the Genesis framework, which is fast, lightweight, and well-coded. Plus, it includes excellent unlimited support and lifetime updates for just a one-time fee.
We give StudioPress Altitude Pro 5 out of 5 stars. Here is the breakdown of our review scores:
Get Altitude Pro Now »