Flatsome is a highly customizable theme designed primarily for eCommerce sites using the WooCommerce plugin. It includes a user-friendly visual editor that lets you design your pages and posts from the front end of your site. Find out if this popular WordPress theme is right for your online shop in our Flatsome review.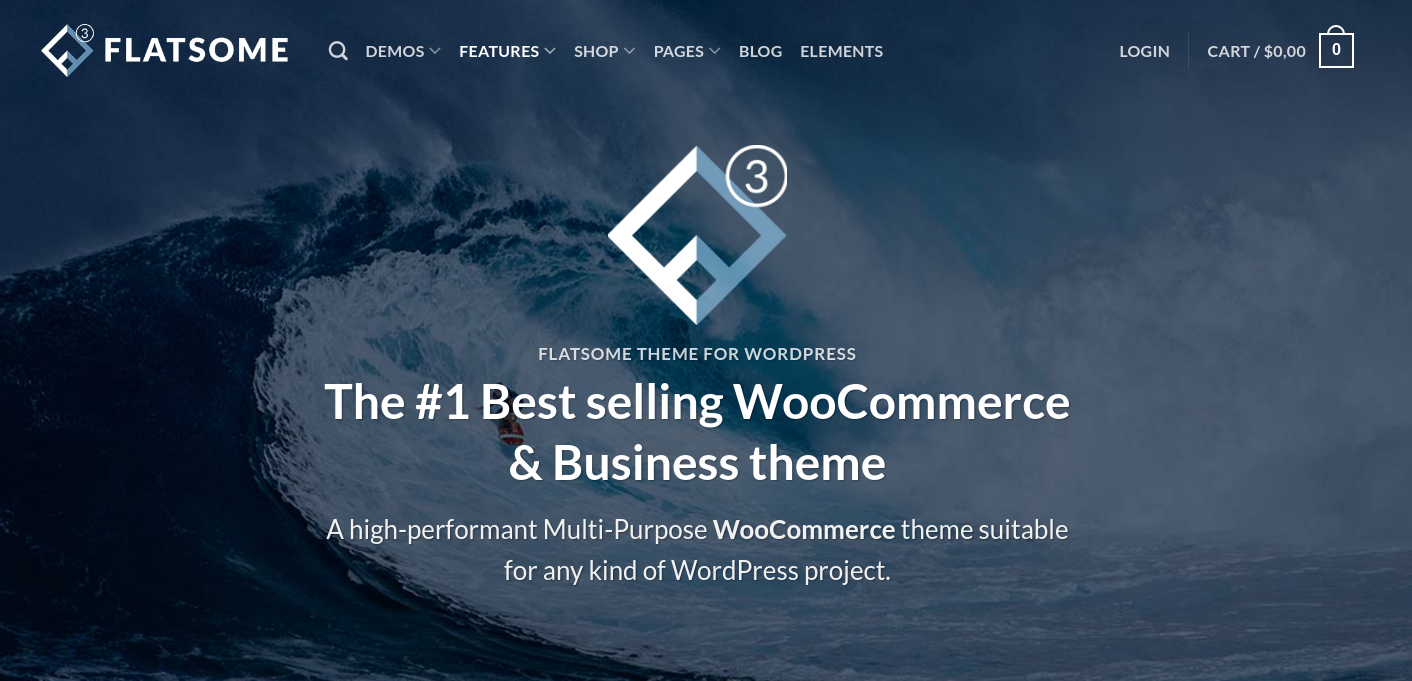 About Flatsome
Flatsome is designed and developed by UX Themes and is one of the most popular and highly rated themes on Themeforest with over 30,000 sales. The goal of UX Themes is to design themes that are easy to use and customize even if you don't know any code.
Flatsome 3.1 is the latest version of this popular theme. The 3.0 version was completely rebuilt from the ground up and includes many more options and features than the previous version.
While it's designed to integrate easily with WooCommerce for eCommerce sites, it can also be used as a multipurpose theme for any type of site.
Features of Flatsome
Flatsome has a lot of unique tools and options that set it apart. Here are the key features:
WooCommerce Integration
Flatsome can be used as a multipurpose theme, but it was primarily designed to integrate with the free WooCommerce plugin to run eCommerce sites.
By default, Flatsome will display a shopping cart icon in the header, and has many options that make it easy to show off all your WooCommerce products.
Setup Wizard
After installing and activating the Flatsome theme, you'll automatically be redirected to a setup wizard that will walk you through the process of getting started.
(If you want to skip the wizard, for now, you can restart it at any time by going to Flatsome » Setup Wizard from your dashboard.)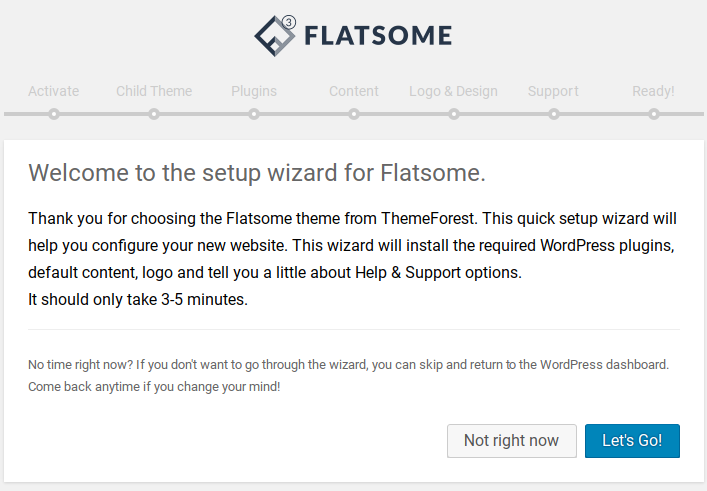 The setup even includes the option of automatically creating your own child theme, so that any modifications you make will be saved in case of a theme update.
The setup wizard asks you to install several plugins. They are:
Contact Form 7 (required)
Nextend Facebook Connect (required)
Nextend Google Connect (required)
Regenerate Thumbnails (required)
Unlimited Sidebars Woosidebars (required)
WooCommerce
YITH WooCommerce Wishlist (required)
You can skip the step and choose which ones you'd like to install later on from your dashboard. The theme will still function without them, so feel free to use a better alternative if you choose (such as the more user-friendly WPForms instead of Contact Form 7).
The setup wizard will then ask you about creating demo content. If you're installing the theme on a brand new site, this could be a helpful way to set up your site like in the Flatsome theme demo. You can then edit and customize the content to your liking. But if you're using an existing site, you'll probably want to skip this step. (Note that if you haven't installed all the "required" plugins, some of the demo content may not work.)
Next, you can upload your logo (any size; it will shrink or expand to fit the header) and choose a preset design.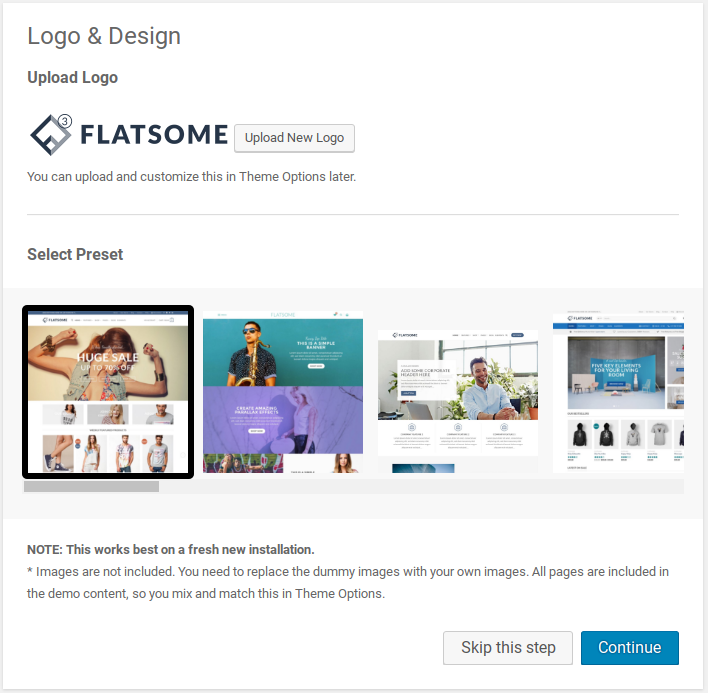 Header Builder and Front End Editor
If you navigate to Appearance » Customize, you'll see a lot of options for customizing the look of your site.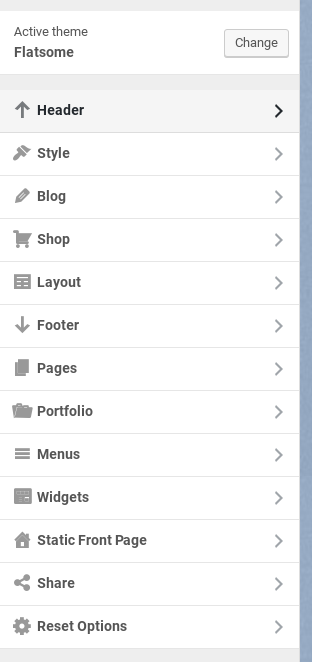 Clicking on the Header menu allows you to customize your options for the header, and also to use the Header Builder, a drag and drop layout editor.

You can pretty much add anything you want to the header using the builder, even your own custom HTML code. You can also adjust the width, height, colors, and other style options.
From any page or post, you can also access the front end page builder — just click the UX Builder tab.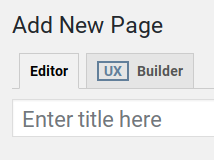 Get started by choosing a template, or elements to add and arrange.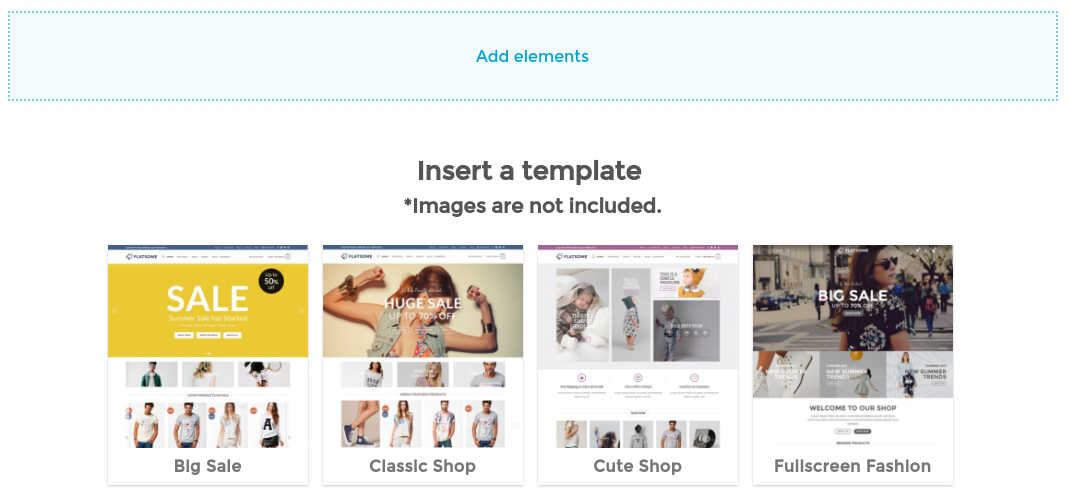 There are lots of different elements available, including text, buttons, image galleries, social media feeds, countdowns, WooCommerce products, and more.

Many elements have detailed options, such as the banner, which comes with plenty of templates to choose from.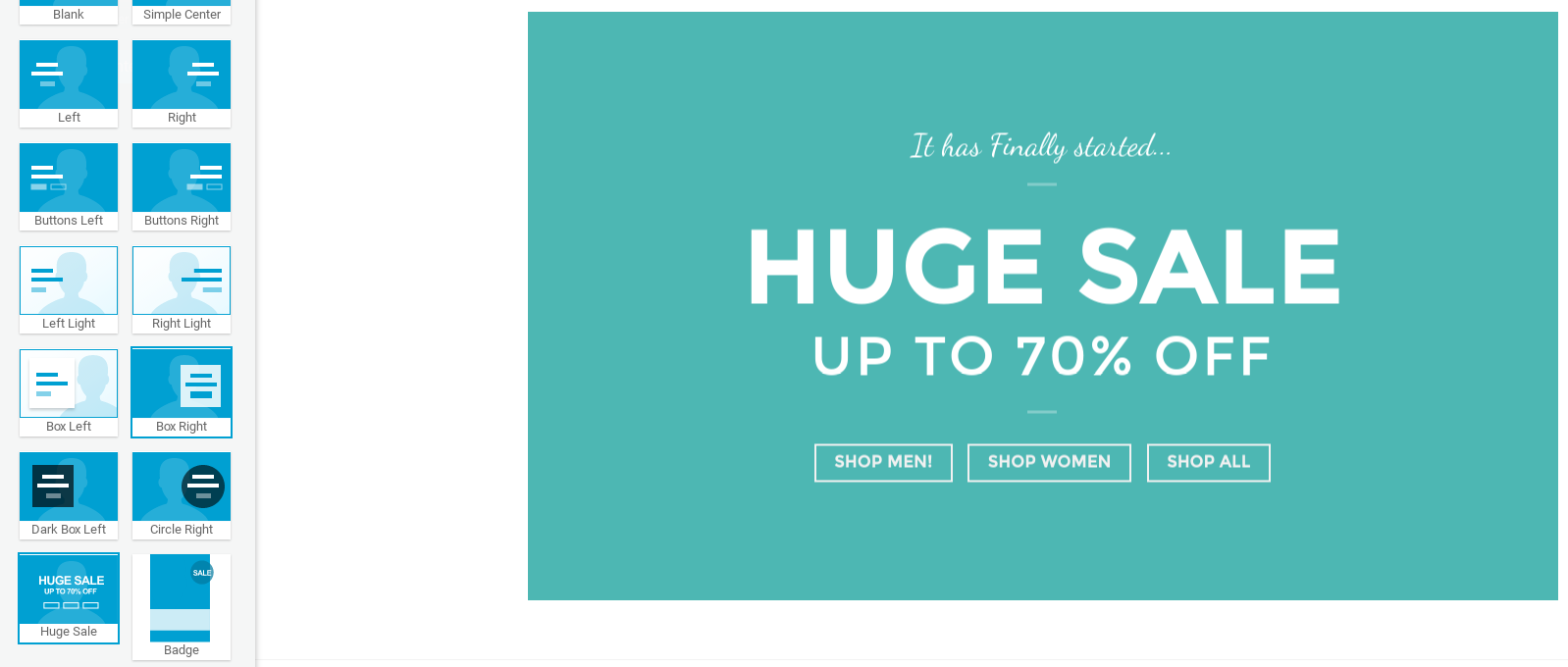 You can click on any part of the element to edit the text with a visual editor.

Built-in Slider Element
One of the elements available in the front end page builder is a slider.
Images, banners, grids, and more can be added as slides. Each slide can have a caption, overlay color, hover effects, and animations.

"Blocks" Custom Post Type
If you find that there are certain elements you're using over and over again or combinations of elements, you can create custom "blocks" using those elements. Each block can be displayed using a shortcode on any page or post.
Flexible Style Options
From the Appearance » Customize menu, you can adjust your site's colors, typography, and default layout. You can choose from over 700 Google fonts and unlimited color options.
You can also customize the layout and content of your shop's category, product, account, cart, and checkout pages.
The footer of your site is also completely customizable, including colors, images, credit text, number of columns, and more.
Portfolio Custom Post Type
Flatsome also has a built-in portfolio option. You can add portfolio items as custom post types, and customize the layout in the Appearance » Customize menu.
(Just keep in mind that if you decide to switch themes at any time in the future, all your portfolio items will be lost, since the custom post type is built in to the Flatsome theme.)
Documentation and Support
From your WordPress dashboard, you can navigate to Flatsome » Help & Guides to access the documentation and support.
Basic documentation is available on the UX Themes site. There are articles on setting up your theme, configuring basic options, and troubleshooting the most common issues. A few video tutorials are also available.
With your purchase of Flatsome, you get access to 6 months of private email support from the developer.
There's also an active Facebook group for the theme where you can get community support.
Our Score
Flatsome is a highly customizable theme with a huge amount of customization options available. Though all the options can be overwhelming, the user interface is well designed and easy to navigate. There is a bit of a learning curve, but the front end builder is easy to use. Flatsome does make it easy to customize your site without having to learn any code.
Because so many features are built into the theme, you'll lose a lot of your site content (such as your portfolio) if you ever decide to switch themes in the future, so keep that in mind as you consider this theme.
We give Flatsome 5 out of 5 stars. Here is the breakdown of our review scores:
Get Flatsome Now »