Enigma is a popular free WordPress theme available in the directory at WordPress.org. It's a multipurpose responsive theme that has a customizable homepage with options to show off your portfolio or services. Find out how it works in our Enigma review.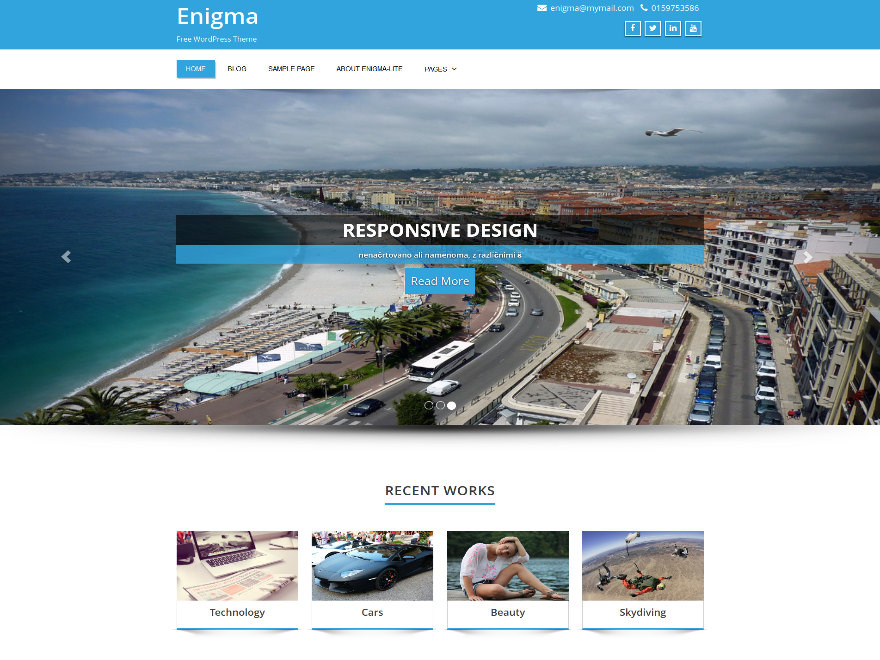 About Enigma
Enigma is a highly rated and popular WordPress theme with over 30,000 active installs. It's developed by Weblizar, makers of several free and premium WordPress themes and plugins.
Features of Enigma
You can access most of Enigma's customization options by navigating to Appearance » Customize from the WordPress dashboard. Here are the main features:
Built-in Theme Slider
One of Enigma's most prominent features is the large slider on the homepage. This slider can be customized with your own images, texts, and links.
Just go to Appearance » Customize » Theme Options » Theme Slider Options to get started.
For each slider, you can change the image, title, description, button text, and button link.

You can have up to 3 slides. If an image isn't selected, the slider text won't display.
The images will stretch to fit the screen size, so it's best to use images that are at least 1920 pixels in width so they don't get pixelated and blurry on larger screens.
The image height isn't cropped or adjusted at all, so you should use images that are all the same aspect ratio. If the heights are different, it will cause the content below the slider to jump around as the slide changes.
(If you're looking for a better way to build image sliders, check out the Soliloquy plugin.)
Customizable Homepage Content
The rest of the homepage content is also customizable under Appearance » Customize » Theme Options. You can modify each section under the Service Options, Portfolio Options, and Home Blog Options menu items.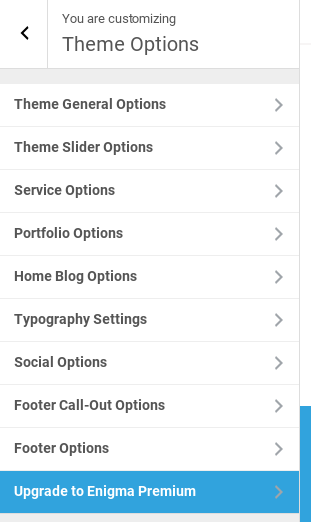 Under Service Options, you can customize the title, link, text, and icon for each section.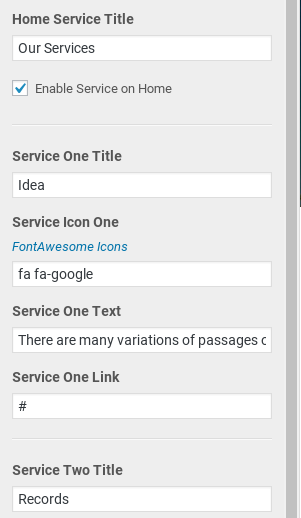 Portfolio Options lets you customize the "Recent Works" section by adding your own images, titles, and links.

You can also change the title of the "Latest Blog" section in the Home Blog Options menu.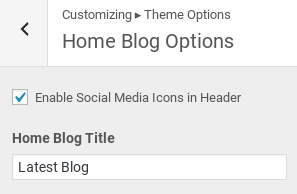 Typography Options
In Appearance » Customize » Theme Options » Typography Settings, you can choose the fonts for your site title, header menu, headings, and body font.
Social Buttons in Header and Footer
Social buttons appear in the header and footer of the Enigma theme. You can add your social media profile links under Appearance » Customize » Theme Options » Social Options.
You can also choose to display your email address and phone number.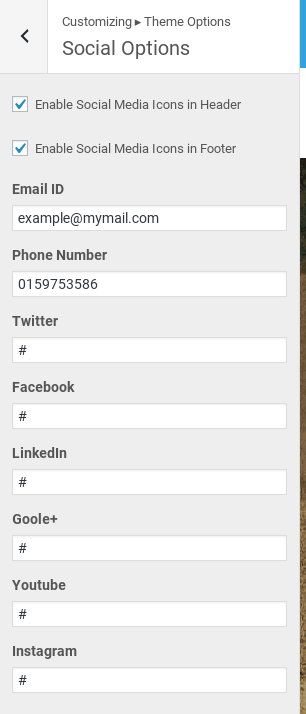 Customizable Footer
Enigma has a section above the footer that displays a call to action. If you navigate to Appearance » Customize » Theme Options » Footer Call-Out Options, you can change the icon, text, button text, and link.

You can also edit the footer credits text under Appearance » Customize » Theme Options » Footer Options.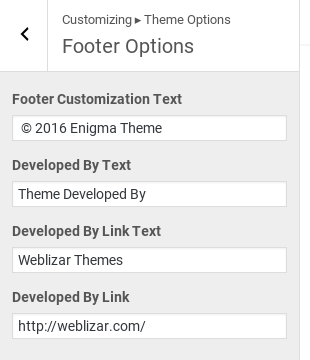 Get More Options With Enigma Premium
There's a premium version of the Enigma theme that includes more customization options:
set your own color schemes with color picker
enable "coming soon" mode
17+ page templates
custom shortcodes
Documentation and Support
The free version of the Enigma theme has no documentation.
There is sparse documentation that goes over some features of the Enigma Premium theme, but it's lacking in useful details.
For users of the free theme, community support is available in the WordPress.org forums. The community and the developers are active and most threads are responded to within a day or so.
If you purchase the premium version of the theme, you can post in the premium support forums on the Weblizar site, where typical response times are also within a day.
Our Score
Enigma may be a good choice for those looking for a basic WordPress theme. It's easy to use and isn't bloated with features you'll never use, yet has a good amount of options to customize your homepage.
It is missing some basic customization options, like the ability to change the accent color on your site. This feature is only available in the premium version. The lack of documentation may also be an issue.
Remember that any content you enter in a theme-specific feature, like Enigma's homepage content settings, will be lost if you ever decide to switch themes in the future.
We give Enigma 4 out of 5 stars. Here is the breakdown of our review scores:
Get Enigma Now »