Activello is a popular WordPress blog theme in the official WordPress themes directory. It is a minimal multipurpose WordPress blog theme created by Colorlib, a popular WordPress themes hub. In this Activello review, let's take a look at its features and analyze whether it is the best theme for your site.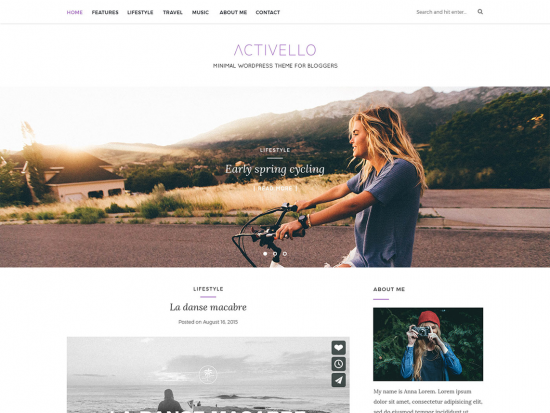 About Activello Theme
With 20000+ active installs, Activello is among the most popular free multipurpose WordPress blog themes.
This theme is developed by Colorlib, a team of professional web designers and developers who are specialized in creating both free and premium WordPress themes.
Features of Activello
If you're looking for a free blog theme with several built-in templates and featured slider, Activello may be a great fit. Let's take a detailed look at the features of Activello theme.
Responsive Design
Activello theme is built with a mobile first approach. It is developed using BootStrap 3 frontend framework, so your blog will look great on all devices regardless of the screen size.
WordPress Customizer
Activello uses the default WordPress Customizer settings, which makes it easy even for beginners to customize the theme's look.
In the default customizer, you can set up the featured slider, change copyright info, change background color and image, etc.
Let's take a detailed look into the customizer settings below.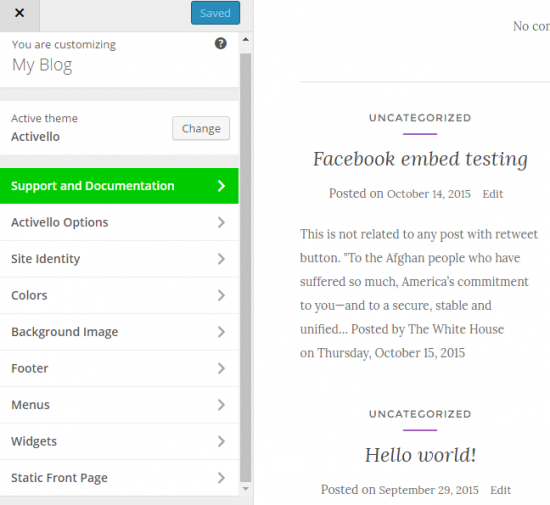 Activello Options: You'll find various options to customize the layout settings, choose the slider, and add custom CSS to your theme.
Site Identity: In this option, you can set up the site title, tagline and upload the logo file.
Colors: Here, you can choose your preferred background color.
Background image: To change the background image, you can either select a background image from your media library or upload it.
Footer: You can change the copyright text here.
Menus: The theme contains two menu locations. You can also set menus in widget area with the Custom Widget Menu.
Widgets: Here, you can set up sidebar widgets.
Static Front Page: You can either show your latest posts or use a static page as the front page.
Full Screen Featured Slider
The full screen featured post slider is the main attraction of Activello theme. Unlike with many bloated, complicated slider plugins, you can keep your WordPress site fast with Activello's simple built-in post slider.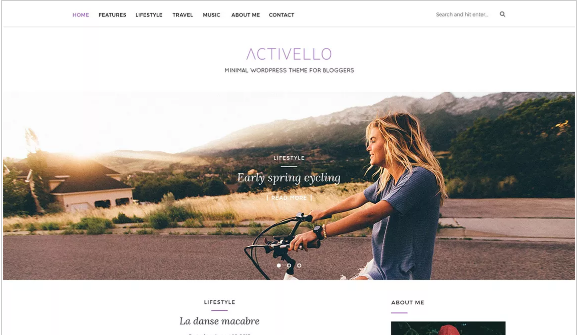 Featured slider works based on a specified category. To set up a featured slider, you need to choose a particular category and enable the show slider option.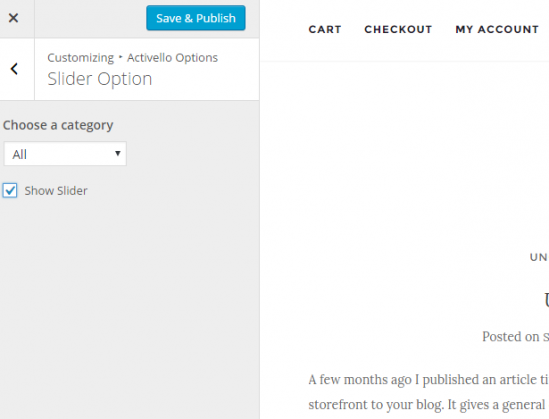 You can do this by going to Appearance » Customize » Activello Options » Slider Option.
Then, choose your preferred category and click the checkbox to enable slider on your theme.
Before choosing a category for the slider, make sure to set a large image as featured image on all of your posts. The size of the featured image must be 1349 pixel or higher.
This theme doesn't allow you to choose pages on Slider.
Infinite Scroll
Activello supports Jetpack's infinite scroll feature. For this, you'll need to enable the infinite Scroll module in the Jetpack plugin. By enabling the module, you can pull the next post automatically when the reader approaches the bottom of your page, just like on Pinterest.
Activello Works Seamlessly with Most Plugins
Activello supports WooCommerce plugin, so you can build your own ecommerce store with ease. The theme is optimized for popular plugins such as Yoast SEO, Gravity Forms, Jetpack and much more.
Sidebar Widgets
Activello comes with three built-in widgets.
Activello Categories: A widget to display categories
Activello Recent Post Widgets: A recent post widgets with thumbnails
Activello Social Widgets: A widget to display social media icons in sidebars and footer
You can enhance the sidebar widgets by enabling Jetpack's Extra Sidebar Widgets module.
The demo site of Activello uses this module to display the About Me section on the sidebar.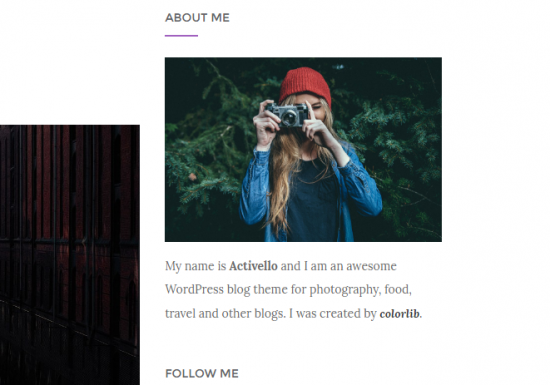 To display Instagram feed on the sidebar of the demo site, they use SnapWidget.com instead of using a WordPress plugin.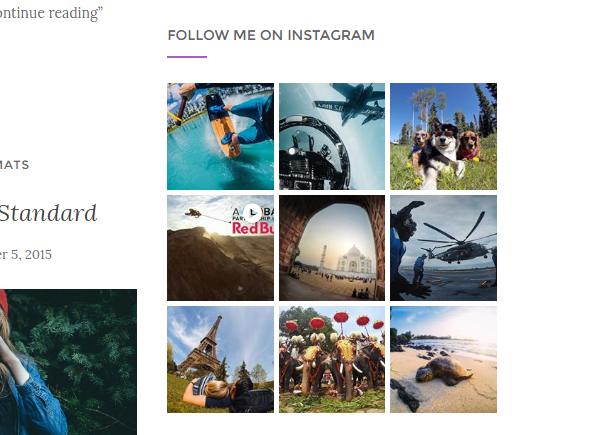 Activello allows you to show one sidebar on a page. You can position it on either the right or left so your custom sidebar will replace the default (you can't display both on a page). If you prefer, you can disable showing the sidebar and choose a full-width layout.
The theme also allows you to set up a layout style for individual posts, so you don't have to choose a single layout for the entire site.
You can also find options to edit the accent color, social icon color, and social icon's hover color. To edit the colors, navigate to Appearance » Customize » Activello Options » Layout Options.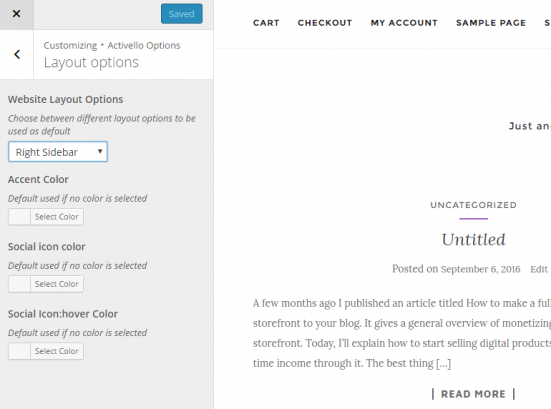 Footer credits
You can write your own footer copyright text by navigating to Appearance » Customize » Footer.  The theme doesn't support widgets on footer area except for social icons.
Documentation and support
To set up your site to look just like the demo site, you can refer to the documentation of Activello theme. The documentation consists of 7 easy to follow videos.
You can use Colorlib's support forums if you need any assistance on setting up the theme. Unlike most other free theme forums, Colorlib responds to the support request quickly. The support forum at WordPress.org is also very active but logging into the Colorlib's forums is the best way to get your requests resolved quickly.
Our Score
Now that you've read our Activello review, you may be wondering if it's the right theme for your WordPress site.
Activello would be a good fit for those who want a simple and lightweight theme for their blog. It's great for those who are just starting a WordPress blog.
The large featured image slider is the main attraction of Activello. However, comparing with other free themes in the market, customizability is limited.
If you're looking for a more flexible theme with more options, check out our recommended top WordPress themes.
Get Activello Now »