Need an easy way to interlink your content and keep readers engaged? Reduce your bounce and increase on-page times with the Yet Another Related Posts Plugin (YARPP). Check out our Yet Another Related Posts Plugin review to see if this plugin is right for your blog.

Internal Linking Can Grow Your Blog
One of the best ways to optimize your site — both for your readers and SEO — is with internal linking.
Linking related content together on your website is enormously helpful to your audience. Without internal linking, they wouldn't find your past content or old blog posts unless they proactively went looking for them. But if you include links to your past blog posts, it can pique a casual reader's interest and turn them into a loyal fan.
Internal linking can help with your search engine rankings as well. By linking related posts and pages together on your site, you're helping search engine crawlers to figure out the structure of your site. And by using the right anchor text, you're also helping those bots to better understand the topic of each page.
Why Use a Related Posts Plugin?
You know how time-consuming it can be to hunt down old related posts and make sure to link them all together. It's easy to forget about posts that may be relevant, and end up with orphaned posts that aren't linked to any others.
By using a related posts plugin, you can completely automate the process, and make sure all your posts have related links.
Another benefit to a related posts plugin is that it gives your readers something to do once they finish reading a post.
Without a call to action, many of your readers will just hit the "back" button on their browser and forget all about your blog.
But by including links to related posts at the bottom of every post, you can keep readers engaged. This will reduce your bounce rate and increase your time on page stats.
How Yet Another Related Posts Plugin (YARPP) Works
Yet Another Related Posts Plugin (YARPP) is a highly customizable plugin that allows you to display links to related posts and pages. It also supports custom post types.
The plugin selects related posts based on the title, body text, categories, and tags. You get to decide how much priority to give each parameter, and you can also choose any categories and tags you'd like to exclude.
How to Set Up YARPP on Your Blog
Install and activate the YARPP plugin. You'll automatically be brought to the Settings » YARPP screen, where you can configure all the options.
Under "The Pool", you can disallow specific categories or tags, and decide whether to display password-protected posts or limit posts by publication date.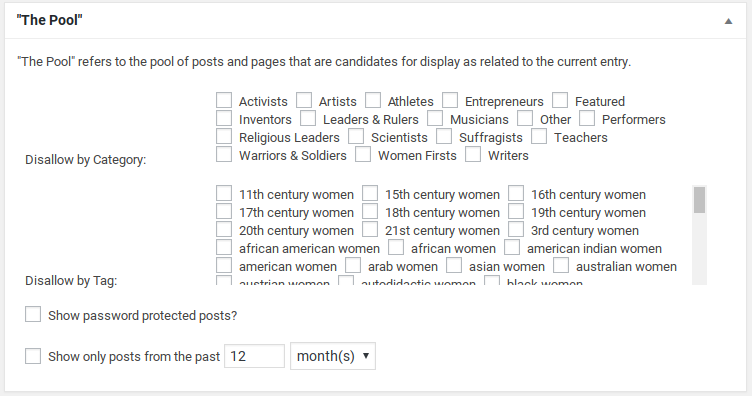 Under "Relatedness" options, you can configure how YARPP decides which posts are related, by giving more priority to titles, body text, categories, or tags.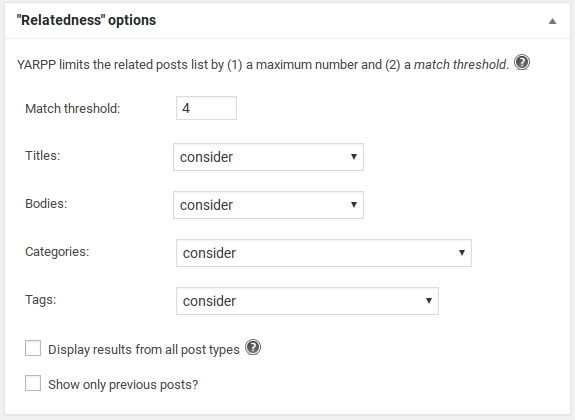 Below that, you can select the display options for your related posts: either a list or thumbnails.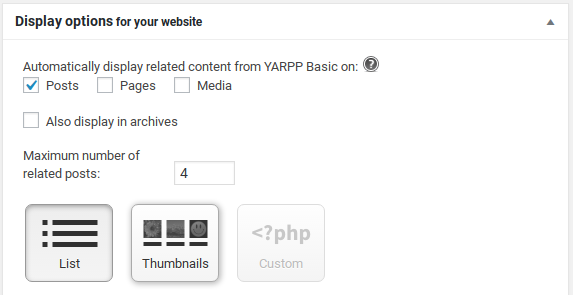 You can also customize the headings, excerpts, order, etc., and decide whether to display related posts in your RSS feed.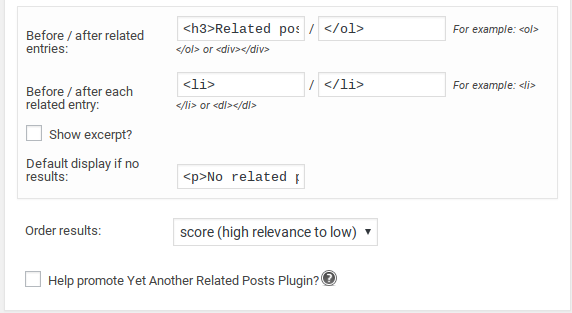 Just click Save Changes at the bottom of the screen, and that's it!
Now check out your posts to see the related content YARPP is recommending.
For more info on how to configure YARPP, and how to display related posts without a plugin see How to Display Related Posts in WordPress
Monetize Your Blog With YARPP Pro
There is also another version of the plugin called YARPP Pro, which adds a few new features.
Contrary to the name, YARPP Pro is also free!
One of the main new features is the ability to earn money by promoting sponsored posts. You can choose to display them at the bottom of your posts, with a widget in your sidebar, or both.
You can also choose to promote your own posts on other blogs, by bidding via clicks or impressions — your choice.
You also have the option to display your own related posts using a widget in addition to beneath the post.
YARPP vs. Jetpack Related Posts
One of the common complaints about the Yet Another Related Posts Plugin is that is uses a lot of server resources to search for related posts. This can really slow down your site's loading times, especially if you have a large number of posts for YARPP to search through.
In the latest versions, YARPP's queries have been optimized and it has been updated to cache all its results, so that each post's related posts only need to be calculated once — not every time the post is visited.
An alternate that may be easier on your site's loading times is Jetpack's Related Posts module. Unlike YARPP, Jetpack does all the analysis, processing, and serving from their cloud. That means it doesn't cause any additional load on your server. For more details on Jetpack, see our Jetpack review.
If you do decide to use YARPP instead of Jetpack Related Posts, you can try to speed up your WordPress site by using a caching plugin. See our WP Super Cache review and W3 Total Cache review to find out which one is best for your site.
Our Verdict
If you'd like to keep casual visitors on your website, reading more of your content, then using a related posts plugin is a great way to do it.
The Yet Another Related Posts Plugin has an easy to use interface, and makes it easy and quick to set up internal links across all your blog posts.
If you have a large blog with a lot of posts, though, YARPP may slow down your site. Make sure to monitor your site's speed before and after to track any changes, so you can switch to another plugin if there's an issue.
While the plugin is very easy to use and the documentation is helpful, it seems to be unsupported. Support threads in the WordPress.org forums go unanswered, and there's no clear way to get support on the official website.
We give Yet Another Related Posts Plugin 4 out of 5 stars. Here is the breakdown of our review scores:
Get Yet Another Related Posts Plugin Now »