Want to know about Google's Site Kit plugin?
Site Kit by Google is a WordPress plugin that lets you connect Google's online marketing services like Search Console, Google Analytics, Google Optimize, Google Tag Manager, PageSpeed Insights, Google AdSense, etc. directly to your WordPress dashboard.
With Site Kit, you get insights into your site's performance right from your WordPress dashboard. In this article, we'll review and analyze the Site Kit plugin in detail and find out what it offers, and whether it's worth giving a try.
What Is Google's Site Kit?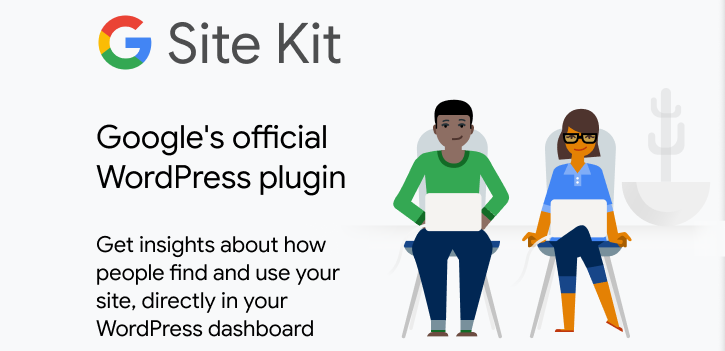 Site Kit is Google's WordPress plugin that acts as a mediator between your WordPress site and the marketing services of Google. The plugin was launched in October 2019 and is available for download in the WordPress repository for free. Using this plugin, you can integrate your website with the following Google tools.
Analytics: Google Analytics tells you how users are interacting with your website. By connecting your site to Google Analytics, you get to know where exactly your traffic is coming from, which post is doing the best, etc.
Search Console: Google Search Console helps you improve your search rankings by letting you fix existing bugs and errors that keep your site from indexing. You can also track the keywords using which users discover your site.
AdSense: With Google Adsense, you can monetize your website by placing ads on your site.
PageSpeed Insights: Improve your site's performance by checking your website's loading speed on desktop and mobile devices, and making needed changes to reduce its loading time.
Tag Manager: It allows you to manage and deploy marketing tags for measuring your advertising ROI as well as tracking Flash, video, and social networking sites and applications without touching code.
Optimize: Google Optimize is an A/B testing tool that improves your website conversions by letting you conduct experiments.
Generally, Site Kit is best for publishers who own a website, developers who manage multiple client projects, and plugin authors and web hosting services.
Google's Site Kit Review: Overview of the Features
Site Kit offers great features for its users. As mentioned earlier, it helps you add various Google services to your WordPress dashboard so that you can view all your reports in one place without switching having to log into different services. The best thing about this plugin is it makes it easy to set up all these services on your site without having to touch a line of code.
Here are the features that the plugin offers.
Traffic: It offers an overall report of the traffic that your website receives. Traffic is further segmented into organic, referral, direct, and email. So you know where exactly your traffic is coming from.
Page Speed: Know how fast your site is loading and find ways to improve it.
Adsense: Monetize your website to earn some extra money
Tag Manager: Helps you track different marketing tags on your website.
Search Funnel: Shows you the number of impressions and clicks received by your website over a time period.
Installing Site Kit Plugin on WordPress
To use Site Kit on your WordPress website, you'll first have to install the plugin on your dashboard. For that, login to your WordPress dashboard and click on Plugin » Add New. Now using the search field, look for the Site Kit plugin.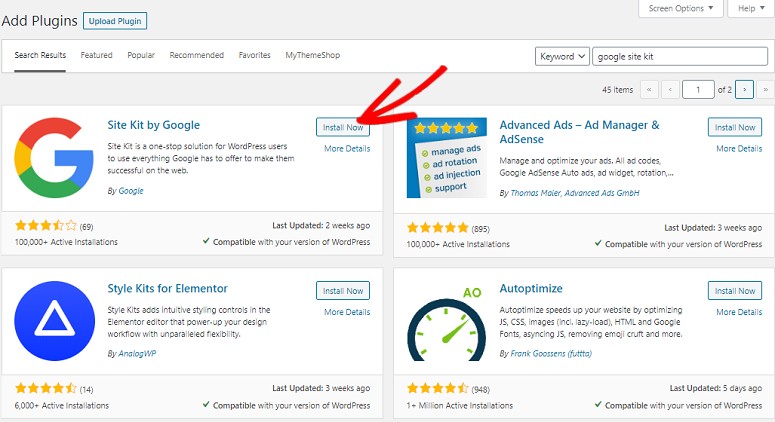 Once you found it, click on Install Now followed by the Activate button for the plugin to start working. After the plugin is activated, you'll see the following message on your screen.

Click on the Start Setup button. This will take you to a new screen, where you'll have to verify the ownership of your website.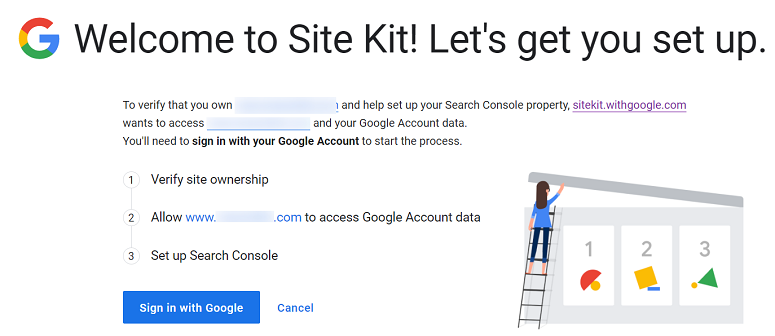 Using your Google account, sign in to your account. A small popup will appear on your screen asking you to grant permission to view and manage your Search Console data. In the next few seconds, follow the steps to grant permission for the plugin to verify and access your account. After the setup has been completed, click on the Go to Site Kit Dashboard button. That'll take you to your Site Kit dashboard right within your WordPress site.
Here's what it looks like.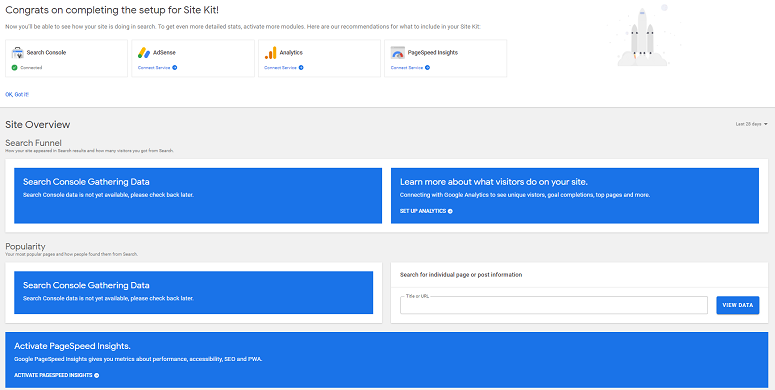 Adding More Google Services to Site Kit
If you want more details in your dashboard, Site Kit lets you do that too. You simply need to go to Site Kit » Settings. You'll see 3 different tabs here:
Connected service
Connect More Services
Admin Settings
Go to the Connect More Services tab.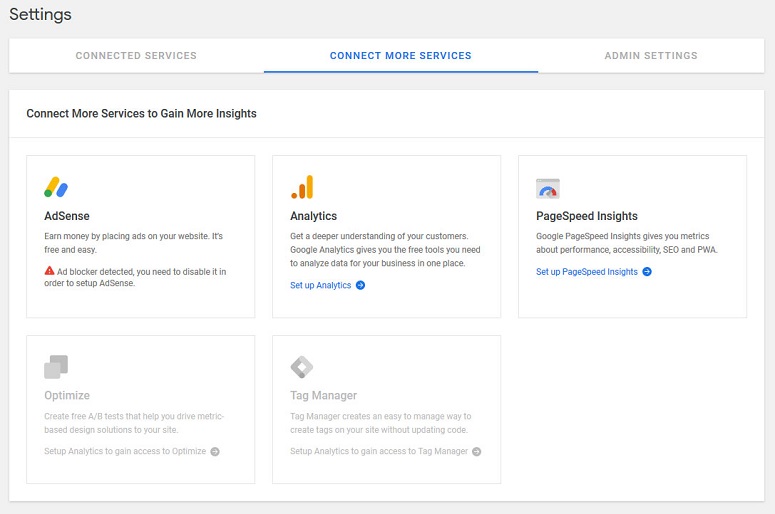 Here, under the Analytics panel click on the Setup Analytics option. Before setting up Analytics, you won't be able to add the Tag Manager and Optimize services.
Now log into your Google account and click on the Allow button in the following steps to grant access for the plugin to display reports on your Google Analytics dashboard. You'll now again be on your WordPress dashboard from where you can configure your Analytics account by clicking on the Configure Analytics button.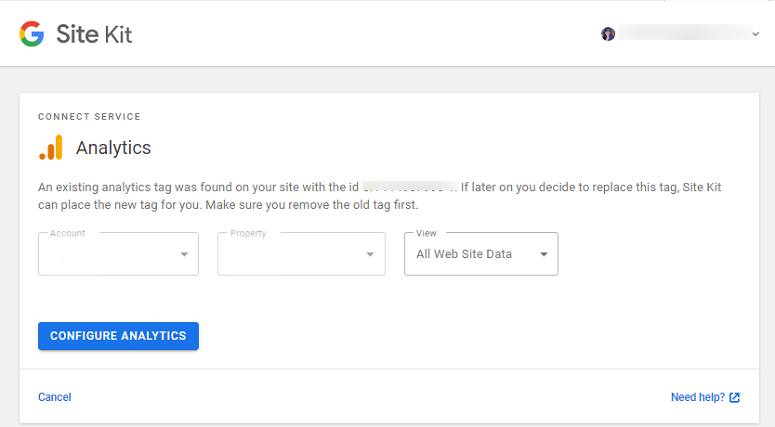 After this step, Site Kit will handle everything for you. It'll import your data from Google Analytics and display your reports right on your WordPress dashboard. You can repeat the same process with the other services as well.
Checking Your Reports in Site Kit
Now that everything is set up, it's time for you to check your website reports. You can check your reports by going to Site Kit » Dashboard. Here you'll see all the Google services you have connected to your website.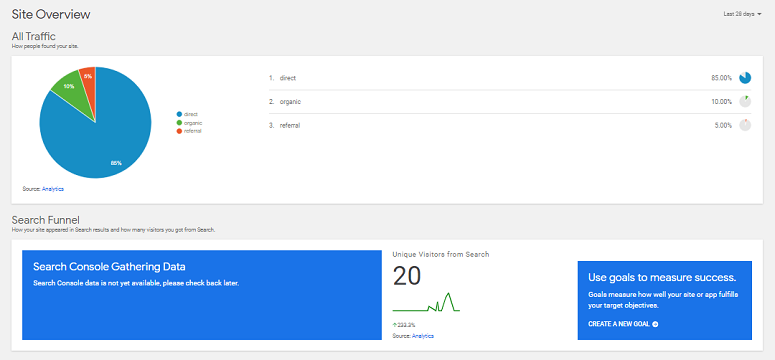 As you scroll further down, you'll see more reports on how your site is performing, the speed of your site on mobile and desktop, etc. You can also select the time frame for these reports on the top right corner of your screen. If you have Adsense installed, Site Kit will show you reports on that as well.
Disconnecting Single Service on Site Kit
Site Kit also lets you disconnect your services from your website without any complications. Just go to Site Kit » Settings » Connected Services. Here, choose the service that you want to disconnect and click on the Edit button below it.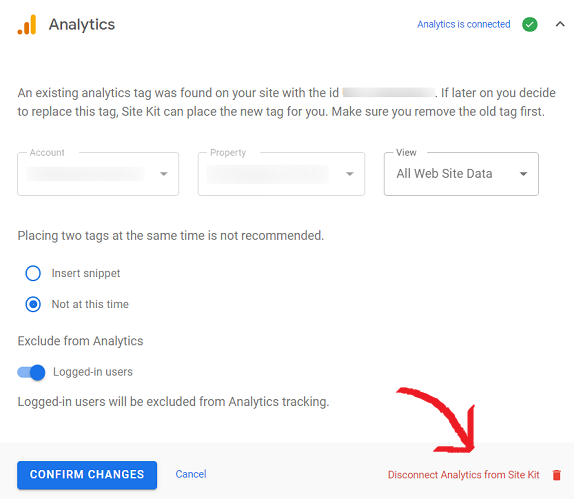 On the right, you'll have an option called Disconnect Analysis for Site Kit. Click on this option. A popup will appear confirming if you really want to disconnect it. Click on the Disconnect button. And that's it.
Site Kit Pros – What We Liked About It
Site Kit is a good option for you if your website is connected to different Google services and you want to view the reports of all of these services in one single place.
It makes it easy to track and analyze what's happening on your website. With this plugin, you can have all the basic information you need about your site like how your visitors discovered your site, their behavior on the website, etc.
Instead of logging in to different platforms and viewing your reports individually, Sit Kit gives you all the reports in a singular and centralized dashboard. So no more switching between different browser tabs.
Site Kit Disadvantages – What It Lacks
Site Kit comes with some disadvantages too. Here are some of them.
Offers limited information on the dashboard: Because it's connecting so many Google services to your WordPress dashboard you can only view limited information from each of these services. And sometimes that's not enough especially when it comes to taking major decisions.
Lacks enhanced eCommerce integration: Site Kit has no option to let you track different eCommerce elements on your site. For example, it won't display the revenue, the average order size, top-performing products, etc. on your online store.
No form tracking option available: Site Kit doesn't let you track various forms on your website.So if you want to track your contact form or order form to know your conversions, you might be disappointed.
Our Verdict: Is Site Kit Right for You?
Site Kit might be a good solution for users who want to have a single dashboard with minimal details. Plus, Site Kit collects information from each Google service and neatly presents them in a single place.
However, if you want to make full use of Google services, then Site Kit may not be a good fit.
For example, Site Kit only lets you have a basic Google Analytics setup.
With the basic Analytics setup, you won't get detailed info, like eCommerce transactions data, download tracking data, events tracking data, and more. This will require a Site Kit alternative like MonsterInsights, which is the most comprehensive Google Analytics plugin for WordPress.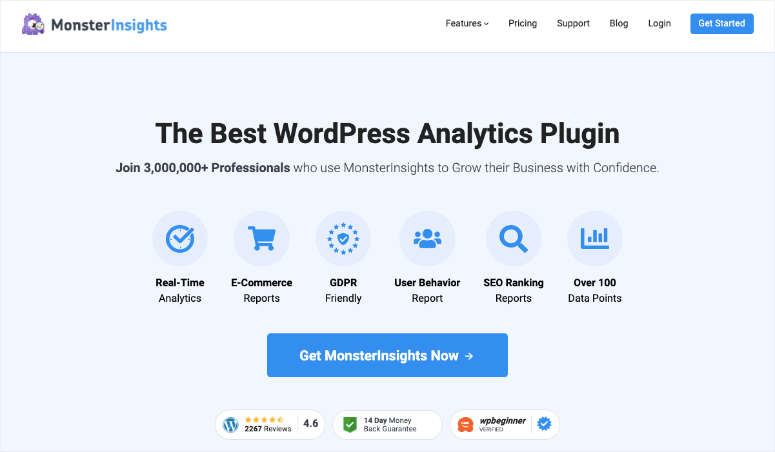 With MonsterInsights, you can get all reports that Site Kit offers, including Google Analytics, Search Console, AdSense, and more. MonsterInsights makes use of its Google Analytics integration to track Search Console data, AdSense data, speed tracking data, and more.
Plus, it gives you additional reports that Site Kit doesn't offer, including, eCommerce sales data, affiliate links data, etc.
Learn more about MonsterInsights in our detailed review.
So that's it. We hope you found this article helpful. If you enjoyed our Google Site Kit review, you might also be interested in learning how to set up download tracking in WordPress with Google Analytics.
Get Site Kit by Google Now »