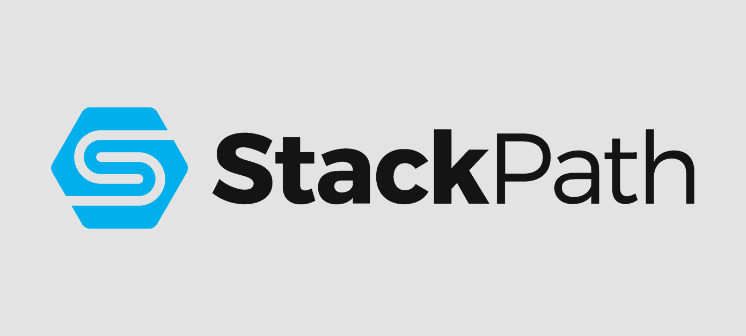 Are you looking for the best WordPress CDN service? Do you want to know if StackPath CDN is a good option for your site?
StackPath is one of the most popular and reputed CDN services. It improves user experience (UX) by delivering your content at lightning-fast speeds across the world.
In this review, we'll check out StackPath CDN's features, pricing, and drawbacks to see if it's worth it. We'll also do a quick comparison with other CDN providers on the market to see how it stacks up against the competition.
Here's a table of contents with quick links if you want to jump ahead:
Before we get started, StackPath has issued an important update. They have decided to focus on being the industry's best cloud computing platform built at the internet's edge.
They will be retiring StackPath CDN and Highwinds CDN services at 12:00 a.m. Central (UTC-6:00) on November 22, 2023.
StackPath: A Brief Overview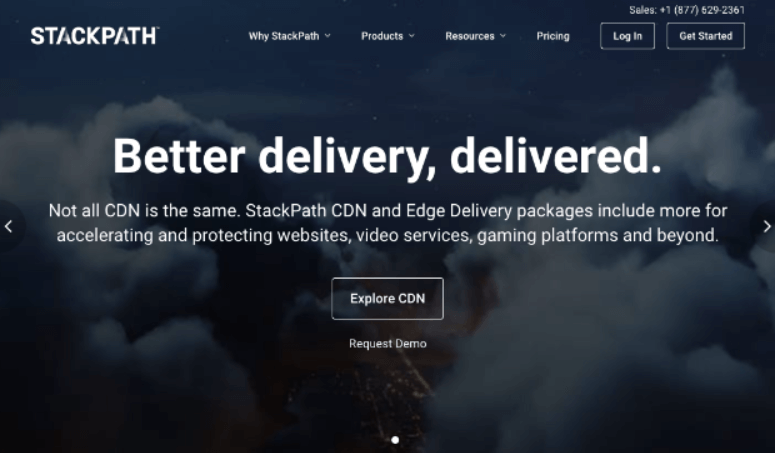 StackPath CDN (previously known as MaxCDN) is a powerful content delivery network to speed up your website.
The company owns a vast network of servers on all continents. And StackPath became incredibly popular because it made it easy for anyone to set up and use a CDN.
It also comes with a complex and robust caching system with an instant purge mechanism to boost your site's performance.
StackPath CDN Features: What Do You Get?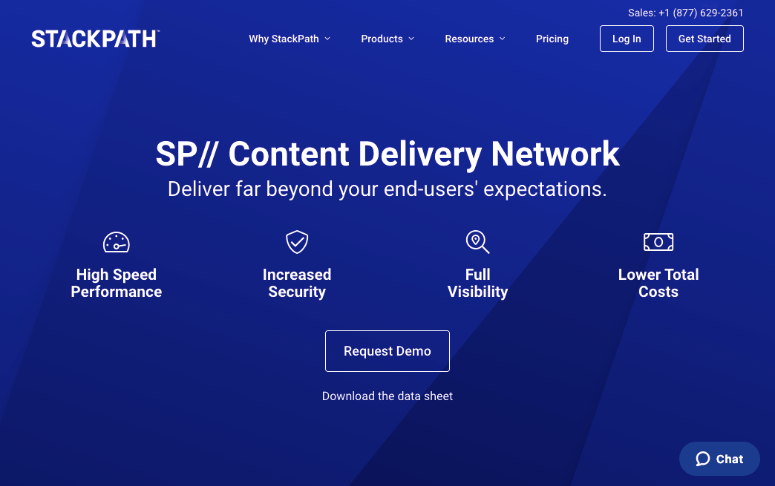 Your website visitors expect faster and flawless experiences when they come to your site. In fact, 40% of users abandon a site if it takes more than 3 seconds to load.
To help you overcome this challenge, StackPath has a wide range of features and customization options. Let's check them out.
1. Website Acceleration
StackPath has high-performance servers across the world. It boasts 50+ edge locations, 35 high-population markets, and 65+ Tbps total throughput.
When you use StackPath's CDN, it instantly boosts page load time so your website loads in the fastest time possible.
It also optimizes speed for video and audio streaming. And it makes API interactions smoother and faster.
Ultimately, this helps you create a richer end-user experience and has a positive effect on your SEO scores.
2. Large File Delivery
If you offer customers digital downloads, then you wouldn't want them waiting for hours for it to download.
To speed up large file deliveries, StackPath has advanced features like segmented file downloading. This works great for software and game installers.
StackPath also supports HD and 4K videos so users can download their high-quality video files faster. Plus, StackPath doesn't have a cap on file sizes, so you don't have to worry about keeping your files within a size limit.
3. Content Customization
StackPath lets you tailor your content and customize how it's delivered to your users. That way, you can personalize the end-user experience.
You control how and where your website's assets are delivered.
Plus, StackPath lets you set policies and automate delivery behavior, including how requests are handled and what content is delivered.
And with extensive cache control features, you can fine-tune your CDN to have superior content availability.
4. Intelligent Caching
StackPath CDN has a number of features that give you better cache control. You decide how, how long, and even where content is stored.
StackPath also comes with advanced caching techniques to make more content available for longer.
Plus, there's a user-friendly dashboard as well to instantly set up rules for caching.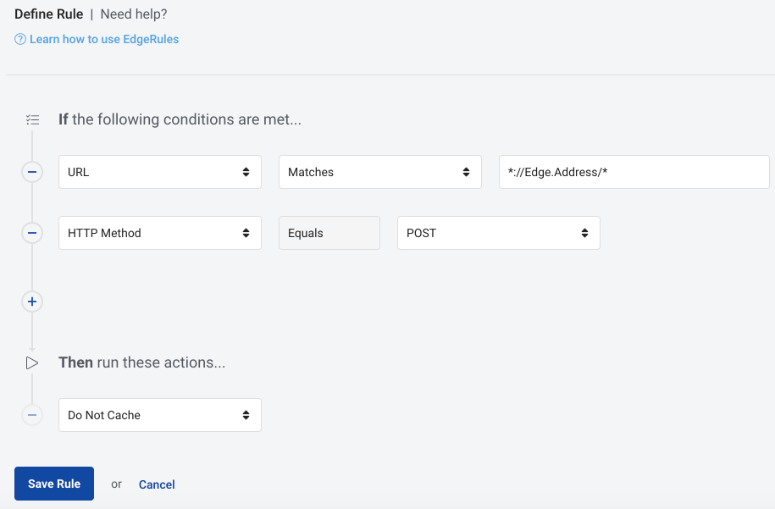 5. Instant Purge
When you publish new content or make modifications to your site, you can clear your cache so that the latest version of your site is delivered to users.
For this, StackPath lets you clear your cache worldwide at the push of a button.

This means your old content will immediately be removed from all servers and not be displayed to any visitor anywhere in the world.
Only fresh content will be available.
6. Real-time Analytics
Once StackPath CDN is set up on your site, you'll get detailed data points about content delivery and traffic.
StackPath has advanced reporting capabilities and analytics that will help you track and optimize your site's performance.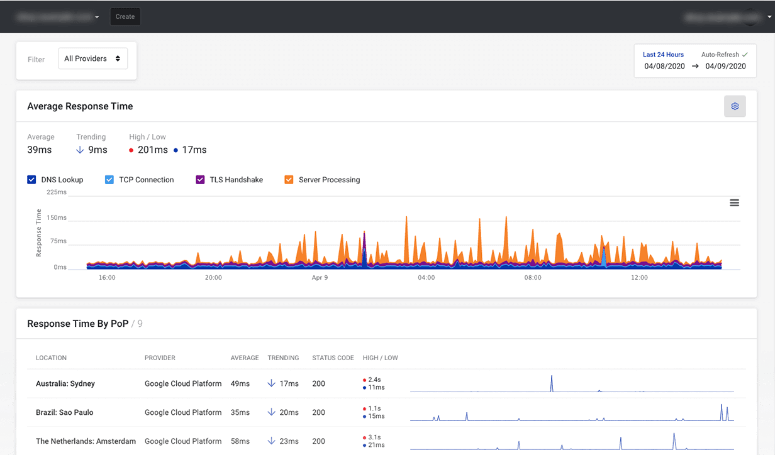 On your dashboard, you'll see key CDN, content, and origin performance variables including:
Bandwidth Usage (bps)
Requests
Delivery by Geo/Network
Cache Hit Ratio
Request Hit Ratio
HTTP Status Codes
Now that we've seen some of StackPath's features, let's see what happens if you need to troubleshoot a problem with your site.
StackPath Customer Support
StackPath has one of the best customer support teams out there. You can get in touch with them through phone, chat, and email. And this service is available to all customers 24/7 at no extra charge.
StackPath also has a ticket system that you can access through your Control Panel. Under 'My Requests', you can create a ticket and submit it and StackPath will respond via email.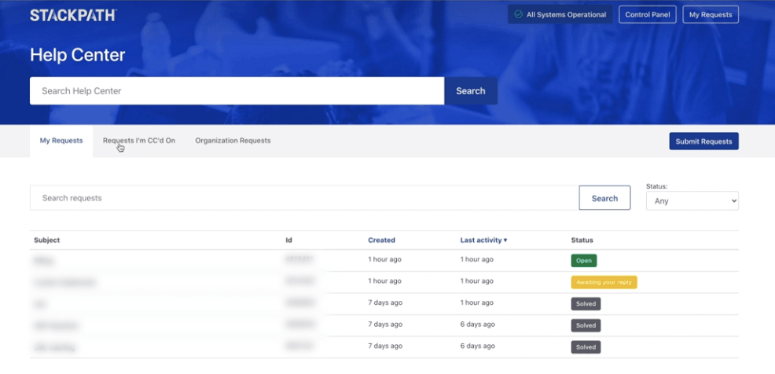 Higher plans get a dedicated technical account manager for additional support.
But now you might be wondering, "StackPath has such great features and awesome support, but how does it compare to competing services?
Let's take a look at how StackPath stacks up to the competition.
How Does StackPath Perform Against The Competition
We checked out other CDN services to see what they have to offer. And we compared StackPath with them to see how it performs. Here's where StackPath really shined through:
1. Instant Setup and Easy Management
StackPath is extremely easy to setup. Once you sign up for a plan, you can access the dashboard and enter your site name.
It takes care of the technical side of things and sets everything up for you. You can then manage your CDN from StackPath's user-friendly dashboard.

You can also view a list of your sites and enable or disable services on them with the click of a button.

And if you want to connect to WordPress, StackPath integrates easily with some of the top caching plugins like W3 Total Cache and WP Rocket.
You can also enable StackPath CDN using the CDN Enabler plugin via KeyCDN.
2. PoP Locations
StackPath has 50+ PoP (point of presence) locations across the world. Servers at these locations are responsible for the delivery of your content around the globe.
StackPath focuses on North America and Europe and has a high PoP density in these regions. A few of their PoP locations include Brazil, Japan, Singapore, Hong Kong, and Australia.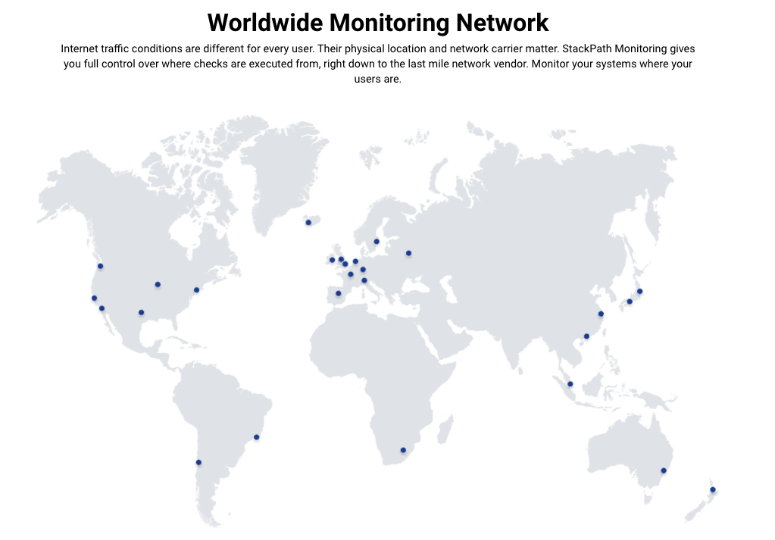 This shortens the physical distance between the user's location and your website's server. It significantly decreases the overall loading time so you can deliver a seamless web experience for your users.
3. Uptime
StackPath has a good uptime record which means your content delivery won't be impacted.
StackPath assures 99.99% service availability for the StackPath network. And if it falls below this level, they issue a credit to your account in accordance with their terms and conditions.
4. Performance
When compared to other CDN services like AWS and CloudFront, StackPath performs really well in the North American region.
Looking at the rest of the globe, StackPath shows a difference of only 3-4 milliseconds in terms of performance. This has a next-to-nothing impact on your content delivery.
5. Cloud-Scale Architecture
StackPath follows network design principles that provide immediate availability of service.
Most legacy edge providers tend to lack this structure. But StackPath's network can bear exceptional capacity creating nearly endless possibilities.
6. Increased Security
StackPath has a robust system of content protection to make sure your data stays safe as it travels across the world.
It operates on a private network structure that bypasses the public internet. This minimizes exposure to malicious activity and threats.
StackPath also identifies and blocks DDoS attacks that can bring your website down.
Added to this, it comes with EdgeSSL, their own SSL certificate management solution. You can upload your own SSL certificate or use a free private SSL certificate from StackPath.
StackPath CDN Pricing
StackPath CDN starts from $10 per month. It includes unlimited requests, a free SSL certification, DDoS protection, all global PoPs, and 1 TB bandwidth per month.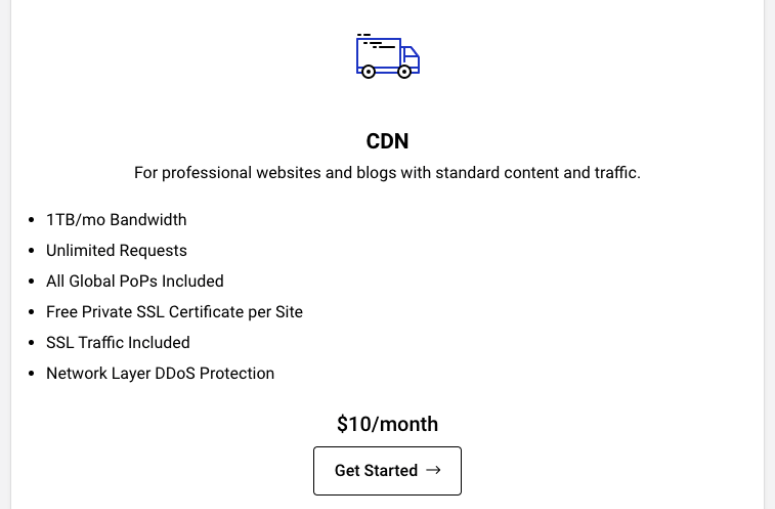 StackPath keeps pricing simple with a single rate for all global regions. They also offer bundle packages starting at $20 per month.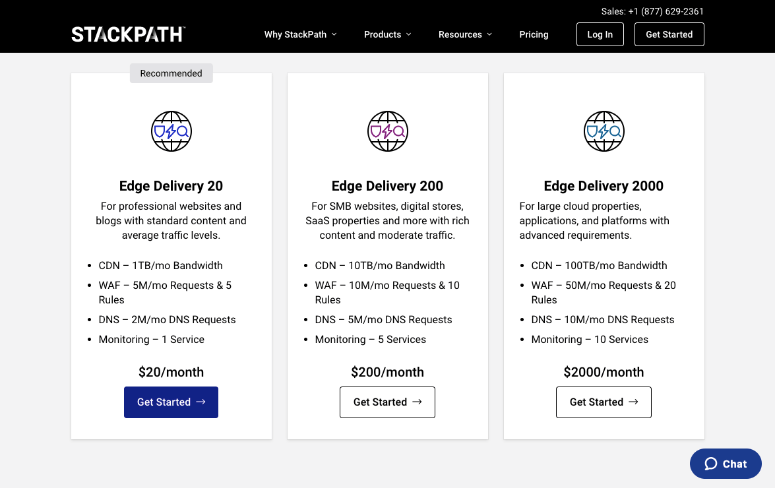 These packages include a web application firewall, DNS, and monitoring services.
StackPath doesn't have any long-term contracts and hidden costs. Although you do get a discount if you commit to an annual contract.
Plus, we're always looking out for the best pricing we can get for our users.
You can use our StackPath Coupon Code to get the best deal possible.
Our Verdict: Is StackPath CDN Worth It?
StackPath CDN may be a good CDN service, however, considering they are retiring the service soon, it's best to choose a different service. We recommend Sucuri CDN or you can check out our list of 10 Best CDN Services to Speed Up Your Website.
We hope you enjoyed reading this post. And if so, you may also want to check out these articles:
These posts have more information to optimize your site's speed and performance to deliver the best user experience for your visitors.