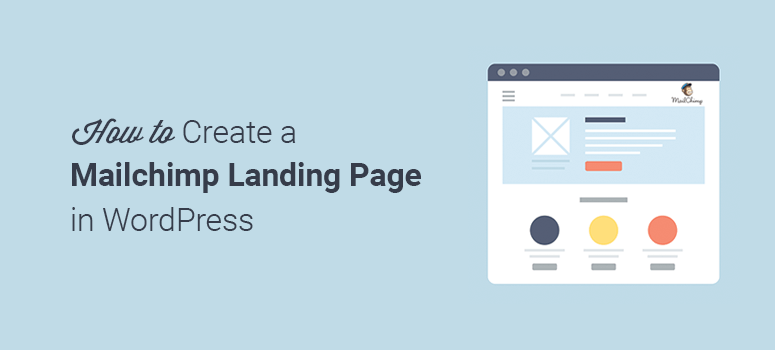 Are you looking for the best way to create a Mailchimp landing page?
Mailchimp is one of the most popular email marketing services that help you build an email list and grow your website.
With a Mailchimp landing page, you can engage users with your content, products, and services to encourage them to sign up on your website and become a subscriber.
In this article, we'll show you how to easily create a high-converting Mailchimp landing page in WordPress.
What is a Mailchimp Landing Page?
Landing pages are designed to drive more sales and business growth by focusing on a single purpose such as promoting a product or email newsletter. They usually include an incentive like a free ebook or checklist to encourage more visitors to sign up.
When you're collecting email addresses and other details of the user, you'll want to integrate an email solution like Mailchimp with your landing page. This way, all your new leads will be added to your email contact list automatically.
Then you can continue the subscriber's journey using Mailchimp's features to send personalized emails, transactional emails, updates, price-drop notifications, and more. This helps build long-lasting relationships with your email subscribers.
If you haven't built a landing page before, it may seem like a challenge. But don't worry, we're going to show you how to easily create a Mailchimp landing page in just a few minutes. There's absolutely no coding involved.
Now let's go straight to what you need to make a Mailchimp landing page in WordPress.
What Do You Need to Create a Mailchimp Landing Page?
Mailchimp lets you create a landing page on their website, however, it will be hosted on Mailchimp servers. This means you lose control over your landing page since it's not hosted on your WordPress site.
Added to that, you can't use a custom domain name for your landing page with Mailchimp unless you upgrade to a paid plan.
Instead of this, we recommend using SeedProd, the best landing page builder plugin for WordPress.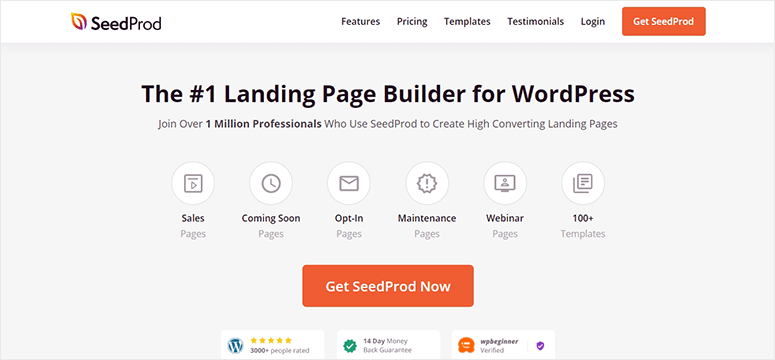 SeedProd is beginner-friendly and lets you create a Mailchimp landing page without writing any code.
There are 150+ beautiful page templates that you can launch in one click and customize with the drag and drop page builder.
Plus you can add your own smart sections and blocks like contact and signup forms, countdown timers, social icons, and more.
With this kind of landing page, you'll get full control over your URL, content, analytics, and page settings.
Added to that, SeedProd supports all popular email marketing services, including Constant Contact, Mailchimp, AWeber, and ActiveCampaign. This means you can sync your Mailchimp account to the landing page easily.
And the best part? If you ever decide to switch your email service provider, SeedProd lets you create a new integration using the same page.
All this makes SeedProd a more effective alternative to Mailchimp's landing page feature.
Having said that, let's dive into the steps to create a stunning high-converting Mailchimp landing paglae.
Creating a Mailchimp Landing Page
Below you'll find 6 simple steps to create your Mailchimp landing page using the SeedProd builder.
Step 1. Install and Activate the SeedProd Plugin
The first thing you need to do is install and activate the SeedProd plugin on your site. For more details, see our guide on how to install a WordPress plugin.
There's a lite version available in the WordPress repository that comes with tons of free landing page templates and features to get started.
For this tutorial, we'll use the pro version so we can explore all the neat features SeedProd has to offer.
For the pro plan, upon activation, you need to enter the license key. You can find the license key in the Downloads section of your SeedProd account.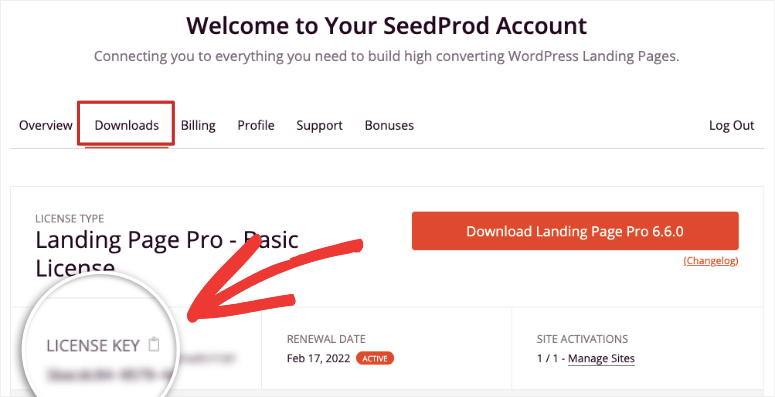 Copy and paste this key in the SeedProd page on your WordPress site.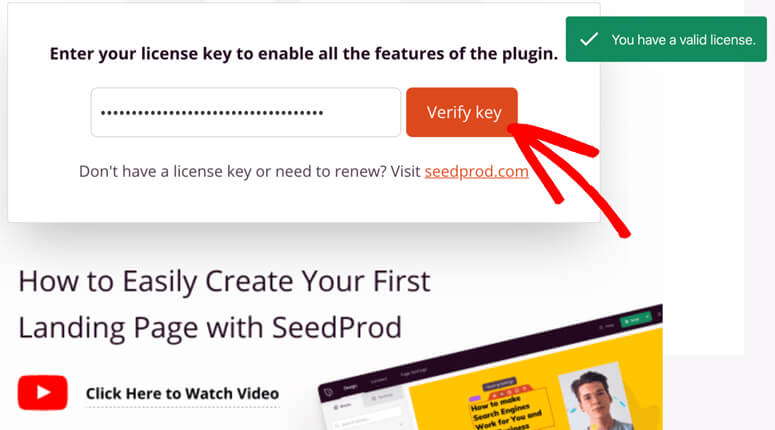 Click on the Verify Key button, and you'll see a success message that your license is valid. Now you can start creating landing pages.
Step 2. Make a New Landing Page Using SeedProd Plugin
To build your first landing page, navigate to the SeedProd » Pages tab in the WordPress admin area.
You'll find the important SeedProd landing pages on the top of the page, including the coming soon page, maintenance mode page, 404 page, and custom user login page. You can activate these pages in 1-click.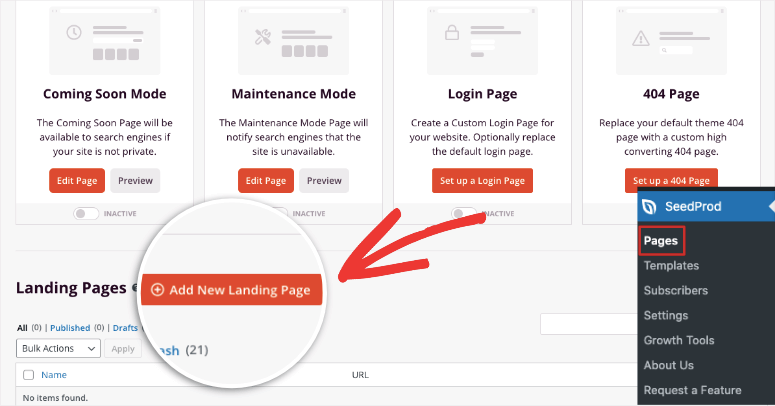 To create a Mailchimp landing page, scroll down and click on the Add New Landing Page button.
It'll show you the built-in landing page templates. You can filter and preview templates to find the best design for your Mailchimp landing page.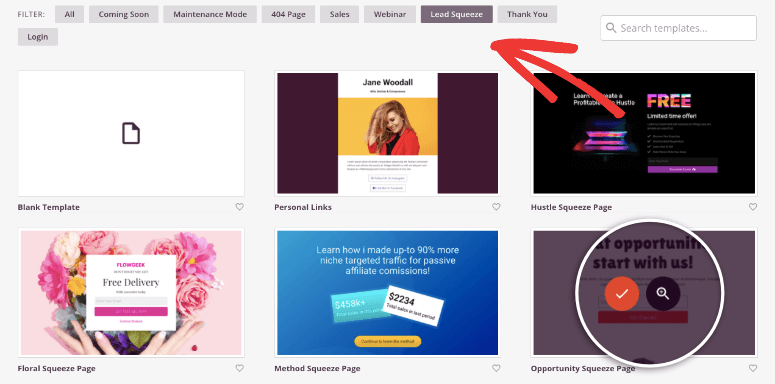 When you select a template, a popup will open where you need to enter the page name and page URL.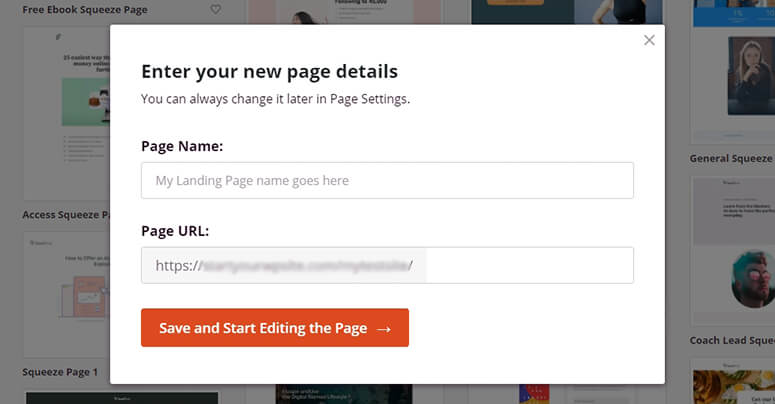 Click on the Save and Start Editing the Page button. This will open the SeedProd drag and drop page builder to customize your landing page template.
Step 3. Design Your Mailchimp Landing Page
SeedProd's templates look great on their own so you won't need to change much. At the same time, you have complete freedom to customize every aspect of the landing page.
Inside the SeedProd builder, you'll find several custom blocks on the left side and the live preview of your page template on the right side of the screen.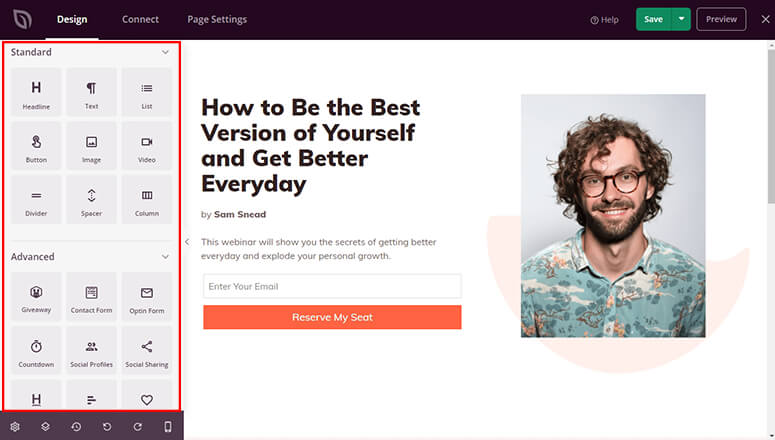 The standard blocks include headline, text, list, button, image, video, and more. While in the advanced blocks, you'll find:
Giveaway
Optin form
Contact form
Countdown
Social profiles
Social sharing
Pricing table
…and more!
SeedProd even integrates with WooCommerce which is great for online stores. You can add product grids along with 'add to cart' and 'checkout' buttons. So you can sell products or digital downloads right from your landing page.
You can drag and drop a block from the left side to the right side to add more elements to your landing page. Once added, you can see the editing options for the same block in the left taskbar.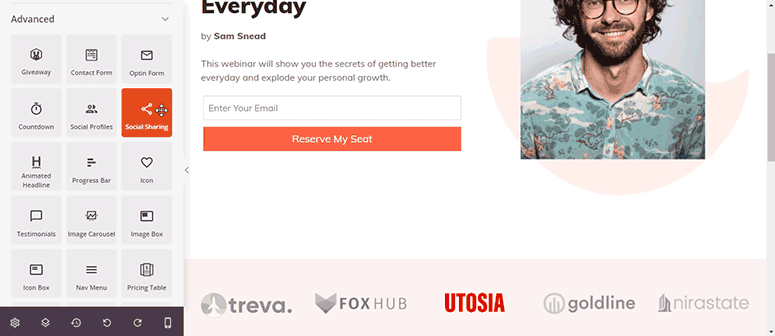 You can also click anywhere on the template preview to edit a section. If you click on the text, you can edit it in real-time.

Like this, you can change the content, image, and CTA (call to action) buttons to suit your marketing goals.
After designing your template, hit the Save button to store your customizations.
Step 4. Edit Global Settings for Mailchimp Landing Page
If you want to apply standardized settings to the page such as a uniform font and brand color, you can do that under the Global Settings tab.
Click on the wheel icon at the bottom left corner of the screen to access Global Settings for your landing page. You'll see options to change:
Fonts
Colors
Background
Custom CSS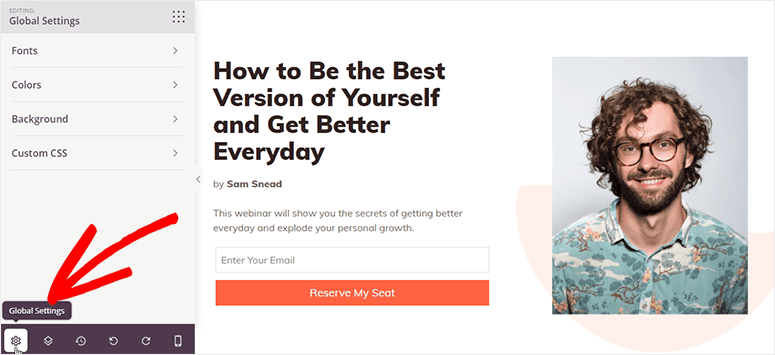 In the Fonts section, you can change the text styling for header, content, buttons, and more. You'll also find built-in font templates to apply on your landing page.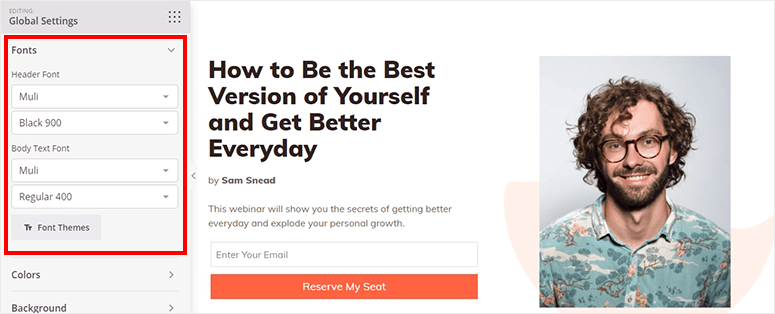 Next, in the Colors tab, you can apply your own color selections for different elements like headers, text, buttons, links, and background. It also offers color palettes that are aesthetically pleasing so you can pick a premade color scheme to suit your brand.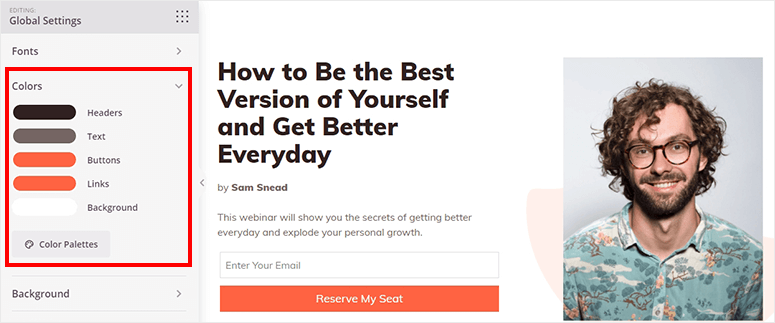 The Background section allows you to change add a background image, video, or color, change its position, and more.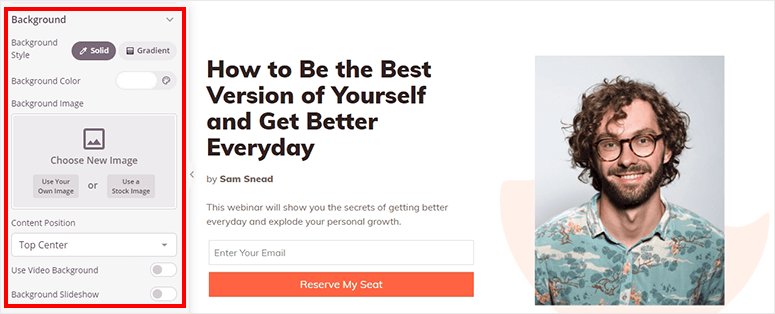 After you've created your global settings, click on the Save button to continue.
Next, we'll show you how to connect the page to Mailchimp so all leads will be instantly added to your Mailchimp contact list.
Step 5. Integrate Mailchimp With Your Landing Page
SeedProd offers a seamless integration process with all popular email services. All it takes is a few clicks.
From the top navigation menu, click on the Connect option. This will show all the popular email marketing services on the screen. Select Mailchimp here and click on the Connect button to start the integration.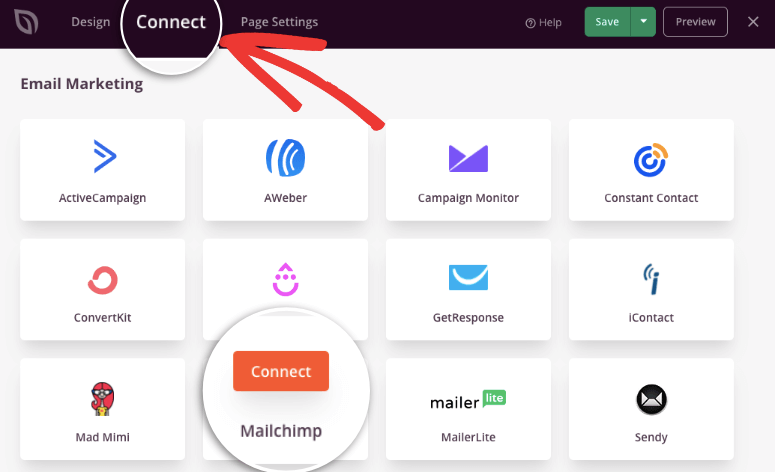 Then, click on the Connect New Account button.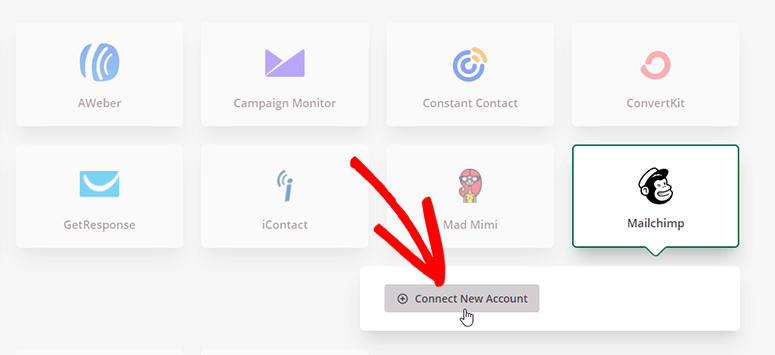 Next, you need to enter your API Key. If you don't have it, SeedProd makes it really easy to find your API key. All you have to do is click on the Get Mailchimp API Key button.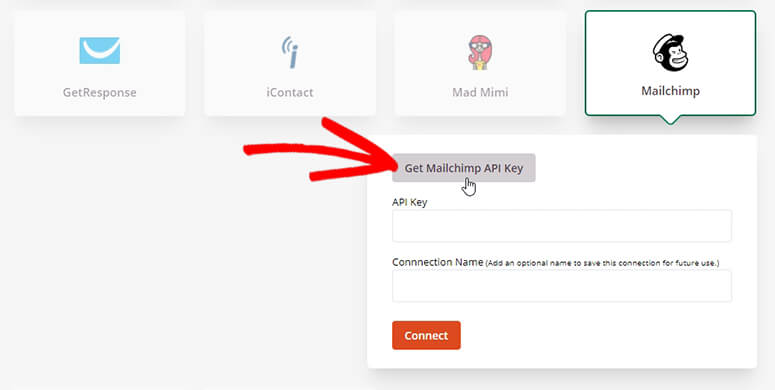 A popup will open where you need to enter your Mailchimp login credentials, and it'll show you the API key.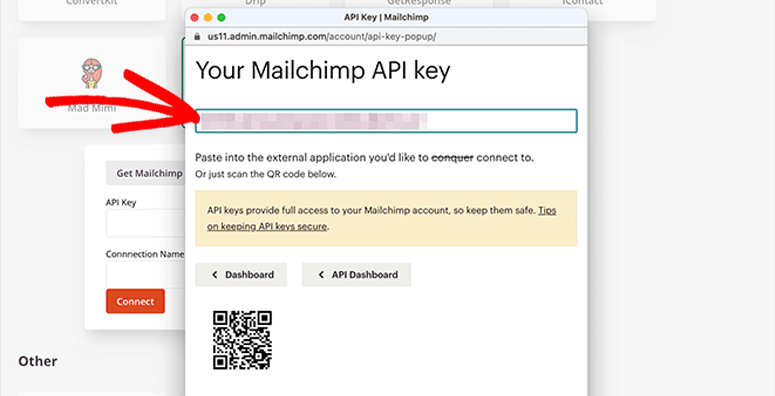 Copy the Mailchimp API key and paste it API Key field. Then in the Connection Name field, add a name for this integration so you can easily recognize it later.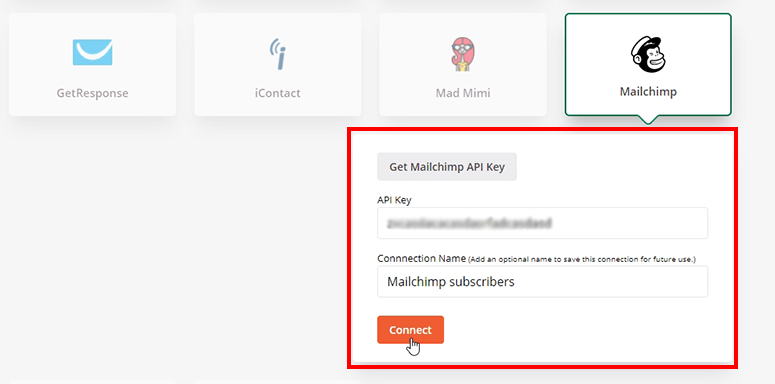 Use the Connect button to successfully integrate Mailchimp with your landing page builder.
With this integration, anyone who signs up through the landing page will automatically be added to your email list. You'll save a ton of time and effort in manually exporting/importing contact lists.
Step 6. Edit Page Settings
SeedProd gives you complete control over the design and configuration of your page. So you can add your own URLs, SEO settings, custom scripts, and more.
In the Page Settings tab in the top navigation menu, you can customize the page title, page URL, page status, and more.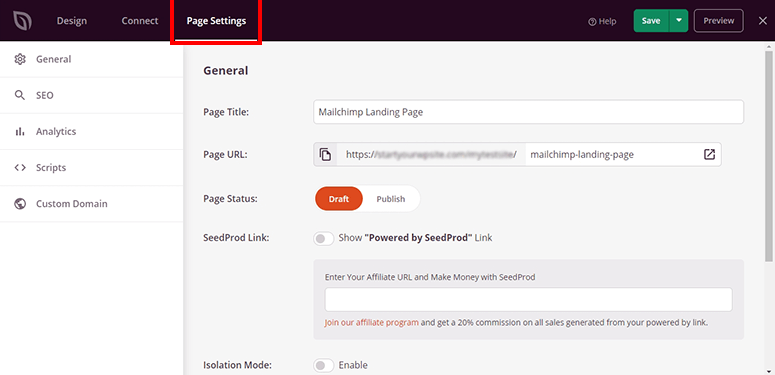 For the SEO and Analytics settings, you can use popular WordPress plugins like All in One SEO and MonsterInsights respectively.
These plugins will help rank your Mailchimp landing page and give you complete user insights inside your WordPress dashboard.
The Scripts section is for developers to further customize the landing page by adding code and scripts.
Now your Mailchimp landing page is ready to be published.
Step 7. Publish and Display Mailchimp Landing Page
To make your Mailchimp page live on your site, open the dropdown menu next to the Save button at the top-right corner.
All you have to do here is hit the Publish button and your page will be available to the public.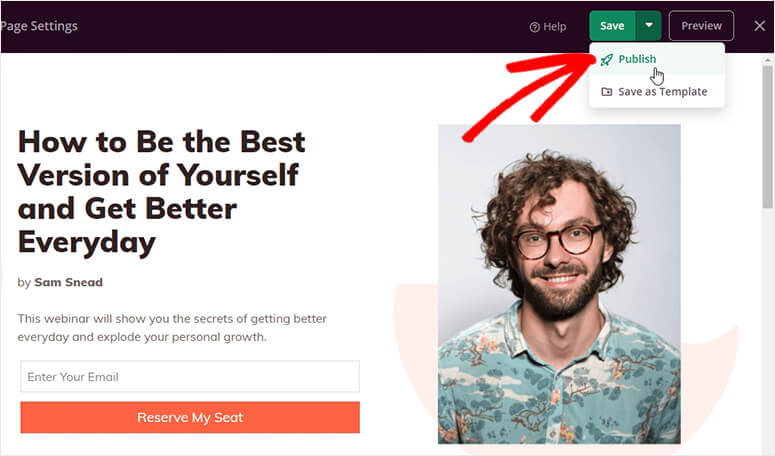 SeedProd will confirm that your page is published and give you an option to See Live Page.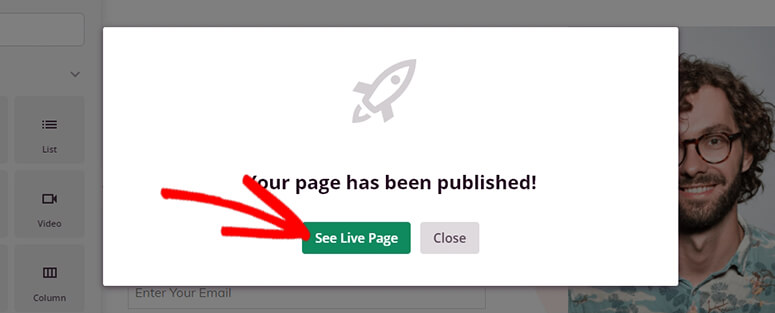 This lets you directly visit the live Mailchimp landing page on your website to see what it looks like.
If you need to make more edits, you can always head back to the SeedProd builder and customize the page at any time.
After this, you can continue to use SeedProd to build any type of dynamic landing page to promote your newsletters, products, flash sales, offers and deals, and so much more.
You can even use the maintenance and coming soon mode to hide any in-progress work on your site.
That's all we have for you today.
We hope this article has helped you learn how to create a Mailchimp landing page in WordPress.
For more ways on growing your audience and subscriber list, you'll definitely want to check out these resources:
These posts will give you strategies and tools to gain more subscribers. And that last one will help you reduce admin work and still explode your email list.