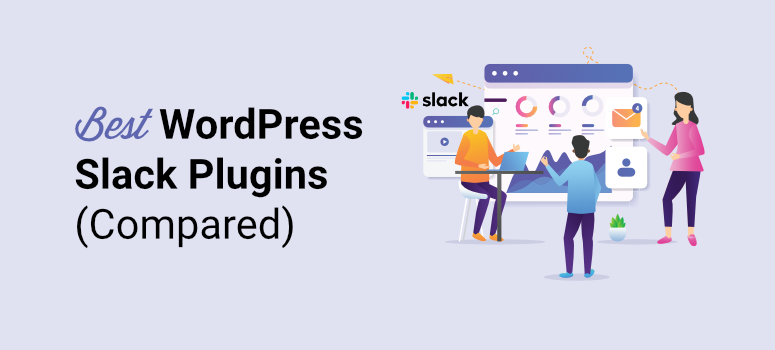 Looking for the best WordPress Slack plugin to receive automated notifications from your website?
Slack is a team collaboration and messaging application that lets you communicate with others in real-time. You can integrate it with other services and even your website to manage different projects.
With the help of WordPress Slack plugins, you can easily link your site with your Slack workspace in a few minutes. This helps you stay connected with your customers, team members and get notified about website updates.
In this article, we've handpicked the best WordPress Slack plugins on the market. Before we start, let's learn what to look for in a Slack plugin.
How to Choose a WordPress Slack Plugin?
There are different types of Slack plugins that let you sync your WordPress website with Slack workspaces. According to the plugin you choose, you'll get features like:
Action alerts: Gives you alerts and notifications about new actions on your website like comments, newsletter signups, form submissions, and more.
User role creation: Lets you automatically add users to a Slack channel directly from your WordPress site. So for instance, if you're running an online course site, you can automatically add new students and staff members to respective Slack channels where they can communicate with one another.
eCommerce updates: Notifies you when a customer makes a purchase, cancels an order, or requests a refund/exchange on your WooCommerce store.
Customer support: Provides live chat options and automated replies from Slack for better customer support.
With a good WordPress Slack plugin, you can automate a ton of manual tasks. This will help you slash admin time and improve the productivity of your team.
We've listed the best WordPress plugins that offer different ways to integrate with Slack and optimize your workflows. So you'll have plenty of choices to find the right features and setup you're looking for.
That said, let's check out our list for the best Slack plugins for WordPress.
Best WordPress Slack Plugins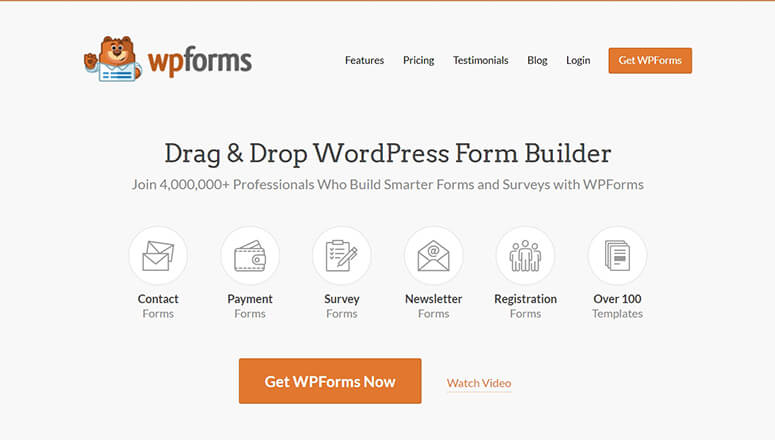 WPForms is the best form builder for WordPress sites. It comes with tons of powerful features to help you create all types of forms such as contact forms, payment forms, job application forms, donation forms, and so much more.
You get to choose from a variety of form templates or build a form from scratch. Its drag and drop builder makes it easy to customize your form the way you want it.
The great thing about WPForms is that it lets you seamlessly integrate your WordPress forms with Slack. With its Zapier addon, you can map form fields and customize messages for Slack on your WordPress site.
It allows you to send automated notifications to any of your Slack channels or direct messages. So, you can keep track of all the form submissions on your website without having to access your admin dashboard.
Also, the addon lets you register new users on your website and directly add them to your Slack channel. This saves so much of your time and makes your workflow more efficient.
Another way to connect with Slack is by using its Webhooks addon. It lets you integrate with Slack without the help of a third-party service like Zapier. This is perfect for developers who want more advanced options.
WPForms provides simple yet effective methods for integrating Slack on your WordPress site. So, it is the best WordPress Slack plugin for all types of websites.
Highlights:
Easy to use and set up
Over 100 form template designs
Slack notifications and alerts using Zapier addon
Supports webhooks for Slack integration
Built-in spam protection
Entry management system
Pricing:
The WPForms Lite is available for free. The pro versions start at $49.50 per year.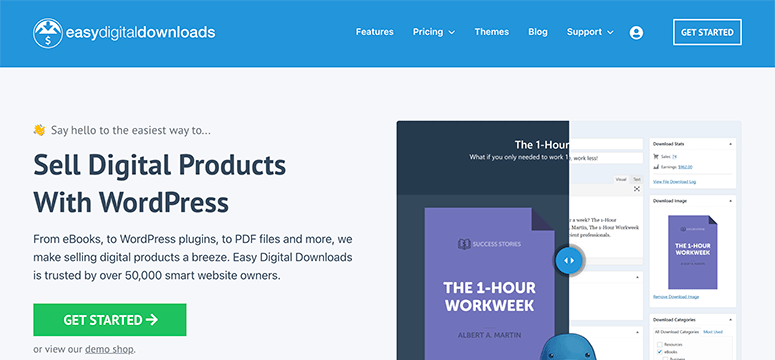 Easy Digital Downloads is a popular WordPress eCommerce plugin that makes selling digital products and downloadables a breeze. You can sell everything from eBooks to WordPress plugins, images to online courses, and more.
The plugin comes with all the features that you'll need to set up a full-fledged online store without the help of a developer. It includes an advanced shopping cart system that you can customize according to your needs.
Easy Digital Downloads offers built-in integration with Slack for all its premium users. This lets you send personalized messages and notifications to any of your channels.
You can set up multiple Slack notifications with custom triggers, messages, icons, dynamic values, and more. The triggers are available for new user registrations, product purchases, purchases failed, discount codes applied, and more.
With more EDD integrations, you get access to other trigger options for your eCommerce site. You can also automatically invite your customers or clients to your private Slack group.
Other than this, Easy Digital Download gives you detailed reports and stats to track the performance of your store, customer activity, downloads, and more.
Easy Digital Downloads is the best WordPress Slack plugin for eCommerce stores and online businesses that sell digital products.
Highlights:
Multiple payment gateways
Shopping cart options
Many trigger options for Slack integration
Customizable Slack notifications
Supports Slack invites and Slash Commands
Interactive Slack notification buttons
Generate discount codes
Pricing:
The free version is available for download. The pro version starts at $99.50 per year.
Get started with Easy Digital Downloads!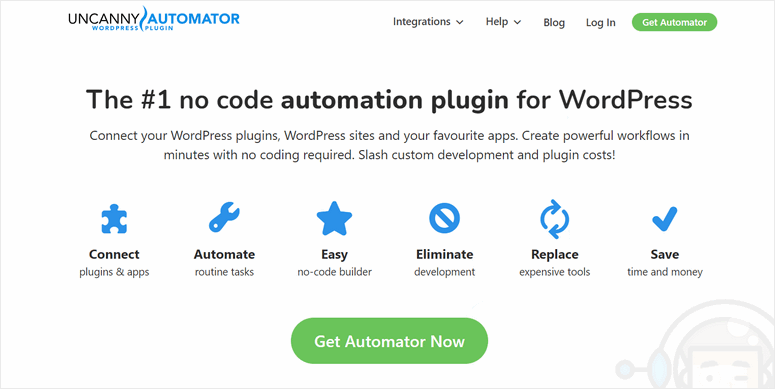 Uncanny Automator is the most powerful automation tool for WordPress. It lets you connect your WordPress site with third-party apps like Zoom, Google Drive, and Slack without any coding.
With this plugin, you can easily create automated workflows called recipes. All you have to do is set up triggers and actions between different apps. So for instance, you can send notifications to a Slack channel every time a customer places an order on your WooCommerce site.
Like this, there are options to send Slack notifications for triggers like:
User submits a form
Student enrolls in a course
New blog post is published
Customer downloads a product
Someone subscribes to your newsletter
New member joins your affiliate program
…and more. Basically, it acts as the bridge between your WordPress site and other external web applications. This WordPress Slack plugin offers smooth integrations with major plugins like WPForms, MemberPress, WooCommerce, and Elementor.
You can even integrate multiple WordPress plugins and send Slack alerts only when all the trigger conditions are met. So, the possibilities are endless with Uncanny Automator.
It is the best choice for all businesses that don't want to invest in a separate automation tool like Zapier. You can connect your favorite WordPress plugins with Slack in a jiffy.
Learn how to embed Slack in WordPress using Uncanny Automator.
Highlights:
No-code workflow builder
Automatically detects installed plugins
Integrates with thousands of plugins and apps
100+ automation triggers and actions
Option to delay and schedule Slack notifications
Pricing:
The free version is available on WordPress.org. The pro plans start at $149 per year.
Get started with Uncanny Automator!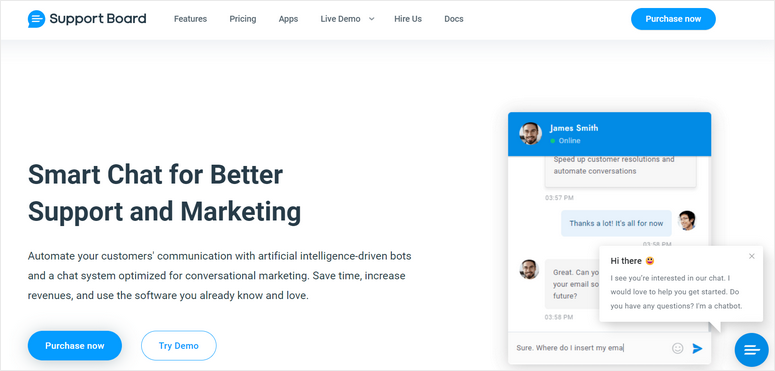 Support Board is a premium WordPress Slack plugin that is used for chatting with your visitors using Slack. It lets you add an automated live chat feature on your website that comes with AI-based conversation tools and triggers.
This plugin is the perfect option for those who want to automate their primary customer support. You can connect with Slack so that any team member can respond to the messages from Slack.
With Support Board's user-friendly dashboard, even beginners can manage customers and conversations effortlessly. There are options to save replies, edit and modify messages, and more.
Plus, it lets you automatically synchronize user data and profiles in Slack. So, you can easily manage customers and interact with them on your website.
Support Board is the best choice for those businesses looking for a reliable Slack live chat tool. The downside here is that you need to buy the plugin and then buy addons for every messenger app (like Slack) at an extra cost.
Highlights:
On-site customer insights
Options to modify and delete messages
Save replies for later use
AI-based conversations for live chat
Chat registrations and login features
Pricing:
Starts at $59 (One-time payment). Apps are not included and must be purchased separately. The Slack app costs $29.
Get started with Support Board!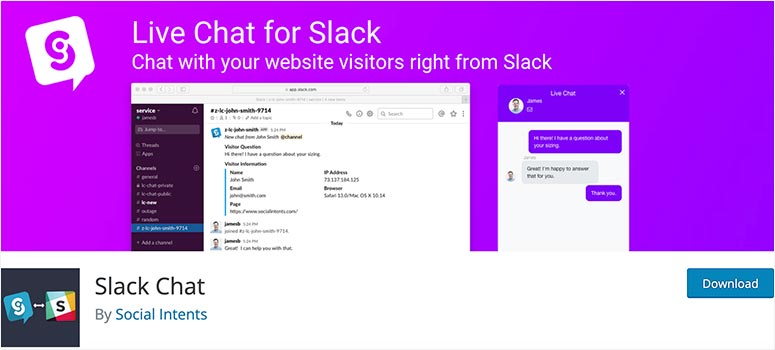 Slack Chat is an excellent WordPress Slack plugin that lets you add a live chat feature to your WordPress site. So, you can communicate with your website visitors directly from Slack.
The plugin allows you to chat directly from Slack or the web app. This way, you can quickly respond to customer inquiries and capture more leads for your business. 
You can add unlimited support members to the chat, and there's no limit to your monthly chat sessions. Slack Chat also lets you customize colors to match your website.
If you want a simple solution for providing customer support service using Slack, then this is the ideal choice for you. Keep in mind that this plugin is incredibly overpriced for the features it offers.
Highlights:
Direct integration with Slack
Customizable live chat widget
Users can send images and files
Push notifications (mobile, email, and desktop)
Multi-language support
Pricing:
Starts at $49 per month and is limited to 1 live chat widget and 3 chat agents. If you want the unlimited package, it's $132 per month.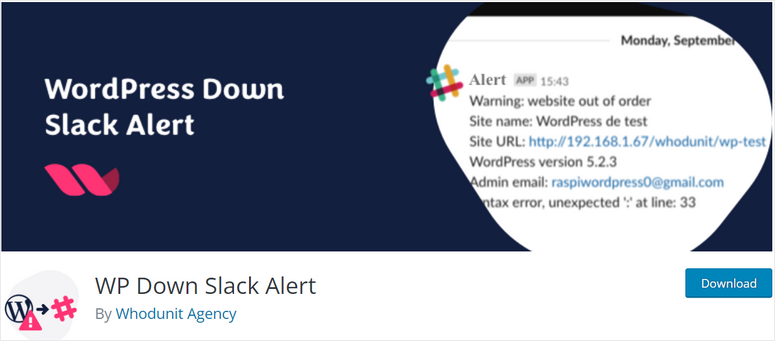 Next on our list of the best Slack WordPress plugins is WP Down Slack Alert. This plugin automatically sends notifications on your Slack channel whenever your site is down.
WP Down Slack Alert lets you create a custom Slack bot that notifies you as soon as your WordPress site goes into recovery mode. This helps you resolve any website issues without wasting any time.
Highlights:
Simple and Lightweight
Supports custom codes
Easy to connect your Slack channel
Instantly sends Slack alerts when your site does down
Pricing:
Free.
Get started with WP Down Slack Alert!
Which is the Best WordPress Slack Plugin?
We've reviewed the best Slack plugins for automating different workflows and tasks on your WordPress site. If you're confused about one to choose for your business, then you can check our top picks:
WPForms: The #1 form builder for WordPress that lets you connect your forms with Slack. With its Webhooks and Zapier addon, you can send automated notifications for new submissions and even auto-invite users to Slack channels.
Easy Digital Downloads: The best WordPress Slack plugin for eCommerce sites. It lets you send customized Slack notifications about new product purchases, discount codes, and more. You can also make users pay to get access to a private Slack support group.
Uncanny Automator: The best WordPress automation tool that integrates with Slack to send notifications about any new changes on your site. It lets you connect with over 1,000 WordPress plugins and 3rd party apps.
And that's it! We hope this article helped you find the best WordPress Slack plugin for your website.
Next, you'll definitely want to check out these resources:
These posts will help you automate your marketing campaigns and generate more leads on your WordPress site. The last one will help you easily track the activity of your website visitors and analyze reports.