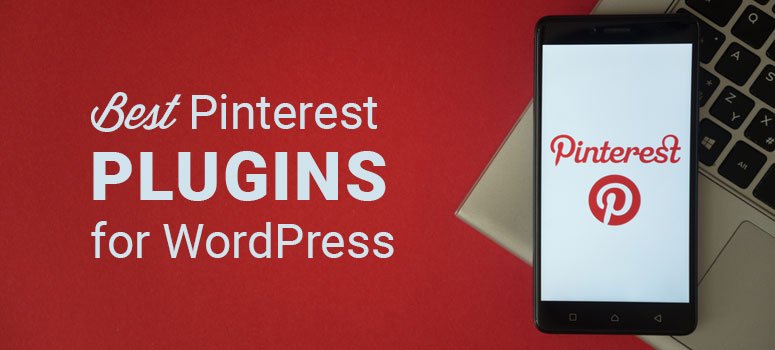 Want to use Pinterest as a part of your social media strategy? Being one of the most popular visual search engines, Pinterest can help you draw tons of visitors to your website and eventually convert them to leads.
WordPress offers a number of amazing plugins that let you integrate your Pinterest account to your WordPress website without coding a single line. In this article, we have rounded up 8 best WordPress Pinterest plugins that will help you do that with ease.
In doing so, we have only added the ones that we think are the best in terms of functionality, ease of use and performance.
So let's check them out.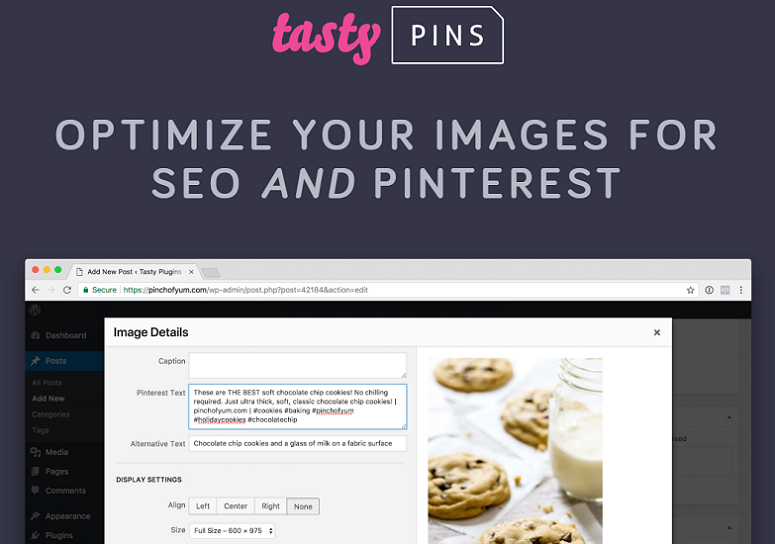 Tasty Pins is the #1 Pinterest WordPress plugin that lets you optimize your images for Pinterest. Using this plugin, you can set your own description and make the images optimized for search with hashtags, keywords, etc.
It is easy to hide specific images from your website with a simple click of the mouse. It even lets you disable pinning of certain images, and keep them safe on your website. You can also force your users to pin your hidden images.
The plugin is super responsive and is compatible with multi-purpose themes and plugins. It offers unlimited support, so you will never have to worry about anything. If you ever face a problem using the plugin, simply get in touch with the support team and they will help you solve your problem.
You may want to see our full WP Tasty Review.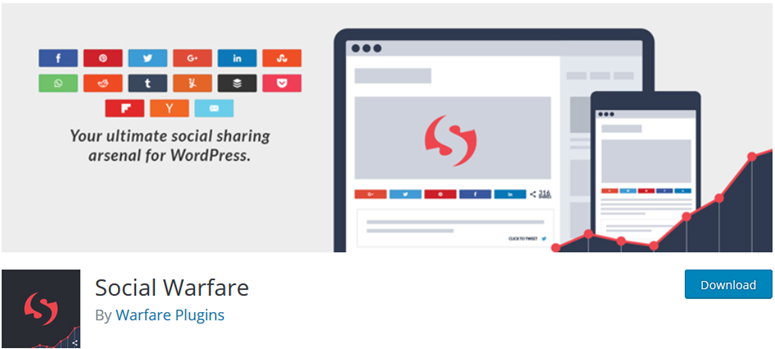 Social Warfare is one of the leading WordPress plugins that lets you integrate social share buttons to your website. Once you install this plugin, you will realize that uploading Pinterest specific images has never been this easy before. And not just Pinterest, this plugin lets you connect your website to over 15 different social networking sites.
The plugin is super light and exhibits super-fast performance. It also lets you take full control over the way you share your content on social platforms. You can optimize the titles, images, and descriptions.
You can even customize your buttons to match your website style. The plugin has over 5000 different style combinations.
You can also display your social shares to encourage more shares. If you think your count is too low to share with your visitors, you can hide it until it reaches a preset number. With a lot of other advanced features, this plugin can be an amazing option for your business.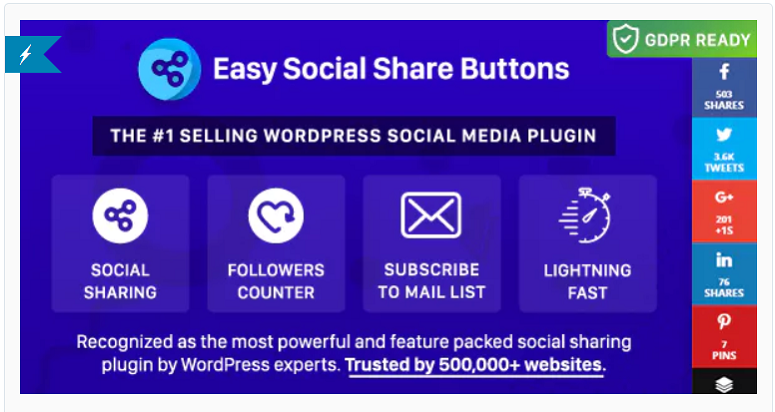 The Easy Social Share Buttons is another brilliant plugin to maximize your website's social exposure. Whether it is Pinterest, Facebook, Twitter, Instagram or any other platform, this plugin offers the easiest way to add a share button to your site.
You can easily add pins within your content and also add optimized images for your pins and galleries. These can then be added with beautiful lightboxes and Pin buttons. It even has beautiful Pin galleries, optimized pin quotes, and automatic pin buttons.
It also comes with a robust analytic tool to let you monitor your website's performance across different social sites. Easy Social Share Buttons is a lightweight plugin and let you optimize your images for better results. The plugin is responsive, so the buttons look great on all device irrespective of their size.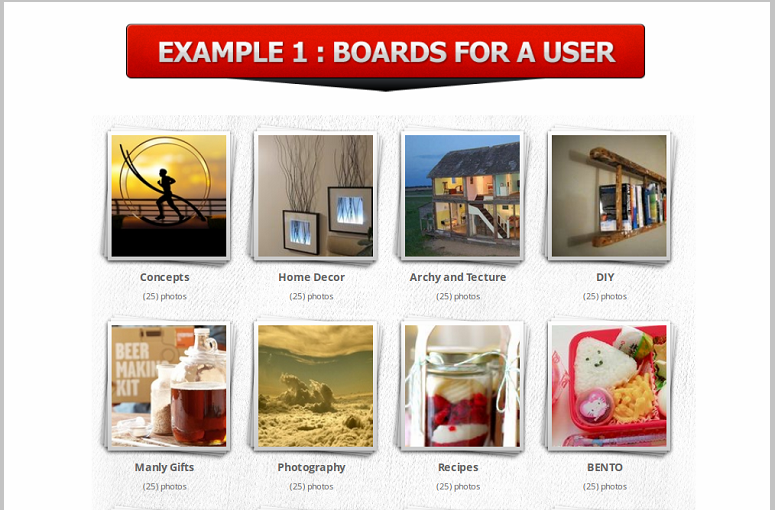 Pinterest to WordPress is a fantastic solution to integrate your Pinterest account to your WordPress site. It lets you showcase your Pinterest boards and Pins on your website. You can also use its customization options to adjust its height, width, and padding of your Pinterest galleries.
You also have full control of what you want to display on your website. The plugin offers an option to uncheck the images that you want to hide from the website. You also have two ways to link your pins. You can either show it on popups or link them directly to your Pinterest account.
Other than that, you can create and display an unlimited number of galleries, choose from 30 different background colors, use the color selector to match your gallery color with your website and more.

GS Pinterest Profile is a responsive plugin to display your Pinterest pins on your WordPress website. With this plugin, you can use shortcodes to display your pins anywhere, including on your widgetized areas.
This plugin is compatible with the latest versions of WordPress and with the Gutenberg blocks too. With GS Pinterest Profile, you can pull pins from any user on Pinterest and display pins from any board you want. You even have the option to add or delete the number of rows and columns in the range of 1 to 6.
The pro version of the plugin comes with 5 different themes, each with its own style. If you want to use your own custom style, you can do that too by using custom CSS. The plugin is user-friendly and is easy to setup. It also receives automatic updates and is very well documented.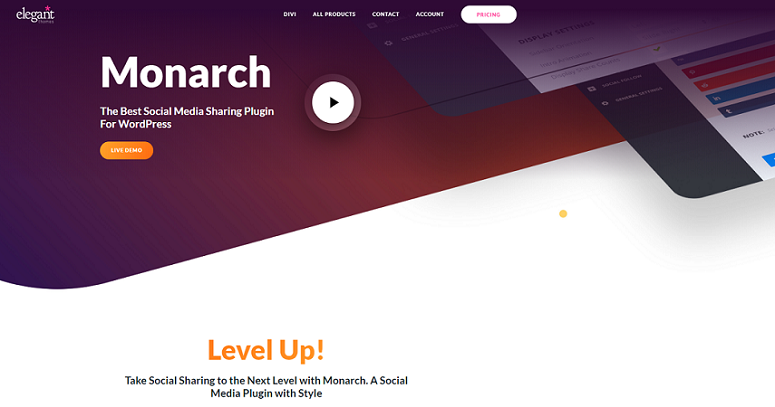 Monarch is yet another popular social sharing plugin that is loaded with amazing features. This plugin offers you more than 35 different social networks to choose from. It offers great customization options as well, so you can match your share buttons with the look of your website.
You can add your share buttons in 5 different locations. It can be on a floating bar, above or below your content, on your images and video, popups and automatic fly-ins. The popups and fly-ins come in 6 different styles.
The Monarch dashboard is super user-friendly and can be used by both newbies and advanced users alike. You can also check the number of shares, followers, and likes on the analytics dashboard. This helps you keep track of how your website is performing. It is also among the best click to tweet plugins for WordPress.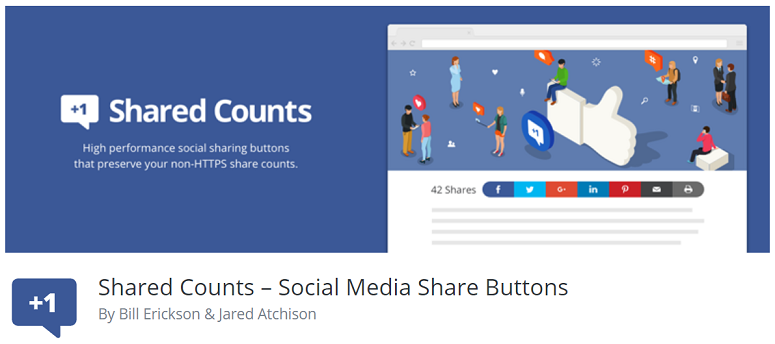 Shared Counts is a free WordPress plugin that lets you add beautiful social share plugins to your website. The plugin offers as many as 8 different social networking platforms to choose from. You can choose the ones you want and add them to your site in order to encourage your visitors to share your content.
The plugin offers a number of styling options for your buttons. You can pick the one that fits best to complement your website design.
The plugin has already been downloaded by more than 4000 users. With Shared Counts you will never have to compromise on the performance of your website because it has been beautifully optimized for speed.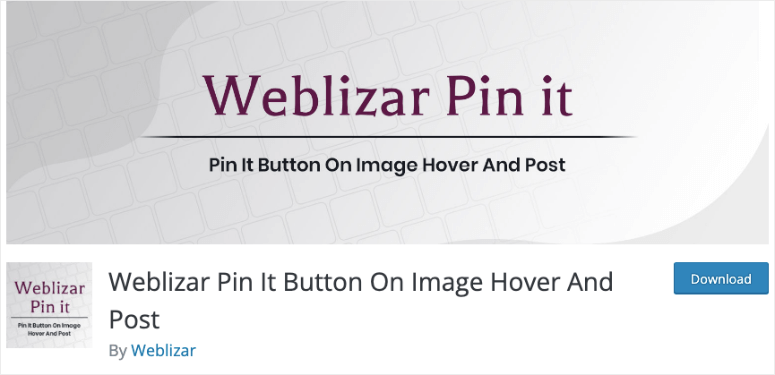 Try out the Weblizar Pinterest Pin It plugin to pin your blog posts, images, pages etc to your Pinterest board. You can display or hide your pins through your plugin settings. The plugin also lets you enable or disable the Pin IT button that appears upon hovering over your images.
The Pin It button can also be customized to increase or decrease the size. You can even change its color to match your website's overall appearance. To reach out to more people, the plugin lets you translate it to different languages. The plugin is compatible with all modern themes and plugins as well.
This plugin is available for free of cost. Besides, it is super responsive and looks good on devices of all sizes. So do try it now, and let us know how you like this plugin.
These are some of the Pinterest Plugins that let you integrate your website with your Pinterest account. We hope you found this post helpful. If you are using any other plugin that you think deserves a mention in this list, do let us know in the comments below.
Meanwhile, read our complete guide on How to Use Pinterest for Business: The Ultimate Resource