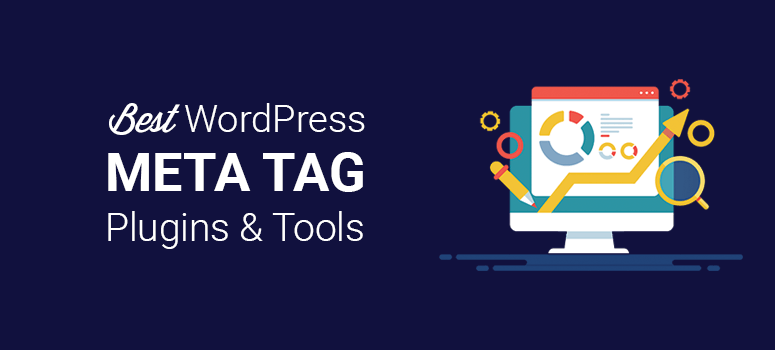 Looking for the best WordPress meta tag plugins and tools?
Meta tags are one of the key things to improving your website's SEO. It helps search engines understand your website pages and rank them properly.
In this article, we'll share some of the best WordPress meta tag plugins and tools that you can use.
What Is a Meta Tag?
Meta tags are small descriptions that explain your page content to search engines in a simple way. They don't appear to users on the frontend, which means you can freely add meta tags to your pages.
By inputting this information, your search engine rankings will improve automatically. You may not find an obvious field to add meta tags to your page, and that's where WordPress meta tag plugins are useful.
They help you stay organized and ensure that search engines like Google can quickly see and understand what your site's pages are about.
Before diving into our list of the best meta tag tools for WordPress, let's get clear on how to use meta tags correctly.
How to Use Meta Tags Properly?
Think of meta tags as a way of summarizing all your page content into a single word or a few words. Meta tags are those brief selection of words that fully define your page content.
You should choose the best tags to describe your content and add tags for your website pages separately. These tags can be helpful for search engines in segmenting your content.
The result is that your pages are more likely to rank higher.
Best Meta Tag Plugins for WordPress
Below, you'll find some of the best free and paid meta tag plugins for WordPress. Each plugin has different features and options, so you can take a look at the descriptions to select the best WordPress meta tag plugin for your website.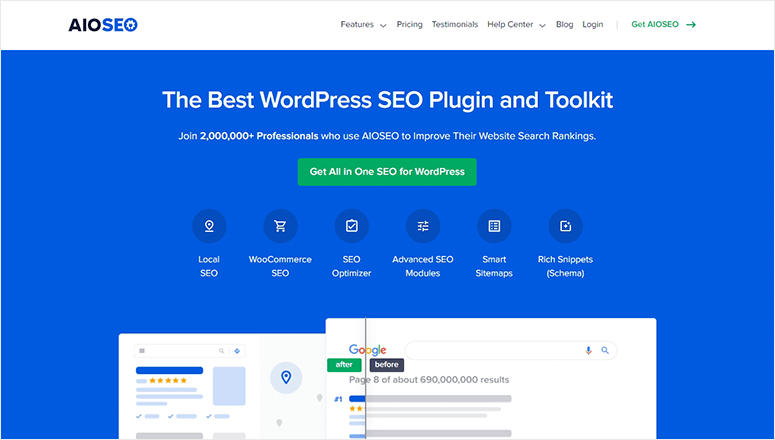 All in One SEO is the best and most popular WordPress SEO plugin. You can use this plugin to improve your website's overall search engine rankings. It offers a powerful toolkit with advanced SEO modules, WooCommerce optimizer, smart sitemaps, and so on.
With simple settings, All in One SEO adds meta tags to your pages automatically. You can also manually insert meta tags to each page, which means you have full control of your website's SEO.
The default plugin settings are ideal for any website. However, you can fully change the SEO options to build and increase your traffic in the direction you need.
Plus, it works seamlessly with WooCommerce. So, if you're running an online store, then All in One SEO can help rank your pages with the right meta information.
For more details, you should check out our complete All in One SEO review.
Price: The basic plan starts at $99.60 per year. It's scalable and you can upgrade to a premium All in One SEO plan as your website traffic grows.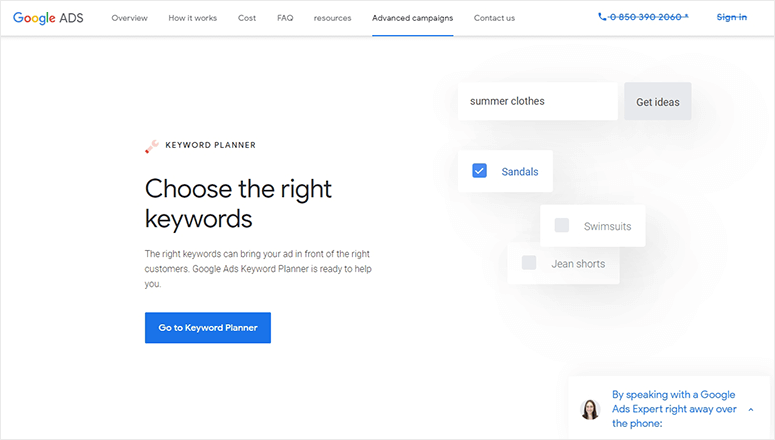 Google Keyword Planner is an SEO tool by Google itself. It helps find the best and most relevant keywords for your website pages. You can use these keywords as meta tags to further improve your website's search engine rankings.
Since the information is coming directly from Google, you can imagine its impact on your website. It will also display the number of results, high search volume keywords, and more details that help advertisers and website owners rank higher.
Price: The tool itself is free for everyone. You can set up an ad budget to promote your website and pay only for results.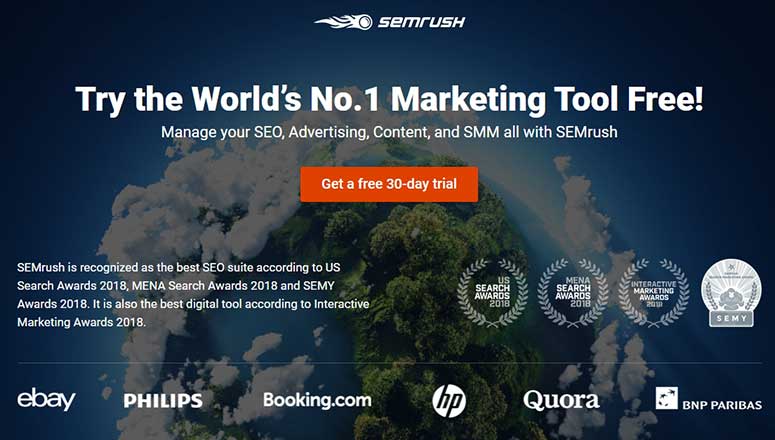 SEMrush is an excellent SEO tool built for professional marketers and experts. It's ideal for any small or large business and provides the right kind of tools that you need to manage your SEO, advertising content, and more.
With a wide range of tools, you can look into high ranking keywords and search terms. SEMrush also gives you a complete SEO analysis for your competitors, so you can stay ahead on the market.
Not only you can find the best meta tags for your website pages, but it also lets you work on your content to make it better for search engines.
And the good thing is that SEMrush works with WordPress out of the box.
Price: It offers a 30-day free trial. The premium plan costs $99.95 per month.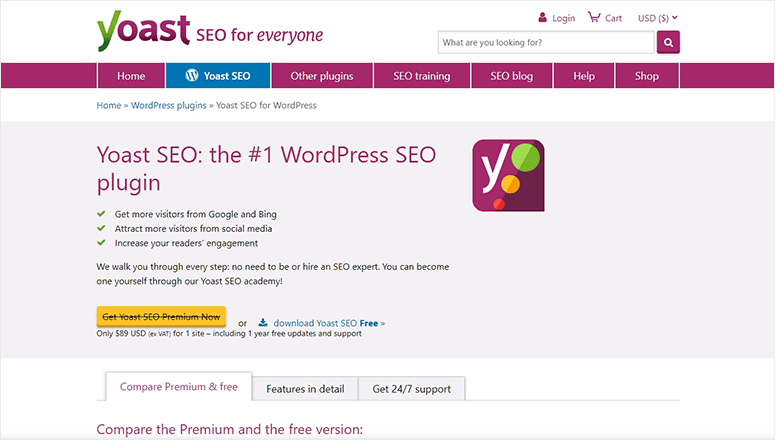 Yoast SEO is a well-known WordPress SEO plugin on the market. It comes with useful fields in the WordPress page and post editor to add your meta information, including keywords, tags, and so on.
It also shows signals to improve your content, making it ideal for ranking on search engines like Google. With a readability analysis and multiple SEO factors, you can strive to write better page copy that increases organic traffic to your website.
Yoast SEO is built for beginners and advanced users. It also provides easy-to-use tools for web developers to set up SEO for their websites.
For more details, you should check out our complete Yoast SEO review.
Price: Yoast has a free plan for beginners. The Yoast SEO premium plan offers complete features, and it costs $99 for a single site license.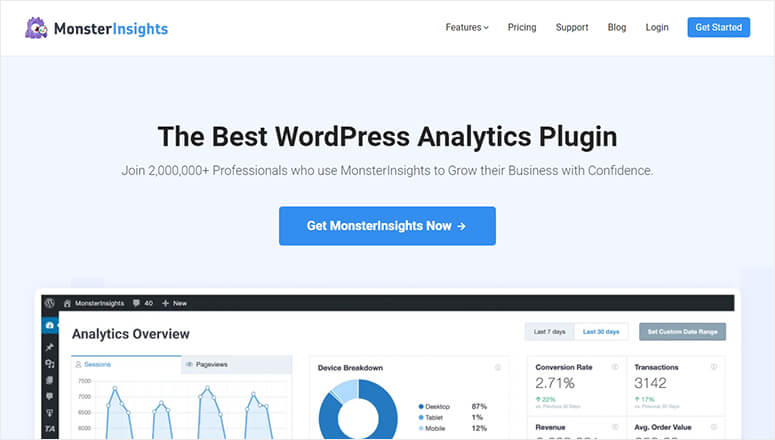 MonsterInsights is the best WordPress Google Analytics plugin. It comes with several tracking options and features to see real-time traffic updates for your website within the single WordPress dashboard.
You can also enter custom rules to see which keywords are ranking for your website. You can then use those keywords to add meta tags to your content. Plus, it shows traffic sources, so you can invest your time and money in the right direction.
With MonsterInsights, you can build a better SEO plan for your website that increases traffic. For more details, you should check out our complete MonsterInsights review.
Price: The starting plan costs $99.50 per year.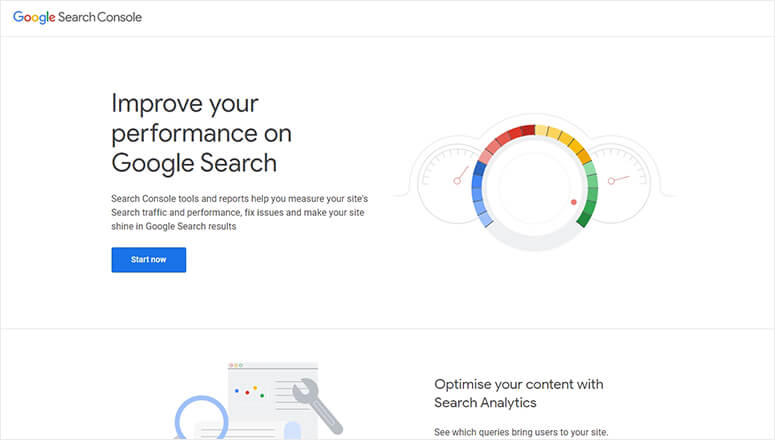 Google Search Console is another free tool by Google. It keeps an eye on your website's SEO and sends alerts when Google is unable to crawl your pages.
It gives you complete insights into the keywords where your website is ranking on Google. With this information, you can create the right content for users that are visiting your website.
You can then use those keyword suggestions to optimize your pages' meta tags.
Price: FREE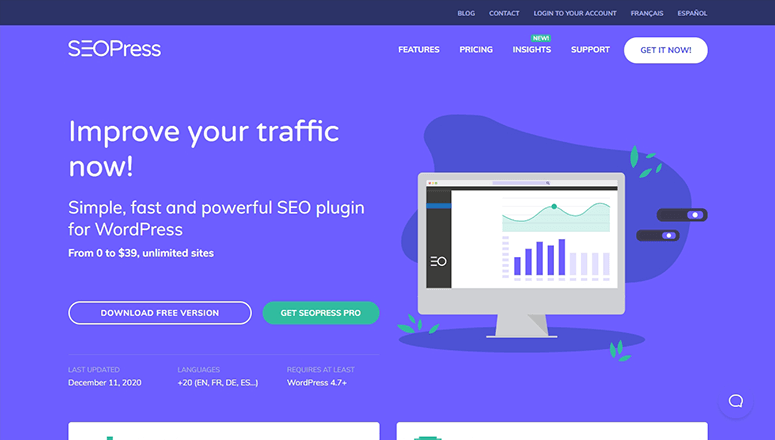 SEOPress is a premium and powerful WordPress SEO plugin on the market. It comes with all the features you need, including breadcrumbs, redirections, schema tags, sitemaps, and so on.
It also lets you modify meta information for your website pages easily.
SEOPress adds an intuitive dashboard in WordPress with simple settings to manage your titles, meta description, meta tags, and meta robots. You can also use this plugin to generate Open Graph tags for Facebook, Twitter Cards, and other social sharing options.
Price: It has a free version with basic tools. For complete features, it offers the paid plan for $49 with 1 year of updates and support.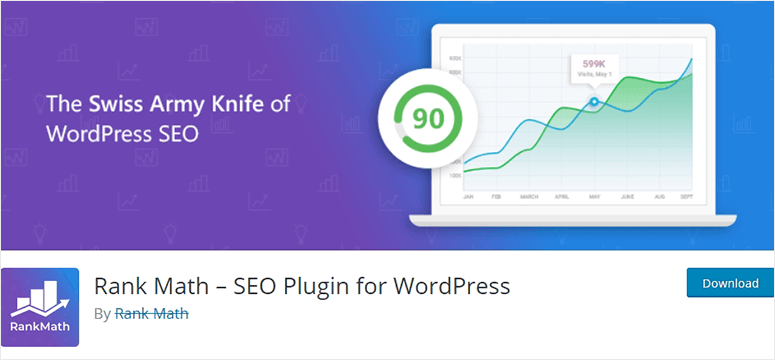 Rank Math is an intelligent WordPress plugin with smart automation features to set up SEO in just a few clicks. Unlike All in One SEO, it's relatively new in the market and building a user base.
The plugin automatically adds meta tags and schema markup to your website pages. You can also change the metadata to rank for specific keywords based on your research and business niche.
It lets you import data from several SEO plugins. With the simple and beginner-friendly setup, you can add titles, descriptions, and Open Graph metadata for your WordPress posts.
Price: It's a free WordPress SEO plugin. Rank Math also provides premium plans starting from $59 per year (excluding VAT).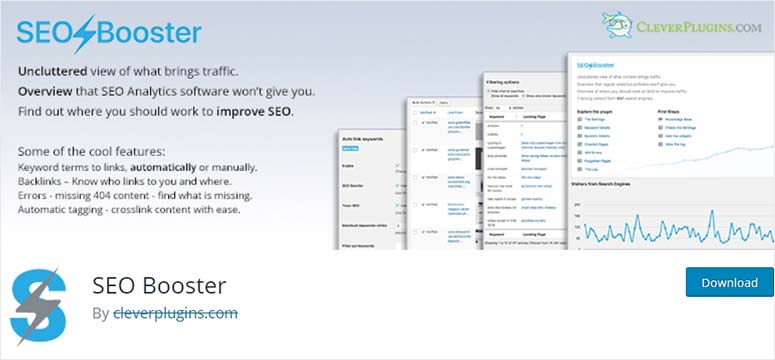 SEO Booster is a free WordPress SEO plugin to analyze your traffic sources. It lets you find the popular keywords for which your website is ranking, so you can create better content for your users.
It provides a built-in feature to create meta tags and categories for your keywords automatically. SEO Booster integrates with over 600 sources to find the most relevant keywords and helps increase your traffic.
Price: FREE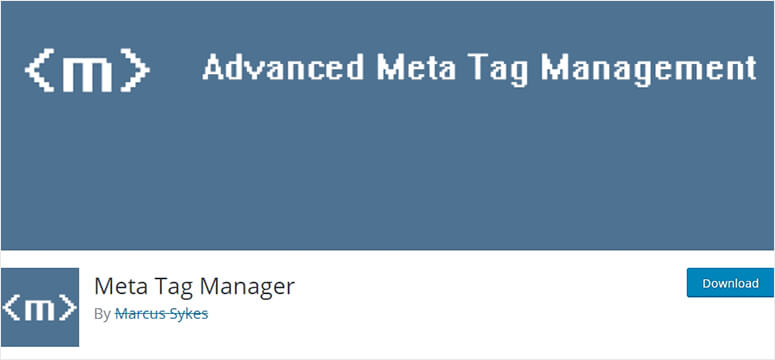 Meta Tag Manager is a lightweight WordPress metadata plugin. It lets you add custom meta tags for your website pages and posts easily.
It also offers a meta tag field for custom post types on the plugin's settings page. With the global metadata feature, you can add meta tags for the full website.
Price: FREE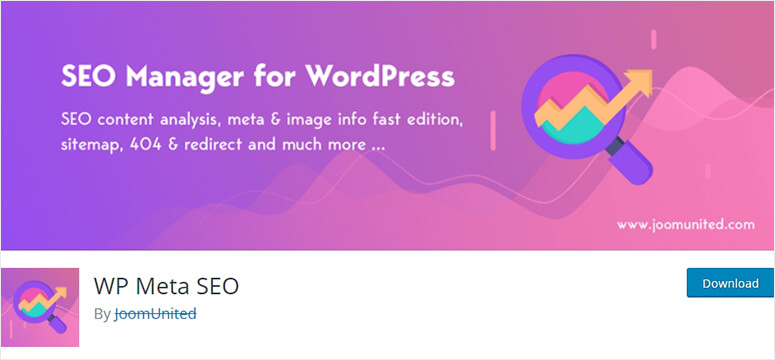 WP Meta SEO is a free WordPress SEO optimization plugin. It comes with a bulk editor to customize your website metadata on a single dashboard. You can also edit meta information in your content with live SEO analysis.
The plugin also lets you edit metadata for images. It offers Facebook and Twitter social sharing elements, too.
Price: FREE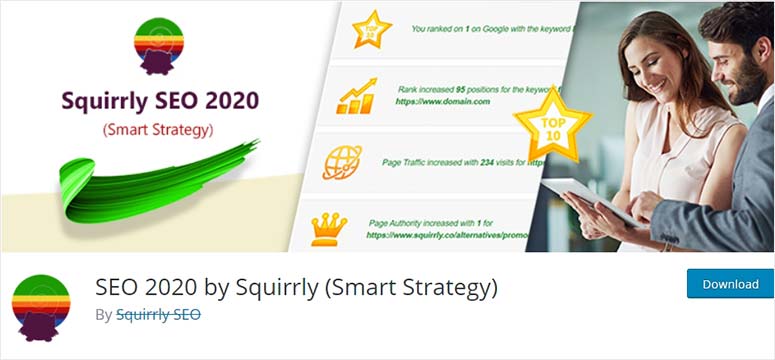 Squirrly SEO is an AI-based WordPress SEO plugin for consultants and marketers. It helps increases your website traffic with the right SEO tools.
The plugin is great for beginners. It gives you daily SEO goals and lets you work with several tools to grow your audience. With AI support, it will guide you on how and when to use SEO functionality.
Part of that is making sure each of your pages has the right meta tags, which Squirrly helps you do.
Price: FREE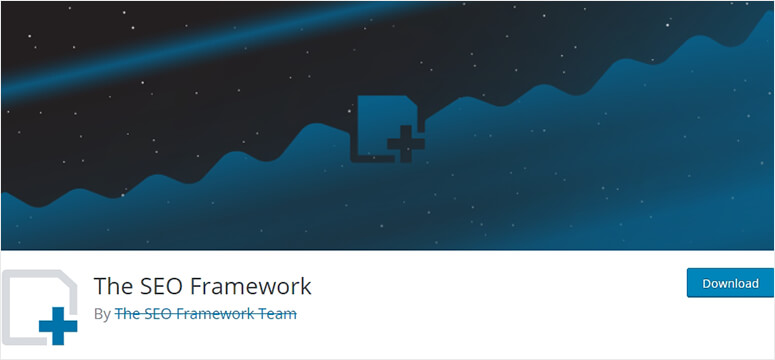 The SEO Framework is a free WordPress SEO plugin to optimize your website and helps with search engine rankings. It comes with metadata optimization features within the WordPress dashboard.
The plugin offers pre-configured SEO settings for beginners to give them a base start right after the activation. Other than SEO, it also allows you to set up Facebook open graph, Twitter cards, and more for a better social presence.
Price: FREE
And that's it! We hope this article has helped you find the best WordPress meta tag plugins and tools.
You may also want to check out our guide on best SEO keyword research tools to find keywords that can outrank your competitors.