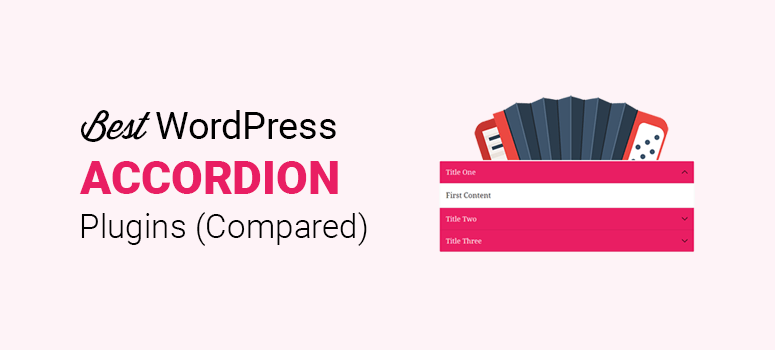 Do you want the best WordPress accordion plugins?
You can use accordions, or collapsible tabs, to display your content professionally. With accordions, you can easily add more content to your site while taking up less space.
In this article, we'll share some of the best WordPress accordion plugins for your website.
What is an Accordion?
An accordion is a feature that can help you add a lot of content to your pages more easily. Mostly, accordions are used to display frequently asked questions (FAQs) but you can use them for all sorts of content such as knowledge-based articles and product details.
In FAQs, your users can click on any question, and it'll expand the tab for the answer. By default, the answers are hidden. It saves them time to read only the needed questions. It also prevents your users from unnecessary scrolling on your WordPress website.

Aside from FAQs, you can use accordions to display almost any type of content that you want to be condensed. Accordion tabs can be vertical or horizontal. They also come in different styles, depending on the plugin you choose.
You'll find many WordPress accordion plugins on the market, which can make choosing the right one seem overwhelming. That's why we've hand-picked a few of the best WordPress accordion plugins for you, so you can choose with confidence and immediately start adding accordion tabs to your site.
Best WordPress Accordion Plugins
You could get the accordion effect on your site by installing a dedicated plugin. However, most website and page builders come with the accordion effect available inside their settings. All you have to do is just add the block and customize it.
We'll be showing you how to do this using the top 2 WordPress page builders SeedProd and Thrive Architect. Then we'll touch upon dedicated accordion plugins for WordPress.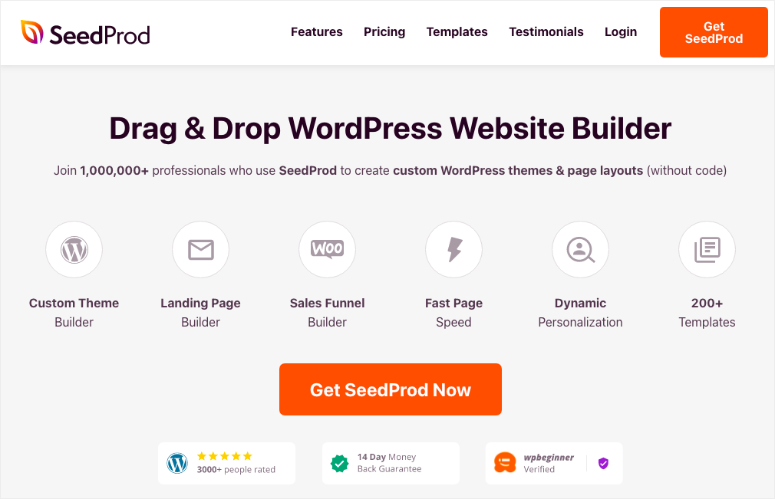 SeedProd is the best website and page builder for WordPress. You can use this plugin to create accordion blocks on your site without ever needing to use coding or shortcodes.
There are landing page templates that you can choose from and an intuitive drag and drop editor to customize every single element.
This means you could even create a dedicated FAQ page for your site with a responsive design.
Inside the SeedProd editor, there are smart blocks that let you add entire sections to your page such as FAQs, header, calls to action, footer, and hero sections.
All you have to do is select a template that matches your WordPress website's design.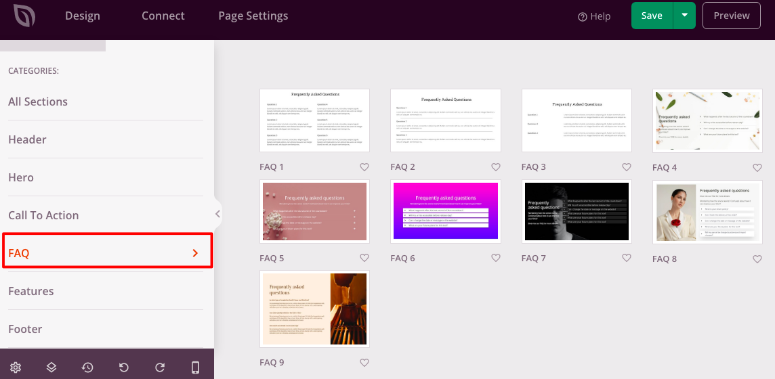 Then you can customize the content such as the questions and answers inside the FAQs block. You can add images, spacers, headlines, and so much more. You can also add columns and rows to your FAQ list, and drag and drop them to change their positions.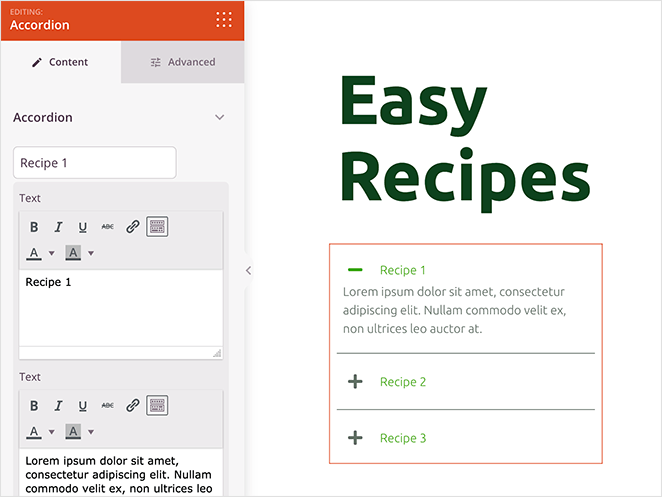 There are tons of styling options for the FAQ block including accordions and lists.
If you're running an online store, SeedProd seamlessly integrates with WooCommerce. So you can also display your WooCommerce products and add the accordion block which customers can use to show/hide more details such as product descriptions, shipping and return policies.
There's more! SeedProd lets you create a custom templates. So you could create a custom accordion layout and then use it over and over again wherever you need. See our tutorial: How to Create a Custom WordPress Layout (Step by Step).
SeedProd is perfect for beginners as it's so easy to use. If you're a developer, you'll find that it gives you advanced backend customization options including HTML and custom CSS.
Ready to get started with SeedProd? Sign up for your 100% free SeedProd account here »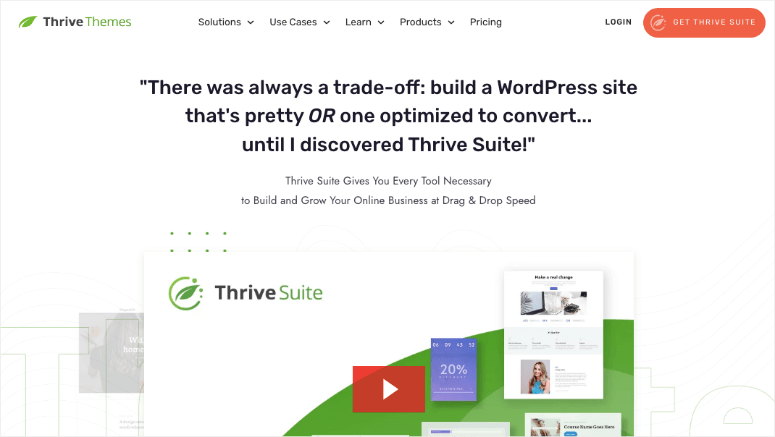 Thrive Architect is one of the best WordPress page builders to create beautiful, engaging and visually impressive content and layouts.
It comes with a super easy editing tool that lets you edit page elements according to what you prefer.
You can add headings and content inside toggle views that open and shut on click. There's a switch to enable Auto-Collapse – known as the accordion effect, and the result looks like this: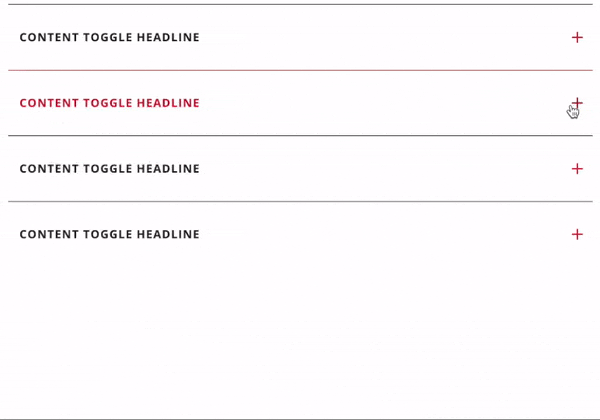 These nested accordions are perfect for knowledge based pages, FAQs, product pages, and so on.
Thrive comes with readymade customizable templates, so you won't have to spend hours figuring out your WordPress site design.
Thrive Architect is a pro plugin and can be bought individually, but it's also part of a bigger suite of tools called ThriveSuite. Thrive Suite is the best conversion-focussed WordPress tool suite. You can use it to design your site, create stunning pages, create online courses, quizzes, and so much more.
Those are our top 2 page builders with the built-in accordion effect features. Other page builders you can check out include Divi and Elementor.
Now, let's move on to the #1 WordPress plugin that lets you create accordions for your site.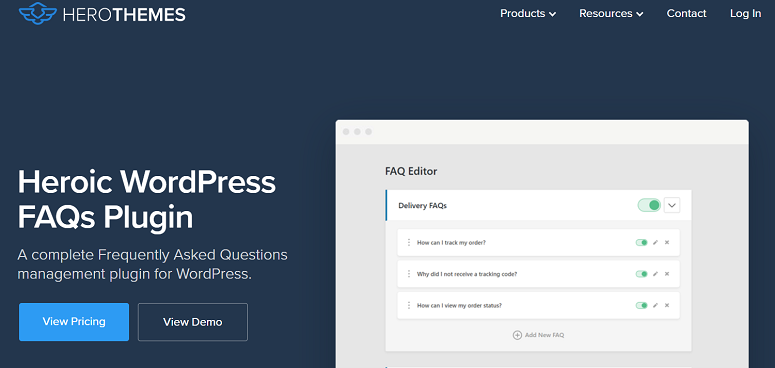 Heroic WordPress FAQs Plugin is one of the most user-friendly FAQ plugins to create an accordion style FAQ section.
It requires no coding at all. Once you install the plugin, you can access it by clicking on FAQ in your WordPress menu. This will launch the FAQ creator.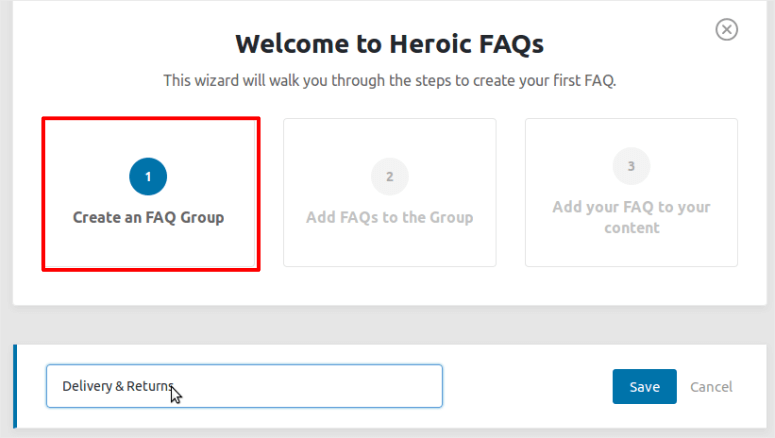 You can create different FAQ categories for different products, services, or processes on your site. The editor is the same as the WordPress native style so there's no learning curve to this plugin.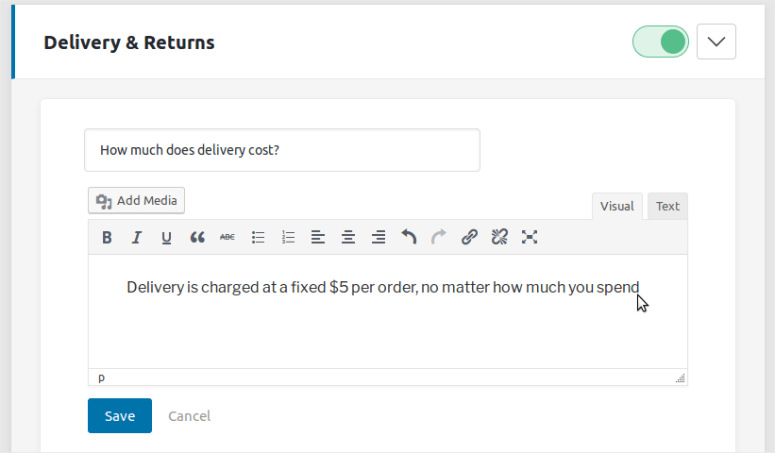 To create the accordion, you just have to use the 'Add New' button to create a new page or post. Then search for the 'Heroic FAQ' block and add it to your post.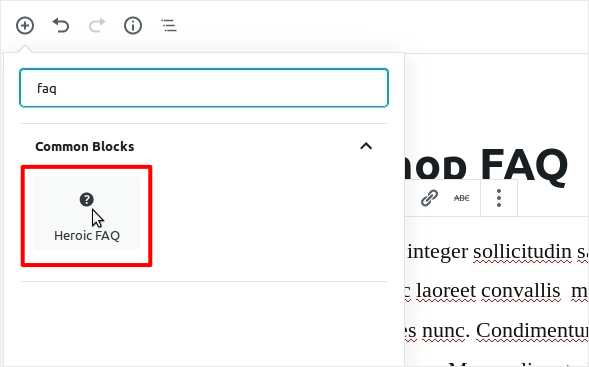 You can add and customize the FAQs easily thanks to its drag-and-drop builder. Then you can change the FAQ layout to accordion, toggle, or list. There are also options to change the icon position, size, and style.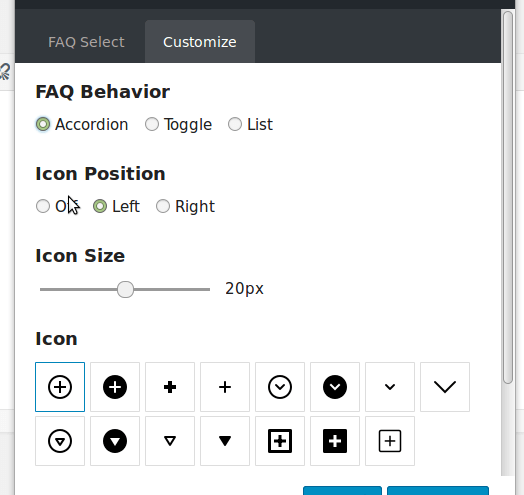 If you're still using the WordPress classic editor, this plugin supports shortcode embeds as well.
The best thing is that it supports images, videos, and animations as well. The visuals can make things clearer for your visitors.
You can test out how your changes display FAQs on your site and then make changes accordingly. You want to make sure your collapsible accordion menus work correctly and reveal the right answers.
Heroic Themes also comes with a Knowledge Base plugin. This lets you create documentation for your product on service. You can use the accordion style to shorten the length of your documents and make it easier for customers to find solutions to their problems.
Ready to get started with this plugin? Head over to Heroic WordPress FAQs Plugin.
In our opinion, you only need one of the 3 plugins above to add the accordion style to your site. You'll get responsive designs, beautiful layouts, and so many more features.
That said, we like to give our users plenty of choices. Below, we've listed more accordion plugins for WordPress that you can try out for your site.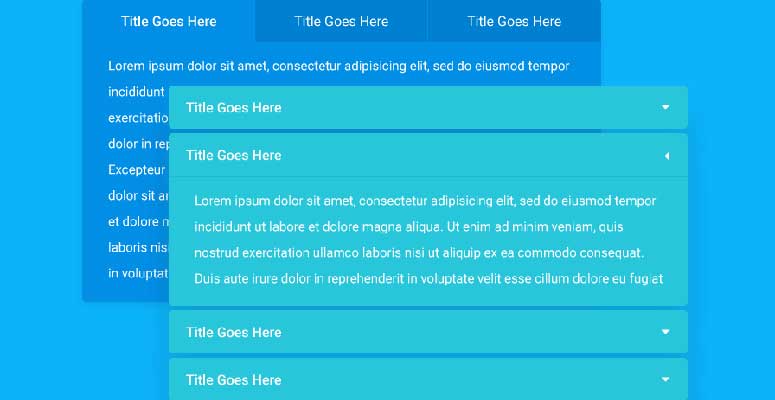 Accordion comes with multiple built-in templates, colors, styles, and background images. Accordion allows you to display a multi-color header.
Plus, this plugin offers a drag and drop sorting option to easily manage your content within the accordions.
It's translation-ready and fully supports shortcodes to display accordion content in your pages, posts, sidebars, and other content areas. The advanced accordion settings allow you to open accordion tabs as external links.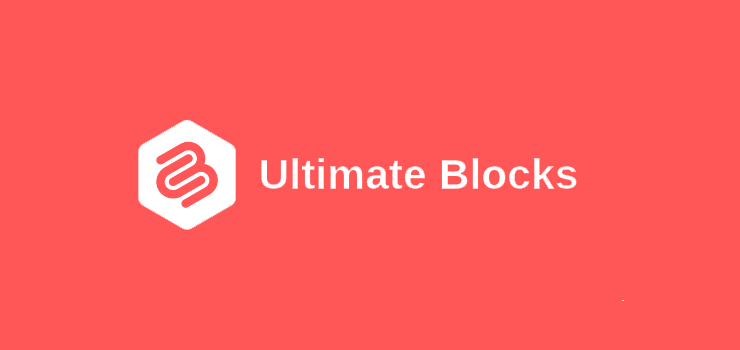 Ultimate Blocks is an essential plugin for Gutenberg block editor which has more than 15 custom blocks. One of the blocks is Content Toggle (Accordion). It allows you to add an accordion with ease to any post or page using the block editor.
It can be used on almost any WordPress theme, and it gives you the ability to choose the initial state whether it is collapsed or not. You can also change the color of the container and the color of the title box.
If you want to extend the functionality of the block editor, this is the right plugin for you.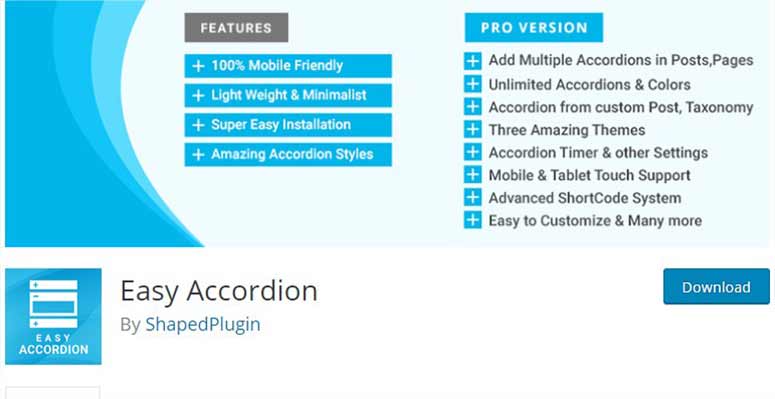 As the name suggests, Easy Accordion is a WordPress accordion plugin with simple settings that allows you to display unlimited accordions on your website. You can easily insert the accordion tabs into your WordPress posts, pages, and widget-ready areas.
Easy Accordion has a free version with basic features. The premium version that offers more options like color themes, accordion shortcodes, and more. It also allows you to create accordion tabs from your categories and other custom taxonomies.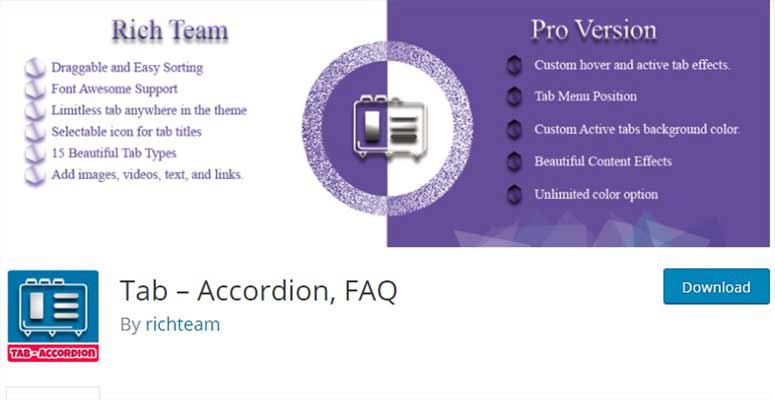 Tab – Accordion and FAQ is a free WordPress accordion plugin. It features horizontal and vertical accordion tabs with a responsive layout. It comes with animated accordions to attract users and engage them while on your website.
The plugin is beginner-friendly and allows you to add accordion content tabs to your pages, posts, sidebar, template files, and more. It has multiple layouts, drag and drop accordion sorting, transition effects, and beautifully animated templates.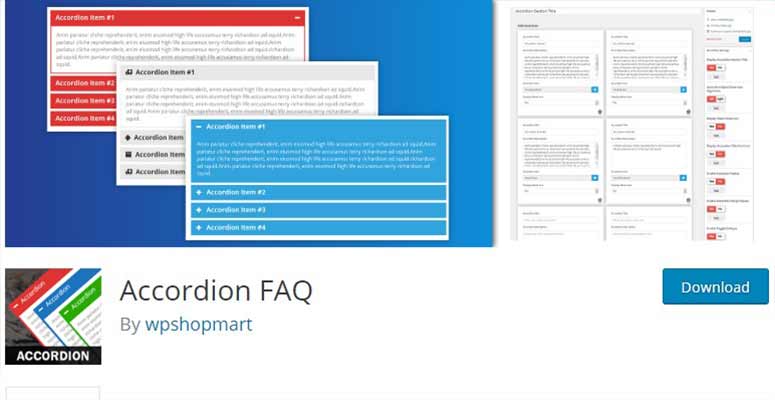 The Accordion FAQ plugin is one of the free WordPress accordion plugins based on shortcodes. It comes with an easy setup and allows you to drag the accordions up or down to change their arrangements. It features a drag and drop builder to display accordion tabs on your WordPress pages and posts.
Accordion FAQ supports color choices, bootstrap frameworks, built-in accordion layouts, Font Awesome icons, and more. It's fully-optimized for SEO and your accordions appear beautifully on all devices.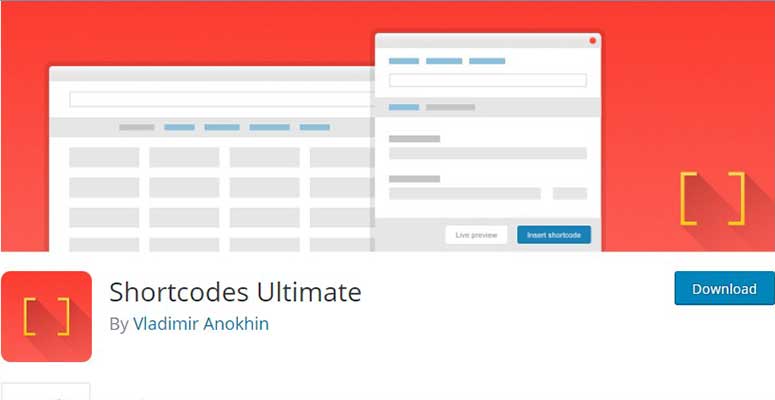 Shortcodes Ultimate is an excellent WordPress plugin with tons of shortcodes to easily add features onto your site. It allows you to insert the shortcodes for accordion tabs anywhere on your WordPress pages and posts. You can also add accordion tabs in widget-ready areas using shortcodes.
It comes with a custom widget that makes it easier to display accordions in the sidebar or other widget areas. It's a free plugin and works great with all the most popular WordPress plugins.
There's a free and pro version of this plugin.
Verdict: Which is the Best Accordion Plugin?
We've been building and running WordPress websites and pages for decades now. We can confidently say that the best way to add accordions to your site is using a reliable page builder like SeedProd or Thrive.
You can use these builders to create your entire page design and insert accordion widgets and blocks wherever you need. You never have to use any code.
Both builders give you unlimited customization options for colors, typography, images, backgrounds, and more. You can easily edit content as a live preview so you'll see it as what would appear on the front end of your site. If you need to reorder the accordion, you just have to drag and drop the tab content to where you want.
Since these are page builders, you'll get responsive accordion designs so you won't have to worry about user experience on mobile devices.
Added to that, plugins like SeedProd are SEO-friendly so you can use heading tags, subheadings tags, and so on to make sure your content rankings on search engines.
Next, you can make the most of your FAQ content by letting search engines know that you've added FAQs to your site. This will help your site rank in places on Google such as 'People also Ask' and even for specific questions that the user types in.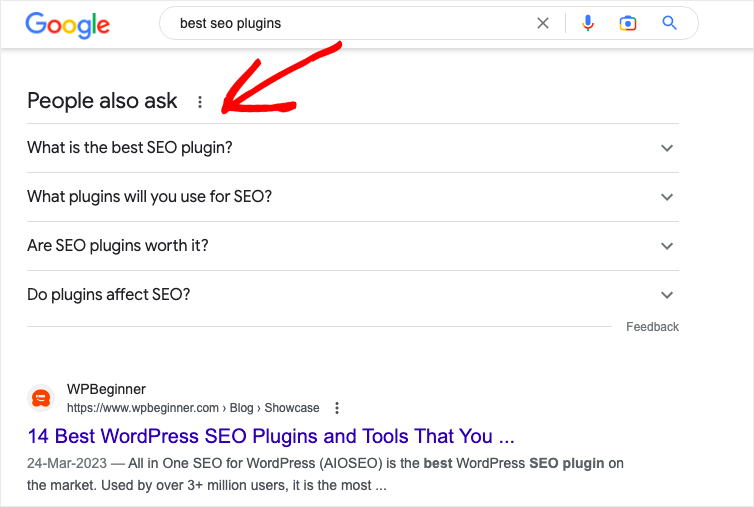 To do this, you need to add FAQ schema to your content. The easiest way is using All in One SEO. It comes with readymade schema templates. Inside the WordPress post editor, you'll see an AIOSEO section where you can select the schema tab.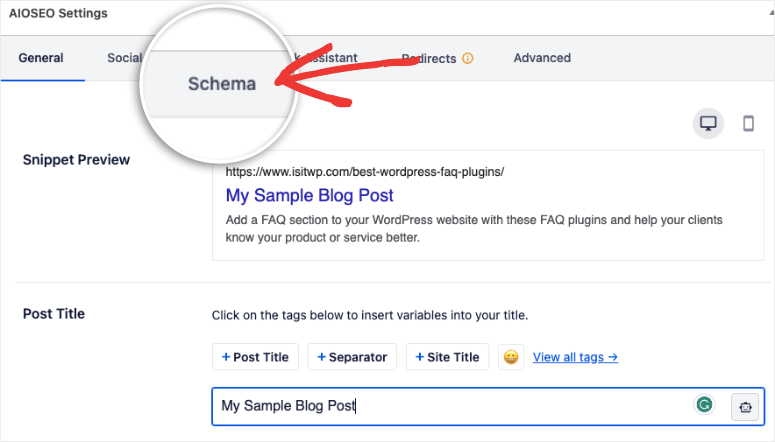 Then generate new schema and choose the FAQ schema template with questions and answers. All that's left to do is fill it in and save it.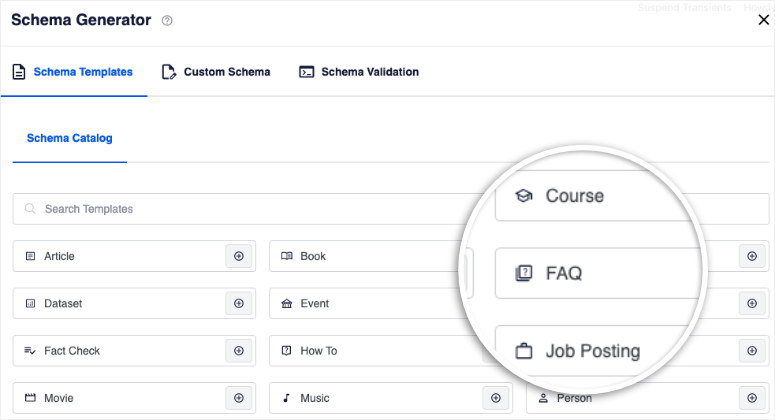 We hope this guide helped you find the best WordPress accordion plugins. If you're using heavy images on your site, you'll want to see our list of lazy load plugins that help boost the speed of your site.