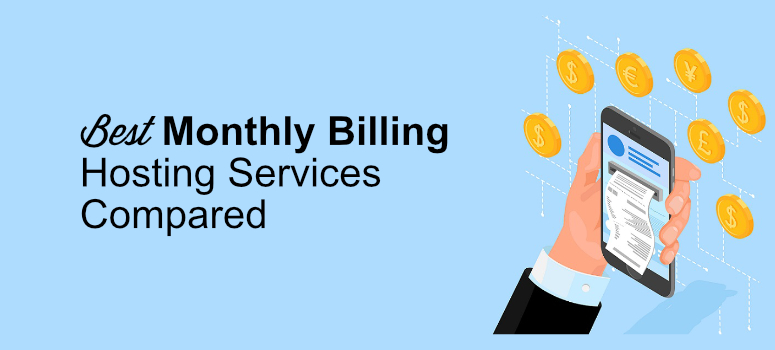 Are you looking for the best monthly billing hosting services for your business?
Monthly billing hosting services can be a great option if you've just started your online business and want to keep your initial costs low.
By selecting a monthly billing hosting service, you can pay for your subscription on a monthly basis rather than paying a larger bill annually.
The monthly plans allow you to cancel your subscription at any time you want without getting locked into a long term commitment. The best thing is that after you cancel, there are no extra fees.
In this tutorial, we'll tell you about the best monthly billing hosting services that you can choose from. But before we begin, let's have a look at the difference between monthly billing hosting and a yearly billing hosting plan.
How Does Monthly Billing Differ From Yealy Billing Hosting Plans
Generally, there's no major difference between monthly billing and yearly billing hosting plans. However, monthly billing hosting plans can be a bit more expensive in the end.
That's because most hosting providers offer a discounted rate if you purchase their plan for a longer-term. Some hosting providers even offer a free domain name with their yearly plan which they may not offer in their monthly plans.
But other than that, you don't have to compromise on other aspects like performance, support, or other features you'd expect from a hosting service. Plus, you may be unsure about how long you want to run your website, so monthly billing plans can be smarter when you're just starting out.
Let's now look at some of the best monthly billing hosting services.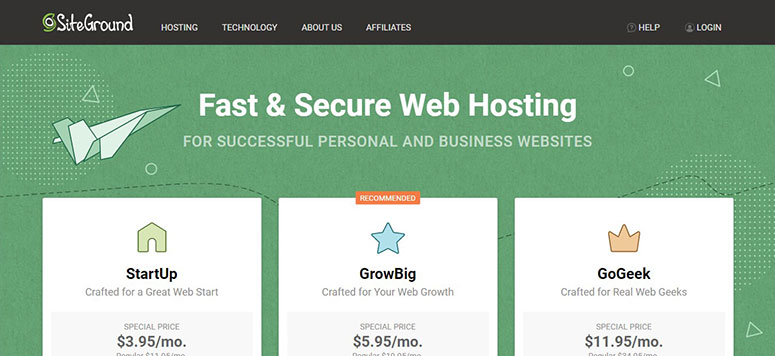 SiteGroud is one of the leading names when it comes to offering web hosting services with a monthly billing option. With SiteGround you can have several amazing web hosting features like optimized performance, free SSL, free website transfer, unlimited database, and a lot more.
It also lets you have up to 40GB webspace, on-demand backup copies, and stage boosting caching, among several other powerful features. SiteGround also offers the latest speed technologies and proactive security practices with all their hosting plans.
Read this detailed review to learn more about SiteGround.
WP Engine is one of the best managed WordPress hosting solutions that offers a monthly billing option at just $30/month. If you're new to WordPress, then WP Engine can be your best choice to get your business started. Their managed hosting platform makes it easy for you to publish content on WordPress.
They also offer one-click staging tools which you can easily test new plugins and updates before pushing the changes to your live site. If you choose WP Engine, you can have up to a million visits per month, 1 TB local storage, 400 GB+ bandwidth, and a lot more.
Read more about WP Engine here.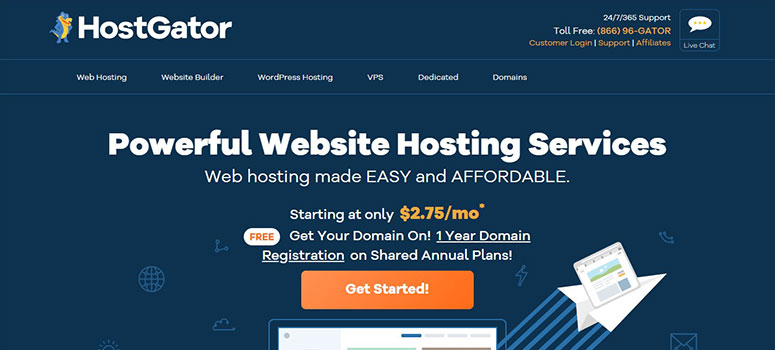 HostGator is another amazing hosting service provider that offers a monthly billing option to all its customers. By choosing HostGator, you can have a free SSL certificate, easy WordPress install, and a free cPanel/website transfer.
If you select their annual plan you can also have a domain name for free. HostGator offers top-notch support via chat and over the phone. They have an extensive knowledge base that answers every possible question you might have.
If you want to learn more, here's a detailed review of HostGator.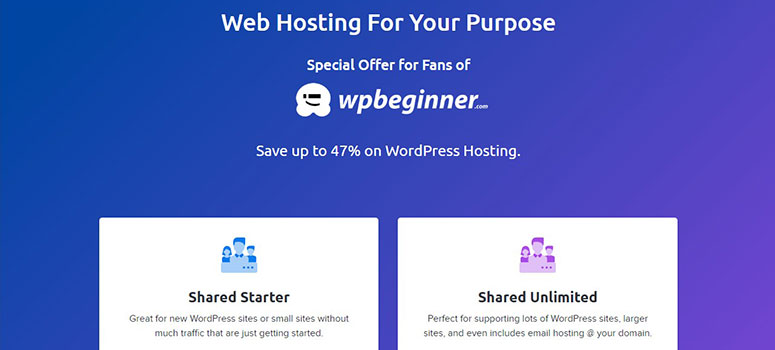 Dreamhost offers several amazing web hosting features like fast speed, free SSL certificate, and site security to ensure that their customers are taken care of. The best thing about Dreamhost is that you don't have to limit your choice of OS or software. Its unmanaged servers can be easily based on Linux, BSD, or even MS Windows.
Dreamhost's SSD disks, accelerated networks, and next-gen processors offer unparalleled speed to all its users. To keep your files secure, it also offers the cloud backup feature. It will work automatically to back up your WordPress site without you having to perform any manual tasks.
Here's more information about Dreamhost.
GreenGeeks is one of the best eco-friendly hosting providers that's committed to providing optimal performance to its customers. With GreenGeeks you can opt for their monthly billing plan that starts at just $9.95.
However, they will charge an extra $15 for the initial setup. This fee is exempt if you choose an annual plan.
With GreenGeeks, you can have a free wildcard SSL, unlimited web space, unlimited data transfer, and a lot more. The monthly billing plan doesn't offer the free domain name that's otherwise available for an annual plan.
Check out this resource to learn more about GreenGeeks.
GoDaddy is a very popular name when it comes to domain registration and web hosting services. Its affordable pricing and top-notch support make it the go-to choice for anyone who has just started their online business.
With GoDaddy, you can have super-fast, extremely secure hosting services at amazing prices. You can also have unlimited disk space, unlimited bandwidth, a user-friendly backend, 24/7 security monitoring, and DDoS protection for your website.
However, you may have to pay a little extra if you've already hosted your website elsewhere and want to get it migrated to GoDaddy.
Learn more about GoDaddy here.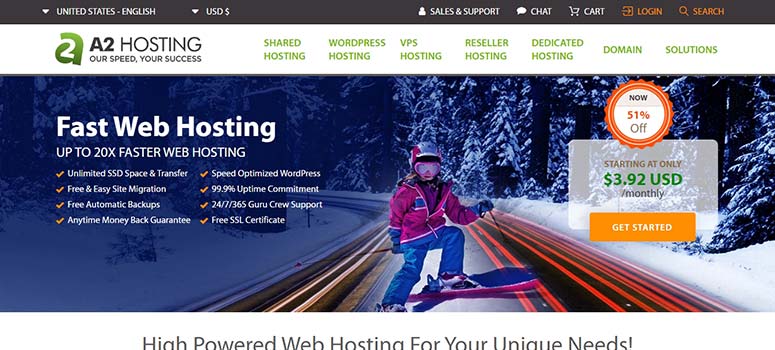 With A2 Hosting you can have your hosting plans at just $10.99/month. It's one of the leading web hosting service providers with unlimited disk space and bandwidth. A2 also offers free migration services if your site is hosted on another web hosting platform.
Read this review to learn more about A2 Hosting.
Hostinger is another web hosting service provider that offers a monthly billing option. With Hostinger you can have a fast and secure web hosting service with unlimited bandwidth, daily backups, 100 email accounts, and a lot more.
It offers everything you need to get started, so getting your business online is really easy. It also lets you install WordPress in just a click, the backend of which is powered by LiteSpeed caching and optimized speed.
Read more about Hostinger here.
InMotion is an extremely reliable, super fast and secure web hosting service provider that offers great web hosting features. Whether you're looking for WordPress hosting, shared hosting, VPS hosting or dedicated servers, Hostinger has everything for you.
InMotion Hosting offers quick and hassle-free transfers, 1-click app installer, and a website builder. To keep your website secure, it'll auto-update your website. Plus, InMotion offers free SSL, hack protection, and DDoS protection too.
Learn more about InMotion here.
These are some of the web hosting services that offer a monthly billing option. We hope this article helps you find the best option that will help you get started without investing too much right in the beginning.
Once you're done selecting your web hosting service, you might also want to learn how to create a website from scratch. This guide will help you learn the right way to get your site up and running.