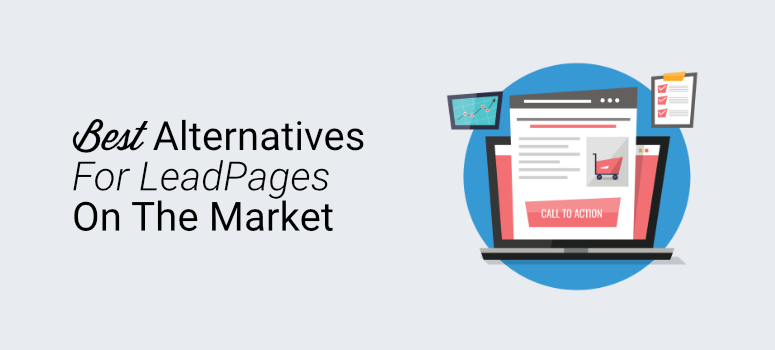 Are you looking for the best LeadPages alternatives for your WordPress site?
LeadPages is a landing page builder that allows bloggers, marketers, and website owners to create optimized landing pages for their website.
But you may be searching for an alternative landing page plugin for your WordPress site. Perhaps you need different features, pricing, or support options to satisfy your needs and build a website you're proud of.
In this article, we're going to share LeadPages alternatives you can use for your WordPress site. But first, let's look at a few reasons why you might use this type of software.
Why Use a Landing Page Builder on Your WordPress Site?
There are many reasons why landing pages are good for your site.
1. Generate Leads
To effectively market to customers in the future, it's crucial to get their information. This makes it easy to generate leads and collect email addresses of qualified leads that are likely to convert.
2. Promote New Products and Services
You want to get the word out about a new launch so you can boost conversions and revenue as much as possible. With landing pages, it's easy to list the benefits and give numerous reasons why your customers want to take part.
3. Build Brand Credibility
When done correctly, landing pages help you build your email list and attract the right customers to your business. You can add social proof to your landing page to build brand credibility and give customers more reasons to trust your website.
Now that we know the benefits of finding and using an alternative to LeadPages, let's look at the top choices currently on the market.
7 of the Best LeadPages Alternatives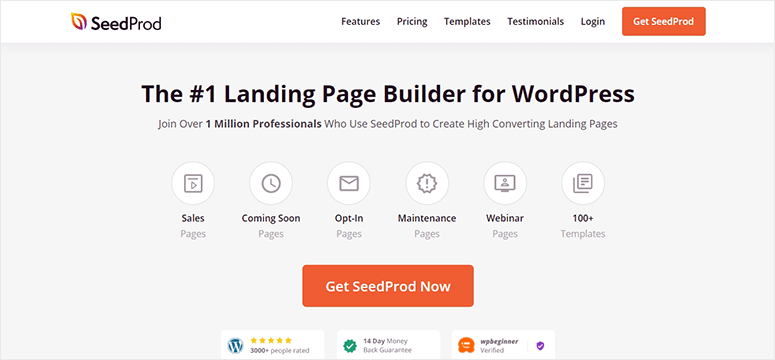 SeedProd is the best landing page builder for WordPress. You can create any type of landing page you want with its drag-and-drop interface without needing to hire a developer or learn code.
With SeedProd, you can create your landing pages from scratch or choose from its stunning premade templates, including sales, optin, coming soon, maintenance mode, webinar, login and thank you pages.
It has pre-built smart sections like headers and calls-to-action, so you can set up your landing page in minutes.
This plugin also comes with spam protection, premium integrations, subscriber management, and is 100% mobile responsive. Its integrations include Constant Contact, AWeber, GetResponse, ActiveCampaign, Brevo, and many more.
Get started with SeedProd today.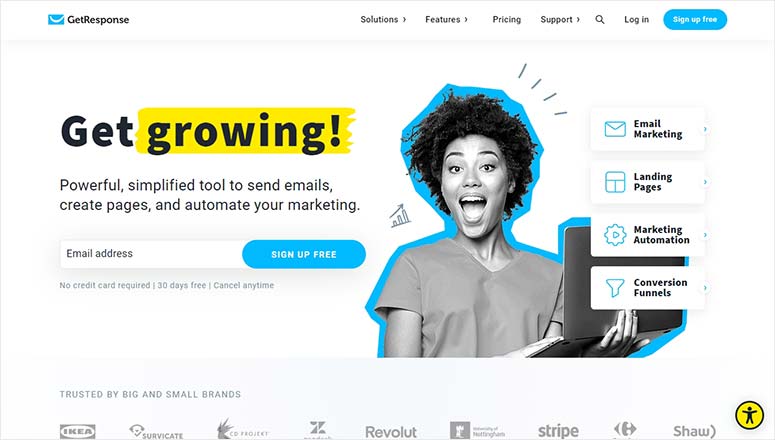 GetResponse is another great tool that lets you build landing pages for your website or online store. As an inbound marketing platform, it comes with an optimized landing page builder.
GetResponse makes it easy to create and customize a landing page in minutes. You can choose from its 200+ prebuilt templates and use its drag-and-drop editor to build your page. Add GIFs and stock photos, optimize for mobile, and change any element you'd like.
This tool is also SEO-friendly and helps you optimize your landing page for higher visibility. You can also monitor your landing page's performance including clicks, visits, conversions, and more.
To learn more, check our complete GetResponse review!
Get started with GetResponse today.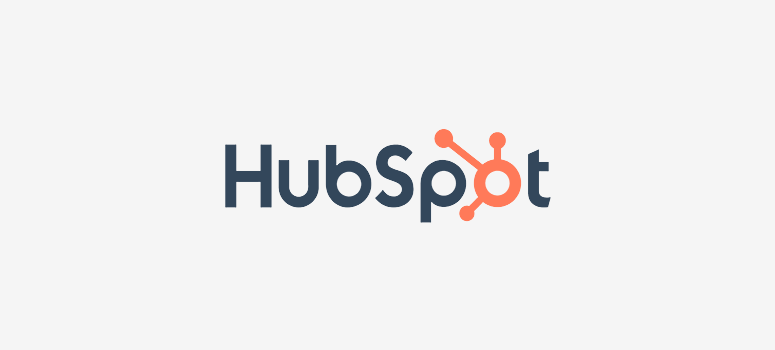 HubSpot is a popular marketing platform that also comes with a landing page builder. It's free and doesn't require the help of a developer to set up and activate.
HubSpot's landing page builder comes with powerful features like marketing automation, lead management, and analytics. Its drag-and-drop builder helps you customize your content, forms, layout, CTAs, and more.
Plus, HubSpot comes with a built-in library of mobile-optimized templates to choose from.
This tool also comes with HubSpot CRM, so you can organize and manage your customer relationships from one place. Its detailed analytics identify your high-performing landing pages and receive personalized SEO suggestions to optimize your campaign.
Get started with HubSpot today.

Brevo (formerly Sendinblue, is a marketing platform that helps with your email marketing, SMS marketing, online campaigns, and more. It's an all-in-one solution where you can create, customize, and market content from one platform.
Brevo comes with a landing page builder that lets you choose the goal of your page, build a custom design, and market to users. You can also customize your fonts, styles, logo, favicon, and more.
Brevo's CRM helps you manage all your customers from one place. It comes with marketing automation tools that automate your segmentation and marketing messages, so they reach the right customers. It's completely mobile responsive so your landing pages are sure to look great on any device.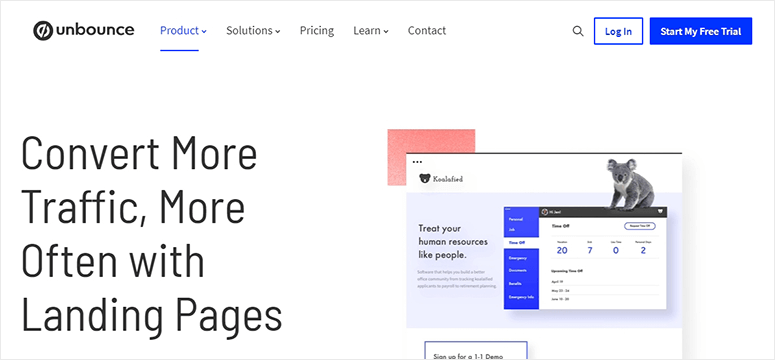 Unbounce is a popular landing page platform for business websites. It also comes with popups and sticky bars to boost conversions with targeted offers.
Unbounce's landing page builder uses a drag-and-drop interface that's user-friendly and requires no coding knowledge. It comes with 100+ optimized templates with various styles to match your existing branding and theme.
Its Smart Traffic feature automatically sends each visitor to the page variant that best suits their interests. It also comes with A/B testing so you can improve your current strategy and build higher-converting landing pages.
Get started with Unbounce today.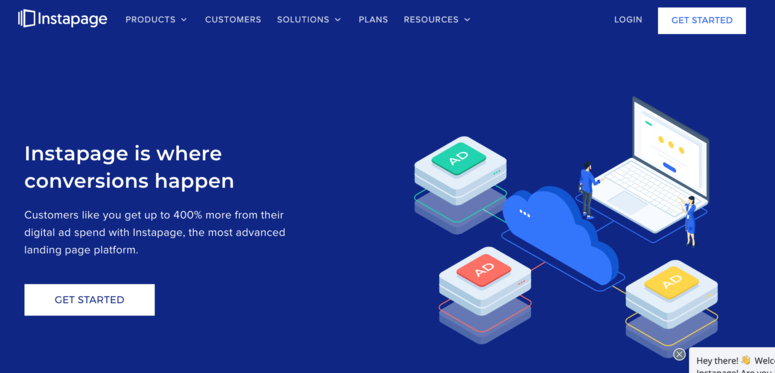 InstaPage is an online marketing platform that comes with an easy-to-use landing page builder.
InstaPage's page builder offers more than 500 premade layouts that you can view by categories, such as case studies or special promotions. It also comes with built-in collaboration and AMP support.
Its AdMap feature allows you to visualize your ad campaigns and connect ads to relevant post-click landing pages. You can automatically push connection updates between Instapage and ad platforms.
With its Collaboration tool, you can easily work with your team to review, approve, and launch your campaign. Provide feedback in real-time and work more effectively with outside stakeholders using secure sharing.
Get started with InstaPage today.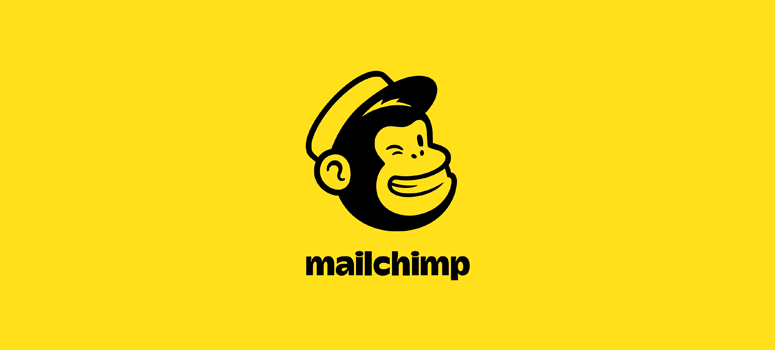 Mailchimp is known as a popular email marketing service, but it comes with its very own landing page builder that helps you create optimized campaigns.
Mailchimp has a drag-and-drop builder that makes it easy to add and remove elements while building your landing page. You can set up your landing page to automatically tag users based on their interests when they sign up.
This keeps your contacts organized as your email list continues to grow.
You can drive traffic to your landing page using social ads that target existing or new customers. You can also reach mobile users by creating mobile landing pages that drive traffic to your social accounts and connect your payment platforms.
Get started with Mailchimp today.
And there you have it! These are the best LeadPages alternative plugins you can use for your WordPress website.
We hope you enjoyed this article. If so, feel free to check out our list of resources on the top WordPress plugins.
That resource breaks down the best plugins on the market, so you can choose the right ones for your WordPress site.
Also, you may want to check out our guide on how to create a free landing page in WordPress. This post shows you how to build a stunning WordPress landing page without paying a penny.