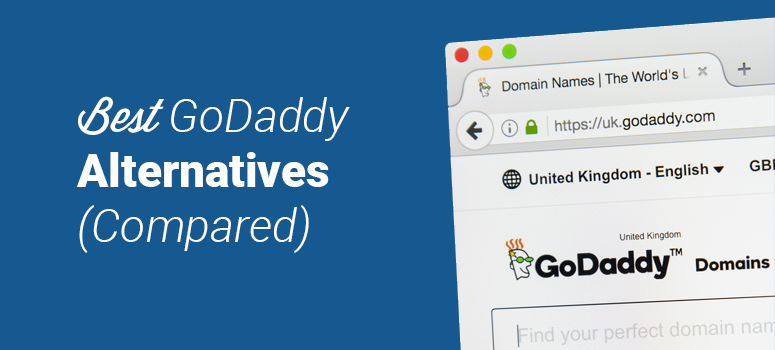 Are you looking for the best GoDaddy alternative for domain registration and web hosting?
Without a doubt, Godaddy is one of the most popular names when it comes to registering domain names and hosting your business online. Over the last 22 years, GoDaddy has managed to establish a stronghold in the market.
In this article, we'll show you the best GoDaddy alternatives that offer great domain registration and web hosting services.
Best GoDaddy Alternatives for Website Owners
This article is divided into 2 sections-
So let's begin.
Best GoDaddy Alternatives for Web Hosting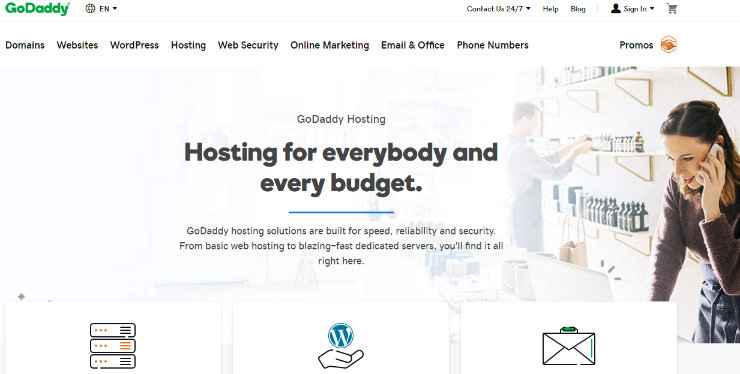 If you've looked at GoDaddy as a web host for your site and you're not sure if they're the right choice for you, let's quickly go over some of the pros and cons.
Pros of GoDaddy Hosting
Affordable – GoDaddy hosting has plans starting at $4.99 per month.
WordPress Hosting – Quickly build a WordPress site with GoDaddy's WordPress hosting with automatic install.
Website Builder – Pre-built sites and drag & drop page editor for beginners.
Domain – Free domain name with the annual plan.
99.9% Uptime – 99.9% uptime guarantee.
Cons of GoDaddy Hosting
Price – There are best cheap hosting options on the market for beginners. Plus to get some of the discounts offered, you have to sign up for 3 years.
Support – GoDaddy offers decent support but limited live chat support, not 24/7 support like other web hosts.
Limitations – GoDaddy limits your disk space and databases.
No Export Function – If you build a site on GoDaddy website builder and want to migrate to WordPress for instance, the process can be difficult.
Lack of eCommerce Support – GoDaddy doesn't offer any eCommerce support, unlike many other web hosts.
Features to Look for in GoDaddy Hosting Alternatives
After you've decided on what type of website you're going to build and the capabilities that are required for it, there are other factors you should look for in a good web host, including:
Cost
Money Back Guarantee
Support
Load Time
Uptime
User-Friendliness
Choosing a web host shouldn't be a quick decision. Look closely at these factors to determine which option is best for you.
Load time: 689 ms
Uptime: 99.99%
Support: 9/10
Website: Bluehost.com
Bluehost is one of the officially recommended web hosting providers by WordPress.org. It offers shared, WordPress and dedicated hosting services for its customers. And the services provided by Bluehost is much better than that of GoDaddy. By hosting your site at Bluehost, you also get to use a free domain name, free SSL, and 1-click WordPress install.
Who is it for?: Bluehost is an amazing option for all new bloggers and website owners. Because of the awesome support offered by Bluehost, it's easy to get in touch if you ever get stuck.
Pricing: The pricing plans of Bluehost are very budget-friendly even for the newbies. Depending on your plan, it can be between $2.75 per month – $79.99 per month.
Read our detailed review on Bluehost here.
Load time: 1.4 s
Uptime: 99.99%
Support: 10/10
Website: Hostinger.com
Hostinger is one of the most affordable hosting providers on the market. Hostinger offers different hosting options, such as cheap hosting, cloud hosting, VPS hosting, eCommerce hosting, etc.
The best thing about Hostinger is that its data centers are distributed across multiple locations around the globe.
It has a simple and intuitive setup. From hosting to a domain name, everything is available on a 1-click button. It provides quick WordPress installation and advanced optimization to ensure fast websites.
Who is it for?: Hostinger is best for beginners who want an easy-to-use and affordable package.
Pricing: The pricing of HostGator starts at $2.99/month.
Load time: 691 ms
Uptime: 99.96%
Support: 10/10
Website: HostGator.com
HostGator is another GoDaddy alternative that you need to check out. It offers a variety of hosting plans and if you've already hosted your site with another web hosting company, it lets you transfer your site without paying any extra charges.
You can also avail of its customized firewalls to protect your website against DDoS attacks. Not just that, it also offers unlimited disk space and bandwidth too.
Who is it for?: HostGator can be the best hosting service if you want a beginner-friendly hosting service that comes with all essential features, like 1-click WordPress install, website builder, etc.
Pricing: The pricing of HostGator starts at $2.64/month.
Read our complete HostGator review for more details.
The next option that we want to suggest is SiteGround. SiteGround is one of the best GoDaddy alternatives that provides you with all essential hosting features. With SiteGround, you have the option to get a fast and secure hosting.
If you want to add an online store and start selling your products and services online, SiteGround lets you do that with its optimized WooCommerce hosting.
Who is it for?: SiteGround is a perfect option for beginners who aren't very proficient with the technical work related to managing their websites.
Pricing: SiteGround has kept its pricing very reasonable. Plans start at $3.99/month.
Load time: 445 ms
Uptime: 99.90%
Support: 7/10
Website: Dreamhost.com
DreamHost is another amazing GoDaddy hosting alternative. It provides you with great hosting plans for you to choose from, but if you're new to this and are not sure which one to pick, you can get in touch with them for help. All the plans come with free SSL, unmetered bandwidth and a free domain name.
To make the installation and setup easy, it has offered a one-click install option too. Its easy-to-use custom control panel gives you access to all your DreamHost products from where you can tweak your settings.
Who is it for?: DreamHost with its great support, and amazing service is a perfect option for both beginners and advanced users.
Pricing: The DreamHost's shared hosting plans start at $2.59 per month.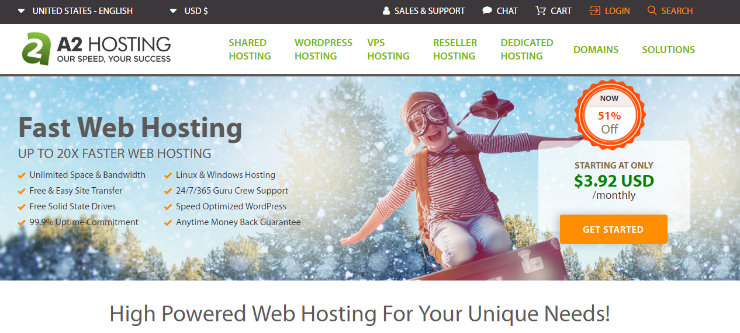 A2 Hosting is a developer-friend web host that lets you choose from 2 operating system options, Windows and Linux. They also offer hosting options such as shared, WordPress, VPS, reseller, and dedicated.
A2 Hosting is known for their ultra-fast and reliable hosting and they also offer free and easy site transfer, unlimited space and bandwidth, 24/7 support, and more.
As a huge bonus, A2 Hosting offers an astounding anytime money-back guarantee, which means you can give their hosting service a try totally risk-free.
Pricing: Starts at $2.99 per month.
Read our full A2 Hosting review »
Get Started with A2 Hosting Today »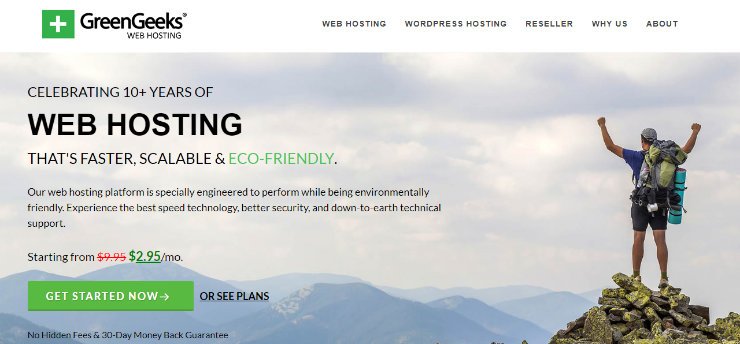 GreenGeeks is another extremely popular eco-friendly hosting provider. This industry leader puts back 3 times the power they consume into the grid in the form of renewable energy. They provide web hosting, WordPress hosting, and best reseller hosting.
With GreenGeeks, there are no hidden fees. You don't have to worry about them trying to upsell you any web hosting addons. Plus, they also provide a free drag n' drop builder, free website transfer, free email accounts, 24/7 technical support, and more. They are also among the top 5 UK Web Hosting Services.
Pricing: Starts at $2.95 per month.
Read our full GreenGeeks review »
Get Started with GreenGeeks Today »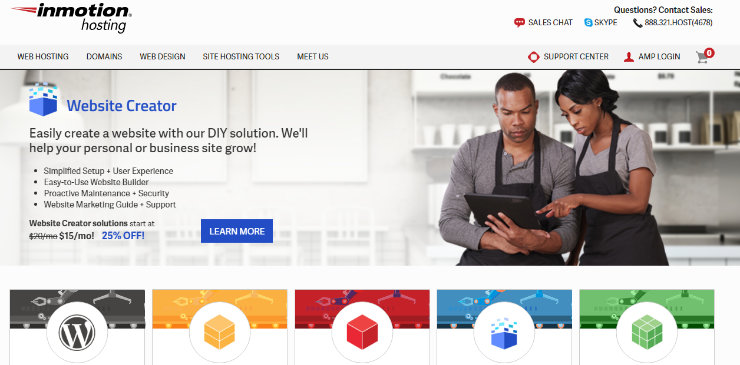 InMotion Hosting is another reliable web host that offers a number of web hosting options including WordPress hosting, VPS, dedicated servers, business hosting, and more.
With InMotion Hosting you get free website migration, 1-click app installer, and their free drag and drop website builder to help you get your website online quickly. They also offer the latest technology features to make your website smooth and fast such as SSD storage, PHP 7, and custom server caching.
Plus, you can try out InMotion Hosting risk-free with their 90-day money back guarantee.
Pricing: Starts at $3.49 per month for our readers.
Read our full InMotion Hosting review »
Get Started with InMotion Hosting Today »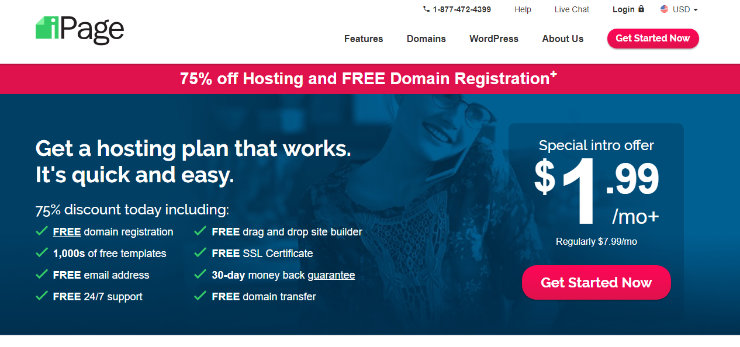 iPage is one of the most low-cost web hosting services on the market, yet it's still a very reliable option. iPage offers 1 single type of hosting plan, whereas GoDaddy offers several different options.
But with iPage's hosting plan you get free domain registration, free drag and drop site builder with over 1000 free templates, free SSL certificate, a free email, and 24/7 support.
Plus, their plan comes with over $500 worth of free extras including Google Adwords credits, free security tools from SiteLock, Bing Ad credits, and free WordPress building tools.
If you're concerned about reducing your carbon footprint, iPage is an EPA green power partner; their data centers and web servers are powered by wind energy. And they are also among the best Canadian web hosting services.
Pricing: Starts at $1.99 per month.
Get Started with iPage Today »
Recap: Top 10 GoDaddy Hosting Alternatives
Best GoDaddy Alternatives for Domain Names
A domain name is the address of your website on the internet, like Google.com or IsItWP.com. In order to register a domain name, you'll need to go to a domain name registrar, generate an available domain name and then register it.
Here are the best domain registration platforms that can be a great GoDaddy alternative for you.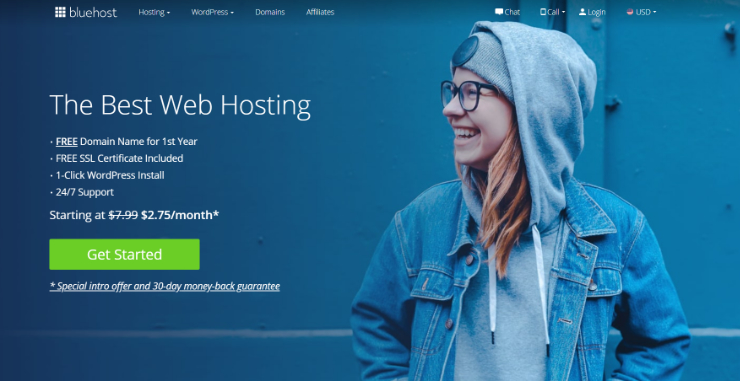 Bluehost is a one-stop solution that lets you pick a domain name and host your own website.
The best thing is that Bluehost lets you pick a domain name for free when you choose a web hosting plan. You'll also get 65% off web hosting.
Click here to Claim this Exclusive Bluehost Offer »
All the domains purchased from Bluehost comes with auto-renewal and domain lock option.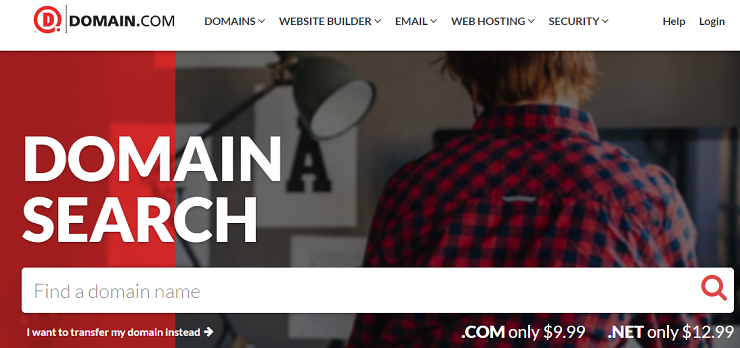 Domain.com is another popular domain name registrar that lets you register a domain name easily. With domain.com, you can register a brand new domain name or transfer your existing one.
It also has the option to let you buy a premium domain for your business. Premium domain names are high-quality domains that have been previously registered but are available for sale at today's market value.
Pricing for the domain name starts at $9.99 per year.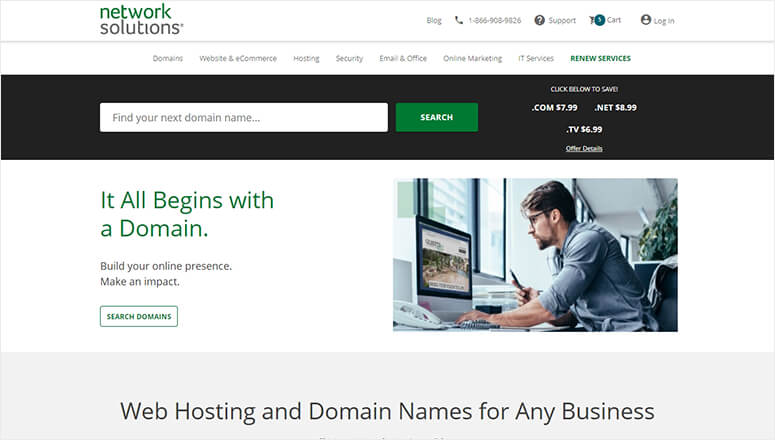 Network Solutions is a domain name registrar and web hosting provider with over 25 years of expertise. It offers several domain name services including domain name search, domain transfer, domain forwarding, premium domain names, private domain registration, and more.
Plus, you can use the website builder and website templates to create a custom site in no time. You can also get an SSL certificate and a professional email to match your business.
See our guides: Network Solutions Review and Network Solutions Alternatives.

Namecheap is one of the best GoDaddy alternatives that let you choose a perfect domain name for your business. If you can't find a good one yourself, you can also browse through the marketplace to buy a name of your liking. If you want to sell a domain that you parked long ago, that's possible too.
The best thing is that the renewal cost for domain names is cheaper than that of GoDaddy.
To keep you updated about what's new in the market, it lets you keep a check on the new and top-level domain releases as well. And if you like one of these, you can grab it right from your Namecheap account. Besides, it comes with more than 50 different top-level domain extensions.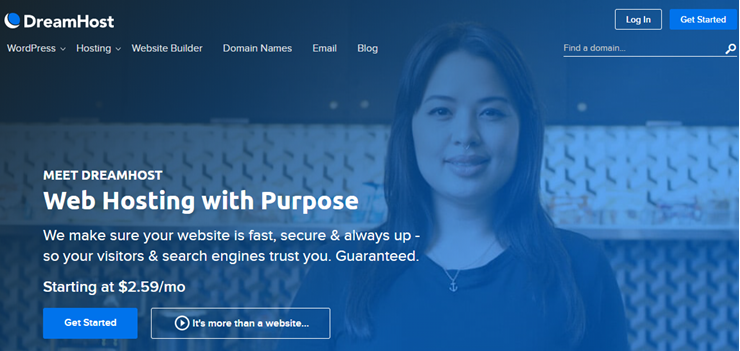 DreamHost offers more than 400 TLD (top-level domains) for you to choose from. With DreamHost, you can easily select a domain that reflects your business ideas and is easy to remember. You can also transfer your domains without any hassle.
Just like Bluehost, DreamHost also lets you register a domain name for free when you purchase web hosting. You'll also get 47% off when you subscribe to a hosting plan.
Along with the main domain, it lets you opt for an unlimited number of subdomains as well. You can also manage your domain names, edit the DNS records, set up domain forwarding, and more. If you get stuck, you can easily reach out to their support team which is available 24/7 for you.
These are some GoDaddy alternatives for domain registrations and web hosting services for your business. Each of these offers great support so there's nothing to worry about.
If you haven't settled on a domain name yet, you may want to give our domain name generator a try. It's free and helps you pick out great domain names that are available.
Once you're done choosing your domain and hosting, you'll want to see our guide on how to create your website in a step-by-step manner.