Hueman is one of the most popular and highly rated free themes in the WordPress directory. A basic theme with a modern design, it's easy to use and customize to suit your site's needs. Read our Hueman review to find out if it's the right theme for you.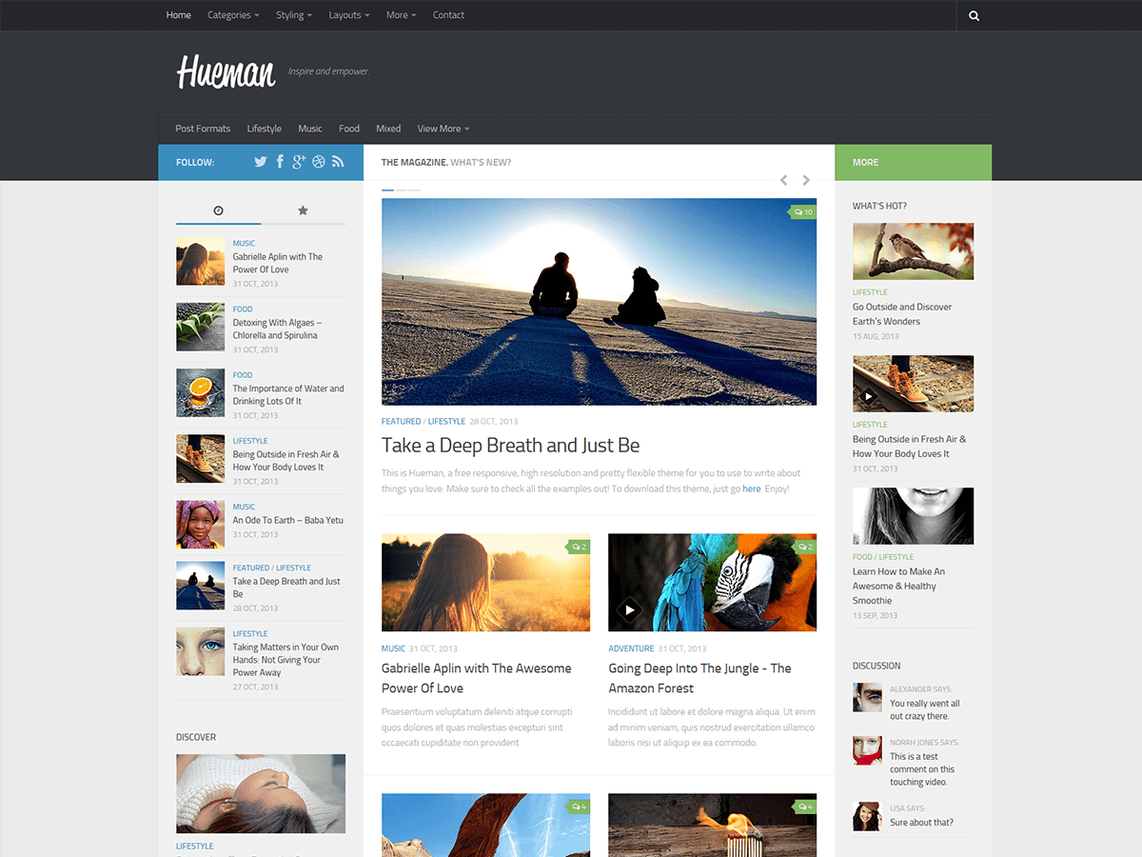 About Hueman
Hueman is a free WordPress theme by Press Customizr, the makers of the (also very popular) Customizr theme, which comes in free and pro versions.
Press Customizr specializes in making themes that are easy for beginners to use and customize. Over 200,000 WordPress websites use their themes.
Features of Hueman
Hueman has a good amount of flexibility and features for a free WordPress theme — here are the highlights.
Responsive
Hueman is designed to be mobile-friendly and fully responsive theme, and look good on any size screen. It's Retina-ready and high-resolution for larger screens as well.
Flexible Color and Design Options
In the Appearance » Customize menu, the Hueman theme allows you to select your site's primary and secondary colors using a color picker, so you're not limited to the colors they choose for you.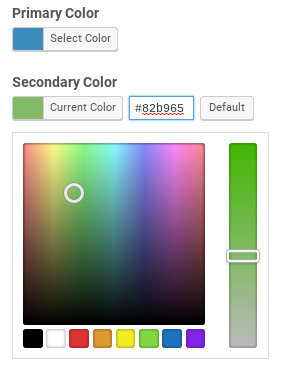 You can also adjust the website's fonts, max width, background image, and header colors. The footer is also adjustable to display your widgets in 1, 2, 3, or 4 columns.
Multiple Page Layout Options
You can choose from multiple layouts for your pages, and even set different default layouts for your homepage, blog page, single posts, even 404 or search pages.
Options include:
full width, no sidebars
1 right sidebar
2 right sidebars
1 left sidebar
2 left sidebars
left and right sidebar
Just navigate to Appearance » Customize » Content to choose your default layouts.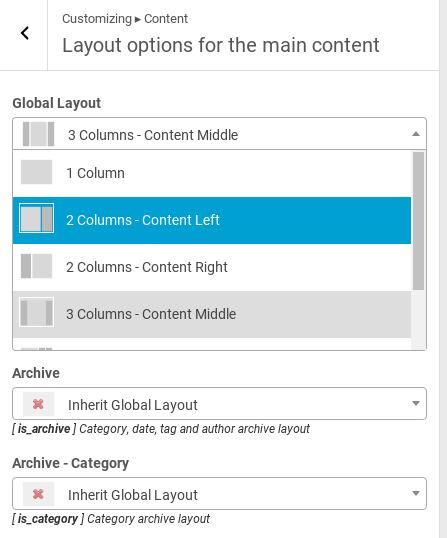 Footer Credits Editor
Some free themes only include this feature in the "Pro" version, but this is included in the Hueman free theme.
From the Appearance » Customize » Footer menu, you can customize the copyright text in your footer, and choose whether you'd like to display the credits below that ("Powered by WordPress. Theme by Press Customizr.").

Related Posts
By default, Hueman displays related posts underneath each post.
You can disable this feature under Appearance » Customize » Content » Single Post Settings, or customize it to display related posts by categories or tags.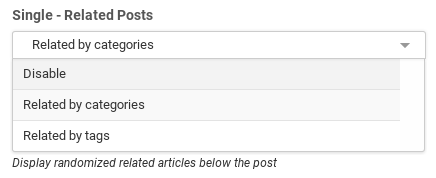 Widget Areas
Hueman includes 4 widget areas:
Primary: displays in the left sidebar
Secondary: displays in the right sidebar
Header: displays next to your site title or logo
Footer: displays 100% width in the footer of every page

Dynamic Sidebars and Widgets
Hueman has a feature called "Dynamic Sidebars and Widgets" that allows you to create new widget zones, and edit existing ones. You get to decide where every widget zone appears. So, for example, if you wanted to create a special sidebar that only displays on your 404 pages, you could.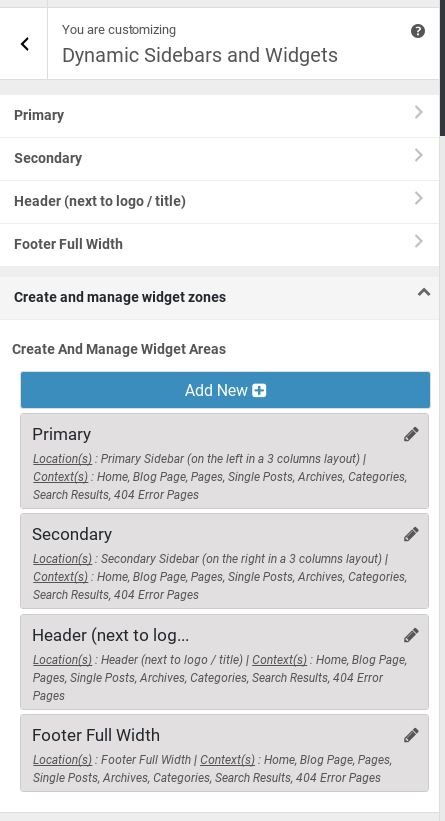 Hueman Addons Plugin
After installing and activating the Hueman theme, you'll be prompted to install the Hueman Addons plugin:

This free plugin includes theme-specific shortcodes, and a share bar.
The shortcodes are for styling and formatting text within the visual editor. They include:
[hr] — inserts a horizontal dividing line
[highlight][/highlight] — makes text within the shortcode darker black and underlines it with a dotted line
[dropcap][/dropcap] — creates a large dropcap for the letter within the shortcode
[pullquote-left] and [pullquote-right] — creates a left- or right-aligned blockquote
…and more
The Hueman Share Bar appears on the right side of single posts and allows your visitors to share your post via Twitter, Facebook, Google+, and Pinterest. You can also choose to include your own Twitter username in tweets.
Documentation and Support
Press Customizr has documentation available on their site that will walk you through the process of setting up the Hueman theme to look just like the demo. The documentation also goes over all the features and customization options included with the theme.
There's also a FAQ that includes several troubleshooting articles about the most common problems users have.
Because Hueman is a free theme, you don't get access to Press Customizr's support ticket system. If you need support, you can post in the forums at WordPress.org. Since Hueman is such a popular theme, the community is active and most tickets are resolved fairly quickly.
Best Alternatives to Hueman Theme
1. SeedProd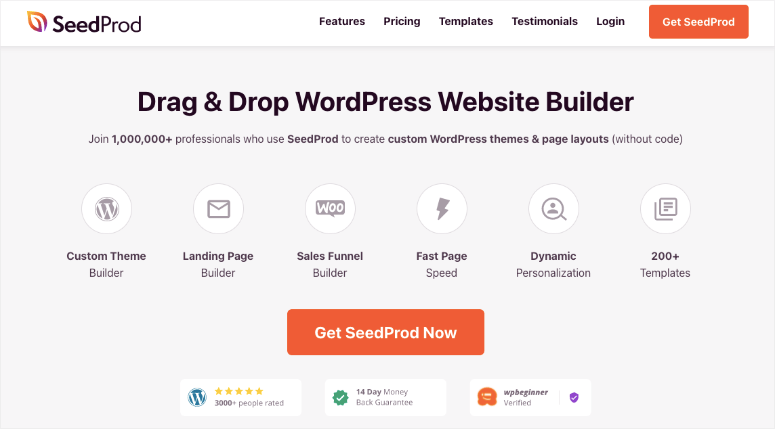 SeedProd is the best drag and drop website builder and it comes with prebuilt theme kits that you can use to design a stunning website.
You can either use a template or build your site from scratch. Whichever way you choose to do it, SeedProd is super easy even if you're a beginner.
There are tons of premade blocks, sections, and landing page templates that you can use. Plus, you get a drag and drop builder lets you customize every element on your site without the need for coding.
With SeedProd, you get access to:
Easy-to-use visual editor
Pre-designed themes and page templates
Tons of high-converting page modules
Advanced styling and custom CSS
WooCommerce integration
Email marketing integration
Reliable support
Every SeedProd design is fully responsive so your site will look great on mobile and other devices.
To learn more, you can see our full SeedProd review.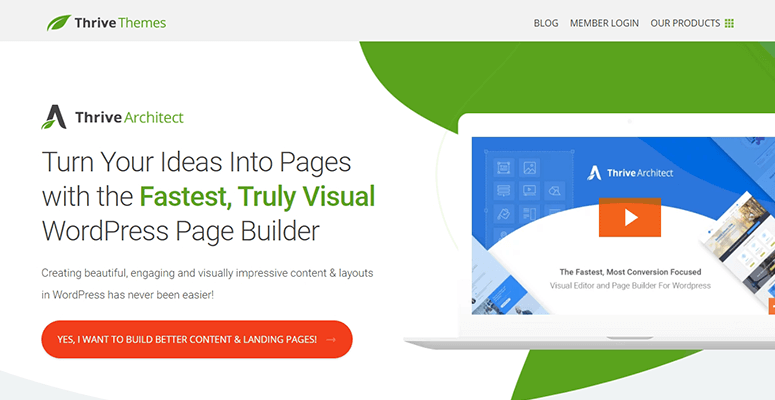 Thrive Themes is another powerful website builder with built-in WordPress themes.
The drag and drop builder makes it easy to customize your site.
What's really great is that Thrive gives you access to a whole suite of powerful tools. You can create stunning landing pages, sign up forms, evergreen marketing campaigns, online courses, quizzes, and more.
Get started with Thrive Themes!
A few other themes that are worth checking out include Divi, Astra, and OceanWP.
Our Score
Hueman is a nice, easy to use theme with a modern design that can be customized to suit your site's needs. It has enough customization options to give your site a different look, without being bloated or having an overwhelming interface.
The dynamic sidebars and widgets feature is also a nice touch that lets you customize how widgets appear on your site.
It's no surprise this is one of the most popular free WordPress themes. For bloggers who are just looking for a simple theme to make their own, Hueman may be a good choice.
We give Hueman 4 out of 5 stars. Here is the breakdown of our review scores:
Get Hueman Now »