Looking for a personal blog WordPress theme? Freyja is a multipurpose and beautifully designed blog theme with tons of great features. In this Freyja review, we'll show its features and help you decide if it is the right theme for your needs.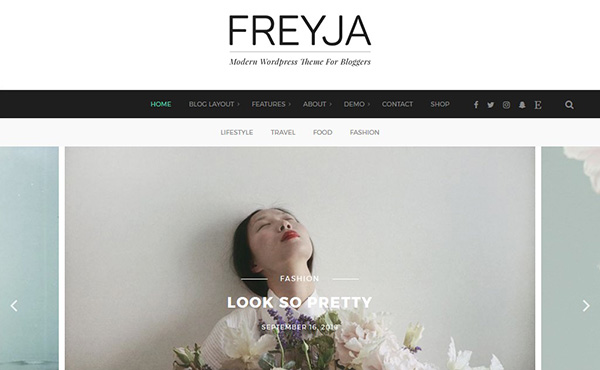 About Freyja
Freyja is a product of Mojo Marketplace developed by Sparrow and Snow. Mojo Marketplace is a well-known WordPress theme sellers in the web industry.
It is a personal blog WordPress theme and designed to carry out your content beautifully. Freyja ensures that your blog looks beautiful with the amazing features it has to offer.
Features of Freyja
The Freyja theme has powerful menu locations, widget areas, slider, contact form and a lot more. It gives you the recommendations to install plugins that help in increasing the features of the theme.
This theme comes with a customization panel to manage the general, basic, and advanced theme settings. Freyja brings everything on your fingertip, so you can easily manage and set up your blog.
Let's take a detailed look into the features of Freyja:
Menu Locations
You may notice that most of the WordPress themes have primary and secondary menu. Freyja offers over 4 menu locations and each has a worth in it.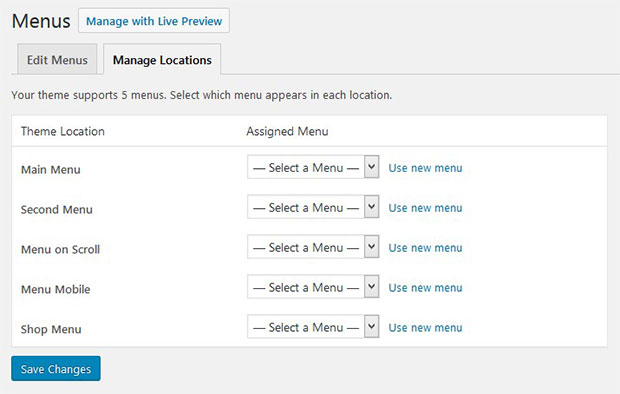 The main menu and secondary menu is different from the menu on scroll, mobile menu, and shop menu. It makes Freyja powerful in the menus, so you can navigate and display the content of your choice on different screens to the users.
Widgets and Widget Areas
The theme has a lot to offer in the widgets section. There are 8 widget areas and multiple widgets by the theme owners. These widget areas can reduce your blog set up time from hours to minutes.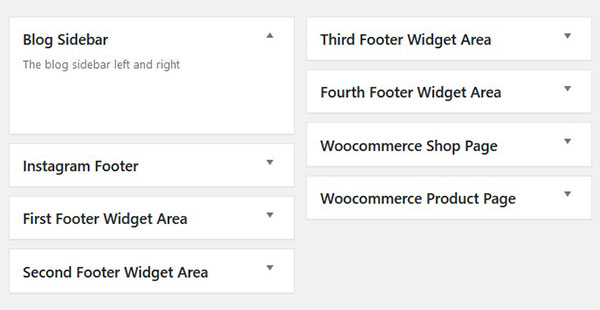 All of the widget areas have their explanations, so you can add the widgets to them accordingly. Some of the important widget areas are:
Instagram Footer
It is an important feature of Freyja. The widget area only take the Instagram widget. You can see the recommended settings written before you drop the widget.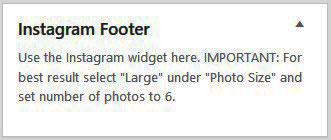 The Instagram widget works great in the footer and appears in the full width of your blog. You can display the Instagram photos beautifully. The integration process is easy as you just need to mention your Instagram account name and set your account's privacy to Public.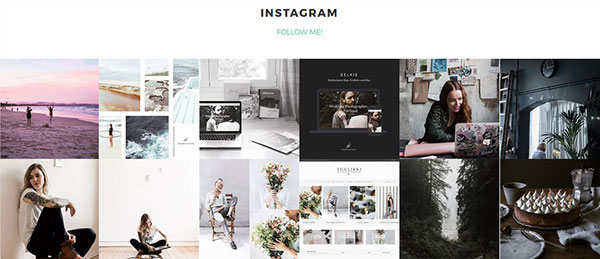 You can see how amazingly the Instagram photos covered the footer space. The new photos will appear automatically as you post on your account.
Blog Sidebar
This widget area is used to display your content in the left and right sidebar of the blog.
Footer Area
There are 4 footer widget areas in this theme. These footer widget areas will divide your footer into 4 sections. Footer will appear below the Instagram photos.
Customization
Freyja allows you to fully customize your WordPress blog from its panel. The customization options are detailed and versatile. From the basic settings like social media, layouts and more to the advanced settings like WooCommerce shop, you can set up your blog from this panel easily.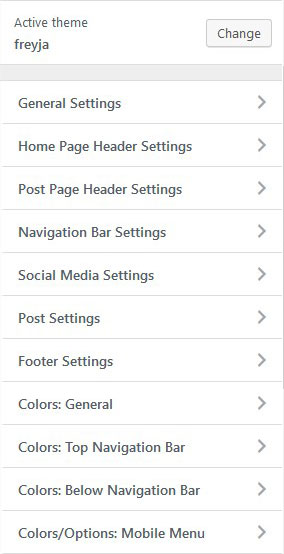 Let's talk about few of the options individually:
Homepage Header Layout
The homepage header has 3 layouts and multiple other options like background color, logo settings and more. You can switch between layouts easily and see the preview on the right side.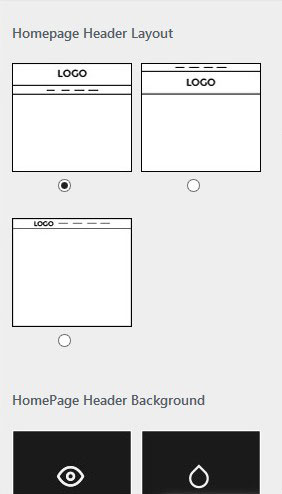 Social Media
Simply enter your social media usernames, and it will automatically create icons with links on the header of your blog next to the search bar.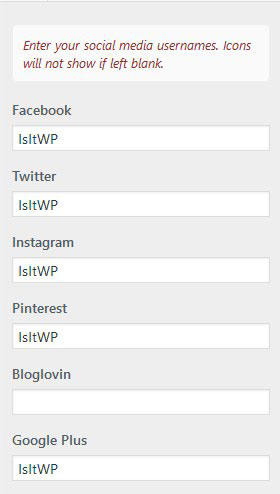 WooCommerce Settings
This panel will help you in setting up the shop layout, products per page settings and more. There are 2 layouts for the shop and 2 layouts for the related products.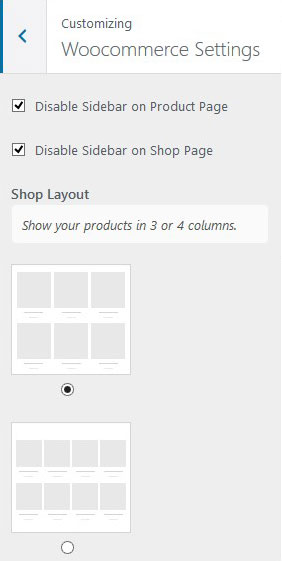 Responsive Layout
Freyja is a responsive theme and match the latest standards of the web. It manages to display your content beautifully on the different mobile devices.
The content visibility is amazing. Division of the content appears in blocks that let the reader to go through your site with ease. Responsive layout helps you to rank your blog in the search engines.
Slider Options
You can simply enable the slider from Options » Slide Posts on your WordPress admin backend. This is a Freyja theme option.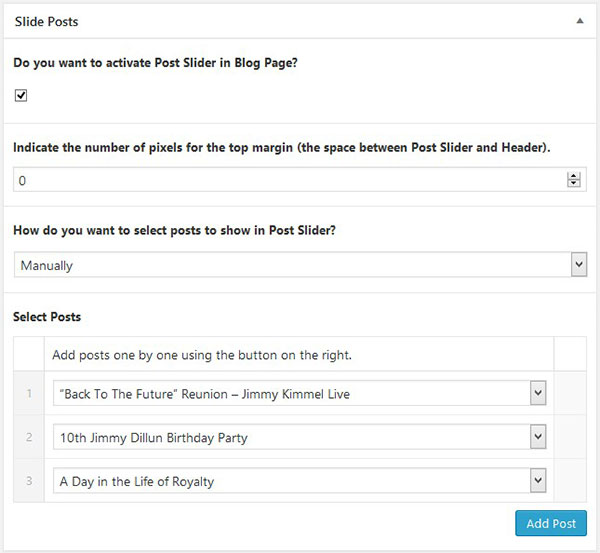 Adding new slides is easy. You just need to click on the Add Post button and select the post in the dropdown. However, the slide posts options also offer you to integrate any more fully-featured slider plugin like Soliloquy by simply adding the shortcode of the slider.
Documentation and Support
Freyja theme has a detailed documentation that clearly explains how to get your site/blog up and running quickly and easily.
Freyja is available for a one-time fee of $59 for a single site license. You can also purchase a 5-site license or a developer license. If needed, you can also include addon services with your purchase, like WordPress theme installation and WordPress site backup.
You can post your support questions by logging into Mojo marketplace. Sparrow And Snow, the team behind Freyja resolves all the support queries in a timely manner. However, you can also email them for any questions.
That's all we have on the Frejya WordPress theme. Before you decide whether to buy this theme, it's good to explore other options in the market.
Frejya Theme Alternatives
Here are our top 2 recommended alternatives for the Frejya theme: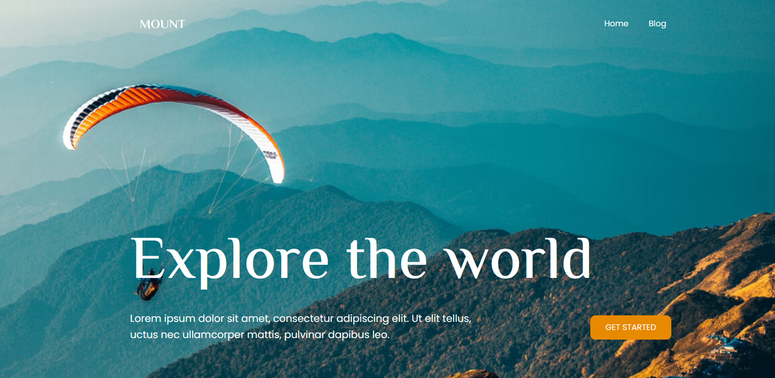 SeedProd is the best website theme builder with built-in theme kits for WordPress.
You can design a full-fledged website or use this WordPress plugin to create stunning pages. There are tons of page templates to give your site a beautiful design in an instant.
You can also quickly customize your pages using SeedProd's ready-made page blocks. Choose from 80+ blocks like contact forms, countdown timers, image carousels, animated headlines, background videos, social profiles, and much more.
SeedProd is also a responsive WordPress theme and it's optimized for speed, so you can ensure your site loads quickly and looks great on all devices.

Thrive Themes is one of the most popular themes for WordPress. You can choose a premade theme and customize it to make a unique design for your site.
It comes with an intuitive drag and drop theme builder that makes it easy for anyone to build a stunning website. The themes are responsive and mobile friendly with 100s of design elements included.
When you sign up for Thrive Suite, you'll also get access to powerful conversion optimization tools. This will help you turn your website into an online business.
Get started with Thrive Themes »
For more options, see our guide: The Best and Most Popular WordPress Themes.
That's all we have for you. Up next, we'll give you our final verdict on Frejya.
Our Score
Freyja is one of the best WordPress theme for personal blog in the Mojo marketplace. With Freyja, you can easily get your site up and running. In case you need assistance, you can easily find a solution by referring to the documentation.
The intuitive theme options panel makes customization easy.
We give Freyja 4.6 out of 5 stars. Here is the breakdown of our review scores:
Get Freyja Now »