Evolve is a popular WordPress theme that comes in free and premium versions. Evolve is loaded with many options for customizing every detail of your site from the dashboard, with no code required. Read our Evolve review to learn more about all the settings and features of this theme.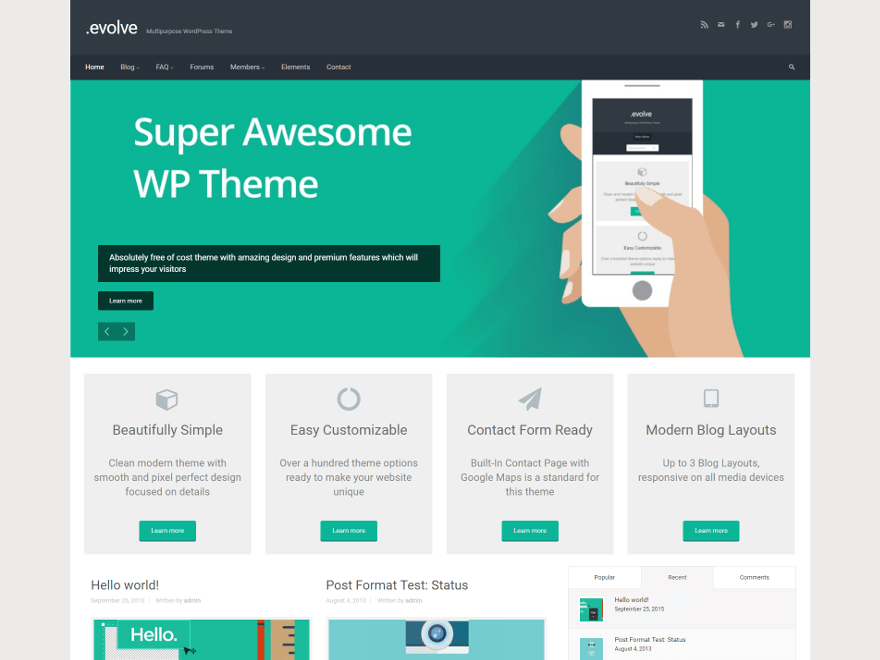 About Evolve
Evolve is a popular free WordPress theme by Theme4Press. There's also a premium version of the theme that unlocks many more features and settings.
In order to use the Evolve theme, you also have to install and activate the Redux Framework plugin. Redux is an options framework that helps developers speed up the process of creating WordPress themes and plugins.
After activating the Evolve theme, you'll see a PHP error at the top of the page and a prompt to install the Redux Framework plugin. When you install the plugin, the error should go away.
Features of Evolve
Evolve has an extensive menu of features and settings you can customize. Most features can be accessed via both the Appearance » Customize menu, and the Appearance » Theme Options menu. Here are some of the main features:
Layout and Sidebar Options
Evolve comes with several sidebar options to give you flexibility in your page layout. You can choose from:
full width
left sidebar only
2 left sidebars
right sidebar only
3 right sidebars
left and right sidebars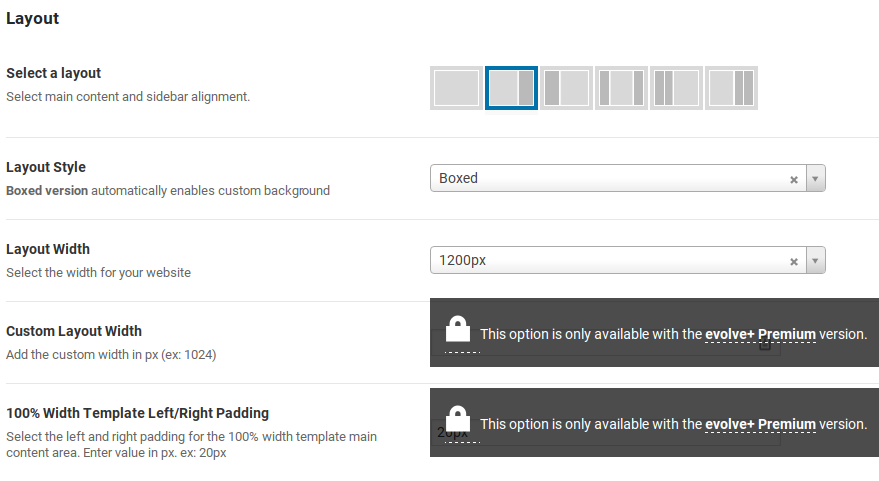 Your blog layout can also be adjusted separately.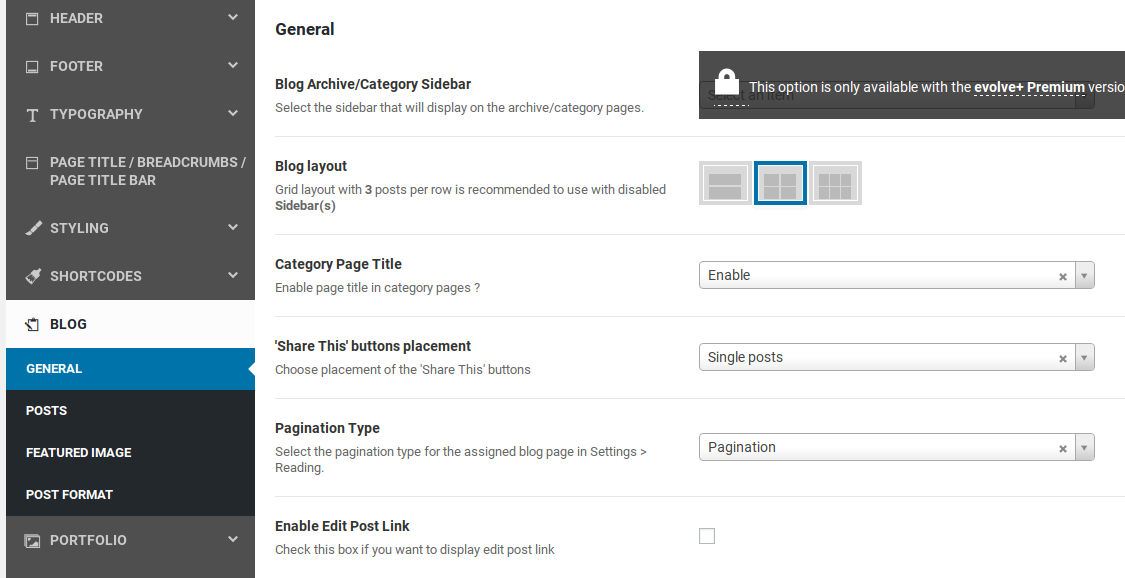 Front Page Content Options
In order to edit the content on the front page, you have to navigate to Appearance » Theme Options » Front Page Content Boxes. Here you can enable or disable them, and edit the content. You can also change the icons using Font Awesome icons.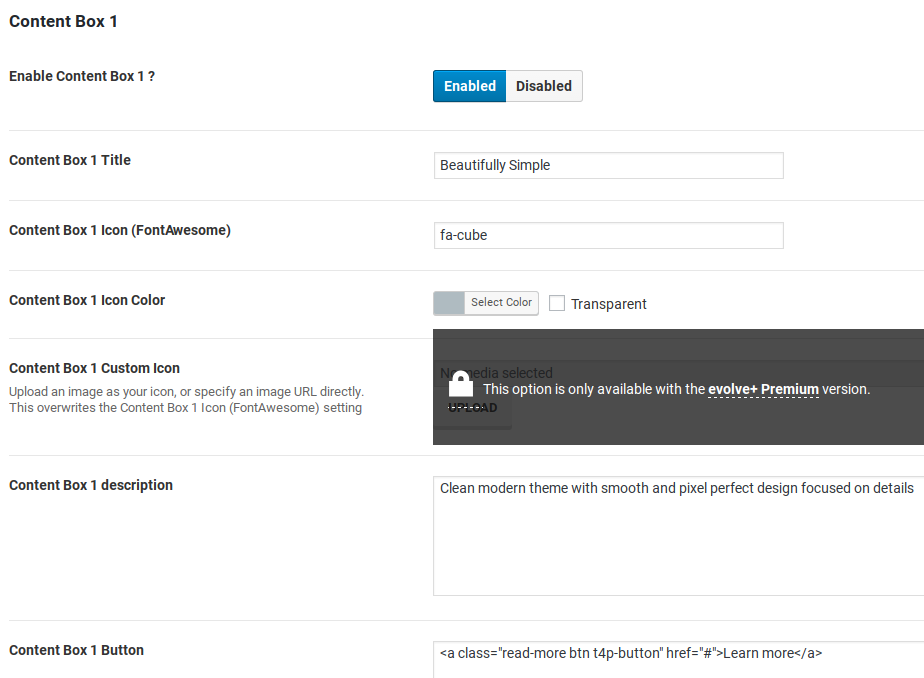 Countless Design Customization Options
Every area of your site can be customized from the dashboard.
As an example, the site header options include:
change the padding values (spacing on the left, right, top, and bottom of the header)
enable search box
adjust opacity (so you can see your background through the header)
enable sticky header
hide your blog title
move the tagline next to, above, or under the title; or hide it
adjust spacing between menu items
change the number of widget columns in the header (0, 1, 2, 3, or 4)

You can also choose separate fonts and colors for your blog title, post title, menus, widgets, and more.
Built-in Sliders
Evolve includes support for several slider plugins, and also has a built-in Bootstrap Slider you can use in the free version.
Navigate to Appearance » Theme Options » Bootstrap Slider » Slides to create your slider. From there you can add your own images and adjust the slide titles, descriptions, and button code.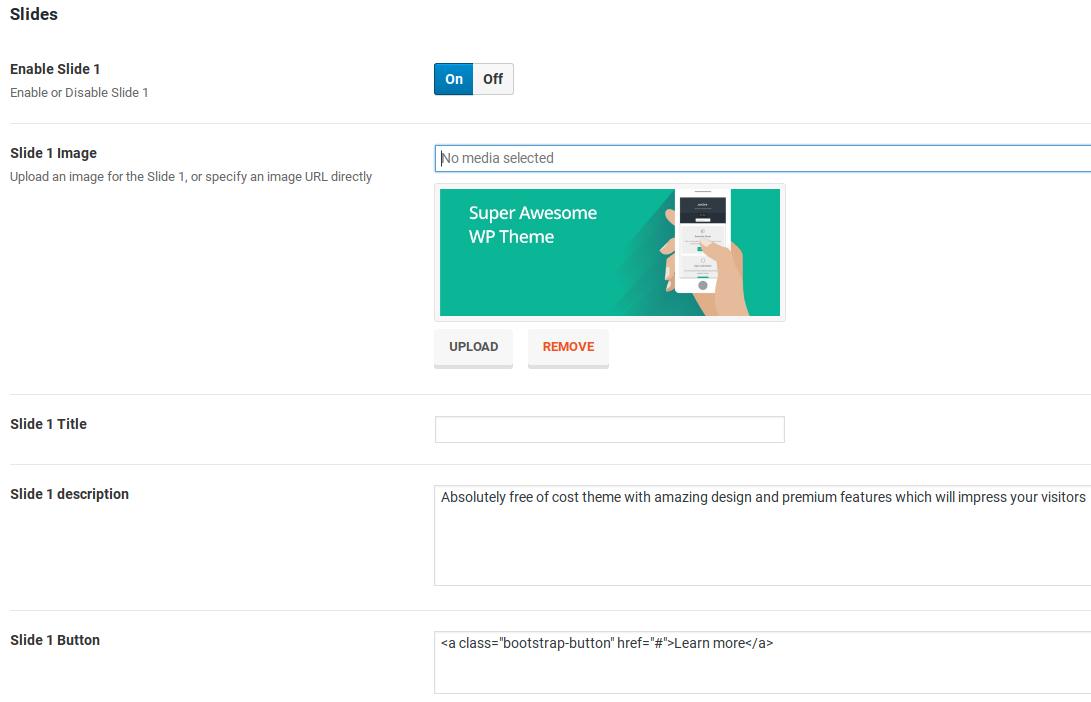 In the free version of Evolve, you can only add up to 5 slides.
There's also a Carousel Slider widget. It displays the same slider you set up in the options above — in the widget, you'll just see the raw HTML. However, the slider doesn't display well in small areas like your sidebar.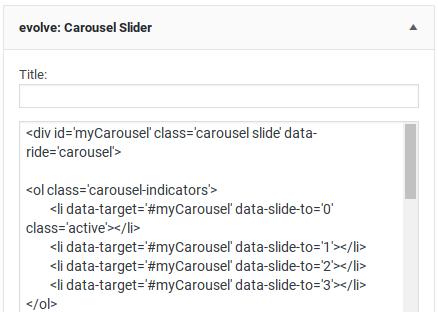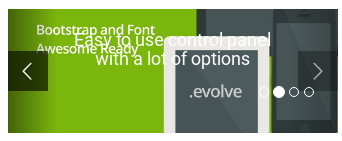 Built-in Contact Form
Under the Appearance » Theme Options » Contact menu, you can set up a contact page including an embedded Google map with your business location.
There's also a simple built-in contact form that allows visitors to send you emails.
Unlock More Features With Evolve+
As you set up the Evolve theme, you'll notice that many of the settings and features are locked away and say "This option is only available with the evolve+ Premium version." Purchasing a license for the premium version of the theme, Evolve+, will unlock all these features.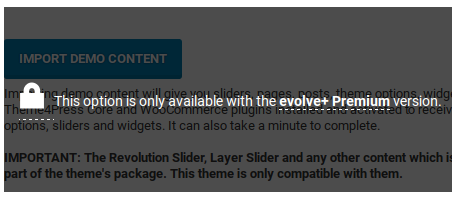 Documentation and Support
All of the options available with the Evolve theme can be quite overwhelming. Theme4Press does have documentation of the main features and settings on their site, including tutorials with screenshots to walk you through setting up the theme.
Some features seem to be missing from the documentation, however, and it's a little difficult to navigate and find the information you're looking for since there's no way to search through the documentation.
Support is available on both the WordPress.org support forums and the Theme4Press website. Support staff is responsive and most threads are replied to within a day or so, and resolved quickly.
That's all we have on the Stockholm WordPress theme. Before you decide whether to buy this theme, it's good to explore other options in the market.
Evolve Theme Alternatives
Here are our top 2 recommended alternatives for the Evolve WordPress theme: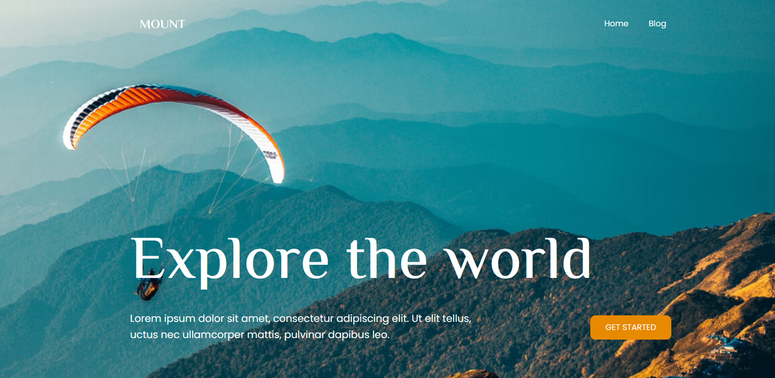 SeedProd is the best alternative to the Evolve WordPress theme.
SeedProd is a popular website theme builder with built-in theme kits for WordPress. The templates are responsive optimized for speed, so you can ensure your site loads quickly and looks great on all devices.
The plugin makes it so easy to build a stunning website even if you're a beginner. There are tons of page templates to give your site a beautiful design in an instant.
You can also choose from 80+ blocks like contact forms, countdown timers, image carousels, animated headlines, background videos, social profiles, and much more.

Thrive Themes is one of the most popular themes for WordPress. When you sign up, you'll get access to premade theme and the Thrive Theme Builder to customize the design.
The interface is so easy to use to build a stunning website. The themes are responsive and mobile friendly with 100s of design elements included.
With Thrive Suite, you'll also get access to powerful conversion optimization tools like comments, quizzes, sign up forms, and more. This will help you turn your website into an online business.
Get started with Thrive Themes »
For more alternative options, see our guide: The Best and Most Popular WordPress Themes.
Up next, we'll give you our final verdict on the Evolve theme.
Our Score
Evolve may be a good theme for those looking for a highly customizable theme, who don't want to learn any code. However, there's a steep learning curve to get used to navigating all the features and settings and options. Evolve is not quick or easy to set up — it will take some time.
The menus are made more difficult to navigate by all the locked premium features listed in the free theme. It would be more user-friendly to hide those features, or at least clearly label the menu items, in the free theme.
Some of Evolve's features would be better implemented by using a plugin, such as the built-in image sliders and contact form. A dedicated plugin usually has more options and is better at its specific function than a theme that tries to do everything. And if you decide to switch your theme at any point in the future, all your theme-specific content and settings will be lost.
We give Evolve 3 out of 5 stars. Here is the breakdown of our review scores:
Get Evolve Now »