InMotion Hosting is a California based hosting service provider. The company is around since 2001, making it one of the oldest players in the shared hosting arena.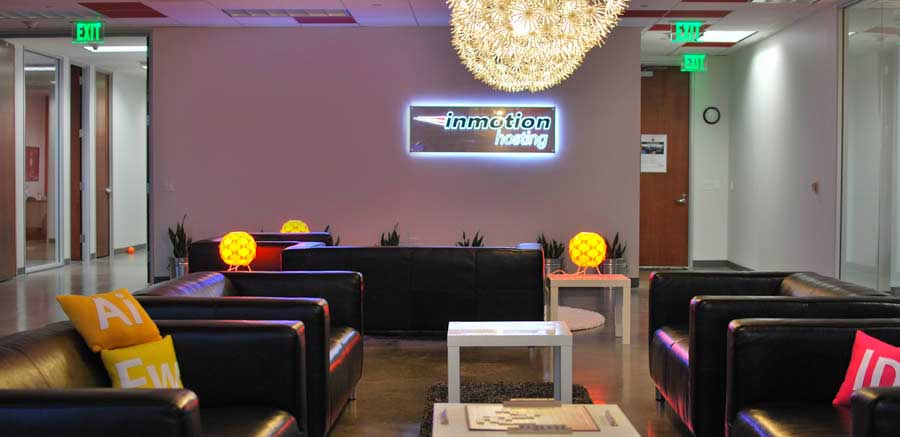 About InMotion Hosting
InMotion Hosting was founded in 2001 by Sunil Saxena and Todd Robinson. The company has offices in Los Angeles and Virginia Beach with 200+ employees.
The company maintains thousands of servers at their data centers in Los Angeles and Ashburn, VA.
InMotion Hosting has won various awards for their web hosting services, customer support, and business hosting solutions. It has an A+ rating on Better Business Bureau and 3/3 star rating on cNet.
Company's hosting network consists of mostly CentOS based linux servers. They work on open source technologies and offer hosting services for various open source CMS, applications, and wikis.
Hosting Plans
InMotion Hosting offers different hosting plans of varying features and capabilities. Their hosting plans are configured to meet the needs of all kind of websites.
Their pricing is very fair, I am on their middle tier VPS plan. It runs extremely fast with ~2 second load times. I could not be happier with them and am at ease knowing I am with a host that actually cares about their customers site.
InMotion's basic shared hosting plan is called Shared Business Hosting. It starts for as low as $3.49 per month (promotional price). The shared business hosting plan is available in three levels launch, power, and pro. Customers can choose a plan that meets their business requirements.
InMotion also offers managed hosting services for various platforms including WordPress. This plan comes with Varnish caching for faster load times.
The company also offers dedicated servers, VPS, reseller hosting, and domain registration services.
Pricing
All plans offered by InMotion Hosting are competitively priced. Users can switch to an advanced level of plan when their site outgrows their existing limits.
Shared Business Hosting – Starting from $3.49/month.
VPS Hosting – Starting from $29.99/month.
Dedicated Hosting – Starting from 119.99/month
Managed Hosting – Starting from $40/month
The pricing structure is quite flexible and makes InMotion Hosting an affordable option for startups, new businesses, and blogs.
Features
Most business owners and startups need features to easily support and manage their online presence. A good web hosting platform needs to offer users a comprehensive set of tools to take full advantage of their websites.

InMotion Hosting offers great features with all their hosting plans. Features may vary depending on the hosting plan customers choose. Let's take a look at some of the features offered by all their hosting packages.
Unlimited disk storage
SSD Drives
Unlimited bandwidth
Free domain registration and transfers
Free Database backups
Latest cPanel dashboard
FTP, SFTP, SSH access
WP CLI support
Unlimited Email Accounts
POP3 IMAP support for email accounts
Ruby, PHP, Postgre SQL, MySQL
24/7 US based support
Looking at the features, we can confidently say that InMotion Hosting offers an excellent set of features at very low cost.
Ease of Use
Customers looking to start their online venture do not want to waste their time struggling to learn new things. They need a platform that is easy to use and where they don't have to waste extra money to hire experts for smaller tasks.
Let's see how InMotion Hosting fares in terms of ease of use and beginner friendliness.
Latest cPanel Control Panel
InMotion Hosting uses cPanel control panel as the dashboard for all their hosting plans. cPanel is the industry standard and pretty much all shared hosting providers use it as their control panel. It is extremely easy to use and even the beginner users find it friendly. Users can manage almost all aspects of their hosting account from the cPanel.
Free Setup and Transfers
InMotion Hosting offers free migration of your website with no downtime. Customers migrating from other web hosting services will find it quite reassuring that their website will be up and running in no time. Apart from free transfers, InMotion Hosting also offers 1-click installers for WordPress, Joomla, Presto, and many other apps. This makes it super easy to create a website instantly.
Support and Documentation
Most users need help troubleshooting issues with their hosting, web application, CMS, or email. InMotion Hosting provides users access to detailed step-by-step documentation to troubleshoot those issues on their own. However, many users may need more help than just tutorial. There is 24/7 US based customer support available with all hosting plans. Users are never away from help whenever they need it.
Customer Service
Whether you are a small business owner, a blogger, or a hobbyist, all customers deserve great service. Let's see how InMotion Hosting provides customer service and the quality of that customer service.
The technical documents are very good and suprisingly, most of the time I can figure out what to do by the online instruction. However, if I am unable to understand what to do and need to call, the guys at inMotion Hosting absolutely provide the best customer service.
InMotion Hosting has a highly skilled and well trained support staff. The company boosts about the expertise of their engineers and support staff.
No support associate can man our chat, phone or support emails unless they have at least 160 hours of internal training on subjects such as the LAMP stack, email clients, CentOS and everything in between.
All InMotion Hosting plans get 24/7 live chat support from US based highly trained professionals. Customers can also get help by submitting a support ticket. Users can also get help from other users by posting in community forums.
There is a great deal of information available in the company's knowledgebase for customers who want to help themselves.
Our Score
Based on our evaluation of the services, pricing, and technology we can confidently say that InMotion Hosting is a good choice for a starter website. They offer value for money and you get a lot more feature at a very low price. We give InMotion 3.8 out of 5 stars.
Hosting Plans –






Pricing –






Features –






Ease of Use –






Customer Service –