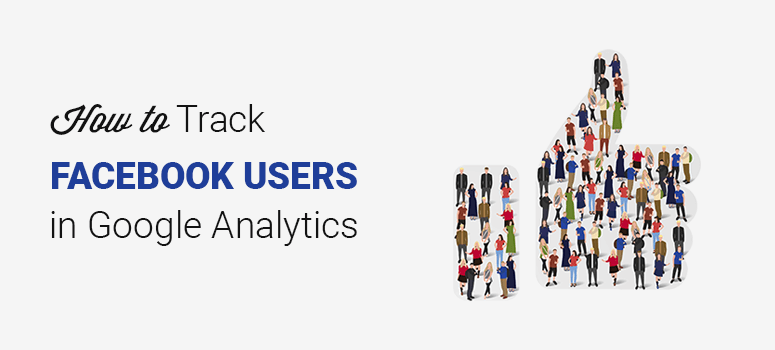 Do you want to track your Facebook traffic in Google Analytics? Knowing the behavior of Facebook users on your site is important because it helps you optimize your site for driving more Facebook traffic and revenue.
In this article, we'll explain how to accurately track your Facebook users in Google Analytics.
Tracking Facebook Users in Google Analytics
With over a billion active monthly users, Facebook is a reliable platform for you to expand your reach to a new audience that is sure to be interested in what you have to offer. Without knowing what your Facebook fans are doing on your website, you can't possibly know whether your content is actually working.
However, it's important to track Facebook users to find out their activities and behavior. It will help you monetize those visitors and increase conversions.
Facebook also offers reports on user clicks, but you should know that these insights are different from the tracking results in Google Analytics.
Facebook Insights focuses on activity that happens on your Facebook page and shows stats like pageviews, page likes, reach, page followers, and more. These insights show you how many users click on your links. But you'll never know what happens after the users visit your website.
It's where Google Analytics comes in action. You can track Facebook users and their behavior on Google Analytics to improve your pages for better user engagement.
Tracking Conversions and Contributed Social Conversions From Facebook
Facebook is more of a social channel where users interact with each other and share content that they care about than a conversion channel. If you're using Facebook only to drive direct conversions, then you're probably doing it wrong. In fact, considering Facebook as selling platforms will create an adverse impact and make your profiles look spammy.
In order to succeed in Facebook, it's essential for you to analyze your Facebook ROI. Generally speaking, Facebook ROI is the sum of all actions that provide value to your business in comparison to the resources you invest in Facebook. Basically, calculating the ROI tells you whether the time and money you spend on Facebook are worth it.
If you've already set up eCommerce tracking with WordPress, you can visit Aquisition » Social to direct conversions, contributed social conversions and more.
Visit the Overview section to analyze the data from all social networks and see the traffic distribution in percentage.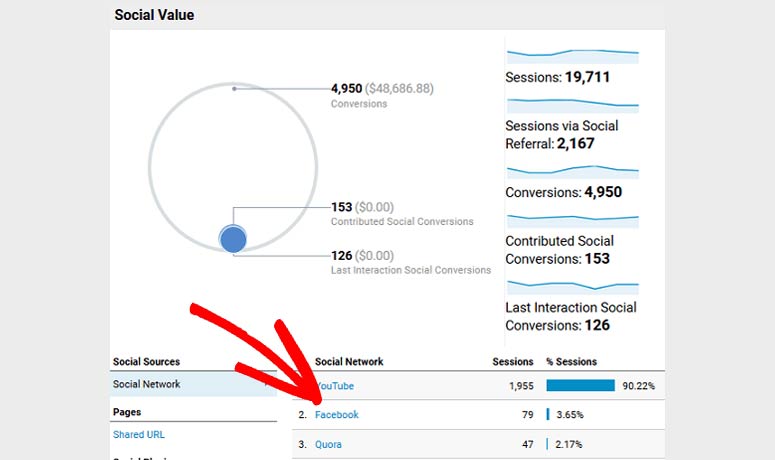 Click on the Conversions category to take a look at the number of conversions from each social network. It also shows the conversion value from all social channels.

After that, you can visit the Social Referrals category. This category will display the number of sessions, pageviews, average session duration, and more.

How to Track User Interaction From Facebook With Google Analytics
Visit Acquisition » All Traffic » Channels and you'll see multiple traffic sources like organic search, direct, referral, social, etc.

You need to click on the Social link to see the list of all social networks driving traffic to your website. This list also includes data from Facebook that you can compare with other social networks like YouTube, Twitter, etc.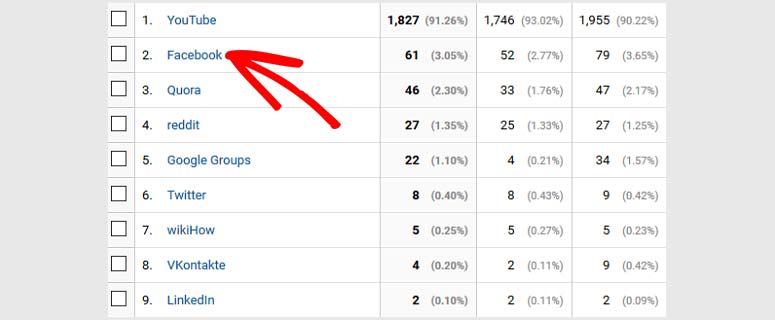 The data will show you the total number of visits, bounce rate, average sessions duration, pages/sessions, and more. It's a comprehensive analytics report for all social channels, including Facebook.
To view landing page report, click on the Facebook link to view detailed reports.
To view the pages where your Facebook users land on your site, you need to click on Other link and type 'Landing Pages' in the search box.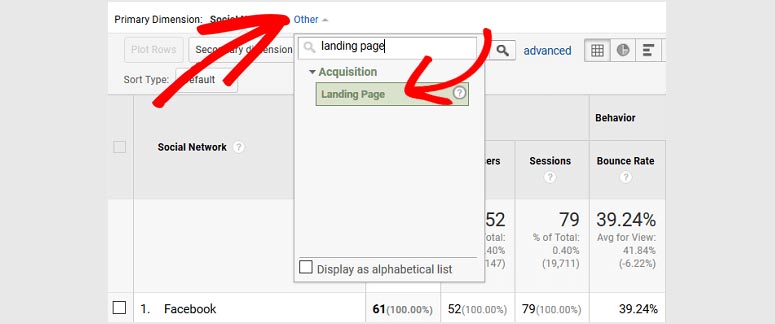 Select the Landing Pages option, and now you'll see the pages that your users land on your site from Facebook.

Google Analytics shows you complete information, including new users, sessions, bounce rate, etc, so you can see what your converting pages are and thus boost your traffic. If you've set up eCommerce tracking, you'll see a detailed eCommerce conversions report that are coming from Facebook.
You can also change the conversion category based on the goals you've created on Google Analytics by clicking on Conversions dropdown and change it to any goal like form conversions.

With MonsterInsights Forms addon, you can easily track your form views, submissions, and more.
That's all.
We hope this article helped you learn how to track Facebook users in Google Analytics. You may also want to check out our expert pick of the best WordPress social media plugins for engagement.