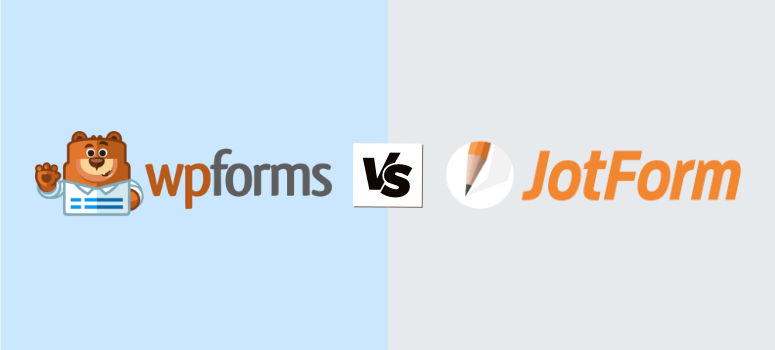 Looking for the best form builder for your website?
JotForm has been around for many years and has been a favorite of many users. Having said that, since its launch, other form builders have entered the market, giving it some serious competition.
WPForms is one of them with millions of active installs. It introduced innovative features to overcome the problems of other form plugins. So which one is better?
We've used both form builders over the years and can give you a clear picture of what they offer.
In this post, we're going to take a deep dive into JotForm and WPForms to help you decide which is best for your site.
JotForm vs WPForms – An Overview
What is WPForms?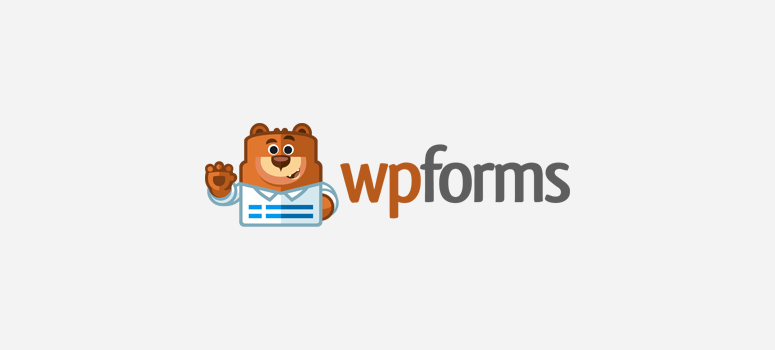 WPForms is the most beginner-friendly form builder for WordPress. It has an intuitive drag and drop builder that lets you create beautiful forms on your site in minutes.
The form builder was founded by Jared Atchison and Syed Balkhi (who also founded WPBeginner and OptinMonster).
It was launched back in 2016, a whole decade after JotForm, but it grew rapidly.
In just a few years, it has over 4 million active installations and is loved by WordPress users, developers, and agencies.
What is JotForm?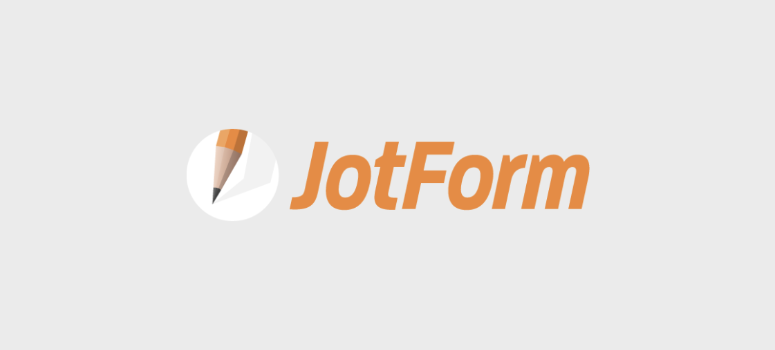 JotForm is one of the oldest online form builders. It was created by Aytekin Tank and launched back in 2006.
Back then, form building was complicated and painful. Users either had to code their own forms or rely on web-based form builders.
This sparked the creation of JotForm, which made it easy to create a form without coding knowledge. It soon saw a steady increase in its userbase.
Now, JotForm is used across different platforms and has over 6 million users around the world.
Comparing JotForm vs. WPForms
JotForm and WPForms are both popular form builders and many features overlap. That said, they both have very different pros, cons, and uses.
We'll look at the important factors to help you decide which tool is better suited for you.
Features and Benefits
Features of WPForms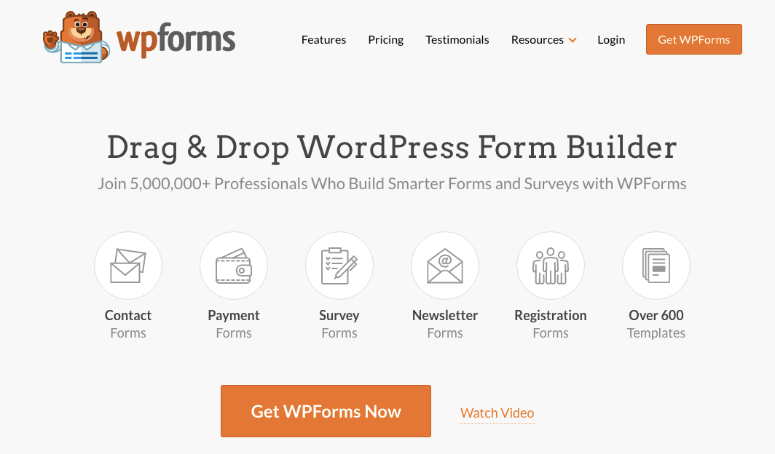 WPForms lets you create stunning forms in minutes. It has tons of templates that are designed to meet every need.
You can customize it the way you like to match your website's theme and branding. And in case you want to skip the templates, you can also create forms from scratch.
Here are just a few highlights from the long list of WPForms features:
600+ beautifully designed templates to build forms instantly
Easily access WPForms directly from your WordPress dashboard
Visual drag and drop builder that makes it easy to create and edit forms
No coding knowledge required
In-built spam protection with anti-spam honeypot and reCAPTCHA
Email marketing integrations with popular services like Constant Contact, MailChimp, and Drip
Create surveys and polls
Analyze your data and get valuable insights with inbuilt stats
Accept payments with PayPal, Stripe, and Authorize.net
Super-friendly support team to help you anytime with an average response time of 60 minutes
WPForms built to the best WordPress standards to optimize compatibility with themes and plugins. So facing issues with the tool is rare.
Features of JotForm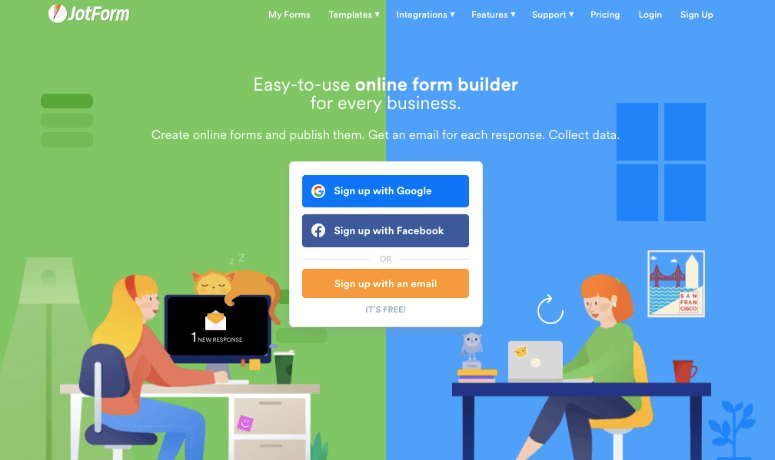 One of the biggest plus points for JotForm is it lets you access all its features for free. But there's a catch! It attaches its branding to every form you create, so this isn't a good option if you want to look professional.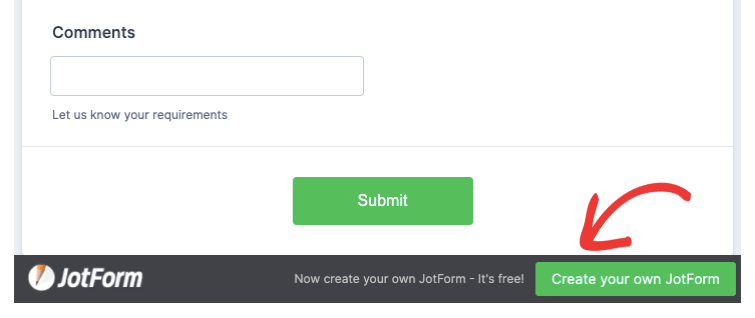 That said, JotForm has lots to offer:
Tons of templates to create any type of form
Drag and drop visual builder that makes it easy to edit
Plenty of customization options along with themes and layouts to choose from
Long list of payment and app integrations that includes PayPal, Google Suite, Slack, and AWeber
Share forms to social media sites and other web builder platforms
Share forms in offline PDFs and through email
Collect, organize, and manage your data as JotForm tables
24×7 customer support with an average response time of 5 hours
Ease of Use
Now that we know what both tools have to offer, let's check out how they perform when they are actually used.
Creating a form with WPForms
WPForms claims that you can create a form in under 5 minutes and they've lived up to it!
To get started, you simply need to install and activate WPForms on your WordPress site. Once done, you can access WPForms from your WordPress dashboard to create your form.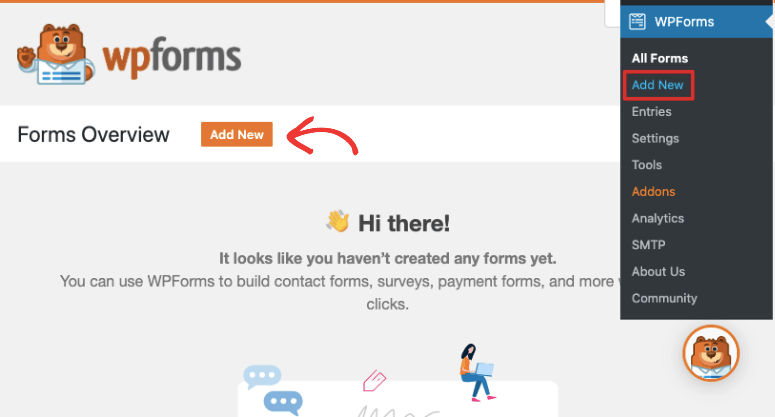 Next, you can choose a template or start with a blank form. For this tutorial, we'll select the 'Simple Contact Form' template.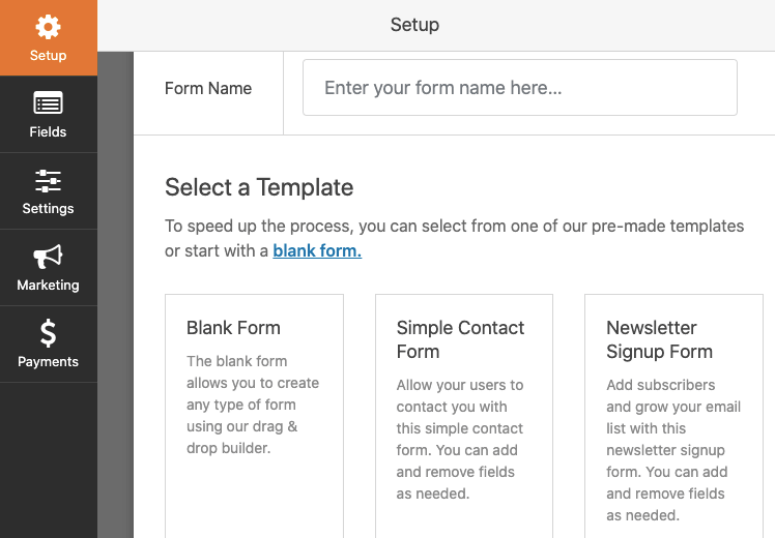 This will open up a form builder where you can add or delete form fields from the menu on the left. On the right, you'll see a preview of your form where you can click on any field and edit it.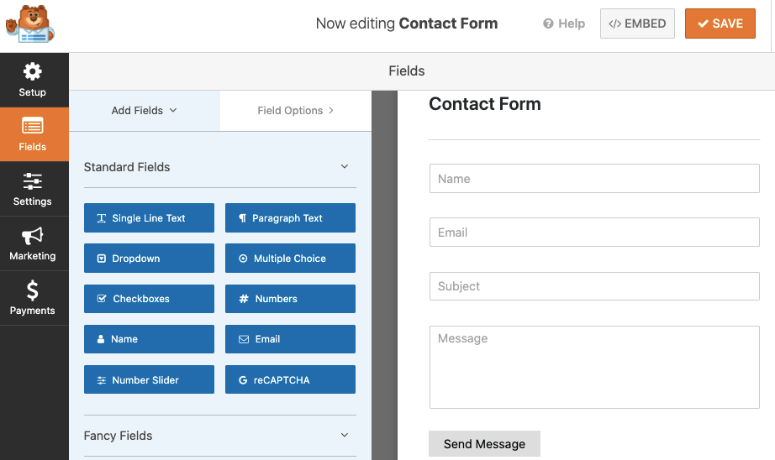 Once you're done creating your form, you can set up your confirmation message, notification settings, and more under the 'Settings' tab.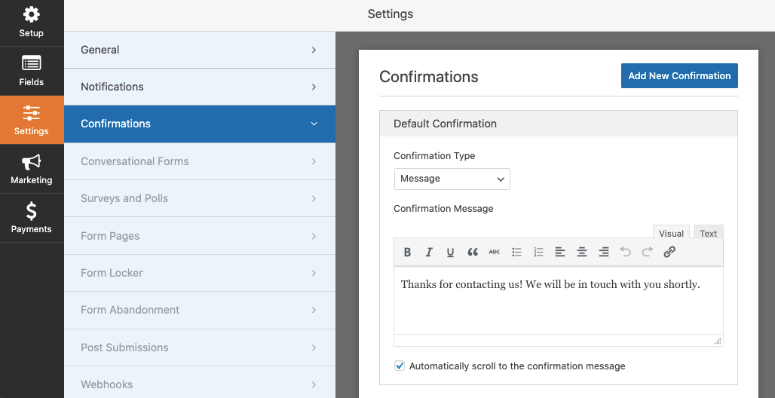 Next, you can integrate with marketing platforms to link your form to email campaigns.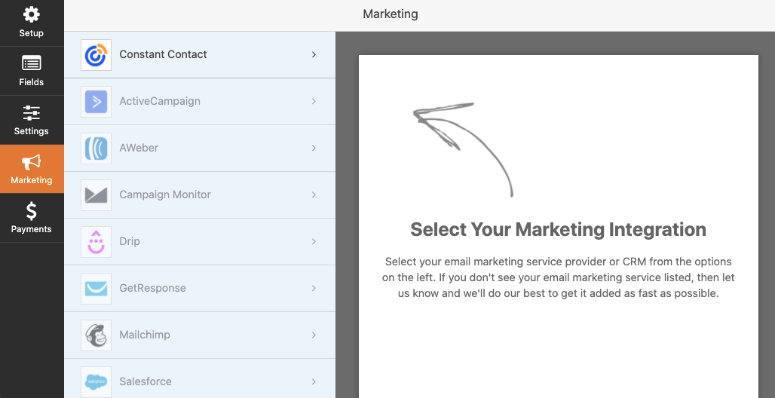 Finally, you can integrate with payment platforms to allow your users to make payments through your form. This is a great option for eCommerce stores, membership sites, donation sites, and the like.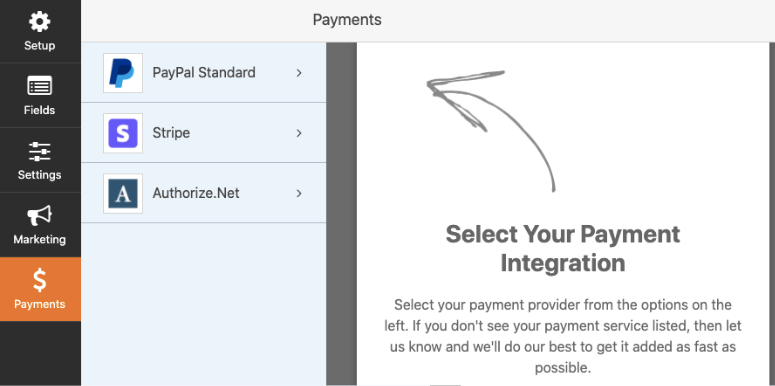 Now that the form is ready, you'll need to embed it on your site. This is really easy to do with WPForms.
First, you can embed it on any page or post using the block editor. You simply need to add a new block and search for the WPForms widget.
When you select this widget, it will give you a dropdown menu with the forms you've created.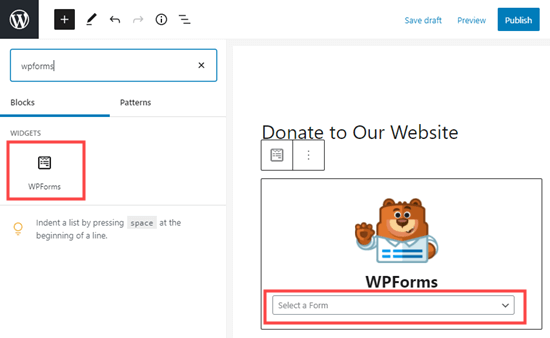 All you have to do is select the form you want and save or publish your post.
If you're using the classic editor, there's an 'Add Form' button that appears over the post edit screen. This lets you easily select your form and embed it.

Next, to add the form to a sidebar, navigate to the Appearance » Widgets page, and search for the WPForms widget.

Drag and drop it to your sidebar menu or any widget-ready area on your site. And that's it; your form is embedded in your sidebar.
You can also create advanced surveys and polls. WPForms lets you use conditional logic to show/hide following questions. Here's a sample of a survey form we created using WPForms: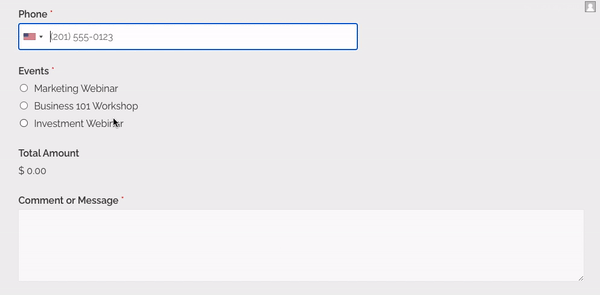 Creating a form with JotForm
To create a form with JotForm, first, you'll need to install the JotForm Embed Forms plugin on your WordPress site.
Next, you need to sign up for an account on the JotForm website. This will open up the JotForm dashboard, where you can start building your form by selecting the 'Create Form' button.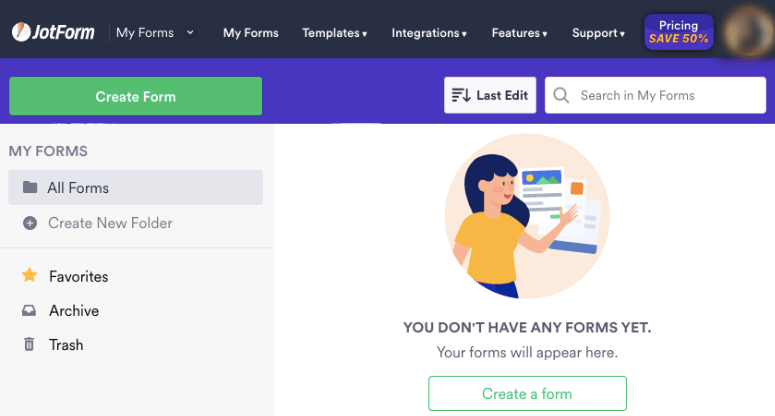 Next, you can browse through the templates available and select one that you want. There are over 10,000 templates available, so we suggest using the search bar to find the one you're looking for.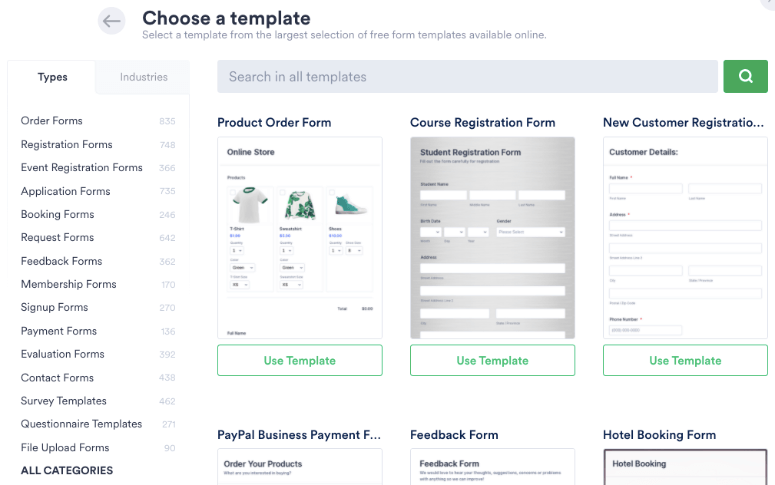 This will open up a preview of the form. On the left, you'll find options to add new form elements. You can add fields, payment options, and app widgets to your form.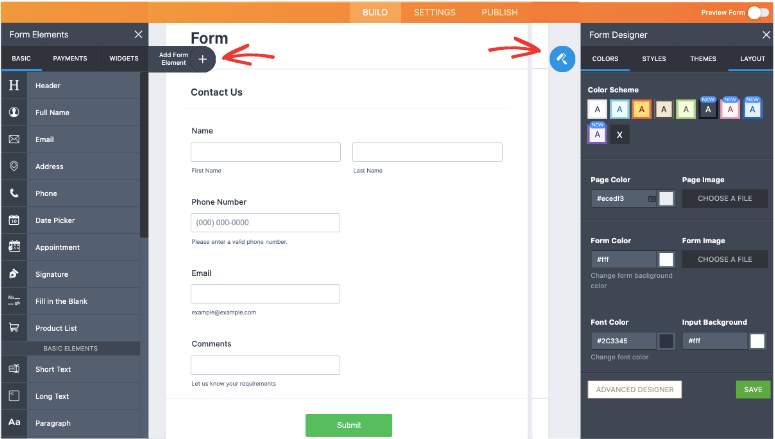 On the right, you'll see the form designer that lets you customize the look of your form. You can change the color, style, theme, and layout of your form.
Once you're happy with the look of your form, you can switch to the Settings tab in the top menu bar.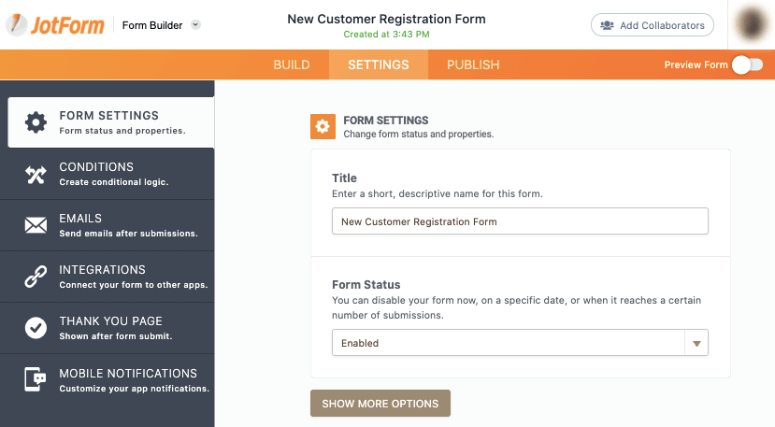 Here, you can change the form settings, create rules, and add the email address where you would like to receive notifications.
You can also set up integrations, the 'thank you' page message, and mobile app notifications.
When you're ready, switch to the Publish tab in the top menu bar.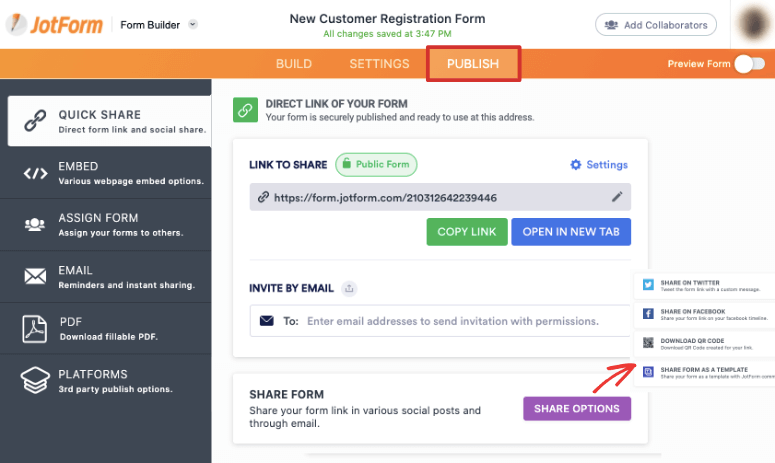 You can share your form as a PDF, email, or send it to other platforms.
To embed your form in WordPress, switch to the Embed tab from the left taskbar and copy the shortcode.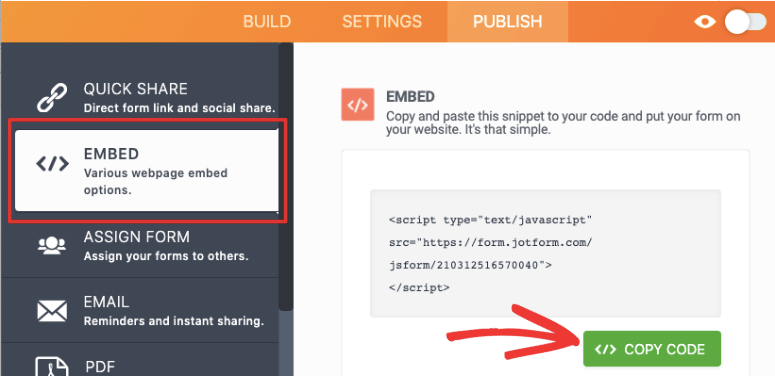 Next, head over to your WordPress dashboard and edit any page or post. You can paste the shortcode directly into the post editor.
But since you installed the JotForm Embed Form plugin earlier, you should see a pencil icon like so.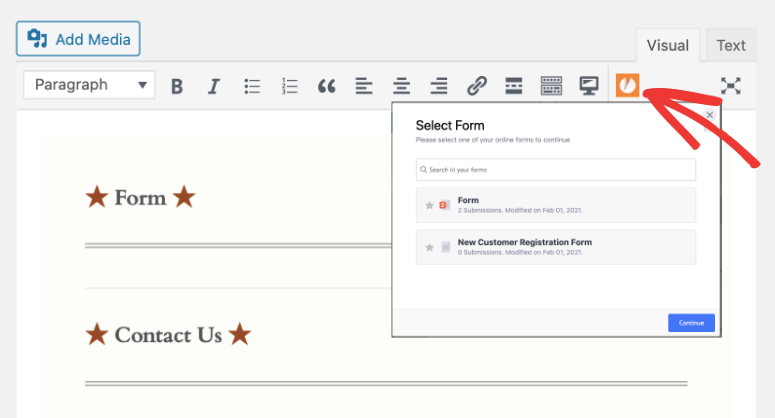 When you click on this icon, you'll see the forms you've created. Select the form you want to embed and then save your post or page.
To embed it into any widget-ready area like your sidebar, there's no widget available.
You'll need to use a text widget and paste the shortcode you copied earlier.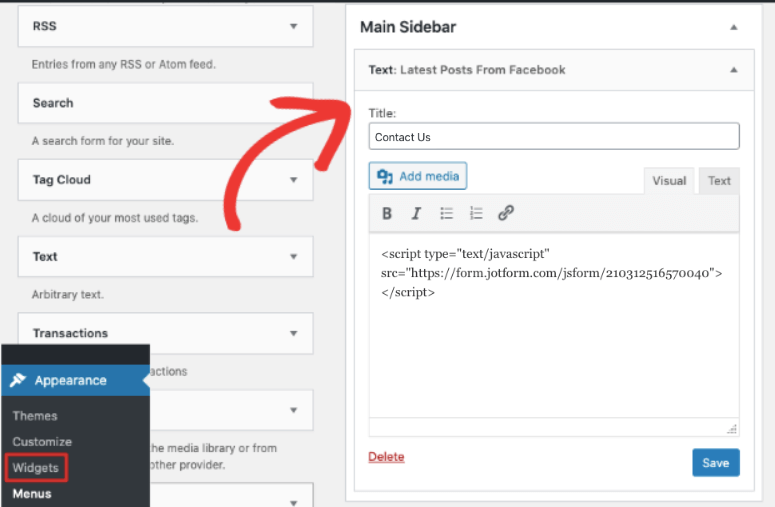 Here's a sample form we created with JotForm using the Vintage theme.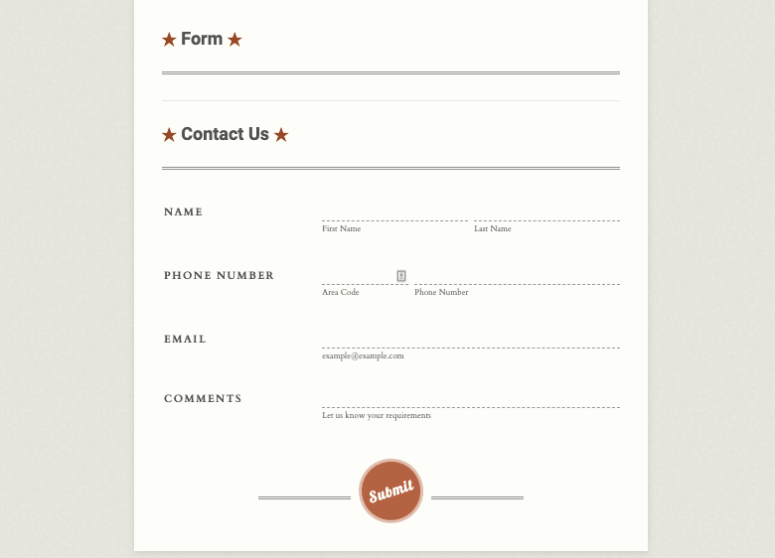 Drawbacks
When compared to JotForm, WPForms has fewer options to share the form. Aside from that, though it offers a free version, it's quite limited.
Coming to JotForm, the biggest drawback is that it's not accessible from the WordPress dashboard.
The free version has plenty of features but it adds its own branding which makes it unusable in many cases.
Another important thing to keep in mind is that, until recently, the JotForm plugin wasn't updated for about 2 years. So, if you're using this plugin, you'll need to keep an eye out for updates to make sure the plugin is being maintained.
And though JotForm has tons of integration options, users have complained of the forms not working, especially when embedded in popups.
JotForm vs WPForms Pricing
How Much Does WPForms Cost?
WPForms has a free plan that gives you access to 4 templates. It has everything you need to create basic forms on your site such as the contact form.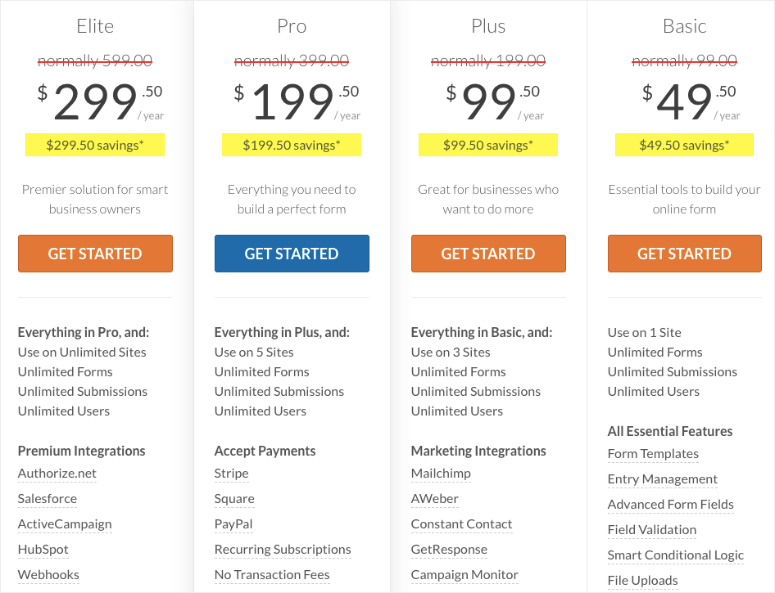 WPForms has 4 premium plans:
Basic – Costs $49.50 per year for a single site license. It gives you all the essential tools to create stunning online forms.
Plus – Costs $99.50 per year for 3 sites. It's ideal for growing businesses.
Pro – Costs $199.50 per year for 5 sites. It gives you access to more features, integrations, and templates.
Elite – Costs $299.50 per year and can be used on unlimited sites. It is designed to be a premier solution for smart business owners, agencies, and freelancers.
WPForms lets you create unlimited forms with unlimited entries no matter the plan you choose. It doesn't have a free trial but offers a 14-day risk-free money-back guarantee.
How Much Does JotForm Cost?
JotForm offers a free plan that lets you create 5 forms and accept 100 subscribers per month. With the free plan, your forms will bear the JotForm branding.
To remove it, you'll need to upgrade your account to a premium plan.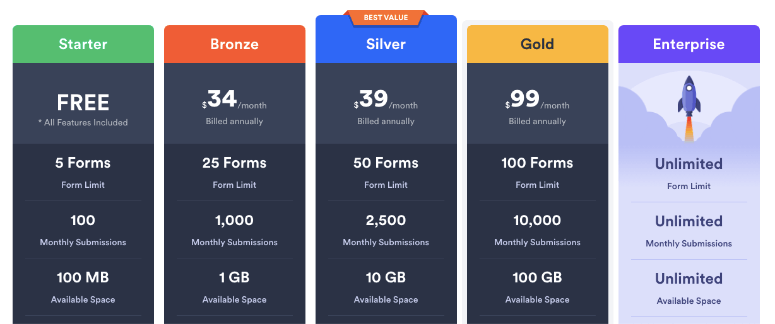 JotForm has 3 premium plans:
Bronze – Costs $34 per month (if you bill annually). You can create 25 forms with 1,000 monthly subscribers.
Silver – Costs $39 per month (if billed annually). It lets you create 50 forms with 2,500 subscribers.
Gold – Costs $949 per month (if billed annually). It lets you create 100 forms with a cap of 10,000 monthly subscribers.
In comparison to WPForms, JotForm is way more expensive. There's no option for small business owners or users who have a tighter budget for their websites. Unless you opt for the enterprise plan, you'll always have to worry about limits on forms and subscribers.
Customer Support
WPForms has one of the best support teams! The team is always so friendly and responsive. You can get in touch with them through a support ticket system.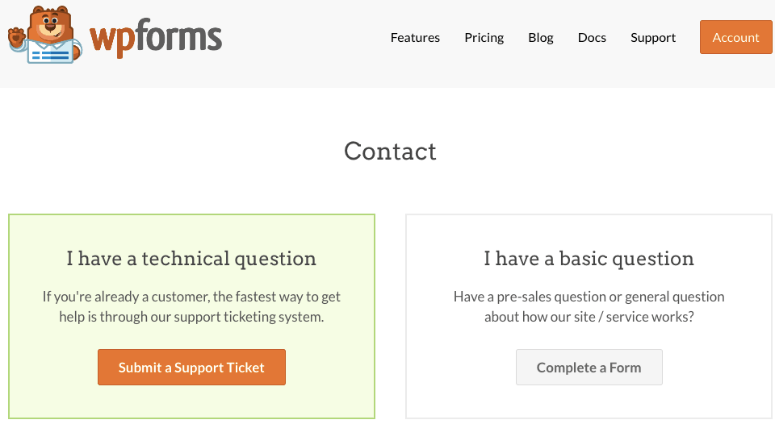 They're ever ready and happy to help. And they make sure you're not struggling on your own. So if you ever face any issue with the plugin or get stuck, you can reach out to the team and get a quick response.
Plus, WPForms has tons of documentation and blog resources that you can use to learn more about the plugin.
JotForm offers 24X7 support but their response is slow. They respond within 3-5 hours on average. However, you'll find many complaints online from users who haven't received any support at all.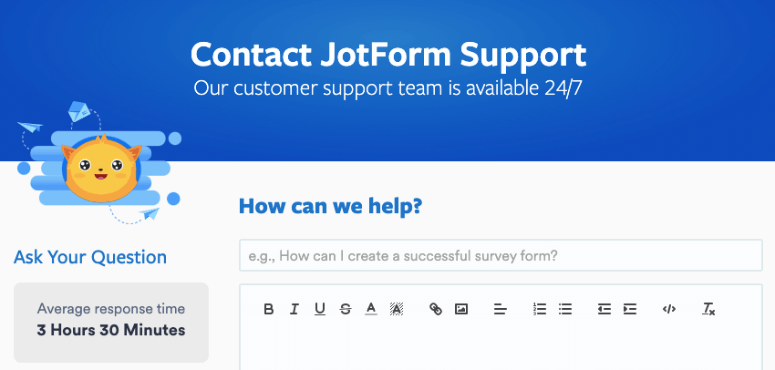 JotForm lets you submit questions to the customer support team. You can also browse through their forum to see if other users have posted the same question.
User Ratings
We could go on and on about JotForm and WPForms, but it's best to also rely on the experience of others.
We checked out what users have to say about the plugins on WordPress.
WPForms has a 4.9 rating based on 8,000+ raving reviews on WordPress. Users love what the tool has to offer, how easy it is to use, and the support team that's ready to help.
JotForm has a 3.9 rating based on 22 reviews on WordPress. The low number of reviews could be because it isn't a dedicated WordPress plugin. It caters to many platforms. That said, the rating is quite low with some not-so-great reviews.
Our Verdict: JotForm or WPForms?
There's no doubt that both form builders have great features, but if we had to choose, WPForms clearly comes out on top.
It's not only feature-rich, it just WORKS! It's so easy to create beautiful forms that are responsive so they look great on any device.
And what's great is that you aren't left hanging. You have a great support team to rely on if you face any issues.
Added to all this, WPForms doesn't limit the number of subscribers or entries. You can create as many forms as you need and get responses without worrying about limits.
With WPForms, you get everything you need to create any kind of form on WordPress. You may want to see our in-depth review of WPForms.
That said, if you need a form that works offline through emails and PDFs, JotForm will help you do that. It's more suitable for people who need to create and distribute forms for purposes like data collection and surveys.
We hope this article has helped you get a clear view of WPForms and JotForm so you can decide which one is best for you.
Once you choose your form builder, you may want to see our guides:
These guides will help you use your forms to get insights into your site's performance and to better the user experience.