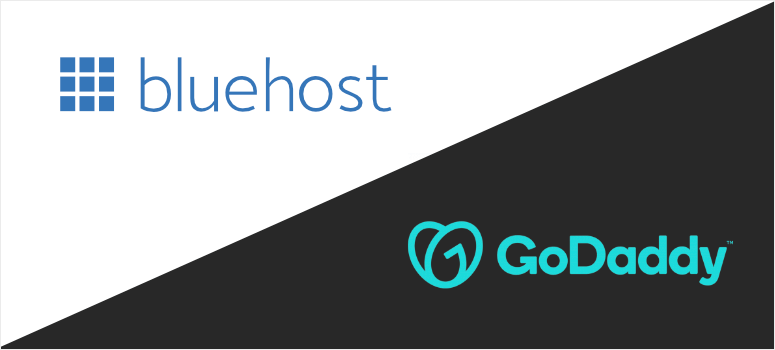 Are you confused about which provider to sign up with – Bluehost or GoDaddy?
Both are incredibly popular web hosting providers and domain registrars. But though they offer similar services, they differ a great lot in terms of user experience.

You'll want to pick the one that offers long-term reliability, customer support, and satisfaction.
In this head to head comparison, we're going to put Bluehost and GoDaddy side by side and explore both their pros, cons, and pricing to see which one excels on all fronts.
Bluehost vs. GoDaddy – Overview
Bluehost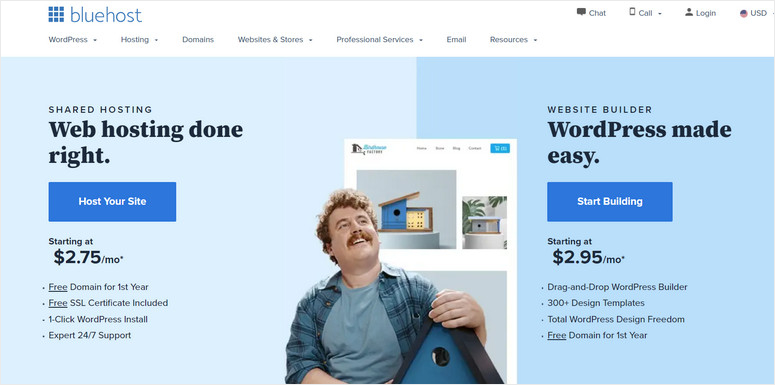 Bluehost is one of the oldest and largest web hosting companies in the world. In fact, they started back in 1996 and have since grown to power more than 2 million websites across the globe.
Today, they've earned a reputation for being reliable and trustworthy. They're even officially recommended by WordPress.org.
We believe Bluehost is the best cheap hosting service thanks to their affordable rates, ease of use, and the ability to grow with your business.
Bluehost strives for excellence by regularly improving their server hardware infrastructure as well as overall hosting experience. They make sure you can manage your hosting plan and domain names easily. Added to that, they offer addons like 1-click WordPress install, website builder, and professional email which you can access inside the user-friendly dashboard.
Overall, Bluehost is a feature-rich, user-friendly, and reliable platform.
GoDaddy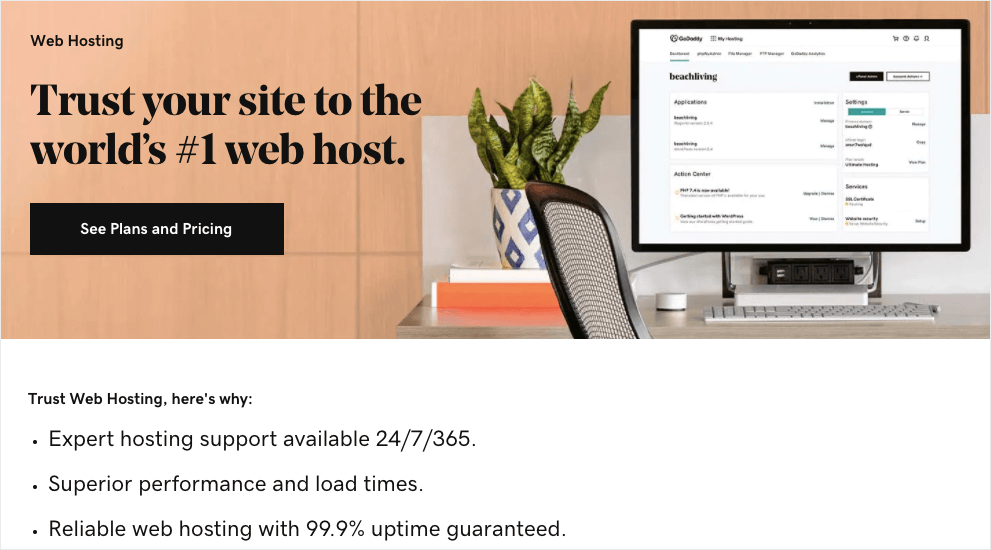 GoDaddy is one of the largest domain name registrars and web hosting service providers in the world. They are exceptionally popular amongst beginners because of their insanely low prices for first-time domain registration.
They offer great support round the clock making it super easy for beginners to get started with their online journey. GoDaddy also offers a user-friendly dashboard and cPanel (control panel) to manage your hosting, domains, and websites with ease.
While there's a lot to love about GoDaddy, there are also a number of things that you need to watch out for. GoDaddy tends to complicate your signup with too many addons and upsells that you don't need when you're starting out.
Other than that, they offer a range of helpful tools like a website builder, professional email accounts, and a digital marketing suite. They're hosting performance is also reliable and speedy.
So which host is the right choice for you?
Let's dive right into our Bluehost vs GoDaddy comparison.
Bluehost vs. GoDaddy – Ease of Use
Bluehost
Bluehost offers one of the most user-friendly dashboards. When you log into your account, you'll see a dashboard that looks fresh and organized so it's easy to find what you need. You can quickly access your sites, email, domains, and marketing tools.
There are also advanced options that take you to a custom cPanel. Inside, Bluehost offers 1-click install options for popular website builder tools like WordPress, Joomla, Drupal, Magento, Weebly, Prestashop, and many more.
You can also access the Softaculous app installer inside your cPanel dashboard to quickly install various apps and tools on your site.
In a nutshell, this centralized dashboard lets you manage everything related to your website from a single place.
GoDaddy
GoDaddy is a go-to hosting solution for beginners mainly because they offer the cheapest plans to get started. And secondly, they have one of the most intuitive management sections. It's easy to navigate and is neatly categorized into different sections so you can find what you're looking for fast.
Inside GoDaddy's cPanel, you can manage your websites, add new domains, create subdomains, run backups, and more.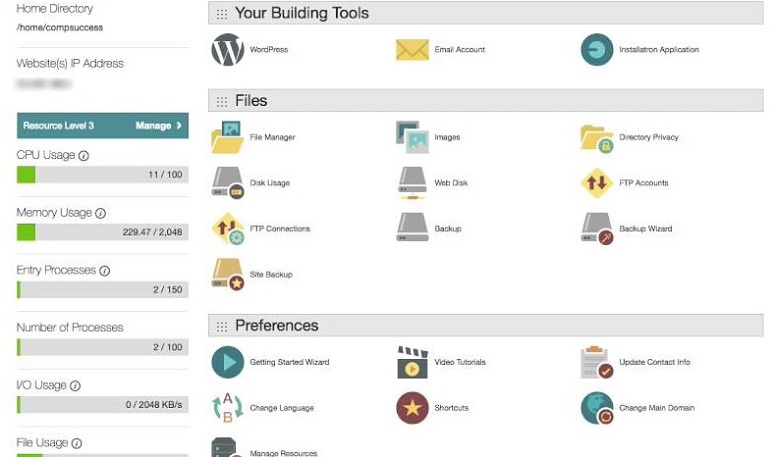 GoDaddy supports many user-friendly platforms like cPanel, Softaculous, CentOS, and Microsoft Office 365.
When compared to Bluehost though, the GoDaddy dashboard looks a bit outdated.
Winner: Bluehost
Bluehost vs. GoDaddy – Features
Bluehost and GoDaddy both offer feature-rich hosting plans. Let's take a look at their highlights at a glance.
Bluehost
Affordable hosting plans
Dedicated plans for WordPress & WooCommerce
Free domain name registration
Free CDN + SSL
1-click WordPress install
Website builder with drag and drop functionality
AI-driven website templates
Unlimited disk space
Industry-leading hardware
24/7 chat and phone support
30-day money-back guarantee
With the higher-end plans, you get optimized CPU resources and a free dedicated IP address for your site. You can also kickstart your online business with easy access to Google Ads and Google My Business.
All their plans include a domain manager that lets you easily update, transfer, purchase, and manage your domains from a centralized dashboard. To top it off, you get free website migration for any site that's running on WordPress.
GoDaddy
Below are the highlighted web hosting features of GoDaddy:
Cheapest plans
WordPress plans with optimized hosting
99.9% uptime
User-friendly backend
Unlimited bandwidth
24/7 security monitoring and DDoS protection
Monthly billing option
24×7 live support
30-day money-back guarantee
GoDaddy makes it easy for anyone to create a WordPress website. They offer automatic updates and WordPress-optimized servers, so you won't have to worry about technical aspects.
Their customer support is available 24/7 if you ever need help. And, as your site grows, you'll get plenty of options to upgrade your hosting plan to match your new requirements.
Winner: Bluehost
Bluehost vs. GoDaddy Web Hosting Plans
Bluehost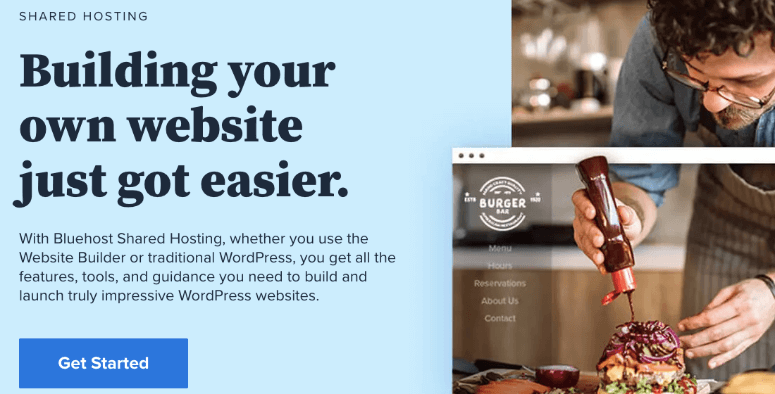 GoDaddy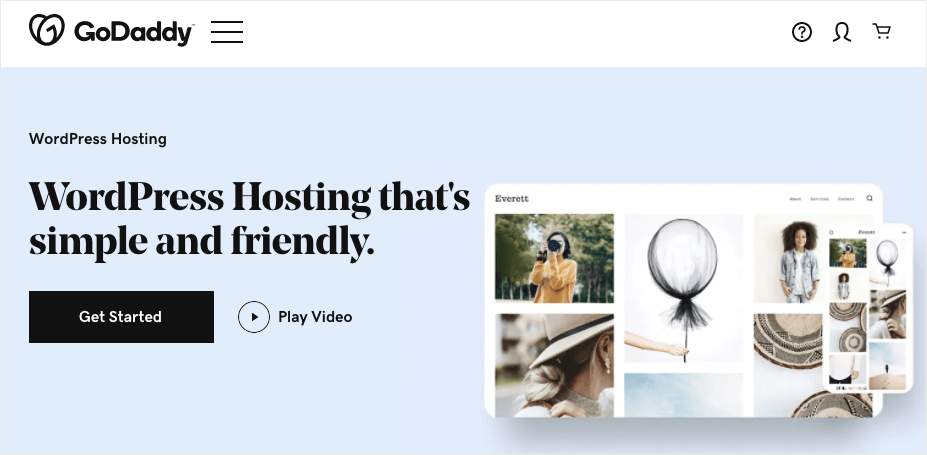 Cheap Shared Hosting: GoDaddy offers a shared hosting plan with unmetered bandwidth and 30GB storage which is more than enough to run a regular website. Plus on the Deluxe and Ultimate plans, you get unlimited storage and increased processing power. Similar to Bluehost, you can install WordPress with one click so it's easy to start building your site right away. Depending on your location, GoDaddy's starter plans range between $1.30 per month to $5.99 per month.

WordPress Hosting: This plan is designed to make it easier to set up, launch, and manage a WordPress site. It's optimized for speed, performance, and the unique security needs of WordPress. The pricing for WordPress hosting plans ranges from $8.99 to $18.99 per month. There's also an eCommerce plan designed to make running an online store easier and this starts at $20.99 per month.

Dedicated Servers: These plans are geared towards experienced developers, agencies, and system admins that need powerful servers. You'll get an easy-to-use control panel and bare metal servers with root access for complete control. These plans offer datacenter-level DDoS protection with an SSL certificate. Along with that, you'll get support for CentOS, Ubuntu, or Windows. Plans range from $129.99 per month to $399.99 per month.

Business Hosting: This plan is designed to give you the high performance of a dedicated/VPS server but without the need for technical knowledge to manage these private servers on your own. Business hosting is geared towards those who want the freedom to host unlimited websites with high speed and performance. All websites created get free SSL certificates. Business hosting plans start at $19.99 per month.
Bluehost vs. Godaddy – Pros
Bluehost
Low Introductory Pricing: You can get started with Bluehost for as low as $2.75 per month. You'll get a shared hosting plan, free domain name, free SSL, and free CDN.
No Hidden Fees: What we love about Bluehost is that their pricing and renewal prices are completely transparent. You won't have to worry about hidden fees and unforeseen charges that skyrocket your bill. If you opt for hosting addons such as SiteLock security, Codeguard Basic, or Bluehost SEO Tools start, you'll need to pay extra.
Easy to Use: When you sign up, it takes just a few minutes to get your hosting plan and domain name registered. From there, you'll get a simple and user-friendly dashboard to create and manage your websites.
Customer Support: Bluehost offers premium-quality 24/7 customer service. You can access their team of experts via live chat support and phone support.
Reliability: You can be sure that your website won't face downtime. In the rare case that you do, you can connect with the support team and they'll resolve any problems within minutes.
Free domain: You can register your domain name for free when you sign up for a Bluehost web hosting plan. The registration is free for the first year. You'll have to pay the normal renewal rate after that.
Free CDN + SSL: Bluehost offers a free SSL certificate to improve your site's security. Plus, you'll get access to a free Cloudflare CDN (content delivery network) that will enhance your site's speed and performance.
Scalability: It's easy to scale your online business by upgrading your hosting plan. All it takes is a few clicks to move from a basic plan to a high-tier plan (like Choice Plus plan and Pro plan).
GoDaddy
Cheap Pricing: GoDaddy has one of the cheapest starting rates. You can start a website at really low costs with domains starting at only 99 cents for the first year. Keep in mind though that you'll have to spend a lot more to renew your plan.
Managed WordPress Hosting: Run your site on servers optimized just for WordPress. You'll also get site maintenance tools, automatic daily malware scans, daily backups, and more.
24/7 Support: Their support staff is friendly and ever-ready to help you with anything you need that's related to your site, server, and domain.
Unlimited site hosting: You can create unlimited websites on all of GoDaddy's hosting plans (except for its cheapest Economy plan).
Easy Management Once you sign up, you'll get access to a user-friendly control panel and admin dashboard to manage your domains, hosting, and other services from one location.
Uptime: GoDaddy offers a 99.9% uptime guarantee.
Monthly Billing Option: If you aren't ready to make a big investment or prefer to for your plan every month, GoDaddy offers a monthly billing option. If you choose to pay by the year, you'll get a discount.
Winner: GoDaddy
Bluehost vs. Godaddy – Cons
Bluehost
We recommend Bluehost as one of the leading web hosting providers, but every service has its pros and cons. Here are the downsides to Bluehost:
No email-based support: Bluehost used to offer email ticket support but discontinued this in order to focus on providing instant support.
Domain Privacy Protection: Free domain privacy protection is available only on the Choice Plus and Pro plans. You'll have to pay for this service if you're on the basic web hosting or website plans.
No monthly billing: Bluehost plans are available in 12-month and 36-month terms. You get the best deal when you commit to the 36-month plan.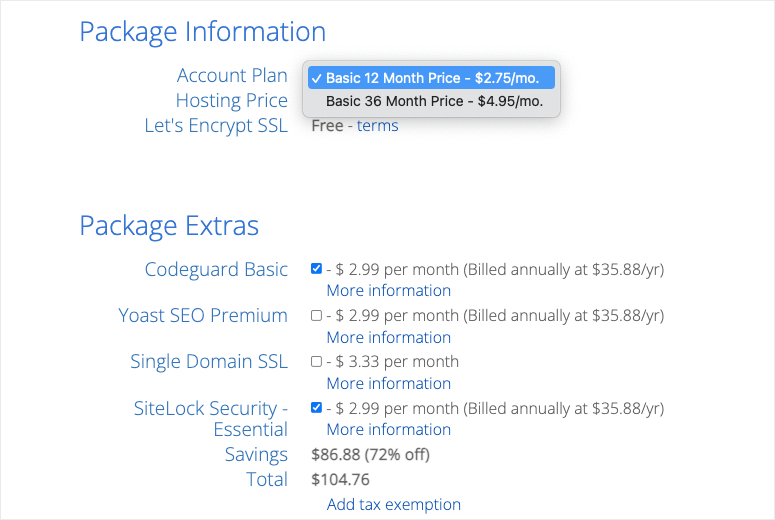 GoDaddy
While GoDaddy has a lot to offer, here's what you should be aware of:
High renewal rate: GoDaddy offers incredibly cheap rates to get started with a web hosting plan, domain name, and website. But this is only for the first year. When the time comes to renew your plan, you'll face expensive renewal rates and most users tend to transfer their domain and hosting plan to another service at this point.
Paid addons: Many of GoDaddy's paid addons are offered for free with other hosting services. When you checkout, you'll find that GoDaddy offers a huge variety of services. Though they are optional, if you're new to building a website, you'll likely buy a bunch of them that you don't need. We recommend that you uncheck all the optional addons before you buy your plan. You can always buy them later if you feel you need them.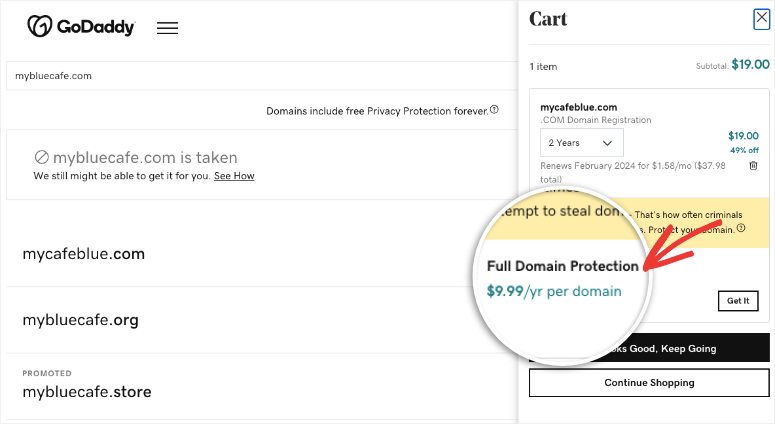 Winner: There are no winners when it comes to cons!
Bluehost vs. Godaddy – Support and Documentation
Bluehost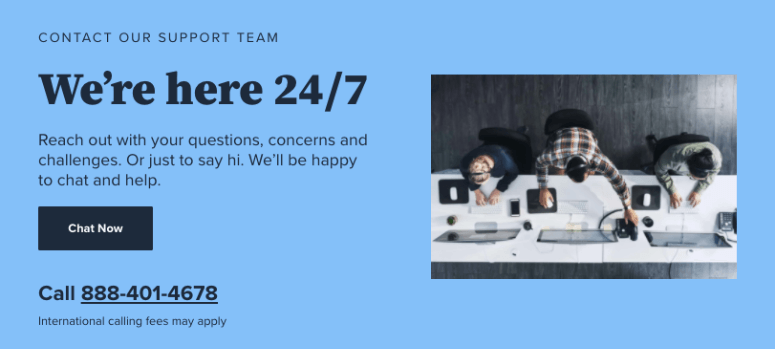 Bluehost offers a team of experts to guide you through everything related to your website, domain, and hosting plan. You can connect with them to resolve issues, get more information, or reach out for any help you need. The support staff is super friendly and is available 24/7 via phone and live chat.
If you've built your site on WordPress, Bluehost has an in-house team of WordPress experts who can resolve any WordPress-related inquiries.
Added to this, on the Bluehost website, there's a huge knowledge base consisting of articles, guides, and how-to tutorials.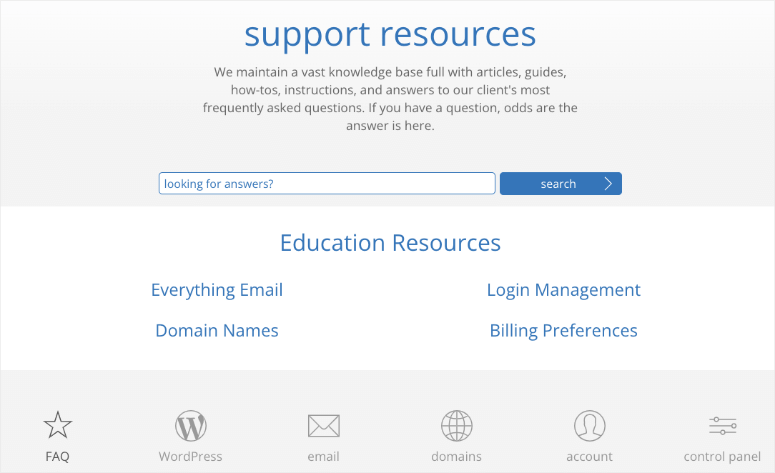 This lets you find answers to all your questions regarding your web hosting account on your own.
GoDaddy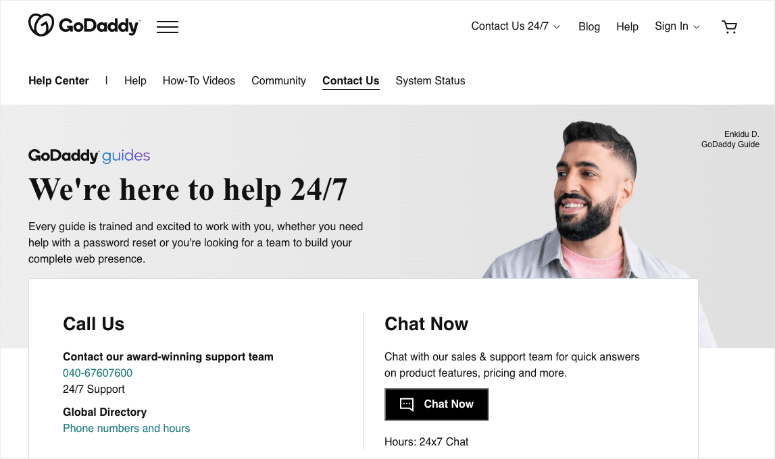 You can connect with GoDaddy's customer support through phone, live chat, and email. They're available around the clock so you can contact them at any time no matter where you are in the world.
On their website, you'll find a Help center with plenty of tutorials and videos to help you set up your website. There are plenty of troubleshooting and setup guides that are well written with clear step by step instructions.
What stands out about GoDaddy is its Community support site.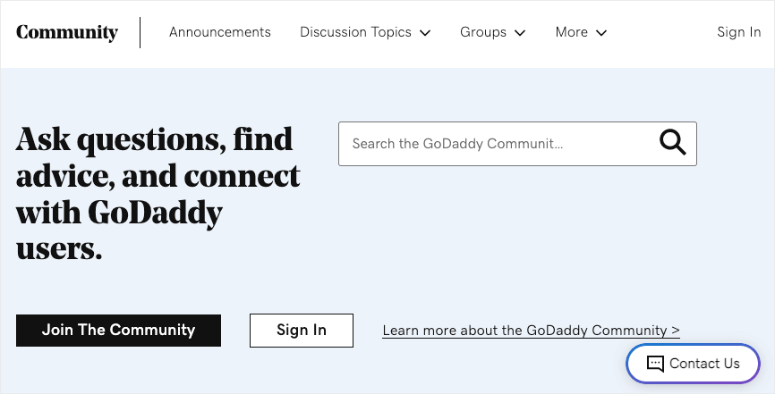 You can join forums where you can post for help. The forum moderators are quick to respond to new posts.
Winner: Bluehost
Bluehost vs. Godaddy – Pricing
Bluehost shared web hosting starts at $9.99 per month. But this can be expensive if you're just starting out. That's why we've negotiated a deal with Bluehost to offer our users 70% off web hosting. With Bluehost, you only have to pay $2.75 per month.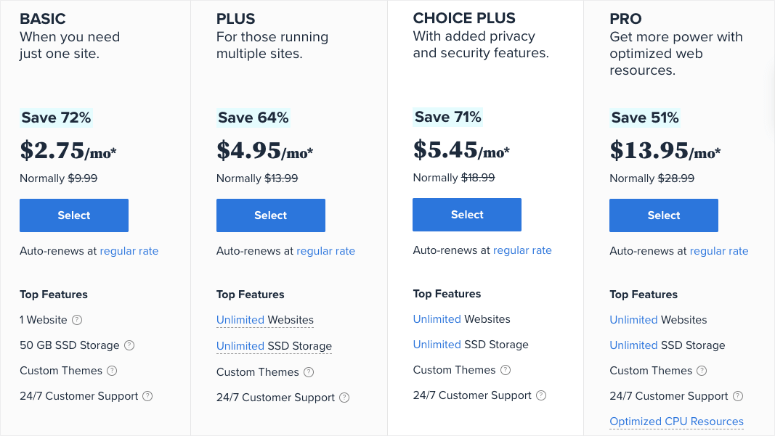 Besides a huge discount, you'll get a free domain name and a free SSL certificate when you purchase a web hosting plan from Bluehost.
There's a 30-day money-back guarantee on all Bluehost pricing plans.
Grab the Bluehost Exclusive Deal
GoDaddy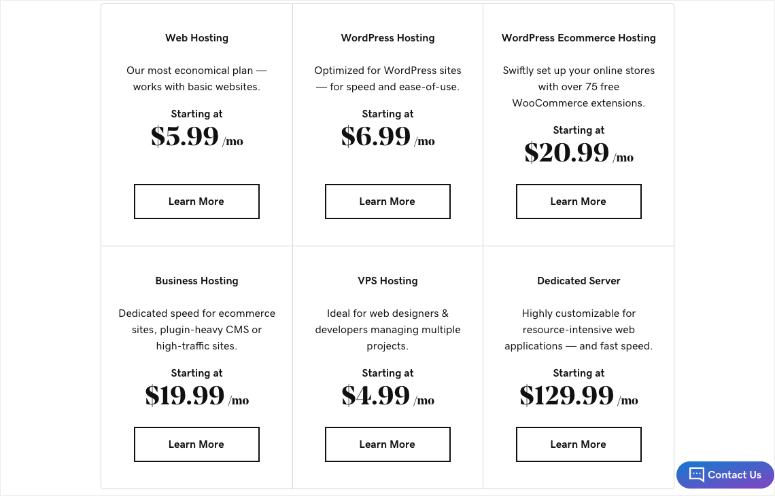 GoDaddy's web hosting plans start at $5.99 per month. The actual GoDaddy pricing could vary based on your location.
They offer a 30-day money back guarantee for annual plans. You can cancel your account within 30 days of signing up and get a full refund of all hosting fees.
If you purchase monthly GoDaddy plans, you can cancel within the first 48 hours and get a full refund.
Winner: Bluehost
Recap – Bluehost vs. Godaddy
For beginners, Bluehost is the best choice as it comes with a wide variety of web hosting plans. When starting out, you can choose their WordPress hosting plan, which costs just $2.75 per month.
Whether you're a blogger, small business, online store, or large corporate, you'll find suitable hosting options from Bluehost. At IsItWP, we've used many web host plans and have hosted sites on Bluehost and GoDaddy. We ran performance and speed tests on them too.
Here's our summary of our winner – Bluehost:
Performance grade – A+
Average load time – 1.48 ms
Average response time – 1.26 ms
Free domain – Yes
Free SSL – Yes
1-click WordPress – Yes
Support – Phone, Live Chat & Knowledge base
Need more information? Read our full review: Bluehost Review.
Next, you may also like to check out our comparisons between Bluehost and other popular web hosts:
We hope this comparison of Bluehost vs GoDaddy helped you find the best web hosting provider for your needs. If you're ready to buy your domain and hosting plan and set up your site, we've handpicked these resources for you:
These guides will help you get started with your website right away.