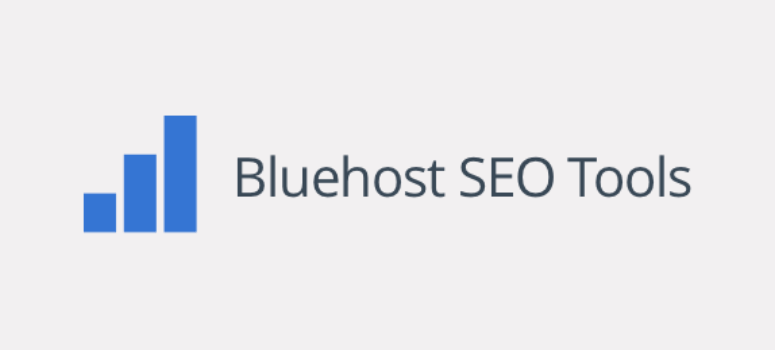 Are you looking for a good SEO solution for your website?
Bluehost is hands down the best web hosting service on the market. And they offer a suite of SEO tools for small businesses to get started.
Bluehost claims to be a total do-it-yourself SEO setup to help you optimize your site and rank on search engines. But do these tools really work, and, more importantly, are they worth your time and money?
Today, we're going to take a deep dive into Bluehost SEO Tools. We'll look at their features, pricing, and cons.
Since this is such an indepth guide, here's a table of contents to help you navigate to the section that interests you most:
Quick Overview of Bluehost and Its SEO Tools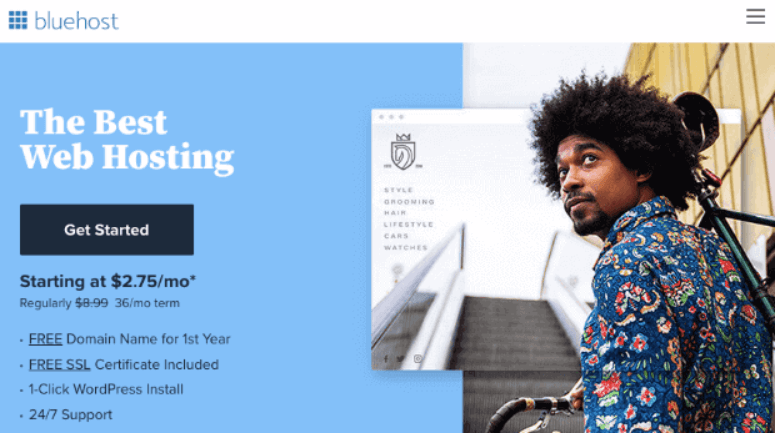 Bluehost is the most popular web hosting company used by over 2 million websites around the world. They are even the officially recommended hosting provider by WordPress.org.
Bluehost is a well-known name in the industry, and that's largely due to its affordable plans and its reliability.
They offer one-click installs for WordPress and other popular website builders.
When you sign up for Bluehost's web hosting package, you get a free domain name and a free SSL certificate. You can also choose to try its SEO tools at a small cost.
Bluehost's SEO tools give you access to much-needed features to get your site to rank on search engines.
But now you may be wondering, "What's do Bluehost's SEO tools include?" Let's take a deeper look at what you can expect from Bluehost's SEO resources.
What Do You Get With Bluehost SEO Tools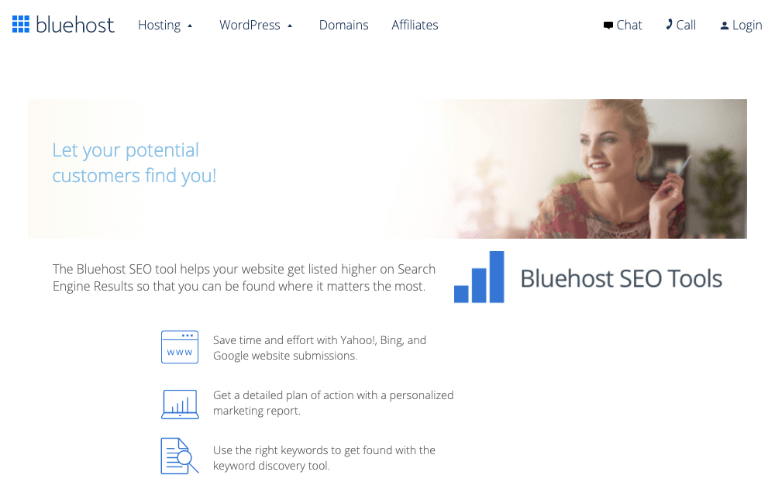 Bluehost SEO tools make it easy for anyone to optimize a site, so you don't have to be an SEO expert to get ranked on search engines like Google.
One thing to keep in mind is that SEO is a vast subject, and there are so many ways you can do to optimize your site.
That's why Bluehost focuses on the most important pillars of SEO. This will give you a good foundation to optimize your site and fix errors. In turn, it helps drive more organic traffic to your site and convert visitors into customers.
Having said that, let's take a look at what Bluehost SEO Tools include:
1. Personal SEO Report
When you sign up, Bluehost gives you access to an SEO dashboard.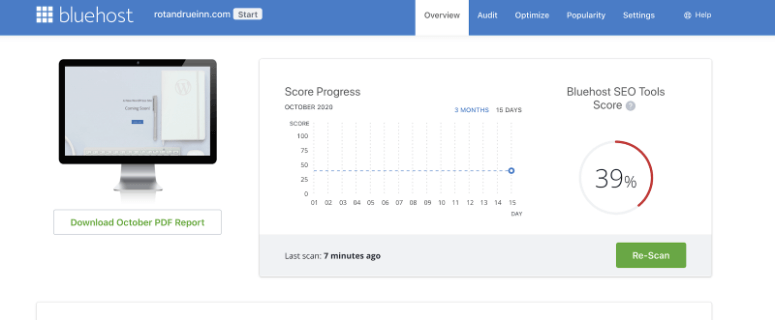 You'll see your site performance report and an SEO score. This will tell you what parts of your website are optimized and what needs to be fixed.
You can also download your SEO report as a PDF that you can share with your team.
When you scroll down, you'll see your SEO progress, but we'll explain this in detail in the next point.
You'll also see your site's traffic and search engine indexing status.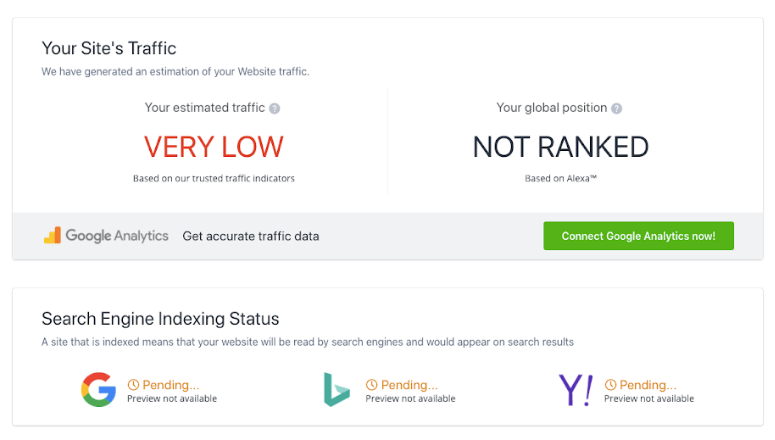 This will tell you how much traffic you can expect on your site. It also gives your global position on search engines. And if you want to get more accurate traffic data, you can easily connect your site to Google Analytics.
2. Site Audit
Bluehost makes auditing your site a breeze. It runs a scan of your site and assesses your SEO strengths and weaknesses. Then, it gives you a progress chart to see how your site's optimization is coming along.
Bluehost also shows the progress you've made on your site audit, page optimization, and popularity score.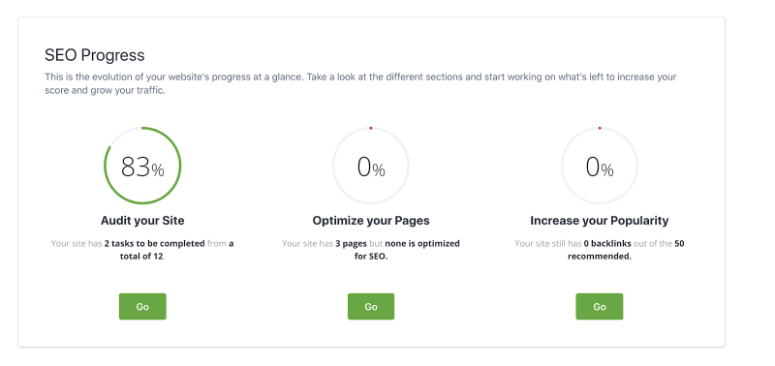 You can use the 'Go' button under each section to view recommended tasks that would boost your site's SEO. On the next page, you'll see a list of the tasks like so:

From this task list, you can easily fix your site's SEO problems and get it to rank on search engines.
3. Keyword Target
While there are some aspects of SEO that you can, to some extent, set and forget, you'll need to constantly work on keyword targeting. This will help you put fresh and relevant content out on a regular basis.
There are plenty of tools that let you target keywords but many of them leave you feeling overwhelmed, especially if you're new to SEO.
Bluehost narrows everything down to just 10 keywords that you should focus on to get your current pages to rank.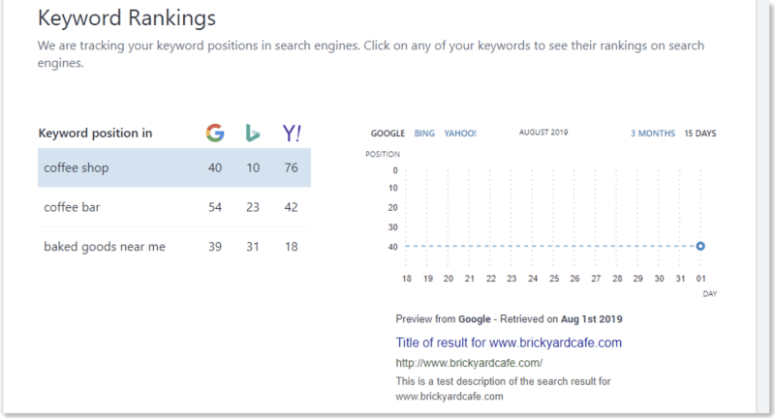 This helps you write more targeted posts without feeling overwhelmed by all of your keyword options.
4. On Page Optimization
Bluehost also gives you a report on how well your on-page SEO is performing.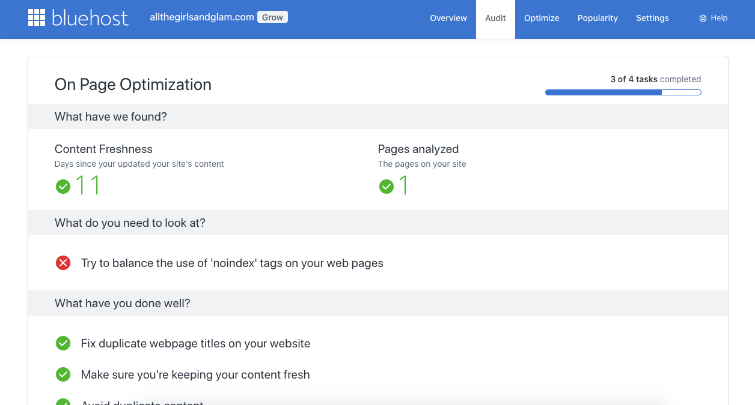 It gives you tasks to:
Remove duplicate content
Make sure your site is mobile-friendly
Update your title tags
Make sure your content is fresh
You'll also see a number of other miscellaneous tasks it asks you to do to fix your site's SEO.
5. Competitor Reports
Bluehost also has a competitor analysis section where you can add competitors that you want to monitor and track.
In case you don't know who your competitors are, Bluehost gives you a list of suggestions from which you can choose.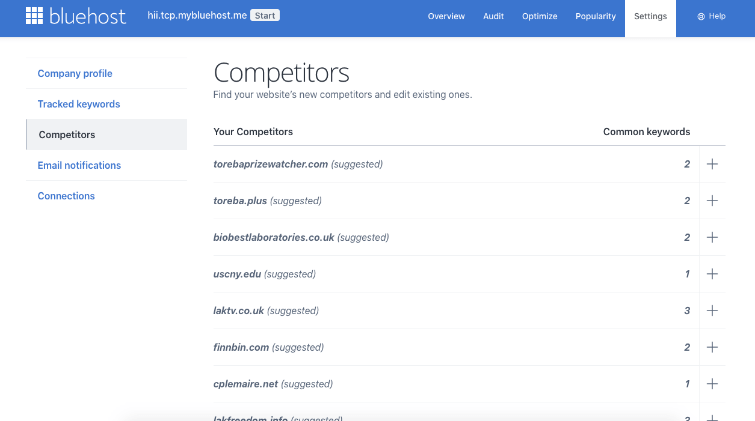 Bluehost will then track your site's performance and compare it with your competitors.
And don't worry, these competitors won't know you're tracking them!
That means you can see what's working for them, what isn't, and modify your content marketing strategy accordingly.
6. Real-Time Notifications
Bluehost constantly monitors your site's SEO and if there's something that needs your attention, you'll receive a real-time notification.
You can set up your email notifications under the Settings tab in your dashboard.
This allows you to stay ahead of the game and keep up to date with any changes in the SEO world.
Now that we've seen the tools included with Bluehost's SEO package, let's look at a few of the things it's lacking.
Cons of Bluehost SEO Tools
Bluehost SEO Tools have everything you need when you're just getting started with SEO.
That said, it's missing advanced features that any growing website would need in order to outrank competitors and see consistent results.
Here are the key areas where Bluehost SEO tools is lacking:
Limited keyword tracking – You can track up to 10 keywords to optimize your content. This is insufficient for any website that wants to grow.
No on-page suggestions – Usually, SEO tools give let you optimize SEO before you publish a page or post. But Bluehost will scan content only after you've published it. It then gives you suggestions in the Bluehost SEO tools dashboard to improve your content. So you'll need to go back and forth to make the changes.
Limited competitor reports – Bluehost lets you add competitors and then checks your site's performance against theirs. This isn't enough if you want to outrank them. You'll need detailed analysis on keyword gaps, backlinks, and rank tracking, to name a few.
No sitemaps – Sitemaps play an important role in getting your content indexed. Bluehost SEO tools doesn't have this feature.
Zero integration options- There's no option to integrate with webmaster tools like Google Analytics to track results and performance. It also doesn't integrate with other WordPress tools like WooCommerce to improve your online store's SEO.
So you can see that Bluehost SEO tools has its pros and cons. But it all comes down to its price and if it's worth it.
How Much Do Bluehost SEO Tools Cost
The pricing for the Bluehost web hosting plans starts at as low as $2.75 per month. It renews at $8.99 per month. But you can get discounted pricing when you commit to 1, 2, and 3-year packages.
Bluehost also has some awesome discounts for IsItWP users. You can take advantage of our Bluehost coupon that gets you up to 70% off + a free domain.
You'll need to use the special link inside the Bluehost coupon page to get the best deal on your web hosting.
Once you select a web hosting plan, Bluehost will suggest extra services that you can add to your package.
You'll find the option to buy the SEO Tools package here: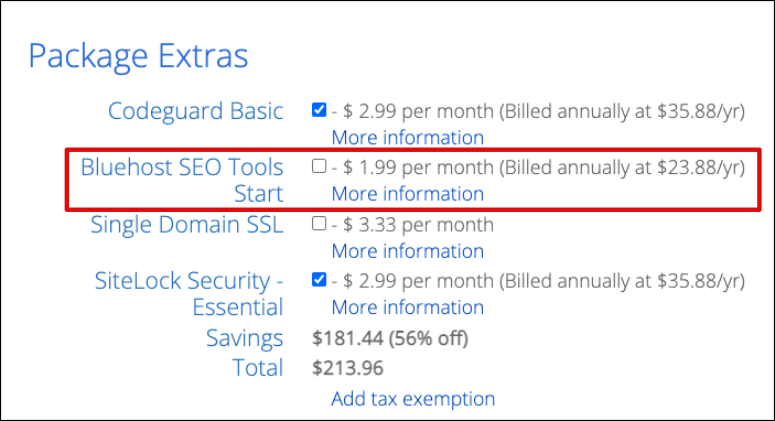 Bluehost SEO Tools Alternatives
While Bluehost SEO Tools is a great option for SEO beginners, there are a couple of other SEO tools that give it some serious competition.
Here are the top 2 Bluehost SEO Tools alternatives we recommend.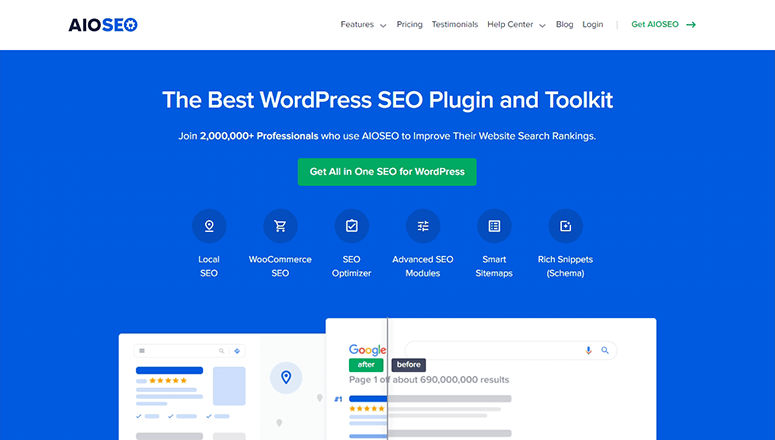 All in One SEO (AIOSEO), as the name suggests, is a complete SEO solution for WordPress. It takes care of every single thing you need to optimize your site.
When you sign up for AIOSEO, you'll see a launch wizard that makes optimizing your site as easy as pointing and clicking.
You'll also get access to the dashboard that guides you through the SEO optimization process.
It shows you what needs to be fixed and also indicates a level of urgency so you can prioritize the critical errors first.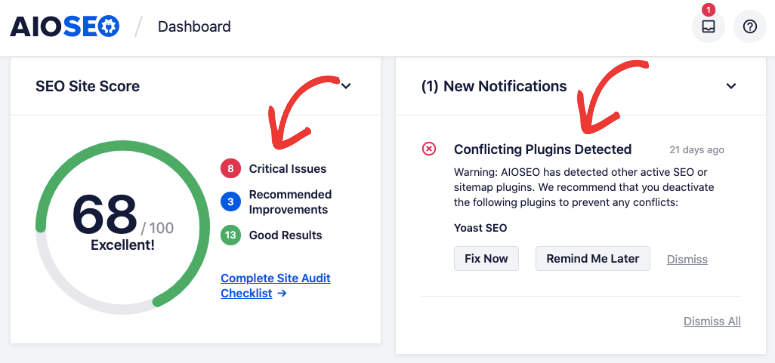 AIOSEO gives you explanations and instructions every step of the way, so it's a great tool for beginners. You can optimize your pages and posts directly from the post edit screen.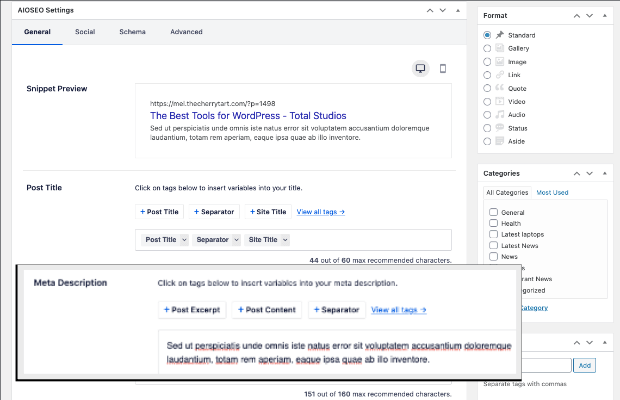 At the same time, AIOSEO has advanced tools that take care of technical and on-page SEO. So you can set up robots.txt, sitemaps, local SEO, and WooCommerce SEO in minutes.
Plus, AIOSEO has seamless integration options with all popular webmaster tools, social media platforms, and other WordPress plugins. This ensures your website is optimized for search engines and social media. It also makes it easy to measure your SEO results and progress.
Pricing: There's a free version of All in One SEO that gives you access to SEO essentials. The pro version starts at $49.50 per year.
To learn more, check out our detailed All in One SEO review.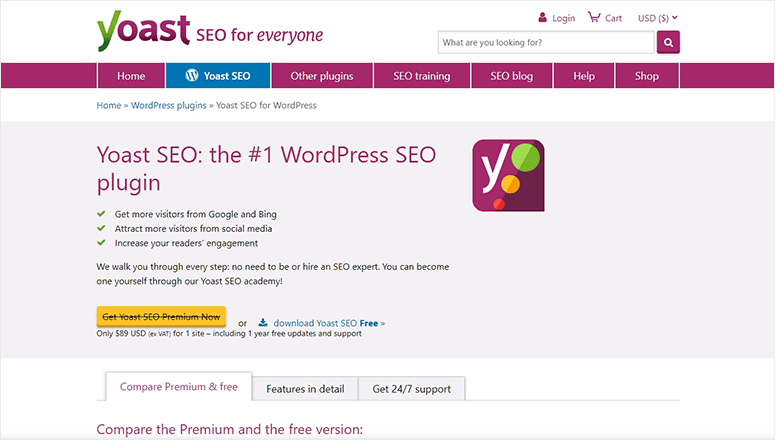 Our second pick would be Yoast SEO. It helps you boost your SEO rankings by giving you the necessary tools to add the right SEO elements to your pages and posts.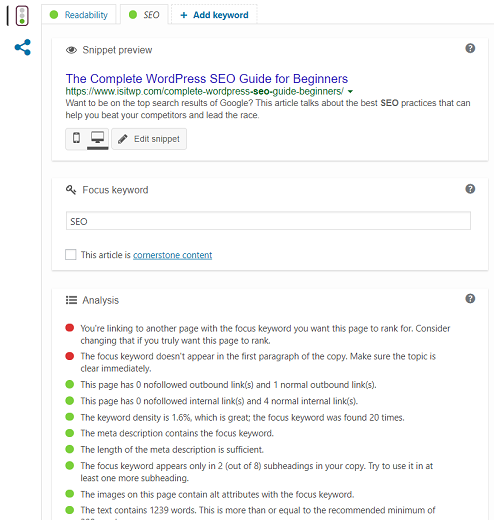 Yoast gives you suggestions to improve your page and shows you where you're doing great.
You can easily control what you want search engines to see, prevent duplicate content, and set up XML sitemaps.
Pricing: There's a free version of Yoast SEO, too. The pro version starts at $75 per year.
To learn more, check out our detailed Yoast SEO review.
You may also want to check out this post to compare both tools: AIOSEO vs Yoast SEO: Which Is Best in 2021?
Verdict: Are Bluehost SEO Tools Worth It?
Bluehost SEO Tools are a good option if you're just starting out with your website and you're new to SEO.
It has everything you need to get started and basically holds your hand through the process of setting up SEO for your site.
Bluehost SEO Tools are also available at a reasonable cost making it a worthwhile investment.
However, as your website grows, if you're serious about SEO, you need a more powerful tool like All in One SEO.
It will give you access to more advanced SEO features that you simply can't do without if you want to successfully drive more organic traffic to your site.
And since there's a free version to help you get started, it often makes more sense to start with the tool that allows you to scale.
That way, you don't need to migrate tools down the road as your SEO skills become more advanced.
And that's all for today! We hope you liked this article. If you're just setting up your website's SEO, you'll want to check out these posts:
These have all the info you need to optimize your site's SEO, drive more traffic to your site, and increase conversions.