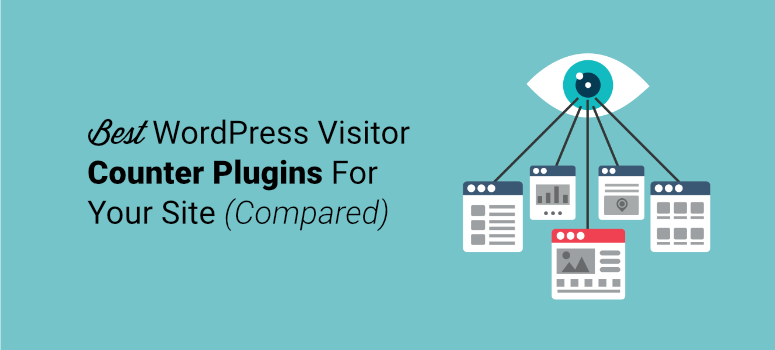 Are you looking for the best visitor counter plugins for your WordPress site?
A visitor counter plugin displays the number of active users currently browsing your website. You want to choose one that works well for your goals and looks good on your site for the best chance of retaining visitors and improving engagement.
That's why, in today's post, we'll share 6 of the best visitor counter plugins for your WordPress site.
Before we dive into the list, though, let's get clear on why you'd want to work with a visitor counter plugin in the first place.
Why Use a Visitor Counter Plugin on Your Site?
1. Build Social Proof
When new customers visit your website, they're looking for factors that tell them whether or not they can trust your brand. If they see that other customers are browsing your content and actively engaging with your site, it'll encourage them to do the same.
This boosts brand credibility and allows you to develop a connection with your visitors, build your email list, and grow your business.
2. Optimize Future Content
A visitor counter will show you which web pages your audience most often. You can use this data to make future decisions about your content and improve your conversions and lead generation strategy.
It's easier to refine your marketing efforts when you understand how your visitors spend time on your site.
3. Improve Site Conversions and Sales
Tracking where your visitors spend their time helps you improve your conversions and create optimized campaigns that boost sales. It's easier to build an email list, narrow your target market, and enhance engagement when you pay attention to the content your audience responds to.
Now that we know the benefits of using a live visitor counter on your website, let's go over the best options currently on the market.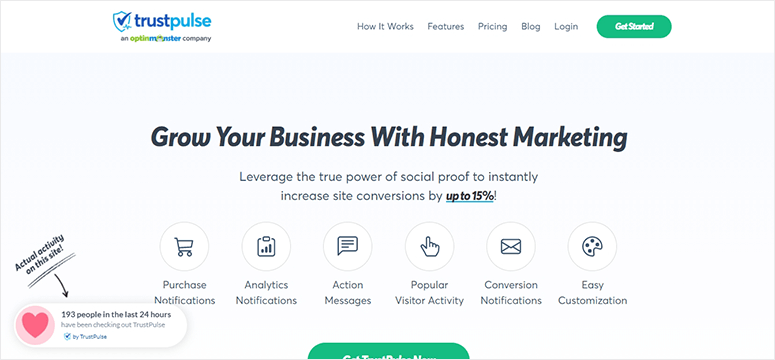 TrustPulse is the most popular and widely-trusted social proof plugin currently available. In minutes, you can create social proof notifications that display how many users are on your site or have browsed your site within a specific time frame.
With TrustPulse, you can create all kinds of live notifications so your visitors can see what kind of activity it's receiving. This tool is especially useful for live visitor counts that display how many users are currently navigating your website. The Visitor Analytics feature lets you display how many people visited a post, page, product, and more.
To create a Visitor Analytics campaign, you need a Plus subscription or higher, which starts at just $10 a month. As soon as your campaign goes live, it'll begin collecting data from users so you can continue improving your conversion strategy.
TrustPulse also comes with powerful features, including smart targeting, analytics, and a flexible design. It's easy to customize your notifications, such as the message, colors, and images. That way, you can match your branding and appeal to existing customers.
Get started with TrustPulse today.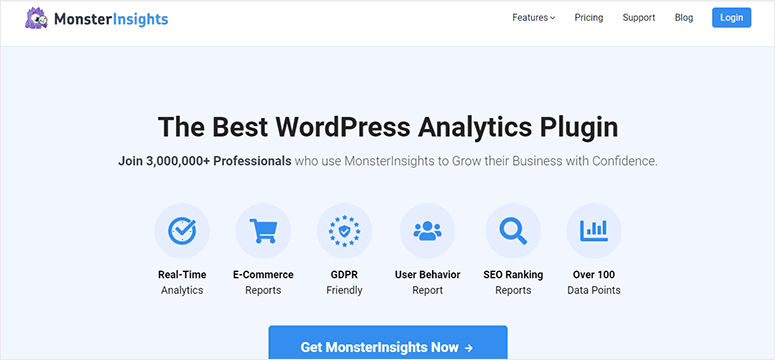 MonsterInsights is the most popular analytics plugin for WordPress. With more than 3,000,000 users that trust the platform, it's easy to see why it's a top pick for this list.
MonsterInsights doubles as a live visitor counter plugin by syncing with your Google Analytics and Google Search Console accounts to give you well-rounded reports from your WordPress dashboard.
And since you don't have to log in and out of your accounts to see your data, it provides a seamless experience where you can collect user information all at once.
All of MonsterInsights' subscription plans come with real-time reporting, so no matter which one you need for your business, you can take advantage of this feature and use it to boost your engagement.
MonsterInsights' real-time reporting feature shows you crucial, live statistics concerning your visitors, including what pages or posts they're visiting, how much time they spend there, how they use your website, and what links they click.
Keep track of users, sessions, bounce rates, top posts, devices, geographical locations, and so much more with MonsterInsight's easy-to-navigate dashboard. This plugin makes it super simple to see an overview of your visitors' actions so you can constantly refine your marketing strategy.
Get started with MonsterInsights today.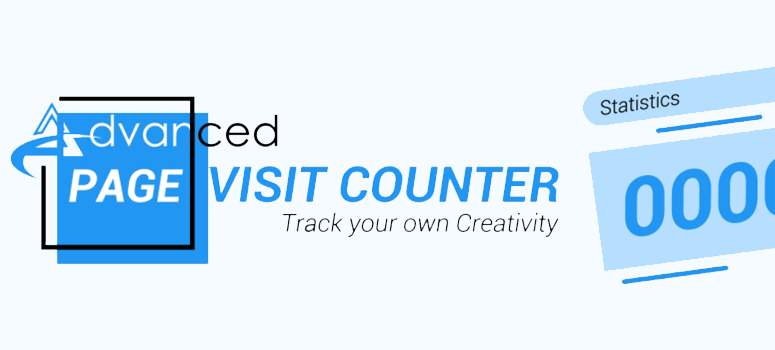 Advanced Page Visit Counter is a tool designed specifically to help you track your visitors and understand how they use your website. It's completely free, which makes it a great solution for businesses seeking a cost-effective solution.
Advanced Page Visit Counter gives you valuable data to work with, such as traffic sources, total visits, number of visitors, browser traffic, operating systems, top posts and pages, and more. It comes with a fully customizable frontend that lets you enable or disable the counter widget and place it at the top or bottom of your website.
Use a shortcode to place your visitor counter anywhere on your website or web pages. The setup is quick and easy, so both beginners and experts can take advantage of its features and start collecting valuable data.
You also have total control over what statistics to display and hide from users, such as webpages, IP addresses, and current online users.
Advanced Page Visit Counter requires no coding knowledge to work seamlessly with your WordPress site. Anyone can take advantage of this plugin's features and start tracking their live visitor count today.
Get started with Advanced Page Visit Counter today.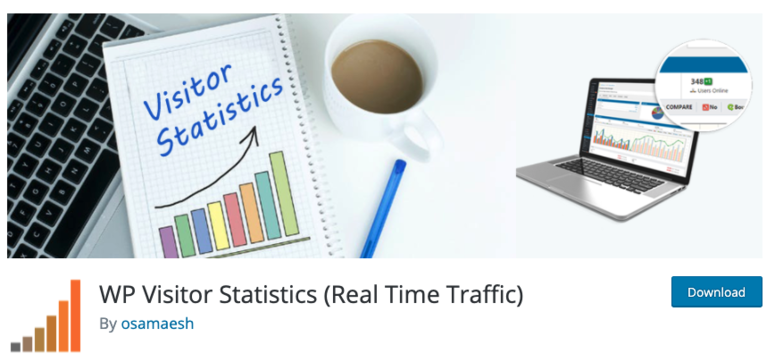 WP Visitor Statistics is a visitor statistics plugin that allows you to display the number of live visitors on your site without relying on external services.
Its basic features include real-time statistics, visitors' location, geoIP location by country, IP address support, automatic updates, and more. With a Pro subscription, you get an online counter, widgets, shortcodes for various types of data, an interactive map of visitors' locations, email reports of statistics, and more.
WP Visitor Statistics comes with a user-friendly interface that makes it easy to use and simple to set up. Along with displaying visitor counts, it's a solid tool for tracking your page visits and understanding how users navigate your site.
Get started with WP Visitor Statistics today.
There are other plugins like WPS Visitor Counter and The Visitor Counter. However, since we last checked, both plugins haven't been tested with the latest 3 major releases of WordPress. That means the plugins may no longer be maintained or supported and may have compatibility issues when used with more recent versions of WordPress.
So it's best not to download and install these on your site. We recommend using premium plugins like TrustPulse that are regularly maintained and developed.
And there you have it! These are the best visitor counter plugins you can use for your WordPress website.
We hope you enjoyed this article. If so, you may also want to read: 7 Best Plugins to Track WordPress Post Views [PAID + FREE]. We also have a list of the top WordPress plugins.
This resource breaks down the best plugins on the market so you can choose the right ones for your WordPress site.