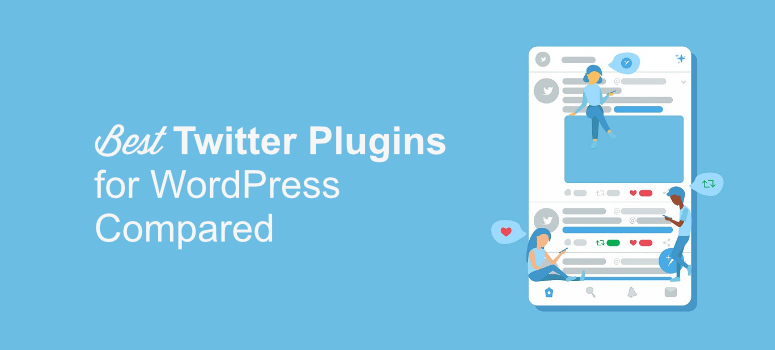 Are you looking for a good Twitter plugin for your WordPress website?
Twitter is a great platform to connect with clients, build your brand, and grow your business. There are more than 145 million active users on Twitter, and the number is constantly growing. With such a huge user-base, you just can't ignore the potential of this platform for marketing your content.
And that's why, in this article, we're bringing you some of the best Twitter plugins that'll make it easy for you to share your content on Twitter. All the plugins listed below are beginner-friendly and require no coding skills at all.
But before we begin, let's see how a Twitter plugin can help you grow your business.
Why Use a Twitter Plugin on Your WordPress Website
Marketing your content on Twitter can greatly benefit your business. And a Twitter plugin makes everything even easier.
Twitter is a platform you can use to increase your website traffic. And making your content shareable is a great way of doing that. With a Twitter plugin, making your content shareable can be super quick.
This can also help you generate leads and boost your sales if you run an online store.
Finally, these plugins can leverage social proof on your website. This can be done by adding a social widget where you can display your followers and tweets.
These are just a few reasons why using Twitter plugins can benefit your website or online business.
Ready to get started? Let's get into the top Twitter plugins that you should check out.
Smash Balloon Twitter Feeds is one of the most popular Twitter plugins that lets you display a customizable Twitter feed on your WordPress website. With Smash Balloon, you no longer need to hire a developer to create a custom Twitter feed for your site. Displaying your Twitter content is now super easy and can be done without writing even a single line of code.
This is true not only for Twitter but for other social sites like Facebook, Instagram, and YouTube as well. This makes it possible for users to engage with your social content right from your website. To make your website appear more attractive, you can customize your social media feed to match your brand.
To leverage social proof on your site, you can also display the number of likes, shares, comments, and reactions on your feed in a customizable drop-down box below each item.
Get started with Smash Balloon now!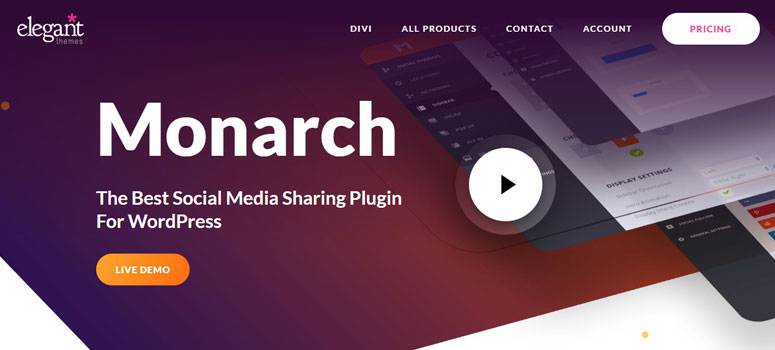 Monarch is not just a Twitter plugin. It's a powerful social sharing plugin that makes it easy to share your content on social platforms. It offers over 35 different social share icons to choose from. You can easily display them on your website, and users can share your content in their timeline with a single click.
You can display the buttons in 5 different locations. It can either be as a floating sidebar, automatic pop-ups and fly-ins, above or below your content, or on images and videos. You can also choose the shape, color, sizes, and hover effects of your buttons.
Social Warfare is a light-weight yet super-fast Twitter plugin that lets you add gorgeous and mobile responsive Twitter share buttons to your website. It also lets you add customizable images to your tweets.
Apart from that, it lets you add tweetable quotes within your content that can be easily shared by your users. With Social Warfare, you can also upload images and descriptions from Pinterest to your website.
But if you're just starting to grow your social presence, no worries. Social Warfare lets you hide your social count until it reaches a minimum number of counts.
Get started with Social Warfare!
Grow, formerly known as Social Pug, is another wonderful social sharing plugin that lets you add from over 10 different social share buttons to your content. One of them is the Tweet button. By adding these buttons to your site, you make your content easily shareable for your readers. This is a great way of promoting your content without any additional marketing efforts.
It lets you add custom tweets to your content that your users can share instead of the default post title. This option works wonders with the character limit used by Twitter. The share buttons can be placed anywhere on your posts or pages and are customizable to match your brand.
Easy Social Share Buttons makes it easy and fast for your visitors to share your content across social platforms like Twitter, Facebook, Pinterest, and more. This plugin is simple to handle, and you have full control over how visitors share and view your content.
Every button works beautifully with any WordPress theme, so you don't need to change your theme to get started. The buttons also look amazing on mobile devices. Plus, you can place your buttons anywhere you want. It can be within your content, above or below your content, on your media files, and so on.
Overall, Easy Social Share Buttons offers 14 different places where you can place your buttons to share your content on Twitter.
Get started with Easy Social Share Buttons now!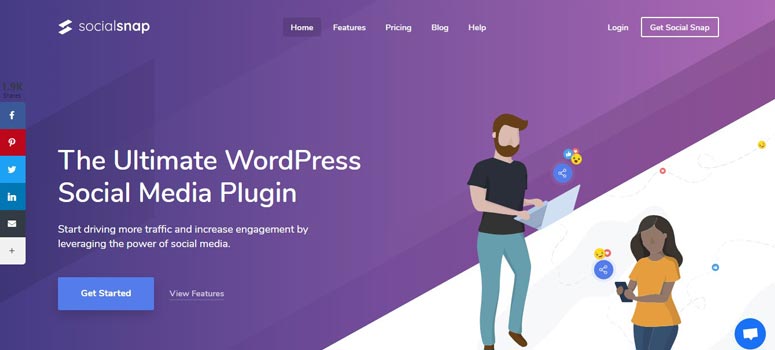 Social Snap is another Twitter plugin that offers easy ways to make your content shareable. You can also use social links that will automatically display your follower counts. To encourage your followers to tweet your content, you can display click to tweet boxes to your posts and pages.
You can also allow your users to log in to your website using their favorite social networks. Another amazing feature that the plugin offers is a feature to boost old posts. That way, you can always keep your posts fresh by automatically posting them on different social networks.
Get started with Social Snap now!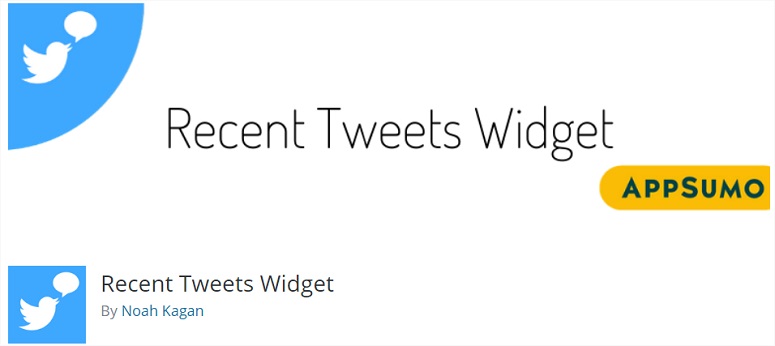 Recent Tweets Widget is slightly different from the other plugins on this list. It uses the new Twitter API v1.1 and stores the tweets in the cache. By doing so, it will read the status messages from your database, and you won't need to wait for Twitter to load the pages for you.
In the setting options, you can select how often you want to update the cache. The plugin is compatible with all themes and works great alongside all modern plugins, too.
Get started with Recent Tweets Widget now!
WP Twitter Feeds is another amazing Twitter plugin that lets you display your twitter feeds on your website using the Twitter API. You can add a widget to showcase your tweets, and doing so is easy.
Plus, it doesn't require any coding at all. Everything can be done with just a few clicks.
WP Twitter Feeds offers a number of customization options, too. You can find them in the settings page of the plugin. Here you can set the duration of the fade effects of your tweets, the number of tweets to be displayed, and more.
Get started with WP Twitter Feeds now!
Inline Tweet Sharer is a great option if you want to create links to share your content directly on Twitter. You can either highlight these links so that it catches your visitors attention or keep them as regular text. The plugin is compatible with Gutenberg.
You don't need to change your theme to use this plugin. It's compatible with all themes and plugins as well. Plus, it's super simple to handle.
Get started with Inline Tweet Sharer now!
WP Social is yet another Twitter plugin that lets you share content on Twitter. You can also share it on other social platforms like Facebook, Pinterest, and more. You can display a widget to showcase the number of followers, subscribers, or fans you have on your social platforms.
WP Social offers beautiful, ready-to-use templates that can be used with just a single click. Plus, you can display your social account details. You can use either a widget or a shortcode to display your social media counts and shares on your website. And this can be from any location that you want.
Get started with WP Social now!
These are a few Twitter plugins that you can check out for your website. We hope this article helps you find the best plugin that will make content sharing on Twitter easier for you. One small plugin can go a long way in helping you gain more traffic and build your social media presence.
But to make your business more successful, apart from traffic, you also need to convert your traffic to long term customers. And for that, you need a powerful email list.
That's why, as a bonus, we have this post on the different ways to use social media to increase your email list. This article has everything you need to help your email marketing strategy.
Also, you may want to check our step-by-step guide on how to create a Twitter landing page. This will help you drive traffic from Twitter and improve the conversions on your site.