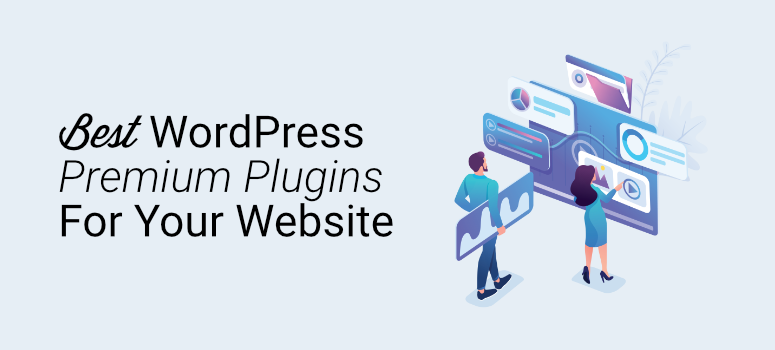 Are you looking for the best premium plugins for your WordPress site?
When you run a website, it's crucial to use the right tools to ensure its growth and success. But it can be difficult to pick and choose which plugins will serve all your needs.
If you have the budget, using premium tools can take your site to the next level and help you reach your goals faster. By "premium" tools, we simply mean the paid version of a plugin that come with extra support, documentation, features, and updates.
Before we break down the best premium plugins for your WordPress site, let's look at a few reasons why these plugins might help your brand.
Why Use Premium Plugins on Your WordPress Site?
Even if you're on a budget, there are several reasons why choosing a premium plugin could benefit your website.
1. Advanced Features
Free plugins come with basic features that get the job done without the extra bells and whistles. Premium plugins come with advanced features that give you access to extended resources and can take your website to the next level.
2. Provide Specific Solutions
If you're seeking a solution for a specific need on your website, your best bet is with premium plugins. Even free plugins usually come with premium addons that require you to pay to unlock extended features. If you need extra elements to solve a problem while creating your website, a paid plugin is likelier to give you what you're looking for.
3. Additional Support & Documentation
If you run into a problem while setting up and using plugins on your WordPress site, you need reliable support to help you out. While many free plugins provide support, they may not be able to cater to your needs as well as the support given by premium plugins. Premium tools often come with extended support and documentation to ensure using their features is a quick and easy process.
Now that we know the benefits of purchasing premium plugins for your website, let's look at the top choices currently on the market.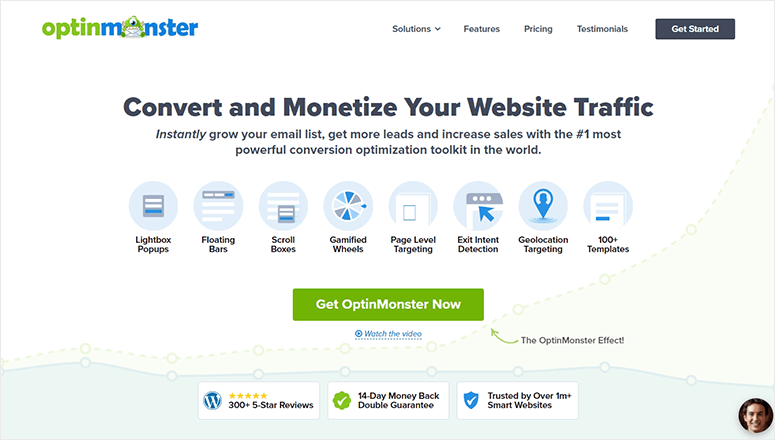 OptinMonster is the best lead generation software for WordPress and used by more than 1,000,000 website owners. It helps you turn website visitors into email subscribers, leads, and paid customers using optin forms.
OptinMonster's paid plans come with powerful features like content locking, integrated A/B testing, UTM targeting, mobile-specific campaigns, smart tags, real-time personalization, and so much more. When you pay for premium, you also gain access to OptinMonster University, which gives you access to a library of expert courses, guides, video training, and ebooks.
Choose from different popup types like floating bars, scroll boxes, lightbox popups, sidebar widgets, and more. All premium subscriptions come with a 14-Day money-back guarantee.
The Growth and Pro plans include priority support for extra assistance with specific problems.
Price: Starting at $9 USD/month.
Get started with OptinMonster today.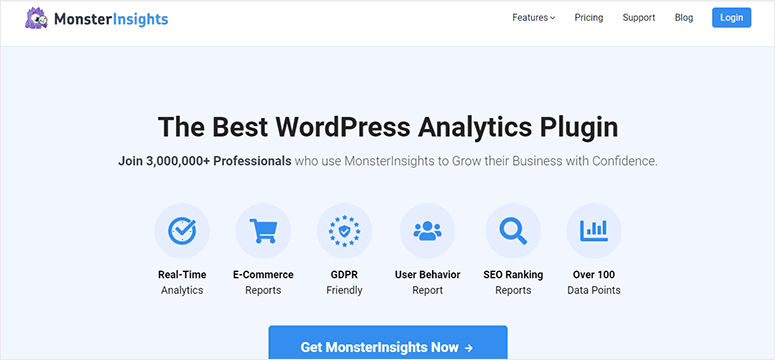 MonsterInsights is the best Google Analytics plugin for WordPress and is used by more than 3,000,000 website owners. It makes it easy to understand user activity on your website so you can learn how visitors navigate your content.
MonsterInsights only takes minutes to set up and instantly starts collecting information about your website. You can see the most important statistics straight from your WordPress dashboard as it aggregates your analytics into an Overview report.
This plugin has a free version, but its premium plans unlock special features useful for your conversion optimization. You can set up advanced tracking for ads, forms, eCommerce, custom dimensions, and more. You can also make your website GDPR compliant with a few simple clicks when you use its addon.
Price: Starting at $99.50 USD/year.
Get started with MonsterInsights today.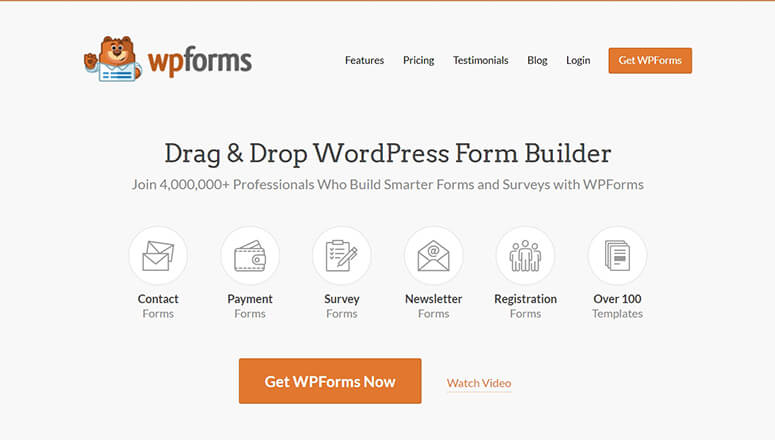 WPForms is the best contact form solution for WordPress trusted by 4,000,000+ users worldwide. While it's free version gives you the basics to create optimized forms, the premium plans give you many more options to work with.
WPForms has a 14-day money-back guarantee, so you can try any of its premium plans and decide if they work for your website or not.
With this plugin, you can create any type of form you need, including registration forms, payment forms, survey forms, newsletter forms, and more. When you upgrade to a paid plan, you gain access to powerful addons for Mailchimp, PayPal, conversational forms, offline forms, form lockers, post submissions, form template packs, and more.
These addons are what make WPForms' premium plans stand out as they come with useful integrations you can use on your website.
Price: Starting at $39.50 USD/year.
Get started with WPForms today.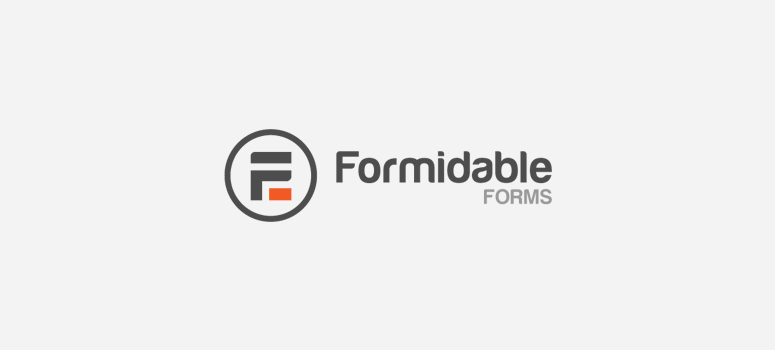 Formidable Forms is another contact form plugin that's easy to use and provides solution-focused forms for your business.
Formidable Forms lets you create all kinds of forms for your site, including listing views, directory views, registration forms, calculator forms, survey forms, and more. It comes with a 14-day money-back guarantee, so you can test it out before committing.
Upgrading to a paid plan gives you access to user tacking, datepicker options, advanced fields, and integrations. These integrations include Mailchimp, Zapier, AWeber, MailPoet, Constant Contact, GetResponse, Campaign Monitor, and more.
Price: Starting at $39.50 USD/year.
Get started with Formidable Forms.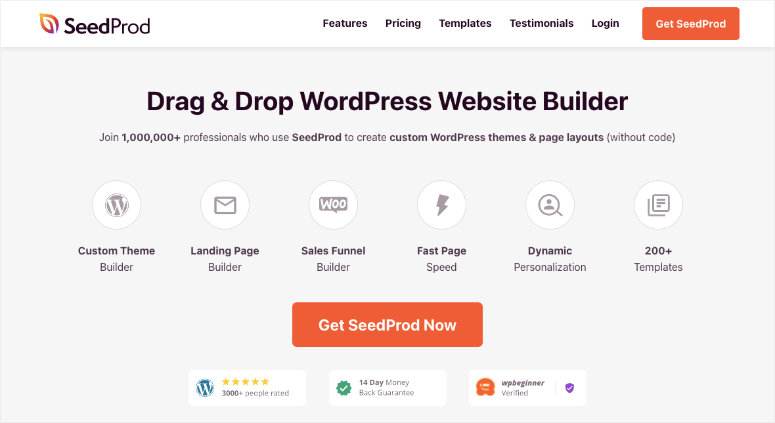 SeedProd is the best landing page builder for WordPress trusted by 1,000,000+ bloggers, publishers, and business owners. In minutes, you can create fully optimized, responsive landing pages for your campaigns that stand out and produce conversions.
When you upgrade to a premium plan, you gain access to Pro templates, pageblocks, email marketing integrations, dynamic text, domain mapping, and more. You also get access to its premium support to bring you speedy solutions in case you run into problems or have any questions.
Some of SeedProd's integrations include ActiveCampaign, AWeber, GetResponse, Mailchimp, Zapier, ConvertKit, Drip, Constant Contact, and more. You also get access to 2,000,000+ stock photos when you purchase a Plus subscription or above.
Price: Starting at $39.50 USD/year.
Get started with SeedProd today.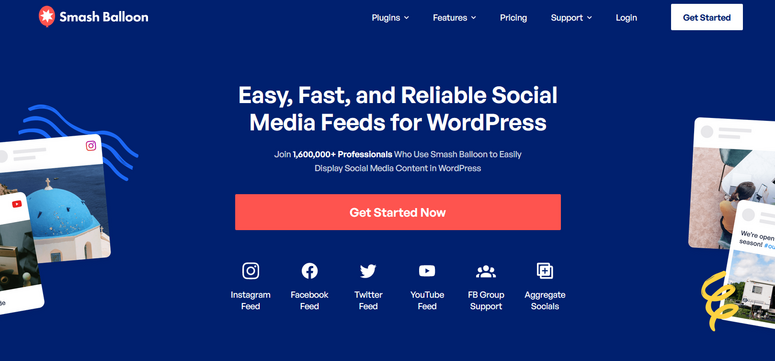 Smash Balloon is the best social media feed plugin for WordPress. It allows you to display beautiful social feeds anywhere on your website to display its content.
Trusted by more than 1,600,000 website owners, Smash Balloons lets you customize social feeds from Instagram, Twitter, Facebook, and YouTube. While it comes with a free version, the premium plans give you full access to its bundled features.
You don't need any coding knowledge to set up and start using Smash Balloon on your website. The feeds are 100% mobile responsive and look great no matter what device your visitors are on. Plus, SeedProd's intelligent feed caching and backup system ensures that your feeds stay put no matter what errors the platforms might experience.
Smash Balloon gives you a 30-day money-back guarantee, so you can see if it's the right solution for you.
Price: $299 USD/year for the All-Access bundle.
Get started with Smash Balloon today.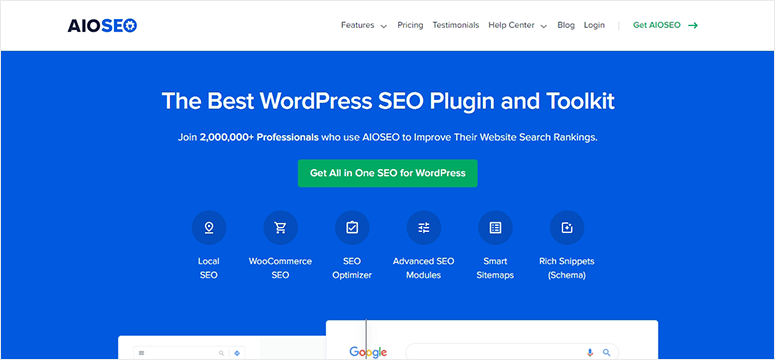 AIOSEO is the best SEO plugin for WordPress. It helps you optimize elements of your website for SEO to rank higher in search engines, including local and WooCommerce.
AIOSEO comes with custom user roles so you can manage access to its features without losing control of your site. Its smart XML sitemaps are automatically generated to notify search engines of any site updates so your information stays current.
This plugin gives you what you need to properly optimize your website's on-page SEO, including keywords, titles, tags, meta descriptions, social media meta, and more. Other powerful features include rich snippets schema, SEO audit checklist, RSS content, TruSEO scores, and more. It integrates with Facebook and Twitter to ensure your social SEO strategy is optimized for optimal conversions.
Price: $49.50 USD/year
Get started with AIOSEO today.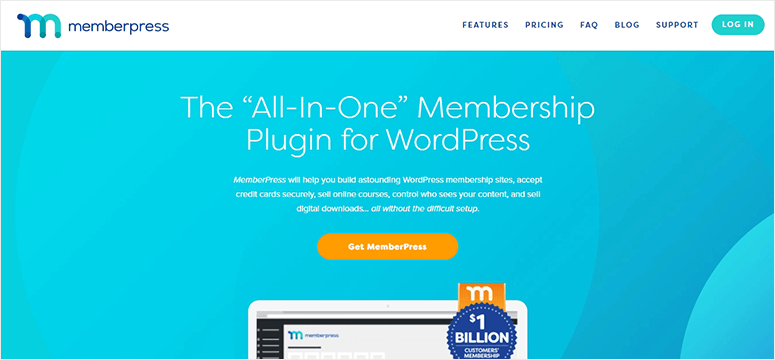 MemberPress is the best membership plugin for your WordPress site. If you want to turn your website into a full-fledged membership website, this is the solution for you.
MemberPress is easy to use and lets you instantly start charging your users for access to your content. Create, manage, and track member subscriptions so you can sell digital products and share locked content. At any time, you can grant or revoke access to posts, pages, videos, categories, tags, feeds, communities, digital files, and more depending on the membership plan they're subscribed to.
This plugin works with all major payment gateways and other third-party services to ensure the best experience for your users. It works with any WordPress theme so your site stays cohesive and visually appealing while matching its branding.
Price: Starting at $179 USD/year.
Get started with MemberPress today.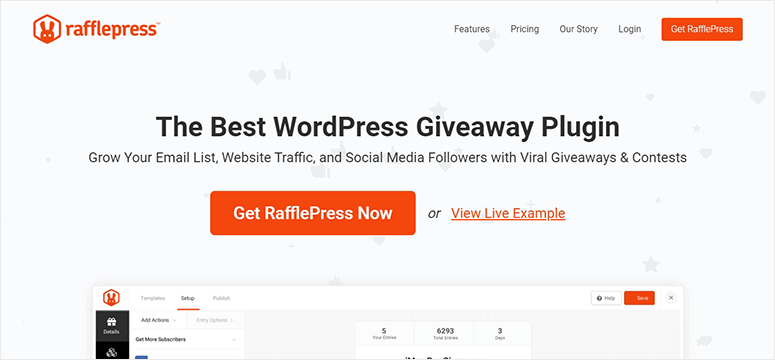 RafflePress is the best giveaway plugin for WordPress. It makes it easy to create and promote online giveaways that grow your audience and build your email list.
RafflePress comes with a drag-and-drop builder and pre-built templates that make it easy for beginners and experts to create customized giveaways. It's also fully responsive, so contests look great on any device.
This plugin also has one-click entry, fraud protection, tracking and retargeting, landing pages, and viral sharing. Its integrations include ActiveCampaign, Campaign Monitor, Sendinblue, Zapier, AWeber, Mailchimp, and more.
Price: Starting at $39.20 USD/year
Get started with RafflePress today.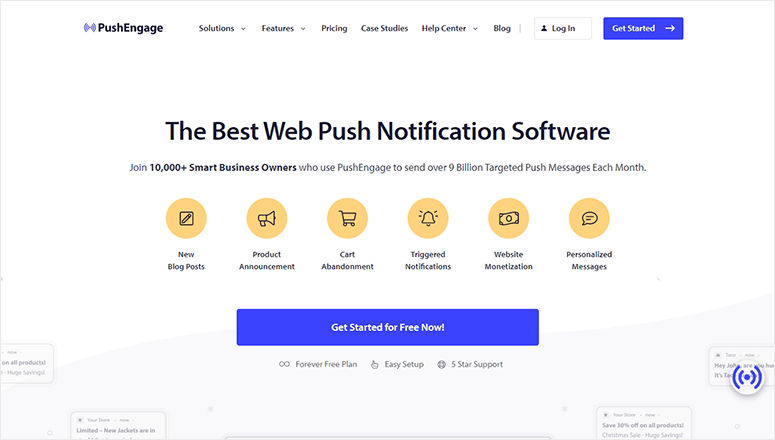 PushEngage is the best web push notification software for WordPress. It makes it easy to create optimized push notifications that drive traffic back to your website and increase sales.
PushEngage uses targeted messages to grab users' attention and bring them back to your site. You can create smart triggered campaigns to send specific messages to users at the right time for the highest chance of converting.
You can use this plugin to send price alerts, promotions, campaigns, and much more so they gain more visibility. Even when browsing a different site, users will receive notifications and have the option to direct back to your website.
Price: Starting at $25 USD/month.
Get started with PushEngage today.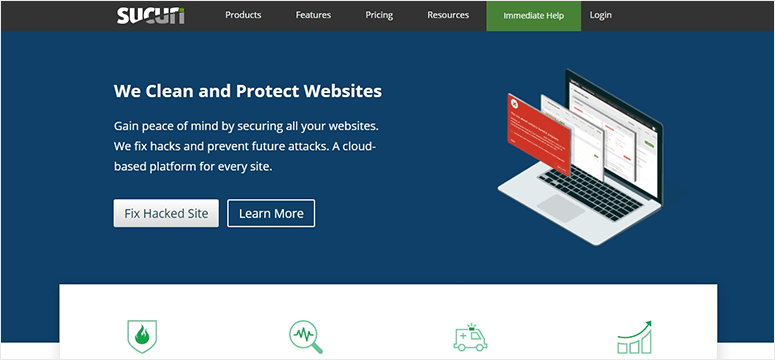 Sucuri is a security and protection software built to safeguard your site from potential threats, attacks, and hacks.
It's important to use security tools for your site that you trust to ensure the safest experience for your visitors. Sucuri defends your site against DDoS attacks with its Web Application Firewall and identifies indicators of threats using various alerts.
Sucuri increases your site speed with its caching options and global content delivery network (CDN). There are also multiple caching options available for every type of website.
Price: Starting at $199.99/year.
Get started with Sucuri today.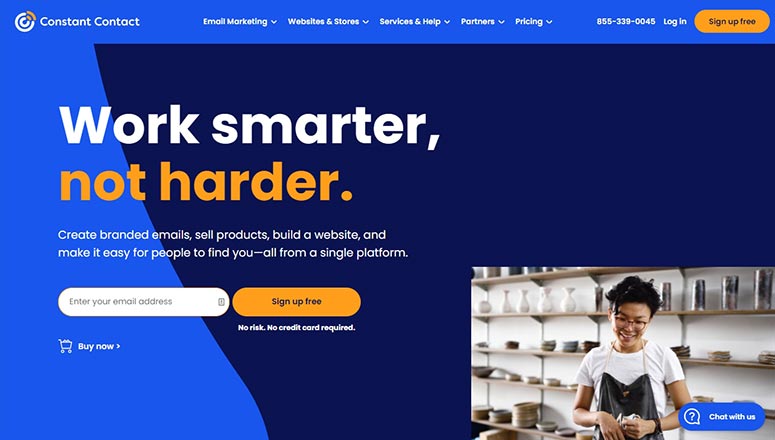 Constant Contact is a full-fledged email marketing platform that helps your business create and send emails, build an email list, and launch campaigns.
Constant Contact's email editor is easy to use and takes the hassle out of creating email campaigns. It comes with multiple customization options to match your branding and make your campaigns stand out.
Its marketing automation lets you create a triggered email series, use contact segmentation, provide powerful list-building tools, and much more. Its real-time tracking tools let you see how users interact with your email content as it happens, so you can stay on top of your conversions.
Price: Starting at $10 USD/month.
Get started with Constant Contact today.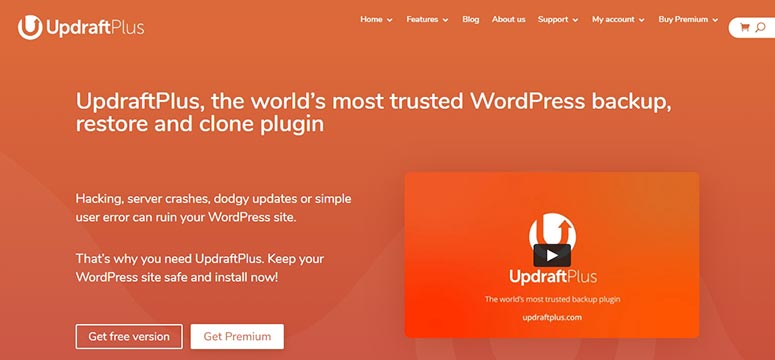 UpdraftPlus is the most popular backup plugin for WordPress. Used by more than 3,000,000 websites, it's a comprehensive solution for all your backup and restoring needs.
UpDraftPlus is multi-site compatible and backs up limitless non-WordPress files and external databases. You can set up automatic backups and upload them to remote storage using Google Drive, Dropbox, Amazon Web Services, and more.
UpdraftPlus also comes with premium support via ticket and web forum. It provides a wide variety of paid support packages to ensure you receive the help you need for any issue or error.
Price: Starting at $42 USD/year.
Get started with UpdraftPlus today.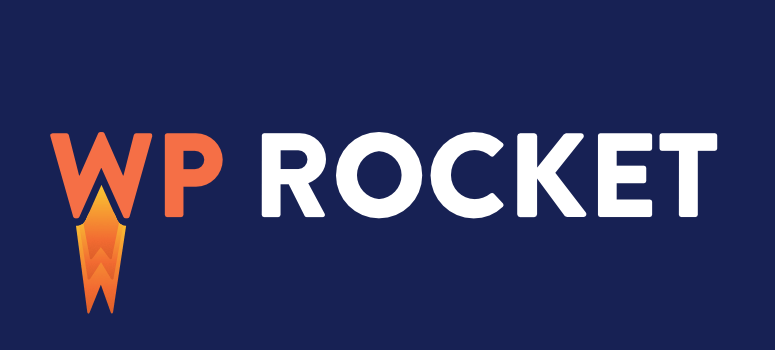 WP Rocket is the best caching plugin on the market for WordPress sites. It instantly improves your site speed and site performance without having to know a single line of code.
Its GZIP compression compresses web pages on the server and decompresses them in the browser. It also has cache preloading that preloads the cache every time you make some changes on your web pages.
WP Rocket also comes with eCommerce optimization, so your online store runs fast and smoothly. It cleans up posts and comments, optimizes your database tables, and schedules automatic payments.
Price: Starting at $49 USD/year.
Get started with WP Rocket today.

Pretty Links Pro is the best link management software you can use for your site. It helps you manage and shorten affiliate links, so they're easy to use.
Pretty Links Pro is quick to set up and beginner-friendly, so anyone can take advantage of its features. By using your domain name, it helps you boost brand recognition and create a cohesive user experience.
This plugin also places optimal affiliate links on every page, post, and widget of your website for the best results. You can stay on top of your social links, URL redirects, affiliate links, and QR codes using one platform.
Price: Starting at $79 USD/year.
Get started with Pretty Links Pro today.
And there you have it! These are the best premium plugins you can use for your WordPress website.
We hope you enjoyed this article. If so, feel free to check out our list of resources on the top WordPress plugins. It breaks down the best plugins on the market so you can choose the right ones for your WordPress site.