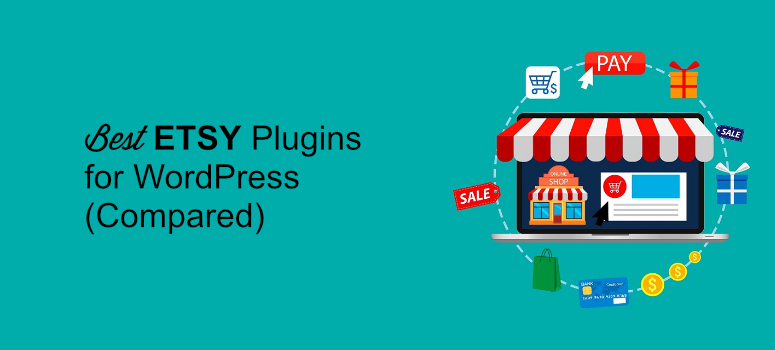 Are you looking for a good Etsy plugin for your WordPress website?
If you're a creative person who likes making handmade products, Etsy can be a great marketplace for you to sell them. The good thing about selling on Etsy is that you don't really have to work too hard to get customers for your products.
The platform has already done the hard work for you, so you can simply get started with your business.
But Etsy comes with its own limitations which is why many users want to integrate Etsy to their WordPress website or create an independent website like Etsy to sell online. The best way to do that is by using a plugin. In this article, we'll tell you about some of the best Etsy plugins that can help you integrate Etsy with WordPress without any coding.
But before we begin, let's check out some of the reasons why you might want to integrate Etsy with your WordPress website.
Why Integrate Etsy With WordPress
As mentioned above, Etsy is a great platform for selling your products online. But Etsy has its own disadvantages.
When you're selling products on Etsy, you have to depend on a third-party platform to sell your product. Although it's doesn't seem like an issue, it can severely affect your business if Etsy goes down.
With Etsy, you have no control over how your products appear to your visitors.
Since you're just a vendor on the website, you can't expand your website's features even if you want to.
By integrating Etsy with WordPress you can overcome all of these problems very easily. The best part is that you can have an independent platform for your business. So even if Etsy goes down for whatever reason, you can still continue running your business.
Plus, you get a super flexible platform in terms of appearance, features, and, most importantly, you get to have full control over your products.
If you're interested in setting up a high-converting website, you should check out Thrive Suite. It comes with premade themes, a drag-and-drop builder, and powerful lead generation and conversion-optimization tools. It has everything you need to get visitors to buy from your Etsy store.
Now that you know the advantages of integrating Etsy on your WordPress site, let's look at the plugins that can help you out.

Etsy360 is a robust Etsy plugin that lets you embed your Etsy shop on your WordPress website with just a few clicks. The best thing about this plugin is that you don't need to work on your WordPress website separately if you make any changes to your shop. It will automatically update your website in real-time.
You can also let your visitors add products to their cart right from your website and without logging into Etsy. They will be automatically redirected to Etsy at the time of checkout. This can help you retain customers on your website for longer and decrease your bounce rates, too.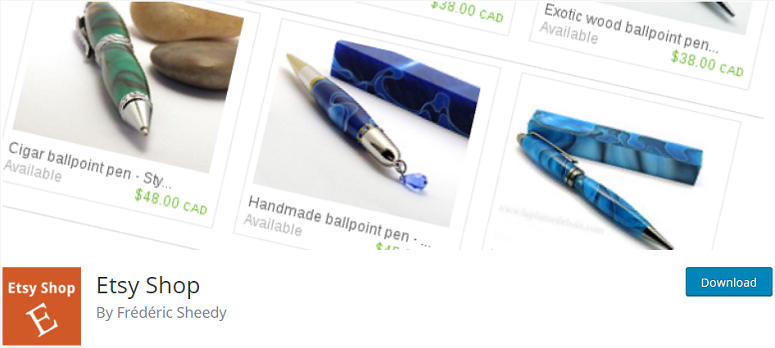 Etsy Shop is a free WordPress plugin that lets you insert different sections from your Etsy store within your WordPress posts and pages. This can be done by using the shortcode that's generated by the plugin.
Using this plugin, you can add your products anywhere you want in your store. Etsy Shop is compatible with the latest versions of WordPress. Check out this post to learn how you can use Etsy Shop on your website.

Gratisfaction is a free Etsy plugin that lets you give your Etsy store customers loyalty points, coupons, rewards, and more. They can redeem these points in your online store. Using this plugin is a great way to encourage your Etsy shoppers to visit your website.
But this plugin will work only if you have WooCommerce installed on your online store. With Gratisfaction, it's easy to run referral campaigns, viral social contests, and more, making it easy to promote your business.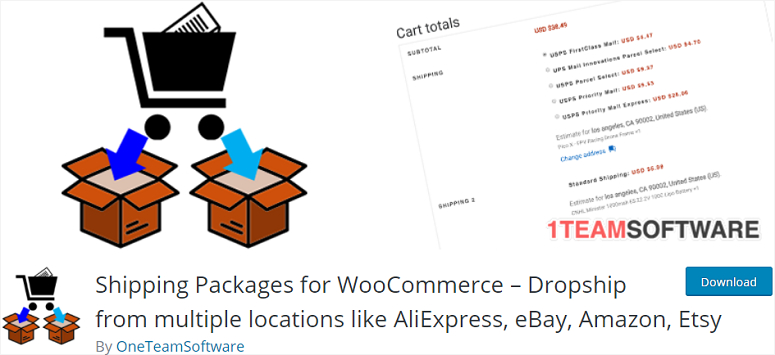 Shipping Packages for WooCommerce is not exactly an Etsy plugin. But if your store sells products that first need to be collected from different Etsy vendors, then this plugin can be a great choice for you. It will simplify your store's shipping processes by helping you arrange your products into different packages based on various rules that are defined by you as the admin. These rules can vary depending on different options like product ID, vendor name, product type, and more.
You can also let the plugin group your products based on several rules at a time. This plugin is compatible with other advanced plugins like Dokan, WC Marketplace, and WooCommerce Product Vendors.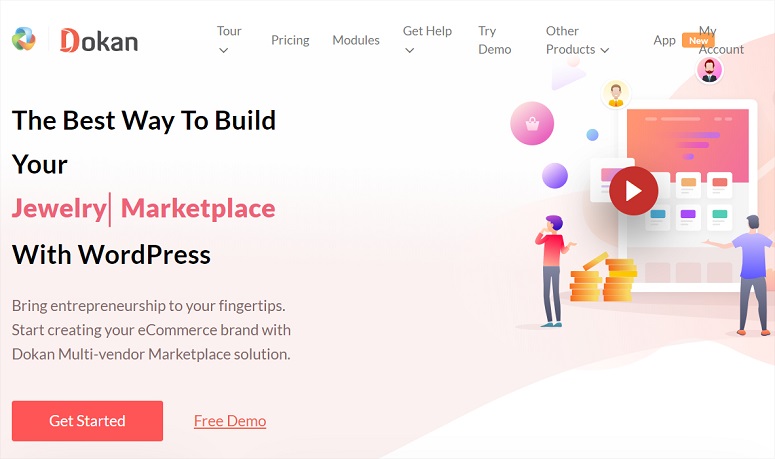 Dokan Pro is a powerful WordPress plugin that let's you create a multi-vendor website like Etsy without coding a single line. So while it's not strictly an Etsy plugin, it does allow you to quickly create and run your own Etsy-style site.
With this plugin, you can build a website that can offer the best front-end experience to all your website vendors. The plugin is super easy to customize and works perfectly with WooCommerce and any themes supporting it.
To help you reach a wider audience, it supports various languages. It's also optimized for letting you earn a commission from each of your sales. Your vendors can have a detailed report of their sales right from their dashboard.
These are some of the best Etsy plugins that you can try. We hope you found this article helpful.
You might also want to check out SeedProd – the best website and landing page builder. It integrates with WooCommerce so that you can create beautiful product and store pages.
And if you're planning to create a multi-vendor website using Dokan or a similar plugin, this article on how to build an online marketplace can be a great resource for you.