Did you know you can display a static page as your front page, instead of the usual blog? In this guide I'll go over a little known way to do this within WordPress. No plugins or hacks needed (although they might help). You'll learn the following:
How to use one of your regular WordPress pages as your front page.
How to keep a blog on a another page of your site.
It's pretty simple, let's read on…
Set an existing static page as your front page
This is actually very easy to do. Simply navigate to your reading settings page in your WordPress admin panel (/wp-admin/options-reading.php) and select the radio box which says A static page (select below). Then select a new front page from the dropdown box from the choice of pages available.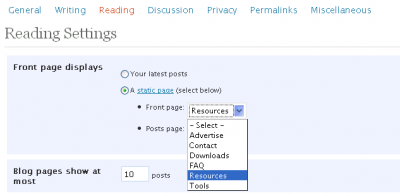 Go ahead and save the changes. Now, look at your new WordPress site's homepage. I selected a page titled "Resources" but your pages will differ depending on which pages you have already created on your WordPress site.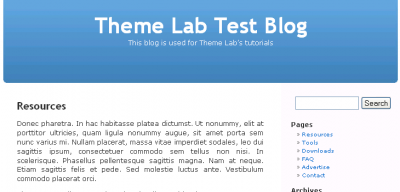 Having a blog on another page
Now you have a new front page, but what about your blog? Don't worry, you can still have a blog on another page. Let's go back to the reading settings page, and select a new page for the Posts Page.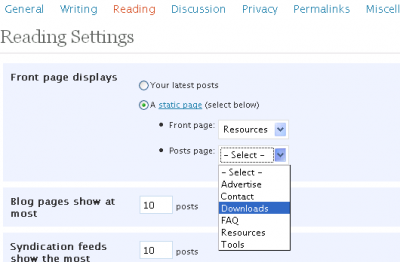 I selected Downloads just as an example. You can even make a new page called "Blog" and use that. It doesn't matter if it has any existing content as it will just be used for the new blog posts page.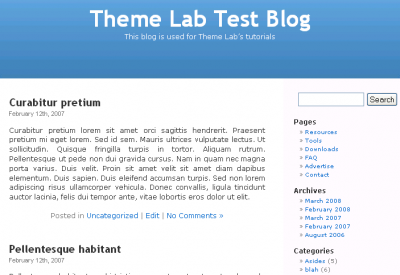 Conclusion
Hopefully with this method you can start using your WordPress sites in a more "CMS" way – instead of strictly a blog. Some creative things can be done with this technique, just use your imagination.
Feel free to comment and share if you liked it, and don't forget to subscribe to the feed for the latest theme releases and tutorials.