Spacious is one of the most popular and highly rated free WordPress themes in the directory, with over 70,000 active installs. It's a simple yet customizable theme with just enough features and options to set your site apart. See if this theme is right for your site in our Spacious review.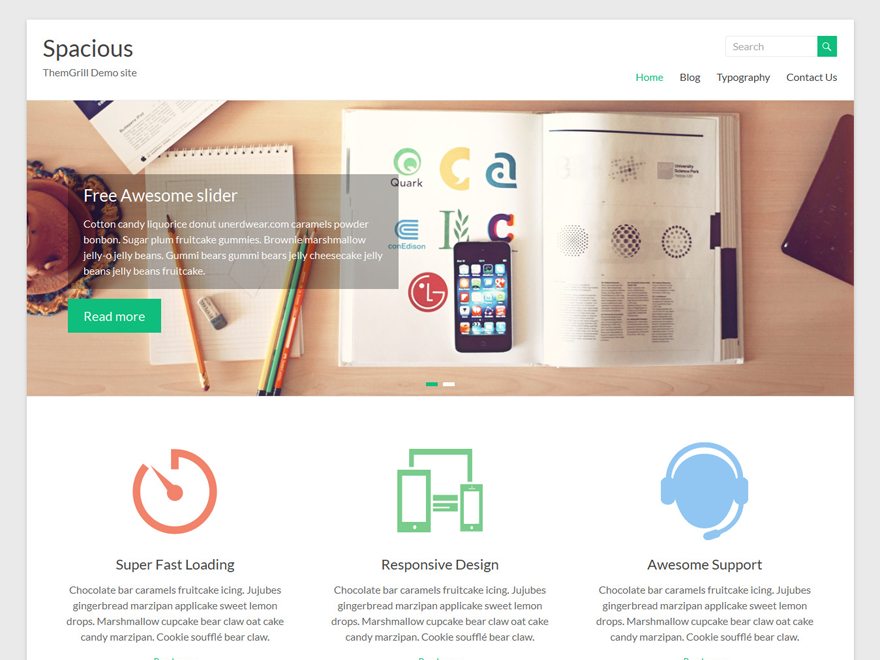 About Spacious
Spacious is a free theme created by ThemeGrill. ThemeGrill offers a lot of WordPress themes, both free and premium, including ColorMag. If you like their themes, consider investing in the ThemeGrill All Themes Bundle to save money on all their pro themes, and get access to all their new premium themes.
Spacious is a simple yet flexible WordPress theme that's one of the most highly rated and popular themes in the WordPress.org directory. Positive reviews mention the quality of support from ThemeGrill as one of the great features of this theme.
Features of Spacious
Spacious is full of features to customize the look of your WordPress site. You can access all the options, as well as links to the theme documentation and support, by navigating to Appearance » Customize.
Flexible Page Layout Options
Under Appearance » Customize » Design, you can choose your layout and color options.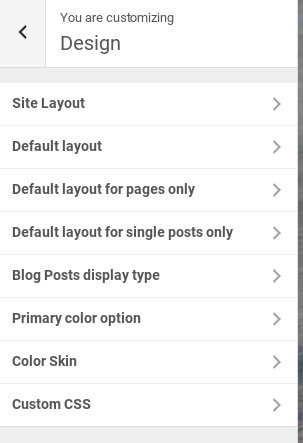 Click on Site Layout and you can choose from either boxed layout or wide layout in different sizes: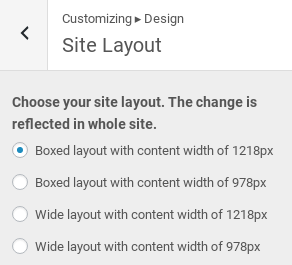 If you choose a boxed layout, you can upload an image to use in the background by going to Appearance » Customize » Background Image.
Under Appearance » Customize » Default you can choose whether you want to have a full width layout, boxed layout with centered content, left sidebar, or right sidebar.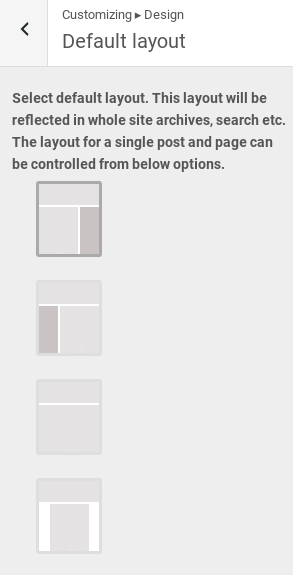 Single posts and pages can have a different layout from the default: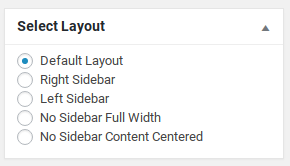 You can also customize how your blog post featured images appear in the main blog page. Go to Appearance » Customize » Design » Blog posts display type and you can choose from the following options: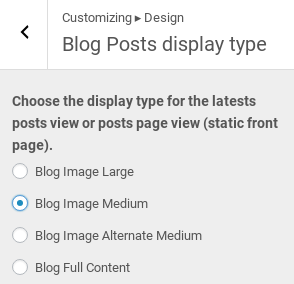 The "blog image medium" options will display a smaller, left-aligned thumbnail with your post excerpt on the right, while the "blog image large" option will display a larger thumbnail with your post excerpt beneath it. The "blog image alternate medium" option alternates left- and right-aligned thumbnails.
Color Customization Options
Many themes either offer you too many options when it comes to colors.
You don't need to be able to individually adjust the color of every single element on every page — but you should be able to change the main elements to give your site a more unique look, and match your website's color scheme to your branding.
Spacious has just the right amount of options. You can select a primary color by navigating to Appearance » Customize » Design » Primary color option. The color you select will be used for links, buttons, and other accents on your site.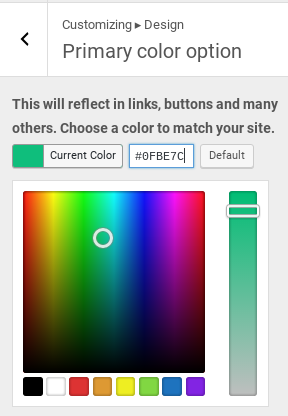 You can also go to Appearance » Customize » Design » Color Skin and select either a light or dark theme: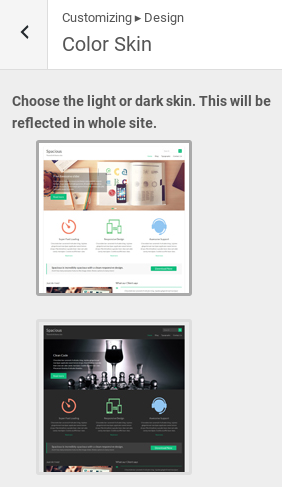 (Just keep in mind that many people find reading light text on a dark background to strain their eyes, and it's generally not recommended.)
Under Appearance » Customize » Colors, you can also choose your header text color, and background color. The background color will only display if you've selected a boxed layout and no background image.
13 Widget Areas
Spacious gives you plenty of control over your content with 13 different widget areas.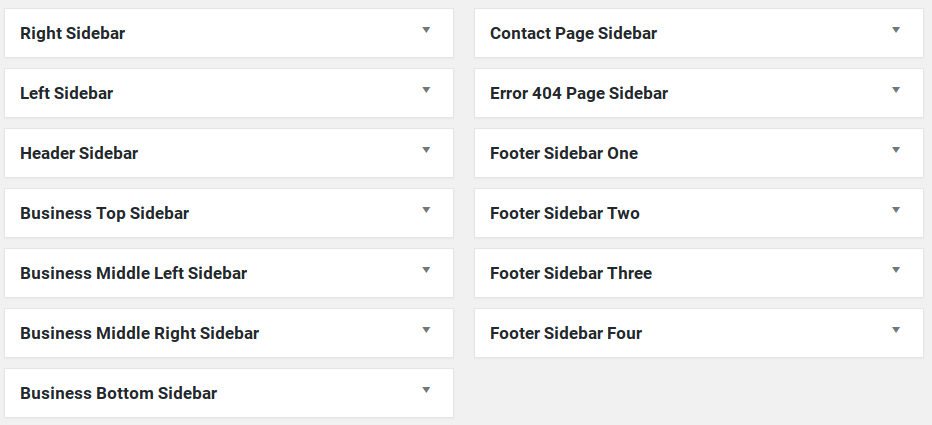 The widget areas include:
four footer widget areas (displayed in four columns on every page of your site)
separate left & right sidebar
header sidebar: a right-aligned widget areas that displays above the main navigation, to the right of your site title
contact page sidebar: only displays when you use the contact page template
404 page sidebar: only display on 404 not found error pages
business top sidebar, business middle left sidebar, business middle right sidebar, business bottom sidebar: these widget areas are used to add content to the "Business Template" page (ideal for designing your homepage)
5 Custom Widgets
Spacious includes 5 theme-specific widgets that are ideal for business websites:
Services: displays title and excerpt with "read more" link of up to 6 pages of your choice (3 to a column, up to 2 rows)
Call to Action: displays a title, short paragraph, and button with customizable text and link
Featured: displays a title, paragraph, and links to up to 3 pages of your choice
Featured Single Page: displays title and excerpt with "read more" link for 1 page of your choice
Testimonial: displays a blockquote with title, name, and byline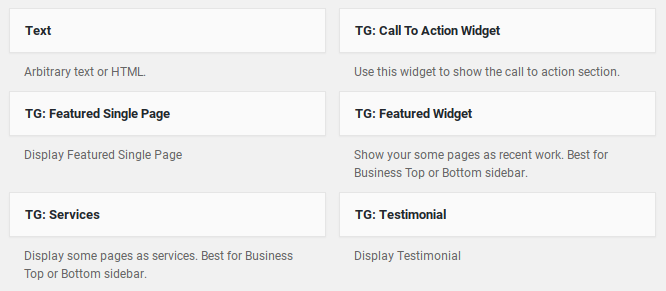 The Pro version includes even more widgets — more about that below.
Built-in Slider
The Spacious theme supports a homepage slider. With the free version, you can add up to 4 different slides.
The slider can be customized under Appearance » Customize » Slider.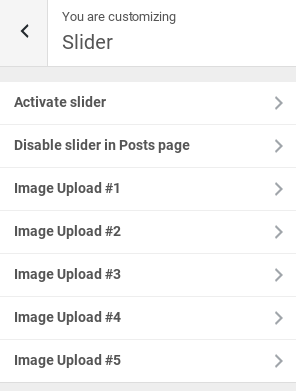 For each image, you can set a title, description, button text, and button link. You can leave the button text and link fields blank if you just want to create an image slider with no links.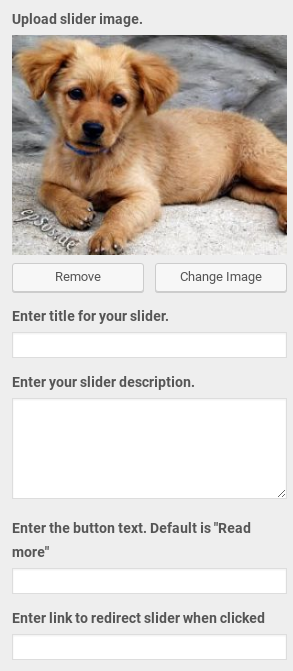 The slider will display the images at full size. We recommend using images of all the same height, so the changing image sizes don't cause the content below to jump around.
Unlock More Features With Spacious Pro
There's also a premium version of Spacious that has a lot more features, including:
600+ Google fonts, and the option to change the font size of every element
more color options: change the color of over 35 different site elements separately
more slider options: effects, transition control, and unlimited slide numbers
option to change the footer credits from the dashboard
additional top header bar for social icons, custom text and additional menu
more widgets:

featured posts
our clients
our team
fun facts
pricing tables
Documentation and Support
ThemeGrill offers a guide to getting started and setting up the Spacious theme on their site. The interface is pretty user-friendly and intuitive, and the documentation fills in any blanks.
If you need support, you can get help setting up or troubleshooting in their free support forums. Response times aren't guaranteed and it can take a few days to get a reply.
Purchasers of Spacious Pro get access to premium support, and can open a support ticket if they need help. Many reviews of the theme mention the high quality of the premium support.
Our Score
Spacious is a nice simple theme that's easy to use and customize. It has enough options without being bloated or overwhelming.
Users who need more advanced options and one-on-one support will probably need to look at the pro version of the theme, or consider using plugins for some features instead. For more advanced sliders, we recommend the Soliloquy plugin. If you need a more advanced theme with more options, check out our top WordPress theme reviews.
We give Spacious 4 out of 5 stars. Here is the breakdown of our review scores:
Pricing





Features





Ease of Use





Documentation





Support





Get Spacious Now »