GeneratePress is a free WordPress theme designed to be basic, lightweight, and flexible. Developers can use it as a base for their own themes, or you can purchase modular addon plugins to add more features and functions. Find out if this theme is right for your in our GeneratePress review.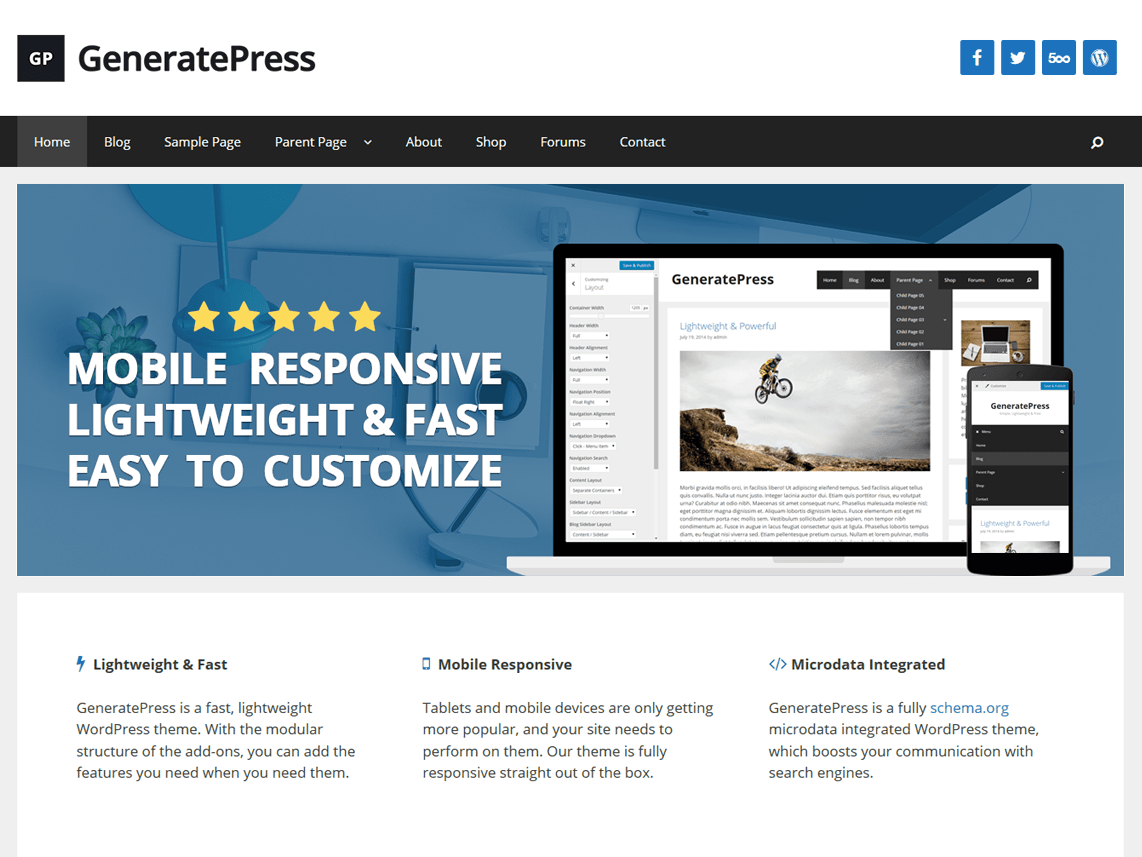 About GeneratePress
GeneratePress is a free WordPress theme developed by Tom Usborne. He originally created it to use as a base for developing themes for his web design clients, but after releasing it for free the theme began to quickly grow in popularity. Tom began to develop premium addon plugins to extend the features of the theme, while still keeping its original purpose as a lightweight base theme for developers.
Today, Tom Usborne works on the GeneratePress theme full time, continually developing new features and providing quick support.
Features of GeneratePress
GeneratePress is designed to be a flexible base theme, so it's light on features.
Fast & Lightweight
GeneratePress is designed to be efficiently coded and lightweight.
The default free theme itself is pretty basic, but you can extend it and add more features using a number of addons. This keeps the theme from getting bloated with tons of features you'll never use.
Responsive & Browser Compatible
GeneratePress is mobile responsive so it looks good and is easy to use even on small screens. It's also designed to work in all majors browsers including Internet Explorer 8.
Customizable Design
After installing the theme, you can access all the customization options by navigating to Appearance » Customize.
From here you can adjust your site's:
content container width
header width
site title/logo alignment
navigation settings (more on this below)
You can also change the sidebar layout for your main page, blog page, and single posts: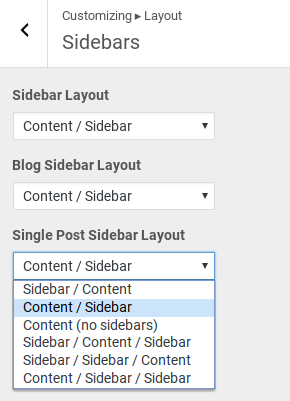 For the footer, you can choose to have anywhere from 0 to 5 widget areas. Each gets a separate widget area you can add widgets to from Appearance » Widgets.
Flexible Colors and Typography
From the Appearance » Customize menu, you can adjust your site's background, text, and link colors using a color picker.

You can choose any Google Font to be used everywhere across your site.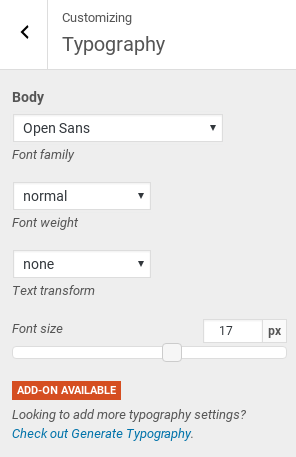 Advanced Navigation Options
GeneratePress allows you to adjust many settings on your main navigational menu to give your site a more unique look.
Under Appearance » Customize » Layout » Primary Navigation, you can adjust your menu's width, alignment, and other options.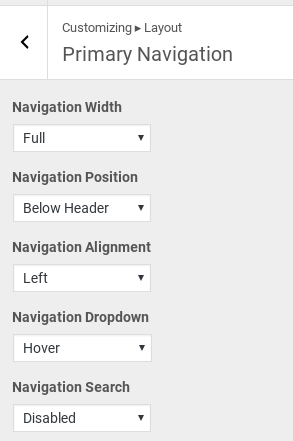 You can also set your navigation to appear:
below or above the site header
on the left or right side of your header, opposite your site title
at the top of your left or right sidebar
…or you can disable/hide it entirely.
You can also add a search icon to your navigation bar, after all your menu items.
There's also an option to enable dropdown menu items on either hover or click.
8 Widget Areas
Besides the 5 footer areas, the widget areas include a right sidebar, left sidebar, and header widget area. The header widget displays on the opposite side from your site title. It's ideal for social icons or a small ad.
GeneratePress Addons
There are a number of addon plugins available for GeneratePress that extend the theme with more features and options.
There are over a dozen addons available, including:
Colors: allows you to completely customize every color on your site (over 60 options)
Typography: more options for font sizes, font families (including Google Fonts), font weights, etc.
Sections: create separate sections with different styles on one page
Menu Plus: add a sticky menu (fade, slide or no transition), menu logo, or a slide-out menu
Page Header: more header options including adding an image, fullscreen with content, parallax and more
Each addon is $7 or $10 if purchased separately, but you can also get GP Premium for a one-time payment of $39.95. It includes the features of all the addons (and any new addons they create in the future) packaged into one plugin.
Documentation and Support
The GeneratePress site has extensive documentation in a knowledgebase for both beginners and developers.
Users of the free GeneratePress theme can get support in the WordPress.org support forums. The theme author is very active there and many threads are answered within a matter of hours and resolved quickly. You can also browse the premium forums, though you can't post in them.
If you purchase any of the addon plugins or GP Premium, you get access to post in the GeneratePress site forums. Threads there are also responded to very quickly.
Our Score
GeneratePress is an excellent theme for those looking for something lightweight and flexible. It's not bloated with lots of features like many other themes. It's a good choice for those looking for a well-developed, basic theme that they can customize on their own.
Those looking for more customization options without having to code should consider purchasing the GP Premium membership to get access to all the addon plugins.
One highlight of this theme is the incredible support response times from the developer. If fast and friendly support is important to you, GeneratePress is a good choice.
We give GeneratePress 5 out of 5 stars. Here is the breakdown of our review scores:
Get GeneratePress Now »