WPEngine is a leading managed WordPress hosting service provider. The company offers WordPress centric hosting solution. In this WPEngine hosting review we will take a look at hosting plans, services, and features offered by WPEngine.

About WPEngine
WPEngine was founded in 2010 at Ausin, Texas by Jason Cohen. The main idea behind the company was to provide a highly focused hosting service for WordPress sites and apps. The company has grown steadily since then.
WPEngine has successfully raised $18 Million in funding since its launch. It operates data centers in US, UK, and Japan.
The company is headquartered in Austin, Texas with offices in San Francisco, San Antonio, and London. The company has 313 employees and it strives to promote a better workplace culture. This has earned WPEngine multiple awards to be the best place to work in Austin, TX.
The company has had a huge impact on WordPress hosting industry. It provided a better more focused hosting service for WordPress based websites. WPEngine provides tools and platform for WordPress sites to perform better and easily scale.
Having said that, let's take a look at their offerings.
Hosting Plans
WPEngine offers managed WordPress hosting plans for all kind of WordPress powered websites. Whether you run a small personal blog or a large eCommerce store, WPEngine has a plan just for you.
Basically there is just one managed WordPress hosting plan with different levels of service. The personal plan starts with $29/month. It is suitable for 25 thousand monthly visits and can have one WordPress install.
As your site grows you can move on to professional, business, premium, or enterprise levels. Each level has capability to handle more sites and more traffic.
This is the perfect host if you want to host a wordpress site. This site makes it easy for you to install wordpress, It's just a simple 1 click install. It may be a bit expensive but it's worth it. It has good uptime & reliable tech support that are available 24/7 so you don't have to wait more than a day to get things sorted. Overall I think you should try this host if you want to host a wordpress blog.
Pricing
WPEngine offers different plans with different pricing. Customers can choose a plan based on their own requirements and expected traffic.
Personal Managed WordPress Hosting – $29/month.
Professional Managed WordPress Hosting – $99/month.
Business Managed WordPress Hosting – $249/month.
Premium Grade Managed WordPress Hosting – Call to Get Quote
Enterprise Grade Managed WordPress Hosting – Call to Get Quote
As you can see that pricing structure is a bit higher than traditional shared hosting service providers. Let's take a look at the features you will get with your managed WordPress hosting service.
Features
WPEngine offers technology, expertise, and innovation focused on hosting WordPress based websites. The main feature of WPEngine is the perfect mix technologies to provide a highly secure and scalable platform.
24/7 Ticket based support from US-based WordPress experts.
Live Chat support in office hours
Phone support (All plans except personal)
Staging and 1 Click deployment
Proprietary Caching System
Daily Backups
1 click restore
Firewalls
Malware scan and protection
As you can see all the features offered by WPEngine are tailored for WordPress. Their proprietary caching system provides great scalability and blazing fast speeds. Firwalls and malware protection keeps your data secure. Daily backups and 1 click restore provide customers the peace of mind.
Ease of Use
Many users do not have skills to understand the technology behind a managed WordPress hosting platform. WPEngine provides them easy to use tools to manage their WordPress hosting account.
At first, when entering the administration panel, I felt like it was a little bare bones.There weren't halve as many pretty icons as there were on cPanel, which I was used to, and it was a bit strange to encounter something like this. However, after reading through their extensive documentation on how to do literally everything to start up your site, it was a true piece of cake
Account Management
WPEngine provides user a simple account management area. This web based portal allows them to manage their WordPress sites from an easy to use dashboard. Users can easily restore sites, create staging sites, deploy them to a live site, and so on.
Quick and Easy Setup
WPEngine is a WordPress focused hosting company. Users can setup a WordPress site with in seconds. This is particularly useful for users who have not used WordPress before. They will not have to go through any kind of installation wizard.
Support and Documentation
Support is easily accessible from any section of your WPEngine account. Users can browse the support articles, talk to an expert on chat or on phone, or submit a support ticket. The support section is full of articles that can walk you through to solve the most common WordPress issues.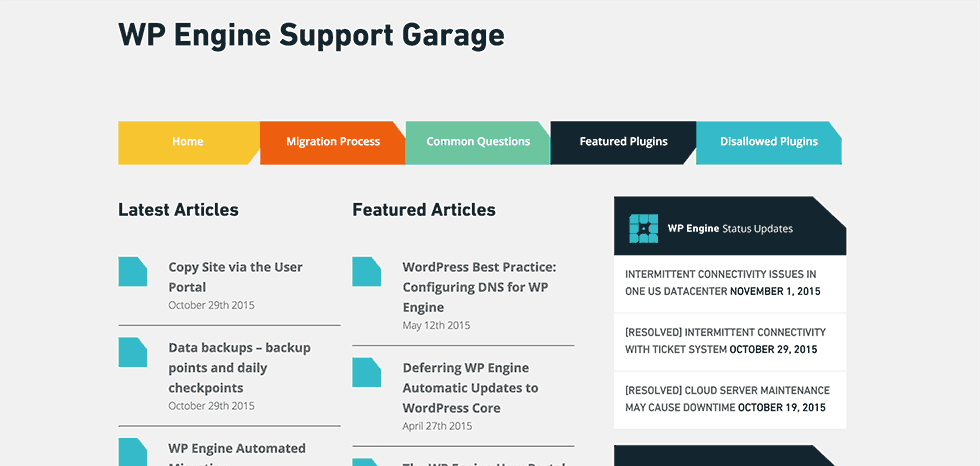 Customer Service
Customers expect a premium experience from their managed WordPress hosting provider. WPEngine spends a great deal on training and managing highly trained customer service professionals.
Customers can talk to a real expert at any time through chat or phone support. The experts on the other end are highly skilled WordPress professionals. Since WPEngine focuses on WordPress sites only, this means that customer questions are answered fast and to greater satisfaction.
Apart from live chat and phone support, customers can also find assistance by submitting a support ticket. The turnaround time for support tickets is very fast.
Our Score
WordPress currently powers more than 23% of all websites on the internet. There is a growing need for web hosting service providers to provide a better experience for WordPress users. WPEngine does a good job in this regard.
After detailed evaluation of different aspects of the service, we feel confident enough to give WPEngine 3.6 out of 5 stars.