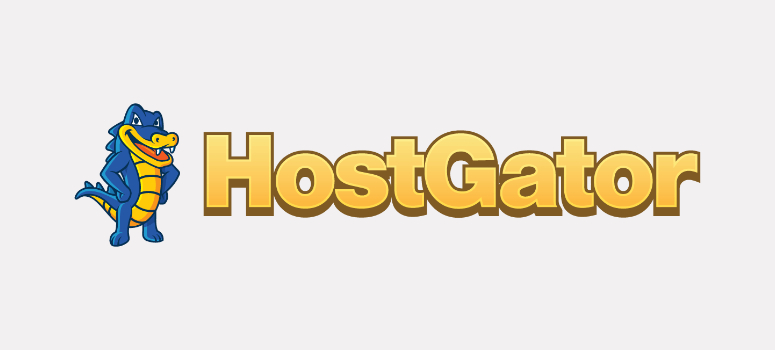 Are you thinking of building your website with HostGator's website builder? Choosing the right website builder is important, especially if you're a beginner who has never created a website before.
The website builder you choose should be easy-to-use and allow you to create a professional website in no time at all. But, with so many different website builders on the market, it can be difficult to know which one to use.
In this Gator Website Builder review, we'll go over features, ease-of-use, pricing, and more to help you decide if HostGator's website builder is right for you.
About Gator Website Builder

Gator Website Builder is a relatively new website builder by HostGator. If you're not familiar, HostGator is one of the best web hosting services for small business websites. The Gator Website Builder is designed to be easy, simply drag and drop to create your own website in an instant.
This website builder also comes with everything you need to start your website including free hosting and a free domain name during your first term. They also offer an eCommerce plan that allows you to create an online store with built-in shopping cart functionality.
Plus, Gator is developed in-house in order to provide a super fast web experience to visitors.
Gator Website Builder: Overview of Features
Gator Website Builder comes packed with features right out of the box. In fact, Gator offers the most features with their website builder than any other web hosting company.
So, let's take a quick look at the features, which are:
Drag and Drop Editor – Create a website in minutes by dragging, dropping, and publishing.
Mobile-Friendly Templates – Give your website a professional look instantly with templates for any type of website including eCommerce, blog, portfolio, and more.
Social Media Tools – Add live feeds from Twitter, Instagram, and Facebook.
Productivity Tools – Add G Suite productivity tools to your domain such as Gmail, Docs, Slides, and more.
eCommerce Features – Create an online store with inventory management, shipping and tax calculator, coupons, and more.
Website Analytics – Track important website stats such as the number of visitors to your site.
Free Domain Name – Get a free domain name with your plan, which saves you money by not having to purchase it elsewhere.
Free SSL Certificate – Make your site more secure for website visitors.

Unlimited Storage and Bandwidth – No limits on the amount of content you can add to your site or the amount of visitors your site can get.
As you can see, Gator comes with a ton of awesome website builder features. Now, let's take a look at how to build a website with Gator Website Builder.
Getting Started With Gator Website Builder
Creating a website with Gator Website Builder is incredibly easy.
After creating your account with HostGator, you can quickly get started building a website by choosing one of their many stunning templates. The Gator Website Builder offers a wide range of templates designed specifically any type of website you want to create such as eCommerce, blog, business, portfolio, technology, and more.
Below is an example of some of Gator's business templates.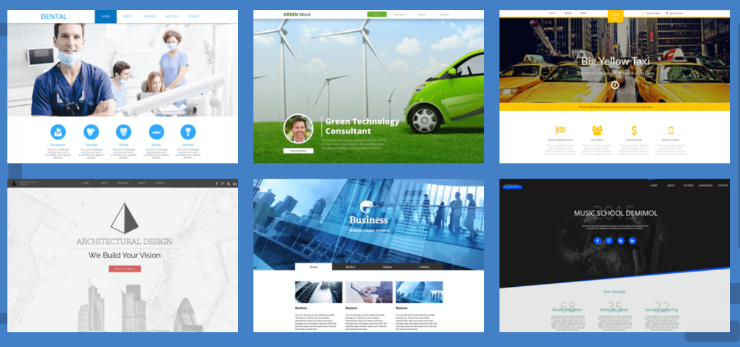 All of the templates are completely customizable too. Gator offers a ton of elements you can add to your template simply by dragging and dropping. Elements include buttons, contact forms, images, maps, live feeds, music, videos, and much more.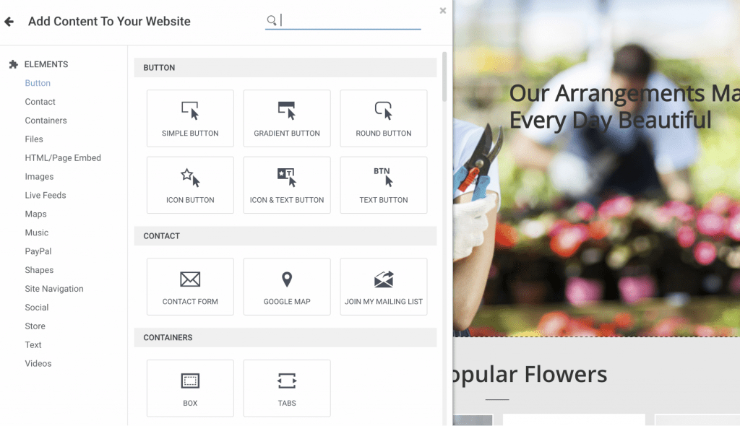 Once you click on an existing web element, you also have the opportunity to customize it. For instance, you can change fonts, colors, and even add new design elements.
Creating blog posts is simple with Gator as well. Just click the "Add New" button and then start writing your content.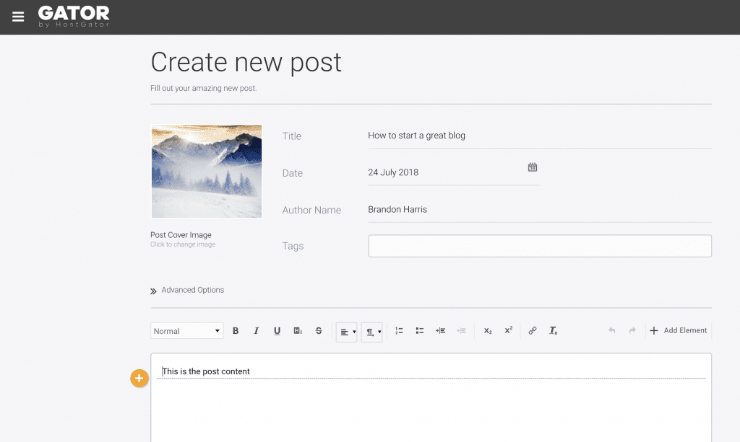 You can easily add a cover image, add different elements to your post, set the date, add tags, and set advanced options such as a friendly page URL.
In addition, Gator's user interface is incredibly easy to navigate. From your dashboard you can manage/create your site, see stats about your site such as total visitors and page views, and add new apps from the App Market.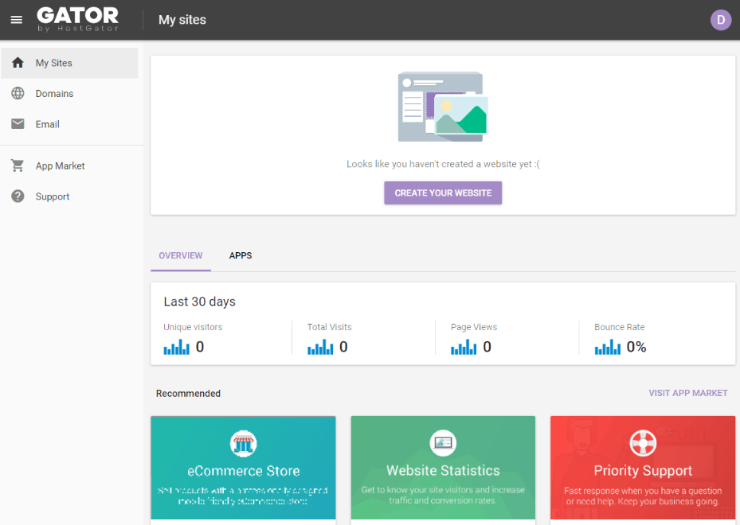 Without any technical experience, you can easily create a professional website with Gator.
Pricing for Gator Website Builder
There are 3 different pricing plans for Gator Website Builder, which are: Starter, Premium, and eCommerce.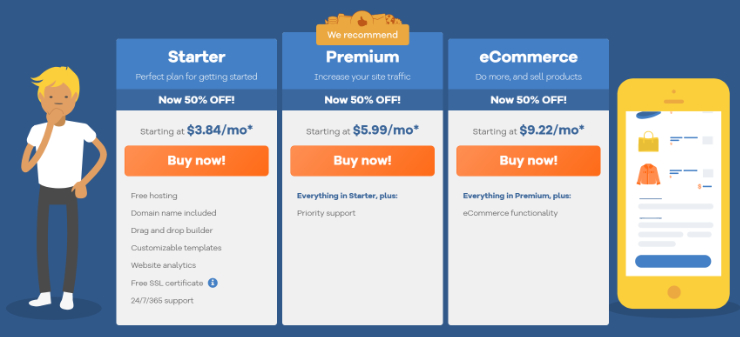 All plans come with free hosting, domain name included, drag and drop website builder, customizable templates, website analytics, free SSL certificate, and 24/7 support.
The Starter plan costs only $3.84/month and it comes with everything you need to build a website. The Premium plan starting at $5.99/month comes with priority support and the eCommerce plan which comes with eCommerce functionality starts at $9.22/month.
Unfortunately, Gator doesn't currently offer a free plan or a free trial of their website builder.
But, for IsItWP readers you can get a special deal on the Gator Website Builder. Our users only pay $3.46/month for the Starter plan, $5.39/month for the Premium plan, and $8.30/month for the eCommerce plan!
Get started with Gator Website Builder today.
Support for Gator Website Builder
When choosing a website builder, it's important to select one that offers plenty of support and is able to help you solve your issues quickly.
Gator Website Builder offers 24/7/365 support via telephone, live chat, or email to help you with anything you need.
But, if you choose the Starter plan, you may have to wait a while for a response from the customer support team. If you want to avoid this and jump the customer support line, you'll have to choose one of their more expensive plans, either Premium or eCommerce, to get access to priority support.
Gator also provides other helpful resources such as a number of video tutorials and a company blog with tons of guides you can follow.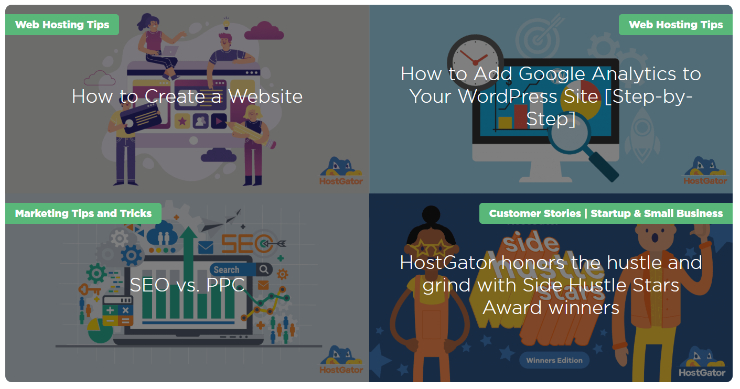 Gator Website Builder: Pros and Cons
As with any website builder, there are pros and cons. Let's take a quick look at the pros and cons of using Gator Website Builder for your site.
Pros of Gator Website Builder:
Affordable Starting Price – You can start your website for as little as $3.84/month, which is perfect if you're a beginner on a tight budget.
Drag and Drop, Plus Templates – Building a website is easy with Gator. Plus, they offer a number of stunning templates to make creating a great-looking site even easier.
Website Analytics – Website analytics is included with all plans so that you can monitor your site activity.
Social Media Integrations – Keeping your audience engaged on social media is easy with Gator's social media integrations.
Cons of Gator Website Builder:
No Free Plan – Gator doesn't offer any free plan or trial that allows you to try out their builder risk-free.
Limited Priority Support – You can only get priority support by choosing their 2 most expensive plans.
No Email Marketing – Gator doesn't offer any built-in email marketing features.
Limited eCommerce Functionality – You can only create an online store with their eCommerce plan.
Gator Website Builder Review: Should You Use HostGator's Website Builder for Your Website?
Gator Website Builder is a great choice for beginners that want to start a small website easily. Their drag and drop editor is user-friendly, they provide great-looking templates to help you get started, and offer a range of features to help you grow your website such as website analytics and social media integrations. Plus, HostGator is a reliable web hosting company and they're very affordable.
Get started with Gator Website Builder today.
If you're looking to build a larger, more complex website though, we recommend you choose a different website builder as Gator is more suited to smaller, simpler sites.
We hope you enjoyed this Gator Website Builder review. If you're interested in learning about some more website builders, check out our post on the best website builders for beginners.