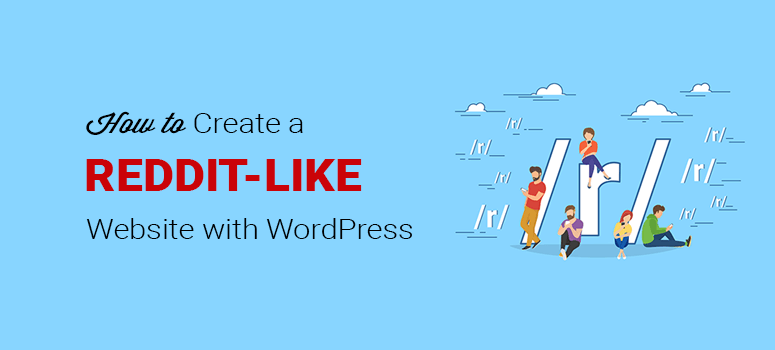 Do you want to create a website like Reddit with WordPress?
Reddit is one of the most popular social networks to share your content and drive traffic to your website. You can create a similar site for yourself using WordPress and engage a larger audience.
In this article, we'll show you how to create a website like Reddit with WordPress.
Essential Features for a Website Like Reddit
If you're building a website like Reddit, below are a few features that your users would expect:
Ability for the registered users to submit stories
Upvote or downvote posts and comments to help the best content rise to the top
Comment on any post to join the conversations.
Requirements for Creating a Reddit-Like Website
To build a website like Reddit, you'll need the following things:
A domain name: It's the URL address that users will type in their browsers to access your website (For example, google.com or isitwp.com)
Web hosting: This is where you store your website files including photos.
WordPress: It's a platform that lets you build stunning websites with ease without having to hire a developer or write code
A WordPress theme that gives the look and feel of Reddit: A WordPress theme or template is the skin of your website. It also includes features and options that support the purpose of the site.
Creating a Website Like Reddit With WordPress
Reddit is a popular social news aggregation and content rating website. It's a user engagement platform used by marketers to share content and increase their website traffic.
If you want to build a Reddit like website, then there're many website builders in the market with several tools. The most recommended solution is WordPress.
Why WordPress? Check out the complete WordPress review to learn more!
There're two types of WordPress websites that may confuse beginners. WordPress.com, which is a hosted solution, and WordPress.org, which is a self-hosted platform. For more details, you should read our complete guide on the difference between WordPress.com vs WordPress.org.
To set up a website like Reddit, you'll need to use self-hosted WordPress.org, which is more flexible and offer great features.
Let's dive into the step by step process to create a website like Reddit with WordPress.
Step 1: Purchase a Domain Name and Web Hosting
The first thing you need to do is to purchase a domain name and web hosting.
We recommend using Bluehost. It's one of the most popular web hosting providers and an official WordPress hosting partner.
For IsItWP users, they're also offering a free domain name, free SSL certificate, and a great discount on web hosting.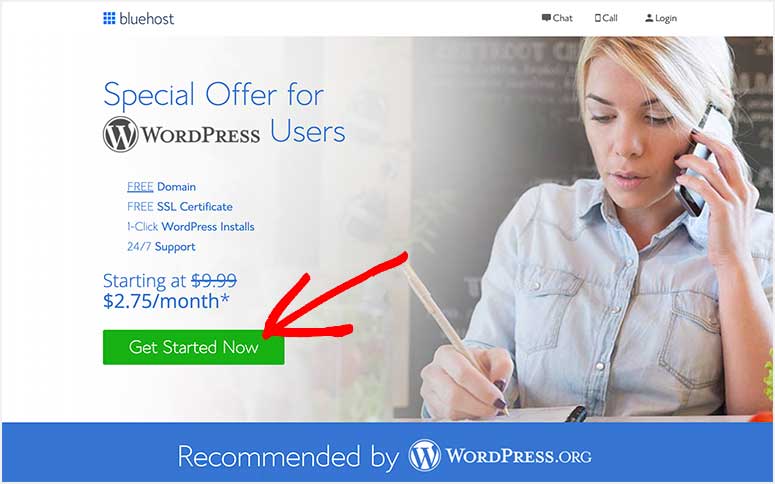 Click Here to Claim This Exclusive Bluehost Offer »
You might also want to check out this complete Bluehost review.
Visit Bluehost website and click on the Get started button. Next, you'll be asked to choose a hosting plan. For a Reddit like website, let's select the basic plan as you're just getting started (it includes a free domain name and free SSL certificate). You can always upgrade later as your site grows.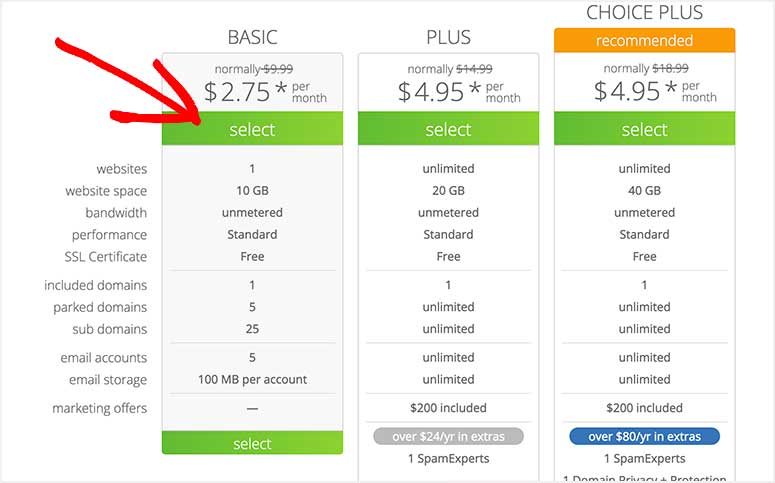 Now you need to enter the domain information. You can either proceed with an existing domain that you own or purchase a new one for free. Select the best option that suits your situation.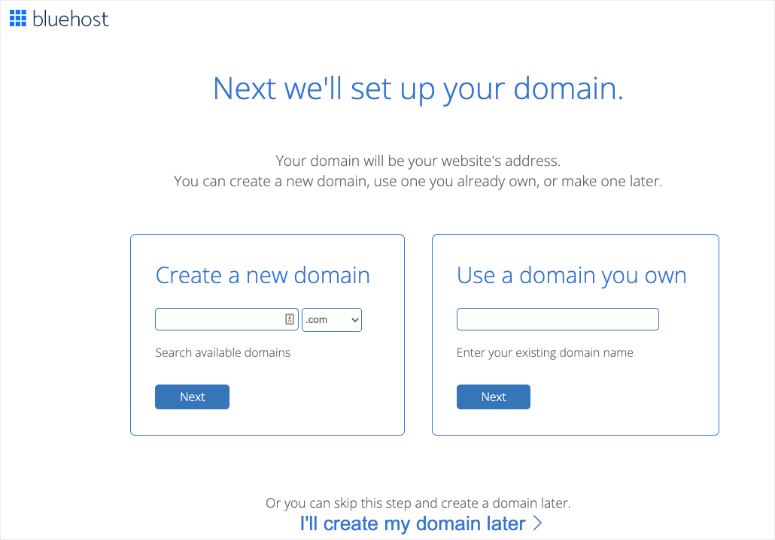 After choosing a domain name, you need to enter your account information. For easy registration, you can sign in with Google and complete the setup in a few clicks.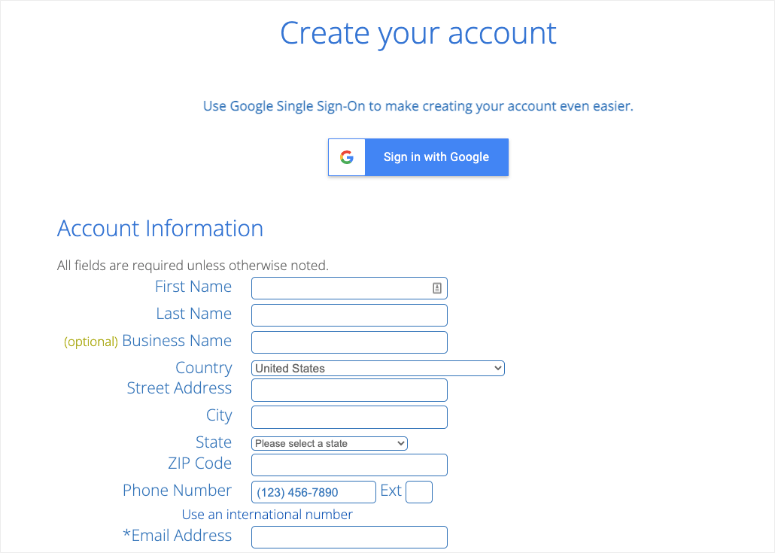 Next, scroll down until you find the package information box. You can choose the basic plan for 12 months, 24 months, or 36 months. It also shows that a few addons are preselected, adding up the total price. We recommend unchecking the addons because you don't need these right away. You can always purchase them later whenever you want.
Choosing the 36-month plan will get you the best value for your money.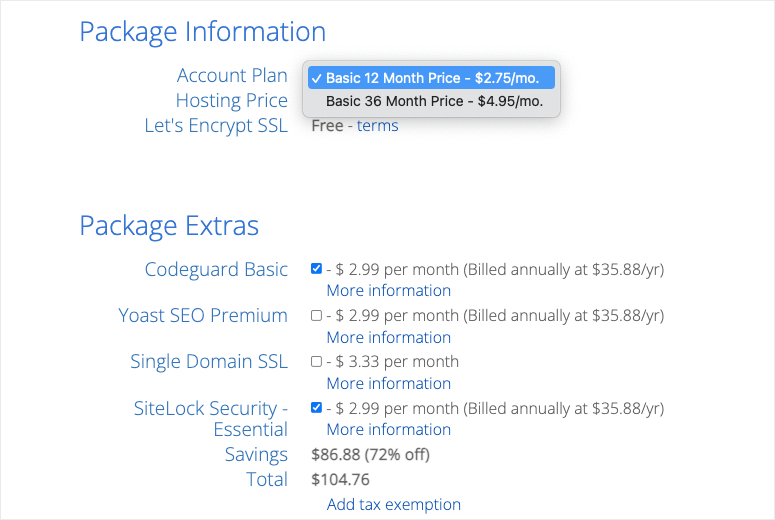 Lastly, you need to scroll down to the page further and enter your payment details. You have to agree to their Terms of Service and then, click on the Submit button.
That's it!
You've successfully subscribed to a hosting plan. Go ahead and create a password for your account.
After that, you'll receive an email with details on how to log in to your web hosting control panel (cPanel), where you can manage everything, including web files, emails, and support.
Step 2: Set Up WordPress for a Reddit Like Website
It's easy to set up a website like Reddit with WordPress.
Bluehost offers 1-click WordPress installation on their dashboard. You need to visit your Bluehost account and enter your website details. It will install WordPress in a few minutes.
With Bluehost, you don't have to go through a manual WordPress installation process. This saves you time and effort. Add your website name and tagline, select a theme, and you'll be ready to get started with WordPress instantly.
You can change all settings later from your WordPress admin dashboard.
Step 3: Select a WordPress Theme That Offers Reddit's Look and Feel
You'll need a theme that offers a Reddit's look and feel. While you can find a lot of different WordPress themes that offers Reddit's look, the UpVote theme stands out from the rest. This theme transforms your website into a social upvoting platform that also accepts user registration. Your users can sign up and submit their URL or story on your website. The users can also sign in to upvote stories and links. All the features are as same as Reddit.
The first thing you need to do is to install and activate the UpVote theme. For more details, you should check out our guide on how to install a WordPress theme.
After the activation, you can visit Settings » UpVote from your WordPress admin. Under the General tab, it allows you to select the pages and manage other settings.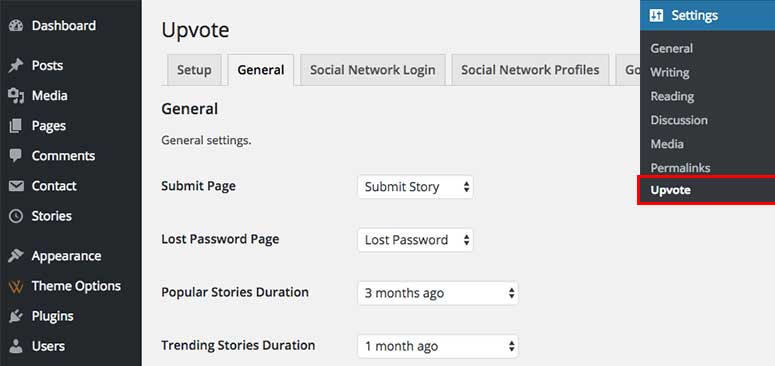 The UpVote theme has many customization options for colors and typography. You can visit Theme Options from the left menu in your WordPress admin dashboard and change settings for fonts, colors, link colors, etc.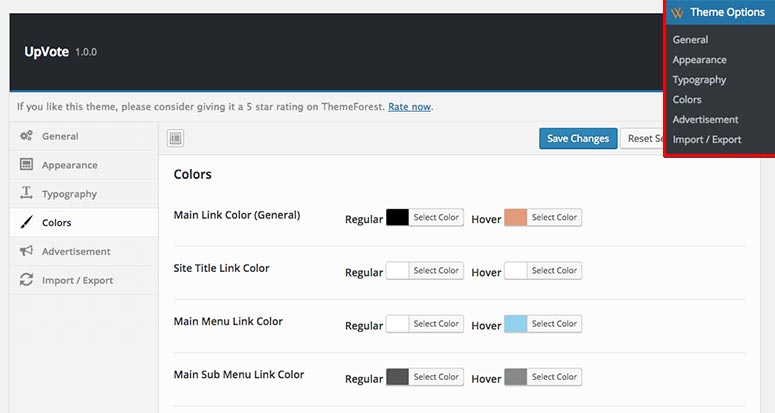 Now, your website like Reddit is ready. The users can submit their stories and URLs from the front-end after they sign up with your site.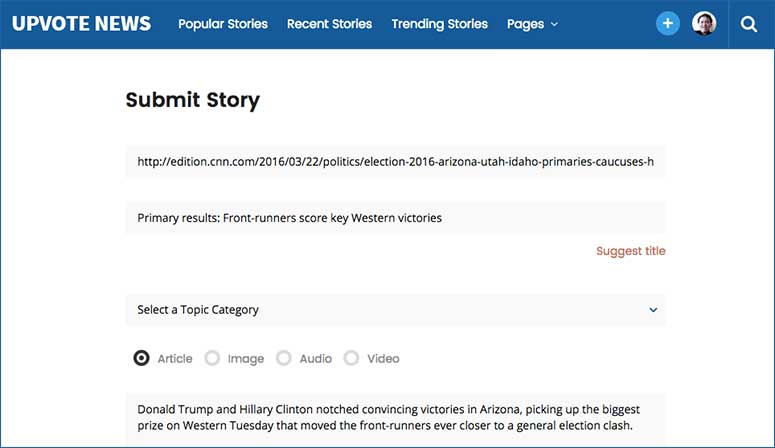 Useful WordPress Plugins for Your Reddit-Like Website
WordPress plugins add more features and functionality to your website. The UpVote theme is highly compatible with all the popular plugins.
Some of the recommended plugins for your website like Reddit are listed below:
Thrive Comments: Add social elements like upvote, down vote, likes, and shares to your comments section.
WPForms: It's the most beginner-friendly WordPress contact form plugin. You can use WPForms to add a user registration form, create a survey/poll, and more.
MonsterInsights: It's the best Google Analytics WordPress plugin. This plugin allows you to track your users, monitor user behaviors, and see detailed insights within your WordPress dashboard.
Sucuri: It's the best WordPress security plugin. Since your website deals with a lot of user submissions, this plugin creates a firewall to protect it from malware, malicious content, and hackers.
All in One SEO: It's a popular WordPress SEO plugin. You can use this plugin to optimize your website for search engines and improve your ranking.
TrustPulse: It's the best social proof plugin for WordPress. You can add this plugin to your website to show your potential users how popular your website is.
AdSanity: It's the best WordPress ad placement plugin. This plugin allows you to display ad banners to the several sections of the website and promote your affiliate partners.
We hope this article helped you learn how to create a website like Reddit with WordPress. You may also want to check out our step by step guide on how to create a coming soon page in WordPress.