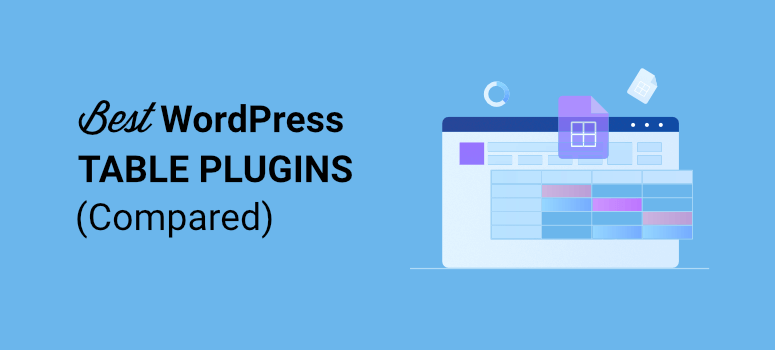 Do you want to create an eye-catching table on your WordPress website?
With tables, you can organize clumps of data and present it in neat layouts. You can even compare features for different products easily or create easy-to-read lists of your products with multiple columns and rows.
We've handpicked some of the best WordPress table plugins that you can use to create tables on your website. But first, let's check out what you need to look out for in a table plugin.
How to Choose the Best WordPress Table Plugin?
There are several free and premium options to create tables for your website. It might be hard to decide which one would be the best for your website.
Ideally, you want a table plugin to have features like:
Drag and drop table builders
Filters and sorting
Pagination
Responsive design
Styling and coloring options
Media support
Export/Import tables
These are the recommend must-have features but this list isn't exhaustive. The features you need will depend on your website and purpose.
Below, we've listed the best WordPress table plugins. You can quickly go through each plugin and its features to decide which is the best table plugin for your WordPress website.
That said, let's take a look at the best WordPress table plugins you can try.
Best WordPress Table Plugins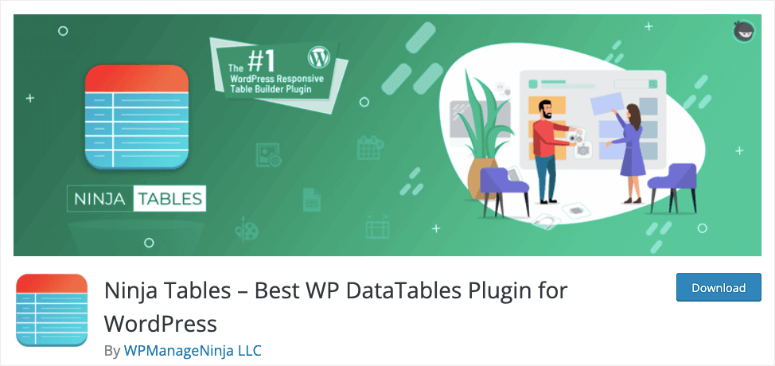 Ninja Tables is a premium WordPress table plugin. It comes with a drag and drop table builder that you can use to quickly rearrange columns and rows. It also has media support so you can add images and other data in your tables.
The plugin has tons of customization and style options. For instance, you can color code columns and rows for better organization. Like this, there are plenty of options to enhance user experience. Plus, Ninja Tables allows you to create fully responsive tables that look great on all screen sizes. So your users will be able to view the table perfectly no matter which device they're on.
Key highlights
Easy configuration
Drag and drop table builder
Media support
Customized colors and enhanced styles
Integrates with Google Sheets and WooCommerce
Export/Import data
Cost
Lite version available for free. Starts at $59 per year.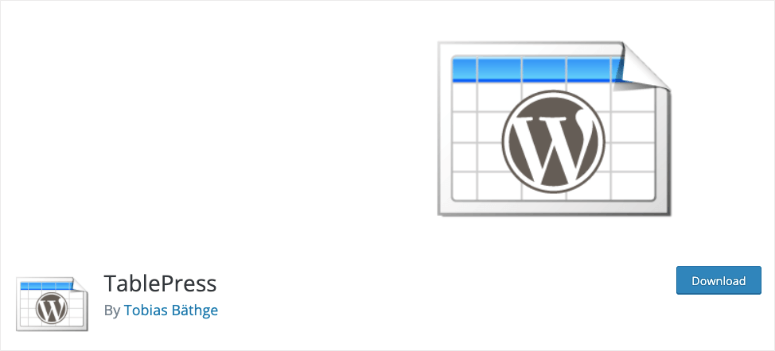 TablePress is the most popular free WordPress table plugin on the market. It allows you to create simple, beautiful tables easily. It has a spreadsheet-like interface in the backend that helps you add data without writing a single line of code.
You can edit tables and add them into your pages, posts, and widget areas using shortcodes. TablePress supports filters, pagination, and sorting to make it easy for users to find what they're looking for.
The plugin also enables you to import/export tables from Excel, CSV, HTML, and JSON files. So if you're already using another app to create and store tabular data, you can easily migrate to TablePress.
Key highlights
Simple user interface (UI)
Embed tables into posts, pages, widgets
Supports shortcodes
Sorting, filtering, and pagination
Export from/to Excel, CSV, HTML, and JSON files
TablePress extensions to add functionality
Cost
Absolutely free. You can make a donation to the maintenance of the plugin if you wish.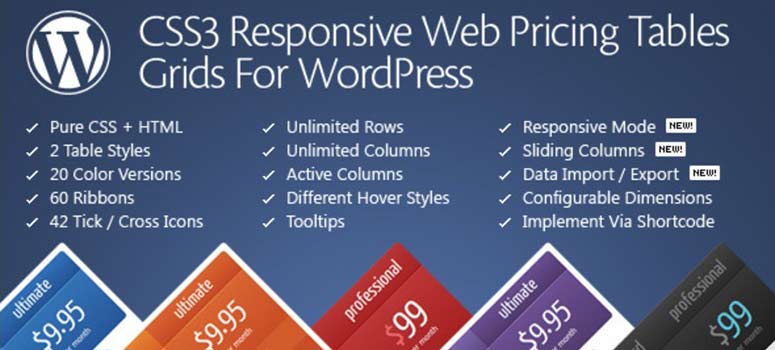 CSS3 Responsive Tables is WordPress table plugin that's designed for both beginners and developers. It can be used to create tables and compare prices for different products. You can add unlimited rows and columns with tons of options for the tables.
It comes with over 20 color choices, 2 table styles, active columns, hover color styles, and more. The plugin lets you take your table to the next level with icons, tooltips, and ribbons. It also enables you to import/export data to other file formats easily.
Key highlights
Extensive admin panel with live configuration
2 table styles
Customization options
Column ribbons, tick/cross otpions
Sliding columns and expandable rows
Table cell tooltip
Cost
$27 (plus taxes) with 6 months of support.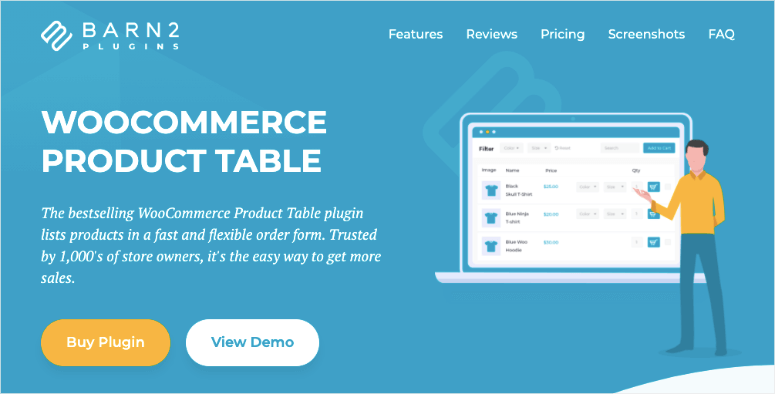 WooCommerce Product Table lets you create beautiful responsive table to showcase products in your online store. It comes with flexible layouts so you can customize it to match your website.
The plugin has a powerful intuitive editor that makes it easy for anyone to create beautiful professional looking tables and catalogs.
The WooCommerce Product Table plugin works great for a wide range of online businesses including restaurants, takeaways, electronics, affiliates, audio stores, and more.
Key highlights
Easy table creation
Product table presets
Powerful and flexible table editor
Capable of creating complex layouts
Large repository of text and video tutorials
Long list of elements and customization options
Cost
Get started for free. The paid plugin starts at $99 (plus taxes) per 1 year.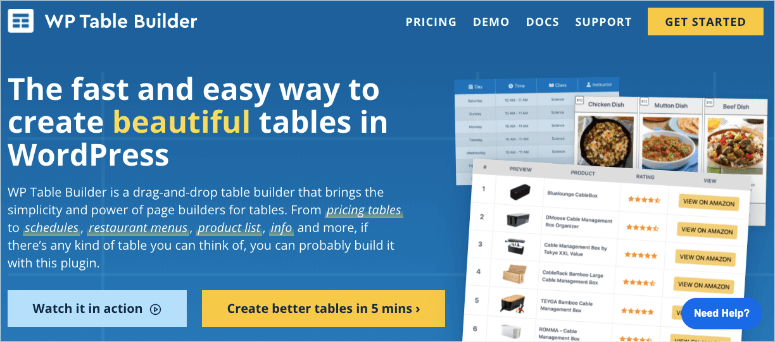 WP Table Builder is a drag & drop WordPress table plugin that lets you create beautiful and responsive tables. You can create any type of table like product comparison tables, pricing tables, list tables, etc.
Currently, it has 5 elements – Text, Image, List, Button, & Star Rating. All of these elements come with individual options.
The best part of the plugin is Cell Management Mode. It lets you add/remove rows and columns, and split/merge cells.
And you can insert tables anywhere on your WordPress site using table shortcodes.
Key highlights
Simple drag and drop solution
Prebuilt customizable table templates
Advanced features
Responsive customization options
Gutenberg integration
Easy migration from other table builders
Cost
Starts at $39 per year.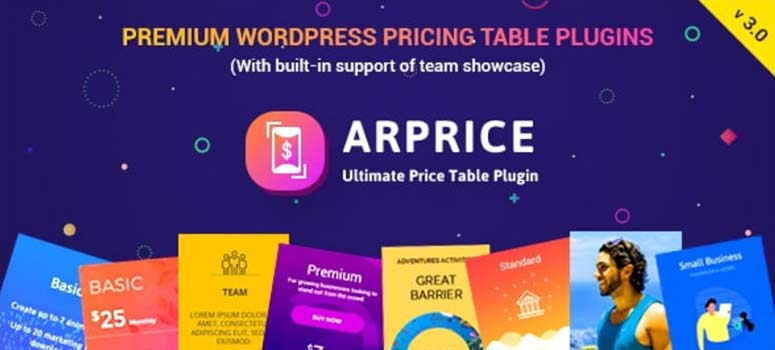 As the name suggests, ARPrice is a pricing table plugin for WordPress. It comes with over 300 pricing table templates to make your work easy when creating pricing plans and comparison tables.
It has a real-time editor. You can simply select a theme and customize it using drag and drop tools. The plugin lets you change the color, font, and style as needed. It also allows you to add images and ribbons to your WordPress tables.
One thing that stands out about this plugin is that it shows you statistics and chart analysis to understand your tabular data better.
To top it off, you can also it integrate with Google Maps and add custom CSS if you need.
Key highlights
Fully responsive templates with real-time editor
Fancy animation effects and 900 Google fonts
WPML translation ready
Lightning fast user interface
Gutenberg compatible
Addons and integrations to extend functionality
Cost
Starts at $27 (plus taxes) with 6 months of support.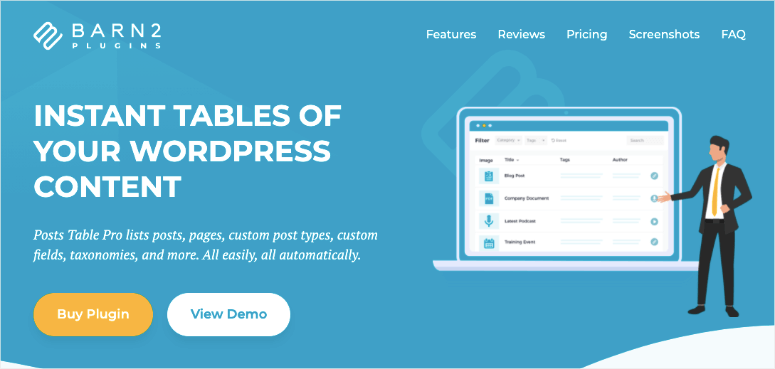 Posts Table Pro by Barn2Media makes it easy to build tables that can be searched, sorted, and filtered instantly. It lets you showcase posts, pages, video, audio, and documents.
The plugin is capable of automatically creating tables with a list of WordPress posts, products, or custom post types.
You can even create libraries for documents, audio files, member lists, and more.
Key highlights
Simple setup
Display custom fields, multimedia content, or taxonomies
Supports shortcodes
Enable AJAX lazy loading for better performance
Cost
Starts at $69 per year with a 30-day money back guarantee.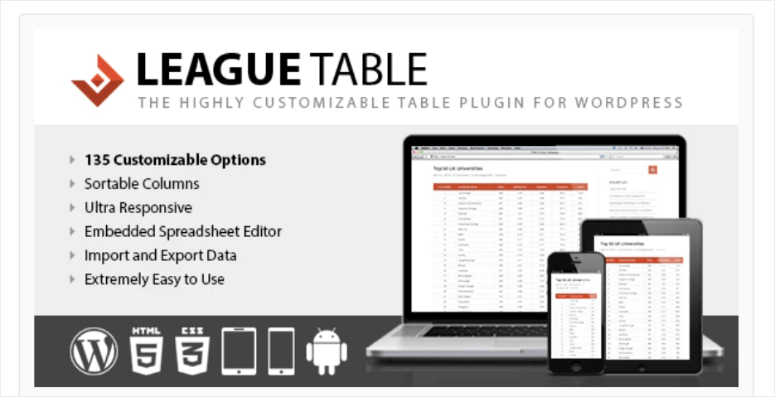 League Table is a powerful premium WordPress table plugin. It comes with 105 options per table, 17 options per cell, and 13 general options. It has an advanced multi-column sorting system that you can use to create any type of table.
It has a spreadsheet-like editor which allows you to input data and manage your tables easily. You can highlight any cell property with colors.
The most unique feature of this plugin is its support for typographical styles and mathematical formulas.
Key highlights
Customizable and sortable table
Lightweight and ultra responsive
Embedded spreadsheet editor
Import/Export feature with backup and migration
Multisite and multi-language ready
High quality customer support
Cost
This is a premium plugin that costs $39 (plus taxes) for 6 months support.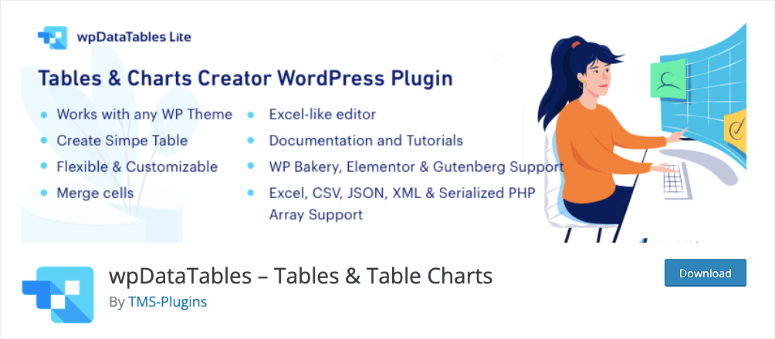 wpDataTables is one of the most popular free WordPress table plugins. It allows you to upload Excel, CSV, JSON, and XML files to create tables in WordPress quickly.
It has custom options to change colors, rename headings, reorder data, and add CSS to style your tables. The plugin allows you to add up to 150 rows in total.
Key highlights
Excel like editor
Responsive mode
Edit, resize, and reorder columns and rows
Add star ratings, custom links, and media
Supports Excel, CSV, JSON, SML, and serialized PHP array
Cost
Basic table plugin for free in the WordPress.org repository. Premium version start at $79 per year.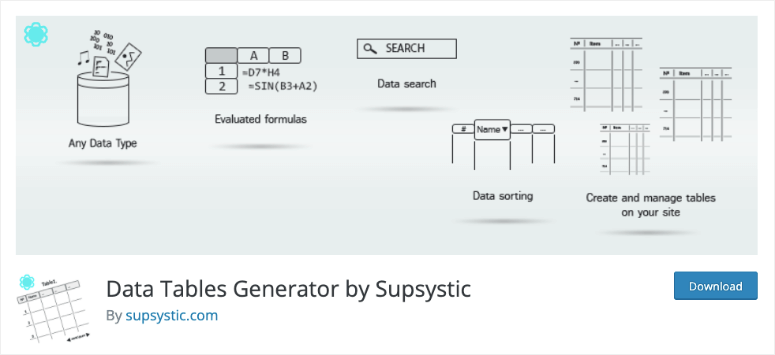 Data Tables Generator by Supsystic is a popular table plugin for WordPress. It allows you to create beautiful, responsive tables from your WordPress dashboard without writing any code. It supports diagrams, graphics, and charts. You can convert the data from your table into diagrams to make them easier to understand.
It enables you to customize the colors for columns and rows. It also supports mathematical formulas.
You can even allow your users to export data from your frontend into PDF, Excel, and CSV files.
Key highlights
Search, sort, and filter
Charts and data management
Multilingual translations available
Supports WooCommerce
Compatible with hundreds of WordPress themes and plugins
Cost
Free. Pro plugin starts at $89 per year.
That's our list of the best WordPress table plugins. If you're still undecided, we give you our top pick next.
Which is the BEST Table Plugin for WordPress?
Though we've narrowed down the plugins to the top 10, choosing just 1 can be difficult. We recommend using Barn2 Media. They offer a regular table plugin as well as one that's designed specifically for WooCommerce.
It's got all the features you need and works on any WordPress site. Plus, it's flexible, optimized for speed, and easy to use so it's great for beginners too!
We hope this list helped you find the best WordPress table plugin for your needs. If you found this post useful, you may also want to check out our lists:
These tools will help you grow your website and stay organized all the way through!