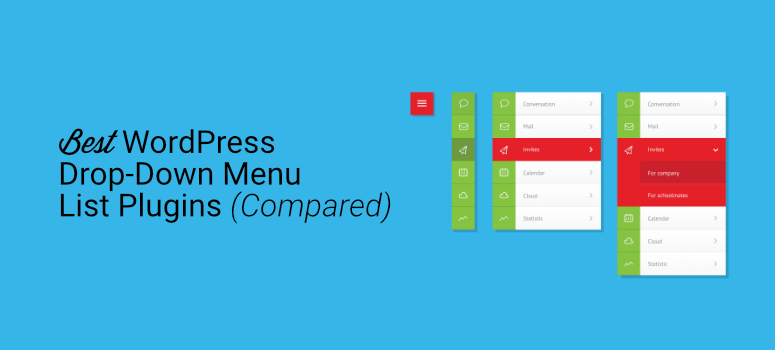 Are you considering adding a drop-down menu to your WordPress website?
Drop-down menus can be a great addition to your website. They organize your site links and put them in an easily accessible place so users can explore your content.
That's why, in today's tutorial, we're going to look at 6 of the best WordPress drop-down menu plugins on the market.
Before we do, though, let's make sure we're clear on why you'd want a drop-down menu on your WordPress site in the first place.
Why Add a Drop-Down Menu to Your WordPress Site?
There are many reasons why adding a drop-down menu to your site is a good idea, both for you and your site visitors.
Here are a few of the major advantages:
1. Improve Site Navigation
When users can easily navigate your site content, it's easier for them to pay full attention to your campaigns, products, services, and more. They can focus more on the value you provide instead of what kind of experience they have getting around your website.
2. Place Important Content Above the Fold
For the most crucial content you want your visitors to see, it's important to place it where they can spot it right away. Otherwise, they'll miss out on your offers and campaigns.
Adding a drop-down menu to your website lets you put the most important information above the fold. This makes it easier to conserve screen space for other elements you want to add, like images, sidebars, landing pages, and so on.
3. Save Users from Overscrolling
People new to your website don't want to jump through hoops to access your content or learn about your brand. They want direct answers to their questions and solutions to their problems. If you make them scroll endlessly to reach their destination, you'll increase your bounce rate and fail to create returning visitors.
4. Enhance the User Experience (UX)
At the end of it all, you want to create a seamless user experience (UX) for visitors on your site. The second they encounter issues or friction, they'll be quick to leave and slow to return–if they ever do.
To improve your site's conversions and reach your marketing goals, you need to think like your site visitors when creating the design. This means using tools that enhance UX and make it easier for users to engage with your content and campaigns.
One of the tools you can use to accomplish this is a drop-down menu.
If you want to add a dropdown menu to a WordPress form, then check out WPForms – it's the #1 form builder that comes with dropdown, multiple choice, checkbox fields, and more.
Now, let's go over 6 of the best drop-down menu plugins you can use for your WordPress site.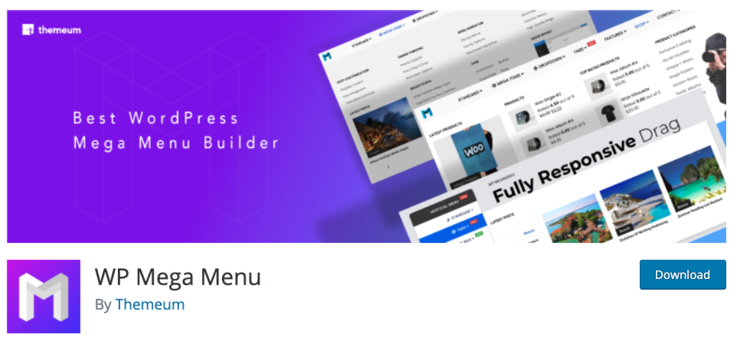 WP Mega Menu is one of the best options for adding a drop-down menu to your site. If you're looking for a simple solution to organize your site links, then this plugin is perfect for you.
WP Mega Menu comes with a drag-and-drop menu builder that makes it easy for beginners to create the menus they want. Add widgets to your menus, import or export themes, add a search bar, and more. Make it easy for users to navigate your site by giving them the option to search for content with this plugin's search bar.
It also integrates with most WordPress themes so your website design stays flawless. With just one click, you can install this plugin to your WordPress site to instantly take advantage of its features.
Get started with WP Mega Menu today.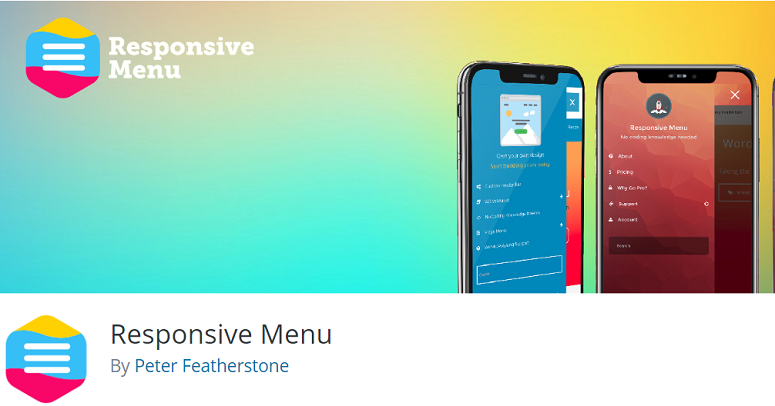 Responsive Menu is a great option for users looking for a cost-effective option. This free plugin requires zero coding skills so even those at the most beginner level can add beautiful menus to their WordPress website.
Responsive Menu comes with more than 150 customization options so you can create drop-down menus exactly how you want them. Plus, its user-friendly interface makes it easy to use and add to your website.
With this plugin, you can add images, upload logos, add custom HTML components, choose different menu speeds, pick custom menu triggers, and so much more. Its one-click import and export also makes it easy to handle your data efficiently.
Get started with Responsive Menu today.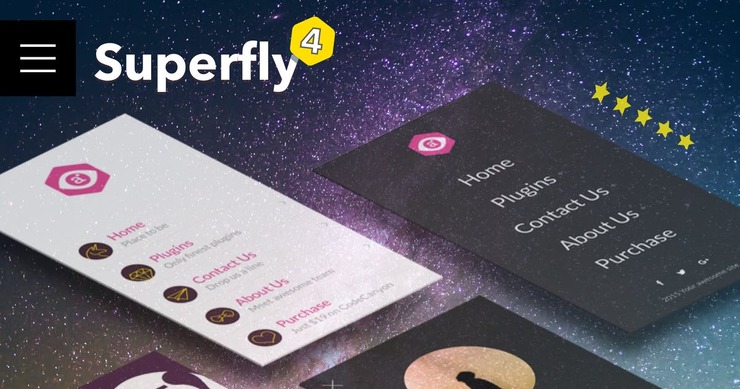 Superfly is a full-fledged menu plugin that creates standalone menus for your website. Along with drop-down menus, it creates many other kinds of menus including push, sliding, static, fullscreen, and more.
With Superfly, you have endless options for customizing your drop-down menu. Its rich-text editor lets you style custom content using shortcodes that are easy to add to different posts and pages. Design your menu items by incorporating icons, images, text, chapters, and more.
It's also easy to change colors, fonts, sizes, and background images.
You can conveniently group your menus however you want and use stylish headings to grab visitors' attention. Use icon sets to further establish your branding and make your drop-down links your own.
Get started with Superfly today.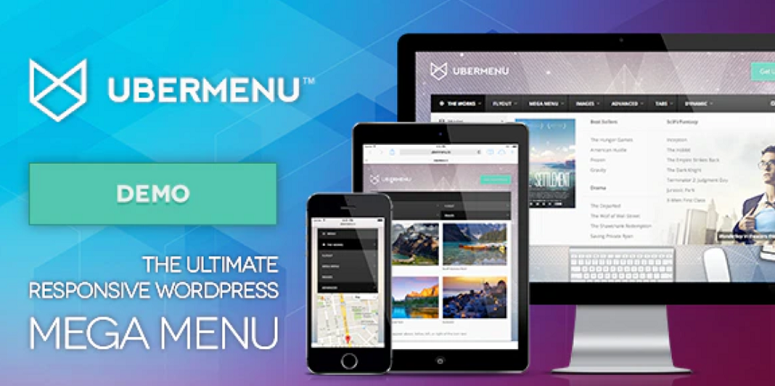 UberMenu is another popular option for WordPress users. This premium plugin offers tons of customization options to create beautiful drop-down menus you want to show off.
Create your drop-down menus using rows, columns, images, icons, maps, forms, and more. The menus you create with UberMenu are responsive on any device so users can enjoy your navigation no matter how they interact with it.
Easily add images and create custom menus by adding HTML, shortcodes, and widgets. Customize more than 50 style settings including font and background colors, sizes, headers, spacing, and more.
Get started with UberMenu today.

Mega Menu Plugin for WordPress is a free WordPress plugin that's easy to use and comes with several valuable features. No coding knowledge is required to add this plugin's drop-down menu to your site so you don't have to worry about hiring a developer or a long installation process.
Use its drag-and-drop builder to create navigation menus to your liking. Its predesigned skins and templates are made to match the existing theme on your website, and it also integrates with any WordPress theme.
That means you don't have to worry about maintaining consistent branding with this plugin.
Additionally, it is mobile-responsive and comes with many different transition options to customize your drop-down menu.
Get started with Mega Menu Plugin for WordPress today.

Max Mega Menu automatically converts the existing menus on your website into a drop-down mega menu. Users can access all your site links in one location and do so with ease.
If you're looking to turn the navigation menus you already have into mega menus, then this plugin is perfect for you. Its user-friendly interface makes it easy to create drop-down menus within minutes.
Organize your submenus into columns and rows with its Grid Layout builder or display WordPress widgets in your menu. Max Mega Menu's built-in theme editor lets you customize your menus however you'd like and create navigation options your visitors love to look at.
Get started with Max Mega Menu today.
And that's it! We hope you enjoyed our list of the best drop-down menu plugins for your WordPress site.
If you liked this post, you may want to see our list of the 11 Best Responsive Menu Plugins for WordPress (Compared). We also have an ultimate list of the MUST-HAVE WordPress plugins. It's packed with resources for you to create a website that boosts conversions and produces results.