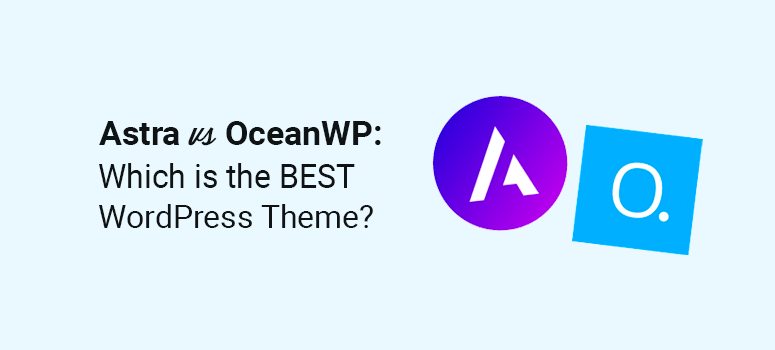 Are you looking for the best WordPress theme? Do you want to know which theme is best between Astra vs OceanWP?
Choosing a theme for your website is a difficult job. There are hundreds of thousands of free and paid WordPress themes on the market and over the years, Astra and OceanWP have become the most popular choices.
In this article, we will talk about everything you need to know about Astra vs OceanWP to help you determine which WordPress theme is better for your website.
Astra vs OceanWP: Which Theme is Better?
Astra and OceanWP are both among the most popular WordPress themes like Divi or Hestia Pro.
Astra is a fast, lightweight, and highly flexible WordPress theme. It's designed to work with your favorite page builders like Beaver Builder and Elementor to create and customize a website.
You can use the Astra theme to start a blog, make a website, and build an online store. The theme offers hundreds of readymade website templates with complete images, content, and design for almost every niche.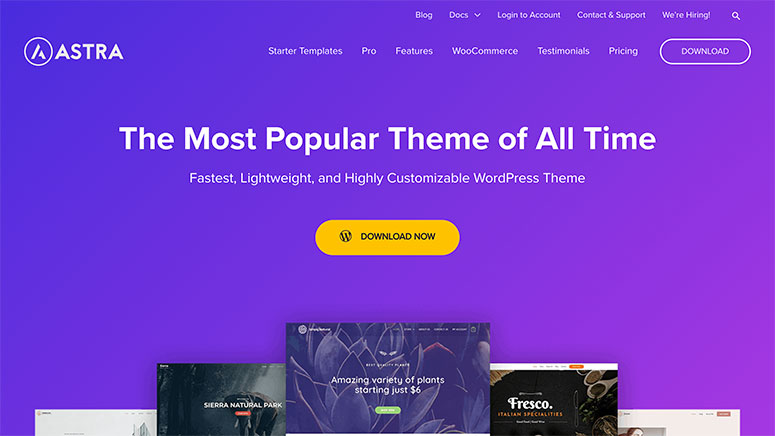 OceanWP is a powerful and flexible WordPress multipurpose theme. It's beginner-friendly and easy to use with the popular drag and drop page builders on the market.
It provides free and paid starter sites with demo content and images. These website templates are built for hundreds of different business niches, including art, design, bars, lifestyle, eCommerce, fashion, health, portfolio, sports, transportation, and more.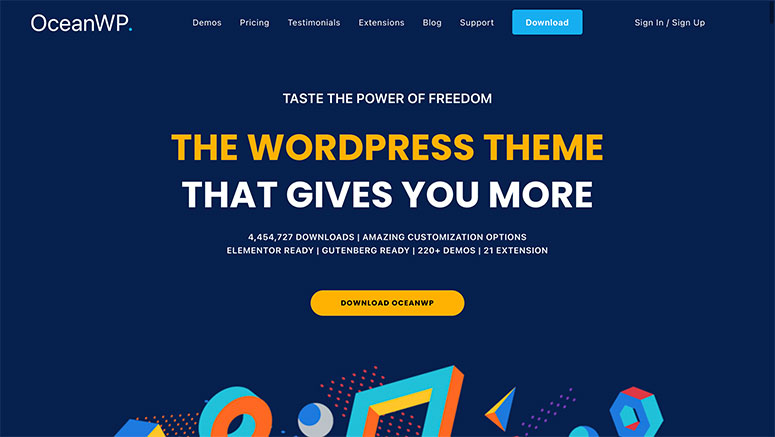 So far, you may have already noticed that Astra and OceanWP themes are pretty similar in quality and design. Both themes offer page templates, flexibility, robust foundation, and easy customization.
These themes also integrate with popular WordPress plugins to add more features to your website.
For example, you can connect WPForms to add a contact form, SeedProd to create a landing page, MonsterInsights to add Google Analytics in WordPress, and so on.
That's why it becomes difficult for beginners to decide which WordPress theme is the perfect fit for their website or blog.
With that said, let's dive deeper into the details of each theme, including their installation process, usage, features, pricing, and support, so you can see which WordPress theme is best for your website.
To help you quickly navigate this post, we've broken down the comparison into simpler sections. Feel free to skip to the information you're looking for.
As both these themes are widely popular, this comparison will be a battle of the giants. But by the end of this article, you'll find a clear winner between Astra vs OceanWP. Now let's go straight into the comparison to find out which is the best theme for your WordPress website.
Astra vs OceanWP: Free Theme
There are hundreds of thousands of free themes available on the WordPress.org repository. These themes may have limited design options, fewer templates, and less to no extensions.
Most themes offer their extended premium versions with more template choices, WordPress plugin integrations, priority customer support, and more. This is why users start with the free theme and then buy premium plans as their business grows.
Both Astra and OceanWP have their free themes listed on WordPress. You'll need to install the free version to get started with the theme.
We'll share the free theme options one by one and then determine which one's better in the end.
Astra Free Theme
The free Astra theme comes with 90+ ready-made design templates. The best part is that you can use the Astra free importer plugin to install a theme template and launch your website in just a few clicks.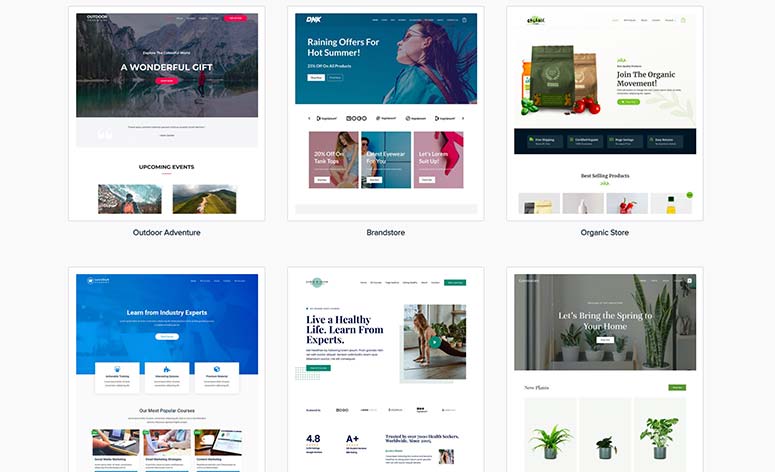 These templates include complete content, images, videos, and other media files. So, you can replace the dummy data with your original content, and your website will be ready right away.
When it comes to the backend, the Astra free theme has limited options to customize the header, footer, layout, and blog page.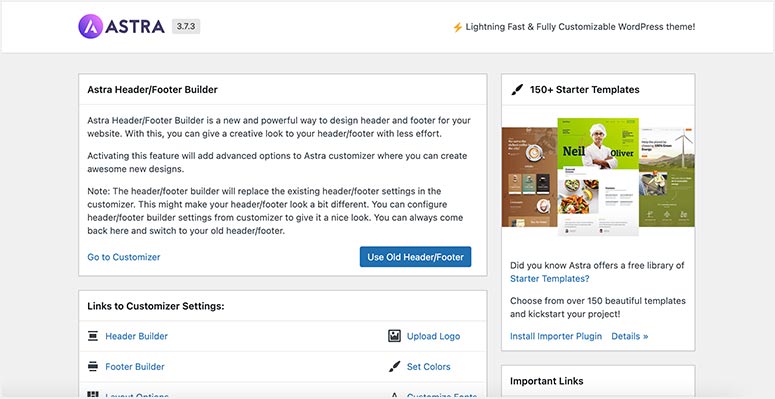 It also comes with a Header/Footer builder that works side-by-side with the WordPress customizer and lets you drag and drop options in your header/footer.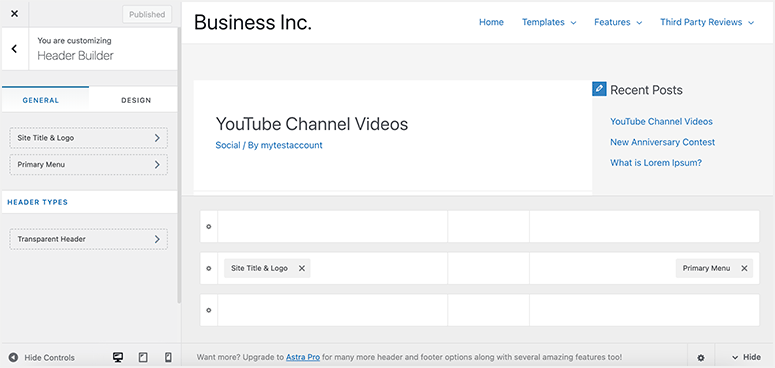 It's easy to add widgets in the header and footer with the new Astra builder. You can click on the plus (+) icon to access all header/footer widgets, including:
Account
Buttons
Search
HTML
Footer menu
Social sharing
Custom widgets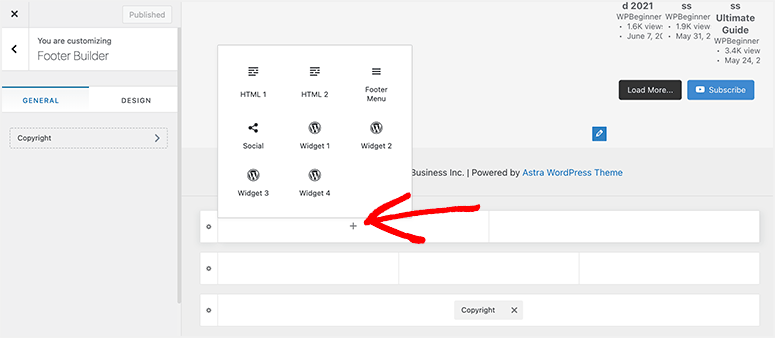 With the HTML widget, you can also add code or text to your header/footer easily. You'll find the design options on the left side and theme preview on the right side of the screen.
You can upgrade to the premium version of the Astra theme for additional options and features for the header/footer builder, customizer, and more.
OceanWP Free Theme
OceanWP free theme comes with 17 free website templates that you can import from the theme panel within a few clicks. These are basic demo sites with content and images to help you launch your website quickly.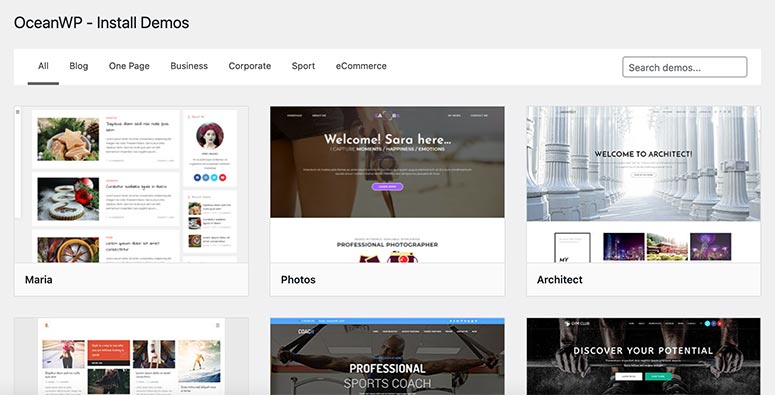 It lets you create custom templates with built-in options and settings. You can make changes in each option to make changes in your template and publish it.
Main content layout
Header
Logo
Menu
Title
Breadcrumbs
Footer
It's also easy to use your custom templates in pages and posts with a shortcode.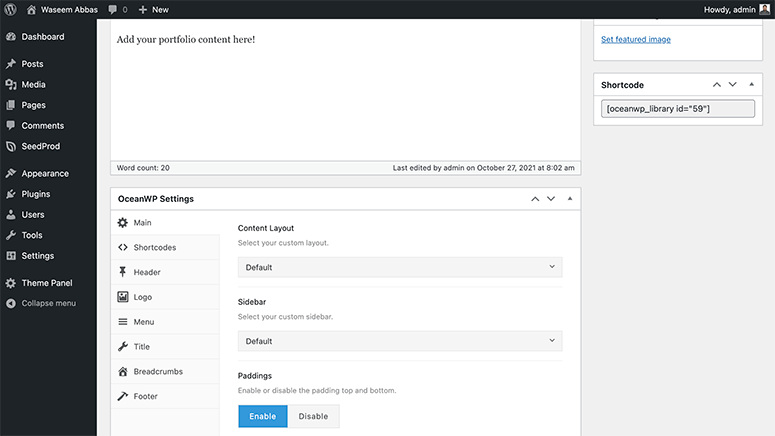 The OceanWP free theme comes with useful addons and extensions that you can install in a single click to add more features to your website. The free addons include:
Ocean extra
Social sharing
Product sharing
Custom sidebar
Demo import
Post slider
Modal window
Stick anything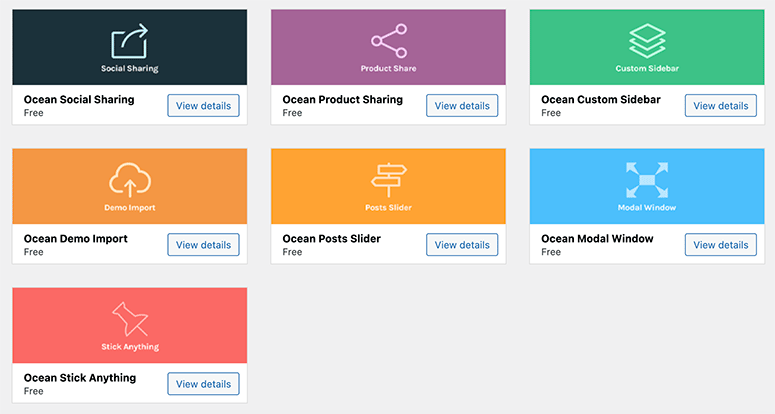 These are limited choices that you get with the free OceanWP theme. For more options and features, you can purchase a premium license.
Free Theme: Winner
Comparing the free version of theses themes, you can see that Astra has a large variety of free starter sites, a built-in header/footer builder, and several flexible options for customization.
OceanWP comes with a custom template builder and free extensions, but other than that, it has very few demo sites that limit the design experience for users. You'll also need at least one paid extension with each free template to work properly, which means the free theme isn't absolutely free.
In this comparison, Astra Free Theme is a clear winner!
Astra vs OceanWP: Starter Templates
Starter templates or demo sites are built-in website templates for beginners and developers. The top WordPress themes offer these templates to help users make a website and quickly publish it on the internet.
Astra and OceanWP also provide readymade starter sites. There are free and premium templates that you can use depending on the theme plan you're using on your website.
Let's look at and compare the starter templates for the two most popular WordPress themes: Astra vs OceanWP.
Astra Starter Templates
Astra offers free and paid starter templates. You get a total of 200+ templates with complete content, images, and other useful data.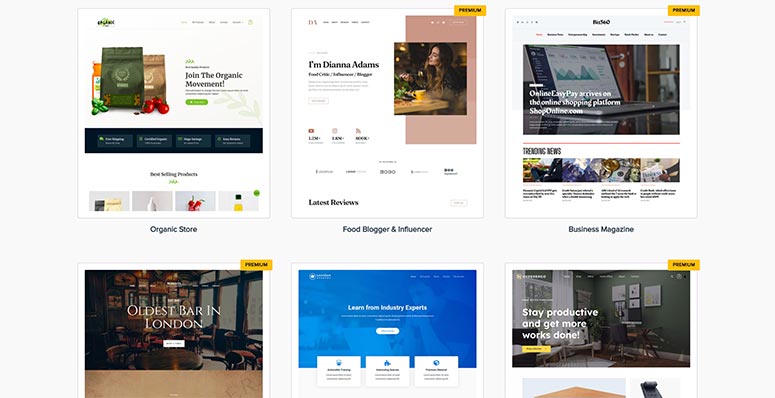 These templates are unique and built for different business niches. You can choose a drag and drop page builder combined with the Astra Header/Footer builder to customize a template easily.
Some of the popular Astra starter templates are designed for:
Gym and fitness
Education and academics
Restaurants/Hotels
Real Estate/Construction
Health and wellness
Lifestyle/ eCommerce
Professional services
Freelancers/Co-working spaces
Online courses
Marketing/Finance
Technology/Advertising
And more…
The free and premium templates are easy to import into WordPress with a single click. You can also check out the free Starter Templates plugin to access over 300 free website templates.
OceanWP Demo Sites
OceanWP has an extensive library of premium and free templates. It recommends an Ocean Extra addon upon installation of the theme.
This addon will give you access to their templates and other useful options.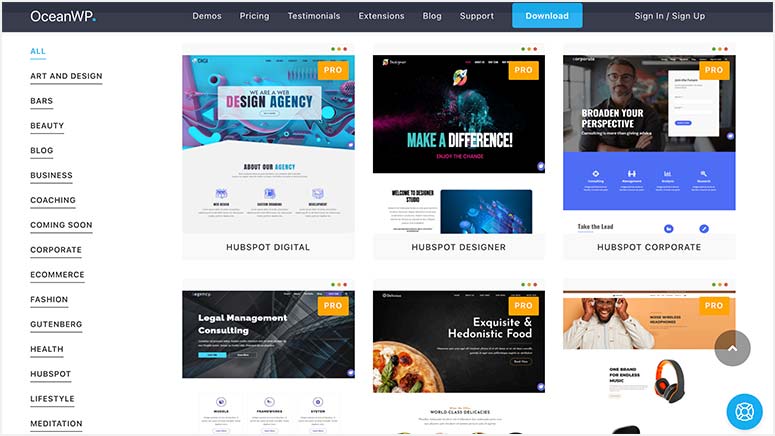 The premium templates require several other free and paid OceanWP extensions to function properly. After installing the theme, you can look into all OceanWP addons and extensions and install them with a single click.
The modern and professional OceanWP demo sites include templates for:
Art and Design
Restaurants/Bars
Business/Corporate
eCommerce stores
Fashion/lifestyle
Health/Medication
Blog/Portfolio
Sports and Gym
Transportation
Religion/NGO
Tech/IT Services
And more…
These website templates are easy to customize with page builders of your choice. You can also use the free starter templates plugin with OceanWP to add more demo sites in WordPress.
Starter Templates: Winner
Both Astra and OceanWP have hundreds of free and paid starter templates to offer with the theme. And the templates are professionally designed to build a WordPress website for your business.
Astra starter templates are independent and flexible. It provides dozens of free templates, making it easier for startups and small businesses to use the free theme.
With OceanWP, you get hundreds of paid and free templates, but the demo sites depend on the premium extensions to function fully. The free templates are limited, and you'll need a minimum of one paid extension to use all functions of any free demo site.
If we compare the independent Astra templates with a large variety of OceanWP demo sites, we can say that Astra wins the game.
Astra vs OceanWP: Features and Extensions
When choosing a theme for your business or personal website, you'll look into features, modules, design options, customization, and more.
Astra and OceanWP are built with powerful features and extensions to make any website, blog, or eCommerce store. Both themes are top-notch in providing easy customization options for users.
Let's compare the features and extensions for both themes to determine who takes the lead in this category.
Astra Features
Astra is one of the most flexible WordPress themes with tons of features and options for all kinds of websites. The best part of the theme is that it doesn't effect your website speed. Instead, it helps improve the overall performance with self-optimization.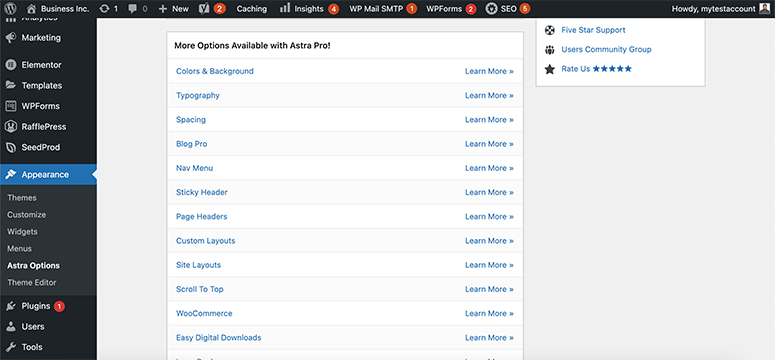 Some of the top theme features for designing your website include:
Custom layouts
Transparent header
Sticky header
Dedicated sidebar
Full-width/boxed design
Google Fonts
Grid/list layouts
Infinite page loading
Post pagination
You can access these features based on your theme's pricing plan. Find more details about Astra's plans in the next section below.
Astra also integrates with popular WordPress plugins, including LifterLMS, LearnDash, WooCommerce, and more. This helps users build membership websites and create online courses.
The theme has built-in SEO optimization and schema markup implementation making it easier for your website to rank in the search engines.
Other than that, Astra provides custom widgets to showcase your business address, add informative lists, and display social sharing icons.
OceanWP Extensions
OceanWP has free and paid extensions to add more options to your WordPress website. The free plan includes seven free extensions. You'll get access to all their extensions with any of the paid plans.
It's easy to install these addons with a single click and get started with the new theme feature.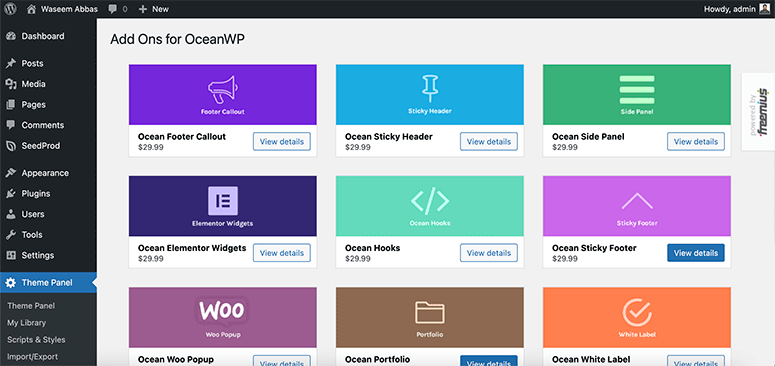 Some of the popular OceanWP extensions include:
Ocean extra
Stick anything
Full Screen
Instagram
Portfolio
Woo Popup
Sticky footer
Modal window
Posts slider
Custom sidebar
Social sharing
The Ocean Extra addon is a must to install on your site, as this will allow you to access templates and other features.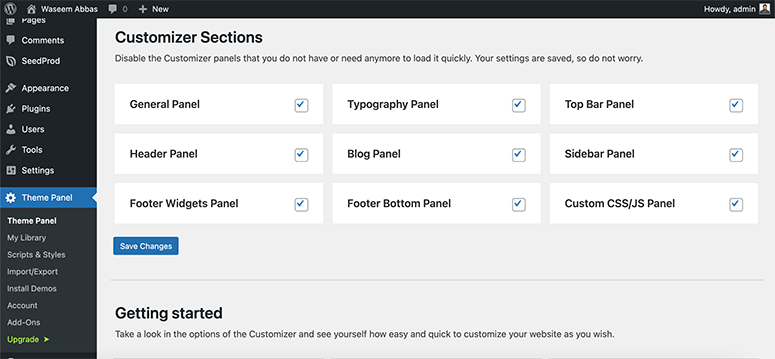 OceanWP seamlessly works with all popular WordPress plugins, including WooCommerce. It helps you build an online store, and you can use the eCommerce extensions to grow your business.
The theme is optimized for performance and speed. You can also use WordPress caching plugins to further improve your website's performance.
Features and Extensions: Winner
Astra and OceanWP are popular for their flexibility and integrations. Both themes are easy to set up within a few minutes and require no coding skills.
Astra has powerful design features, custom widgets, and third-party plugins compatibility to make a website. These features are divided into free and paid theme versions.
OceanWP comes with free and paid extensions to add robust features to your WordPress website. You also get high-quality addons for an eCommerce store, making it a perfect fit for online businesses.
Both themes work great with drag and drop landing page builders like SeedProd to ensure quick customization. For Astra vs OceanWP features comparison, we call it a tie.
Astra vs OceanWP: Pricing Plans
Theme pricing is the key factor in deciding which WordPress theme is perfect for your business website. And, if you're a startup or small business, it's also necessary to put your budget into consideration while choosing a theme.
Luckily, you're in the right place. We'll compare the pricing plans for both Astra and OceanWP to help you select the best WordPress theme for your website.
Astra Pricing Plans
Astra offers four pricing plans. All plans are available for annual and lifetime (one-time) payments (except the free plan, which is forever-free).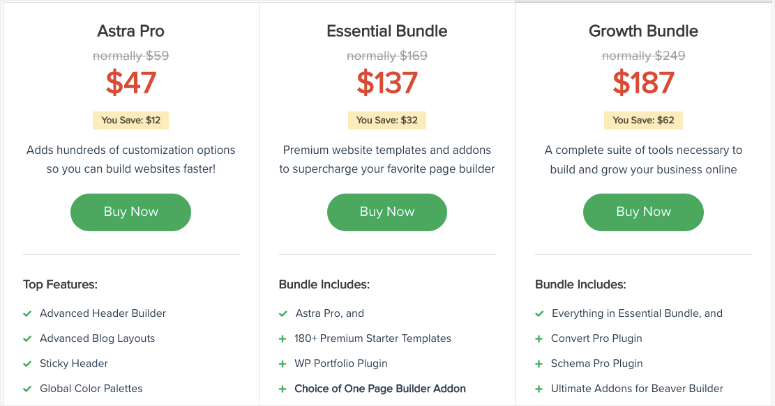 Let's first discuss the pricing and benefits of the annual plans:
Astra Free: The free theme is available on the WordPress.org repository and it'll always be free to use on unlimited websites.
Astra Pro: The pro plan is the basic or starter plan. It costs $47 per year and comes with an advanced header builder, footer builder, WooCommerce controls, premium customer support, and more.
Essential Bundle: It's a bundle plan and costs $137 per year. This plan gives you access to 180+ premium starter templates, choice of a page builder addon (Ultimate Addons for Elementor or Ultimate Addons for Beaver Builder), WP Portfolio plugin, and priority product updates.
Growth Bundle: This is the top-tier plan. It costs $187 per year and includes several premium plugins, access to all page builders addons, access to upcoming Astra plugins, and unlimited website usage.
The one-time payment doesn't change any features. You'll have unlimited access to the theme forever with the latest updates, premium customer support, and access to upcoming paid starter templates.
You can use Astra on your website, clients' websites, and anywhere. However, the one-time fee doesn't allow you to distribute or sell the Astra theme.
OceanWP Pricing Plans
OceanWP comes with four plans. Like Astra, you can choose to pay annually or pay a one-time fee to get lifetime access to the theme.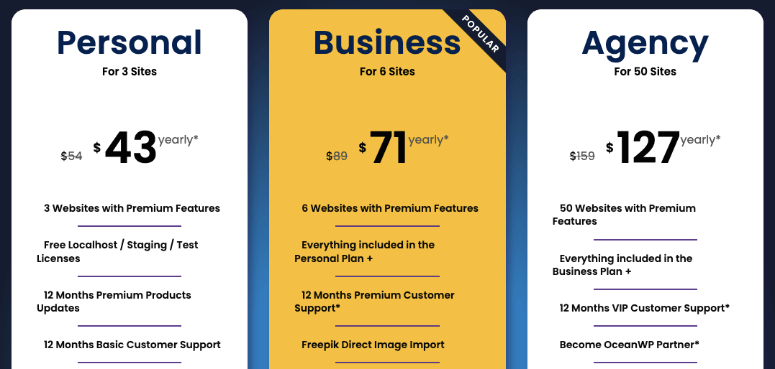 OceanWP Free: The free theme is available on the WordPress.org repository. It comes with free extensions and 15 free demo sites for personal blogs, beginners, and startups.
Personal: The Personal license gives you access to use the OceanWP theme on up to 3 websites. It costs $43 per year which is discounted price and you'll need to pay the full amount ($54 per year) on renewal.
Business: This plan is built for small businesses and lets you install the theme on up to 6 websites. It costs $71 per year and the renewal cost will be $109 per year. You get one year of support and theme updates with the Business plan.
Agency: The Agency plan is the top-tier plan. It costs $127 per year and you'll need to pay $179 per year from the next year. Theme features and options are the same as other plans, but this plan allows you to use the theme on up to 60 websites.
There are one-time payment plans that come with premium customer support and theme updates for a lifetime.
Pricing Plans: Winner
If we compare the annual/lifetime pricing plans of the two most popular WordPress themes, you'll see that OceanWP is slightly cheaper than the Astra theme. However, the starter plans of OceanWP become expensive at the time of renewal.
Astra allows you to use the theme on unlimited websites from the basic plan. But OceanWP has limited access to each plan, and the maximum installation count will be 50 websites with their top-tier agency plan.
Astra also offers better features, access to premium plugins, and more design options with each plan. With unlimited website usage, you can use the Astra theme on as many websites as you want without worrying about searching for another theme.
If you're a big agency and using the OceanWP theme, you'll need to look for a new theme after 60 websites. This can add more cost to your theme budget as you'll be paying for more than one theme.
Therefore, we can say that Astra is a winner here!
Astra vs OceanWP: Conclusion – A Clean Winner
Astra and OceanWP are the top WordPress themes, without a doubt. They give each other solid competition in design, templates, features, addons, and pricing.
To determine a winner, let's do a quick recap for both themes:
Astra is a fast and lightweight WordPress theme with flexible options, easy setup, powerful design features, built-in header/footer builder, and premium integrations.
When it comes to pricing, Astra is on the expensive side. But if you look in the bigger picture, you get access to the theme to use on unlimited websites. The pricing also includes access to paid WordPress plugins, making it affordable.
Astra Highlights
90+ free templates
150+ paid starter sites
Free starter templates plugin (300+ templates)
LifterLMS, LearnDash integration
WooCommerce support
Astra offers 24/7 customer support by email. You also get tons of in-depth video tutorials, blogs, and expert guidance to start with your website.
Now OceanWP is a fantastic WordPress theme with free and paid extensions, beautiful demo sites, and a website template collection. It provides multi-channel support, including a knowledge base, support articles, instant search, and more.
OceanWP Highlights
17 free templates
210+ paid demo sites
7 free extensions
13 paid extensions
WooCommerce integration
If you look into the pricing, OceanWP plans are cheaper than the Astra theme. However, the biggest downside of the OceanWP pricing is that it costs more on yearly renewals. Also, they offer limited usage, which means you can't use the theme on more than 60 websites even with their top-tier plan costing $179 per year ($107 first time).
After a thorough comparison and detailed analysis, we can say that OceanWP is an excellent theme for small websites with a low budget. However, if you're looking for a perfect, highly customizable, and super flexible WordPress theme, then Astra is a clear winner!
That's all we got for you. We hope this Astra vs OceanWP comparison gives you a clear picture of the two popular WordPress themes.
Moving ahead, we also recommend that you check out these guides:
You can use these tutorials and plugins to set up and customize your website, grow traffic, and boost revenue!