Wellness Pro is a beautiful WordPress theme by StudioPress that is best suited for health and wellness niche websites. Niche based themes like Wellness Pro are catered to a specific niche so you can quickly start blogging without hassle. Read our Wellness Pro review here to figure out if it is the best theme for your needs.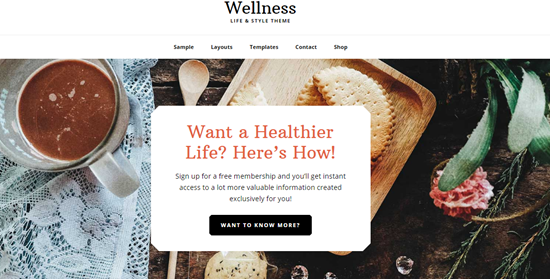 About Wellness Pro
While StudioPress emphasizes Wellness Pro as a theme for health and wellness niche, it can be used for any niche website.
Wellness Pro is a child theme of the Genesis Framework. Prior to installing Wellness Pro, you'll need to install the Genesis framework on your site.
The child theme inherits the features of its parent theme, and it also allows you to customize the parent theme to any extent without worrying about losing the customization when updating the parent theme. You can learn more about using child themes here.
Genesis is a solidly coded lightweight framework that comes with lots of SEO settings features out of the box.
Wellness Pro is simple, easy to use WordPress theme that is pre-styled for WooCommerce, so you can easily integrate a storefront with it if you need.
Beautiful Homepage with Parallax Effect
The Wellness Pro theme lets you create a homepage that is well suited for your health and wellness niche site. In your homepage, you can use three different background images with parallax scrolling effect.
That means when you scroll down the page, only the foreground content moves and the background image remains at the same place.
You can add your custom homepage background images by navigating to Appearance » Customize » Front Page Background Images. The size of your background image must be 1800 pixels wide and 1000 pixels tall.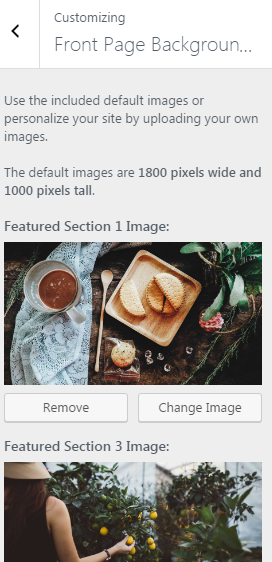 Wellness Pro allows you to add 6 content areas to your homepage using 6 front-page widgetized content areas.
To customize the homepage just like the demo site, you'll need to use the Featured Posts and Featured Pages widgets.
Supports 2 Navigation Menus
Wellness Pro theme supports 2 navigation menus, After Header Menu and Footer Menu.
If you need, you can place your menus in widgetized areas by using the Custom Menu widget.
Extensive Widgetized Areas
The theme supports 5 more widgetized areas, apart from 6 front page widgets. They are
Primary sidebar: The theme supports only one sidebar, either right or left.
Sticky message: It sticks at the top of your homepage screen when you scroll down the page. It's a non-intrusive way to promote your most important content. This can be used to promote your landing page or add an email newsletter optin to grow your list.
Before footer: This is a full-width area where you can add any custom widget. In the demo site, this section is used to feature their Instagram photos.
Footer: The theme supports 2 columns footer.
After entry: Add any widget to this section and it will appear just below the content area of your single post.
Layouts and Templates

Wellness Pro comes with three layouts and three built-in templates. You can choose from the following layouts: left sidebar, right sidebar and full-width layout with no sidebar.
Wellness Pro's built-in templates are listed below.
Archive page
Blog page: The page that shows your recent posts
Landing page: A full-width layout page without navigation or footer
This theme supports category description that shows at the top of your category archives.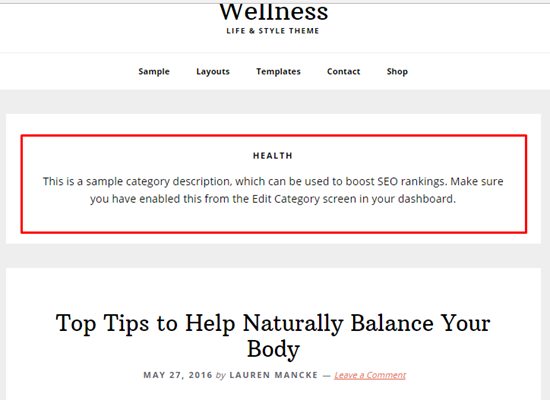 The theme allows you to customize this section by providing a visual editor. You can also add custom SEO elements like meta title and description to help your website rank higher in search engines. Also checkout these SEO tools to help you with the website SEO.
In the post and page editor, you can see options to configure SEO settings like meta title, description and keywords. You can also choose the layout settings for individual posts and pages and a field for adding page-specific scripts.
Documentation and Support
The Wellness Pro theme is well-documented so whenever you get stuck you can easily find a solution from their tutorials. Aside from that, you can access the complete list of code snippets to use in the Genesis child theme that helps you to extend the functionality of your site.
With StudioPress Wellness Pro, you get everything unlimited. That means you'll get unlimited updates, support, and can be used on unlimited sites.
One-time purchase fee for WellnessPro with the Genesis framework is $99.95.
Support to users is offered through emails. StudioPress is known for the quality and speed of their user support.
Save Money on Themes With StudioPress Pro Plus
If you'd like to test the entire theme collection of StudioPress, you can get the Pro Plus membership. The membership gives you access to all existing themes and future themes. With the Pro Plus membership, you can save over $1200.
Our Score
Wellness Pro is a WordPress theme that is best suited for any niche website especially health and wellness and restaurants. But it can work for any site that requires beautiful background images on your homepage with parallax scrolling support.
Wellness Pro is built to be lightweight and easy to use. It doesn't come with lots of features and options. However, if you're looking for a simple, developer-friendly theme, Wellness Pro might be a great fit for your needs.
We give Wellness Pro 4.4 out of 5 stars. Here is the breakdown of our review scores:
Get Wellness Pro Now »