iPage is one of the most popular go to places for personal and small business web hosting. In this iPage hosting review, we will checkout their hosting plans and features and see how they stack up.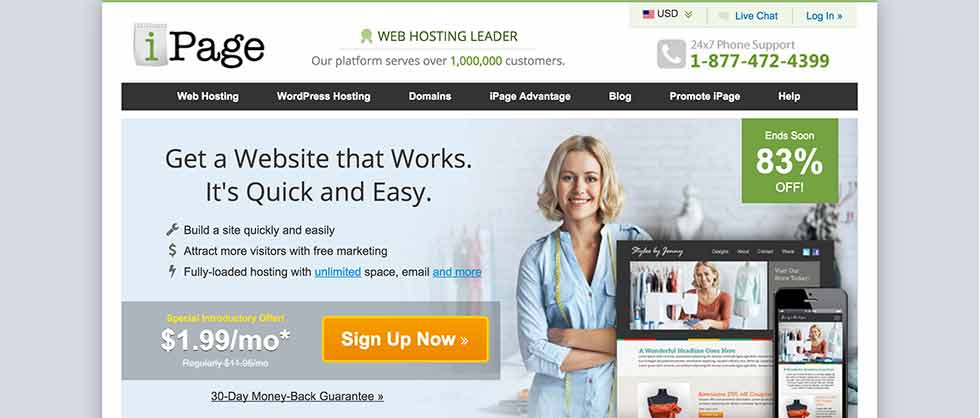 About iPage
iPage was founded in 1998 by Tomas Gorny as a web services company. The company rebranded and focused on web hosting business in 2008. Tomas also founded iPower and served as its CEO for 7 years growing the company into second largest hosting service provider in the United States.
In 2007 iPower merged into Endurance International Group. iPage is currently run by Endurance International Group which also owns several other hosting companies like BlueHost and HostGator.
iPage focused on providing a secure platform for users looking for affordable hosting solutions. The company also claims to be running on 100% green energy powered by wind. Since it caters to a large customer base of small businesses and personal users, iPage operates in a highly competitive industry. Pricing alone cannot be a good enough factor to maintain large customer base.
Let's take a look at the hosting plans offered by iPage.
Hosting Plans
iPage offers affordable hosting plans for starter websites and small businesses. The company's main focus is to curtail the needs of users looking for an affordable way to start their websites with flexibility to grow. Their hosting plans reflect this focus clearly.
Currently the company offers a starter shared hosting plan with an 80% discount offer for the first duration. There are no levels in their shared hosting plan. It is an all inclusive shared hosting solution for small businesses and startup websites.
The company also offers a specialized WordPress hosting plan. This plan is optimized for WordPress users and comes with two levels. The plan is basically an optimized version of their shared hosting designed specifically for WordPress users.
Apart from their shared hosting plans, iPage also offers domain name registration, virtual private servers, and dedicated hosting plans for high traffic websites.
Pricing
Shared hosting industry is highly competitive which directly benefits the users. The fierce competition between hosting service providers keeps the prices low. iPage offers shared hosting plans at an incredibly low prices. They have special upto 80% discounts on the first duration of your hosting contract.
Shared Hosting – Starting from $1.99/month (Special offer)
WordPress Hosting – Starting from $3.75/month (Special offer)
Virtual Private Server – Starting from $19.99/month
Dedicated Servers – Starting from $119.99/month
The special discount prices are incredibly low for the first term of your hosting contract with iPage. Prices are still comparatively low after the first term of contract.
Features
Low prices are not enough to compete in the shared hosting business. Customers need lots of features to run their websites using modern web apps. iPage offers a comprehensive set of features capable of running most open source sitebuilders and CMS applications.
Here is a list of features offered with iPage's shared and WordPress hosting plans.
Unlimited disk space
Unlimited bandwidth
Free domain name registration
Free sitelock security
1-click installers
Unlimited email accounts
Daily site backup
POP3 / IMAP support
Customized cPanel dashboard
$100 Google Adwords credit
Ease of Use
When users signup for a hosting account, they usually need a little help figuring out where things are and how they can use all the features offered by their hosting provider. Sometimes this can be difficult and creates bad experience for the user. We decided to check out how easy it is to quickly setup a new website on iPage.
iPage comes with a customized version of cPanel dashboard integrated with your hosting account. The cPanel is an extremely popular control panel that allows users to manage their web hosting account using a web based interface.
There are 1-click installers for users who quickly want to setup a blog or WordPress website. Users can also manage their email accounts using the web based control panel.
Customer Service
Great customer service is extremely important for any kind of business to succeed. Folks at iPage understand that and offer excellent customer support services. Customers can reach a representative by using the live chat feature available 24/7. Users can also reach customer support using the 24/7 phone support.
Most issues can be resolved through the articles in the knowledge base. These articles provide detailed step by step instructions to use any feature on your web hosting account. Customers will also find helpful articles to resolve the most common issues.
Our Score
iPage offers a great set of features at an incredibly low cost for the first term of your hosting account. However, you will be paying more after the first term of your contract. This is pretty much the standard practise among the shared hosting service providers with very few exceptions. Overall we think that iPage is a good choice for any starter website and blogs.
Based on our assessment of features and pricing we would give iPage hosting 4/5 stars.