In our previous tutorials, we went over "manual" installations of WordPress themes and plugins, which involved downloading the plugin or theme files to your computer, and uploading it manually via an FTP client. Fortunately, there is an easier way with the OneClick Installer WordPress plugin. What this free WordPress plugin will do is take a remote download link to a WordPress theme or a WordPress plugin and automatically copy the files directly to your server. Alternatively, it can also install via a .zip file archive saved on your computer. After this you can activate the theme or plugin as usual. No more using FTP!
In this guide I'll go over the features of OneClick, and how to use it to install a free WordPress theme from Theme Lab without even breaking a sweat. Complete with screenshots so you can easily follow along. While using this plugin, you'll be able to install, update, and remove plugins and themes with ease.
For the rest of this tutorial, we'll assume you already know how to install a WordPress plugin first. This will be the last plugin you'll ever have to install manually again.
Step 1: Install OneClick Installer
Same process as before: download the .zip, extract the files, upload to the plugins directory, and activate.
In the Dashboard of your WordPress administration panel, you should see a new tab in a submenu named OneClick Install. It should look something like this: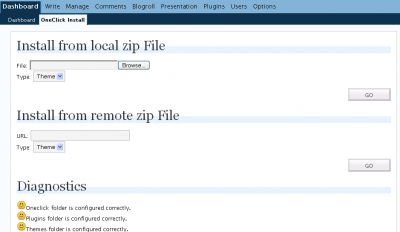 Step 2: Start installing themes and plugins
This page in your administration panel should be fairly straightforward. The first input box is for selecting a zip archive of a theme or plugin on your local machine. The input box below lets you input the direct URL to a remote zip file link. When installing a plugin, make sure the correct option is selected from the dropdown box, otherwise things could get messed up. If you make a mistake, you should be able to delete the directory you want in the are below: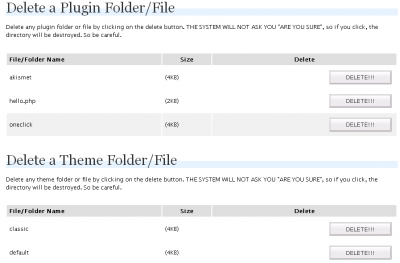 Please note that there is no confirmation. Once you click the DELETE!!! button, that directory is gone for good, so be very careful.
As an example, let's install a theme from our free wordpress themes page using the remote zip file transfer. We'll choose to work with our WP Stylish theme.
Note: You might notice there are different download links on the release post and the free WordPress themes page. Both of these links will work within OneClick installer.

Just copy and paste the URL into the box, click the GO button, and a few seconds later you'll have the theme installed, ready to be activated. You should get this message:

Now we'll go to the Presentation area, and activate the WP Stylish theme (or whichever theme you chose).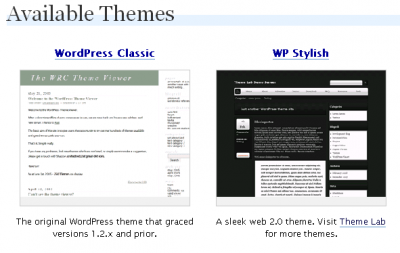 You probably know what's going to happen when you visit the site, but then I couldn't put my usual "Congratulations!" screenshot at the end.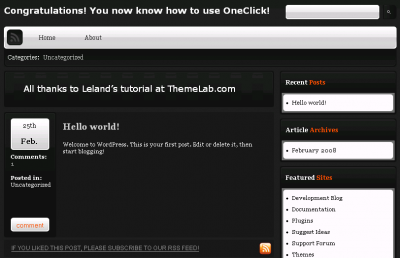 Additional notes:
There is a Firefox add-on you can use to install plugins and themes without even logging into WordPress, which you can get at the Mozilla.org add-on page.
There is a "purgatory" feature that will allow you to remove bad plugins that cause fatal errors rendering your blog inoperable. This operates outside of WordPress completely, so you can access it even when the rest of your site is broken. Hopefully you won't ever have to use this feature.
I'll be reviewing more great WordPress plugins in a similar format as this in the near future. That's about it. Feel free to comment and share if you liked this guide!