Disable admin bar
Disable the WordPress admin bar by putting this in functions.php.
Code Snippet:
<?php
/* Disable the Admin Bar */
show_admin_bar(false);
?>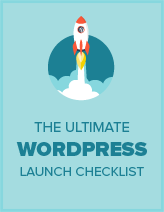 The Ultimate WordPress Launch Checklist
We've compiled all the essential checklist items for your next WordPress website launch into one handy ebook.
Yes, Send Me the Free eBook!