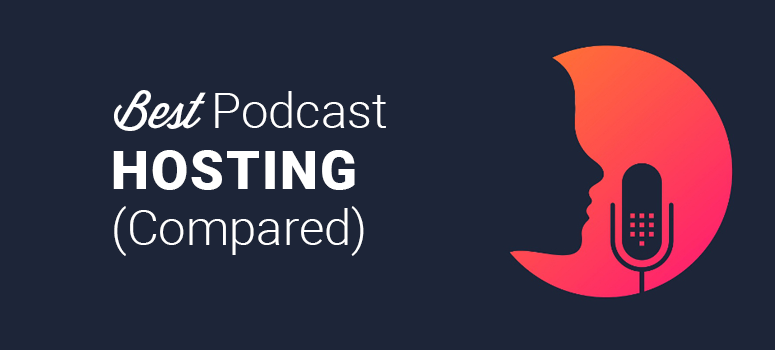 Are you planning to create your own podcast channel?
Starting a podcast can be a great way to reach out to thousands of people every day and share your audio content with them. But the problem is that although podcasting sounds as simple as just recording your files and broadcasting them, it's actually a little more than that.
From selecting a robust podcast hosting to selecting the best pieces of equipment and then recording your files, the process can be intimidating if you're a beginner. You might also want to consider our article on how to start a podcast.
In today's article, we'll explain how to choose the best podcast hosting.
So let's get started.
How to Select a Good Podcast Hosting for Your Channel
If you're a beginner, it might be a little daunting to decide which hosting channel to opt for. There are a few factors you'll need to consider while choosing one.
Good uptime and bandwidth options.
offers FTP uploads
allows ID3 tagging so you can add your podcast information such as artist name, genre, track number etc.
offers unlimited upload time
The last point, however, may vary depending on how many recordings you're planning to upload in a month. If you want just one or two short recordings, you don't really need unlimited upload hours.
Having said that, let's check out the best podcast hosting services that are not just reliable but super powerful too.
1. PodBean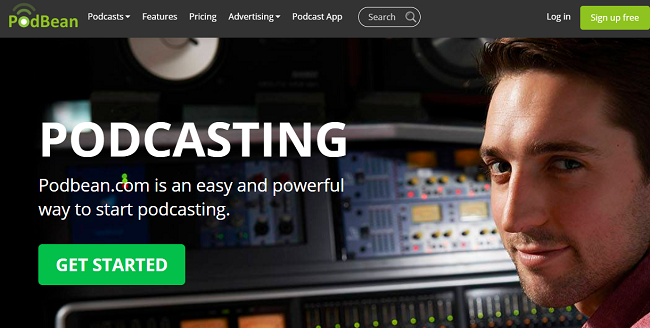 PodBean is one of the most recommended and powerful podcast hosting service providers that can be a great option for you. It's a complete solution for creating, managing and promoting your podcasts without any hassle.
With PodBean, you can create unlimited podcasts with unlimited storage and bandwidth. Its media hosting service offers a smooth platform for your audios and videos. You can also use its app to connect with your followers, get feedback and do a lot more. The social sharing tool of PodBean makes it easy for you to share your podcasts with the world right after you publish it.
It also lets you customize your channel by uploading your own logo, changing your layout, and even use your own domain name if you already have one. To know how your podcast is performing, you can easily check out the stats and find out if people like what you're publishing.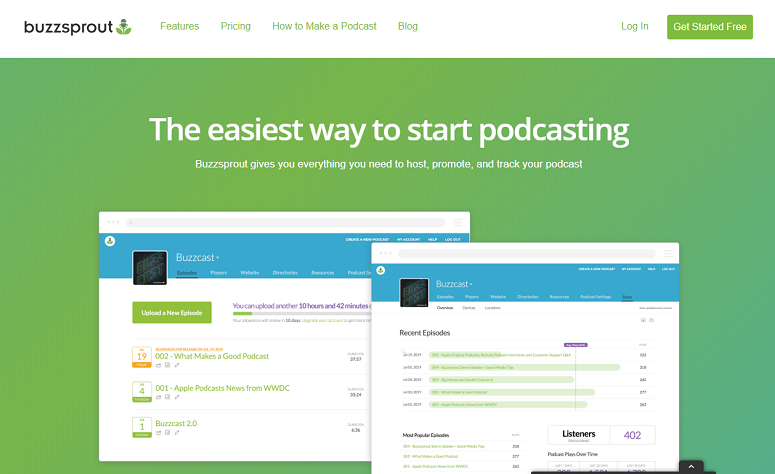 BuzzSprout is a brilliant podcast hosting service that lets you host, promote and track your podcast with ease. Just upload your podcast and leave the rest to BuzzSprout. It will automatically optimize your episodes by adding your ID3 tags, file types, etc. You can then publish them right away or schedule it whenever you want.
To get more exposure, make your work easily discoverable by transcribing your episodes within BuzzSprout. You can also effectively utilize chapter markers, which makes it easy for your users to browse through your podcasts. so that users can navigate to their favorite segments, see what's coming up, or skip spoilers they don't want to hear. It has a free plan for the first 90 days.

Blubrry is another popular and highly recommended podcast hosting service that comes with amazing features. If you have already hosted your podcast in another hosting service, you can effortlessly migrate your channel to Blubrry without paying a single extra penny. It's world-class CDN has its data centers across 35 different countries around the world.
And not just this, with Blubrry, you can also have great options for SEO, MP3 tagging, FTP and web uploads amongst tons of other features. And if you want to publish your podcast via WordPress, you can use the PowerPress plugin.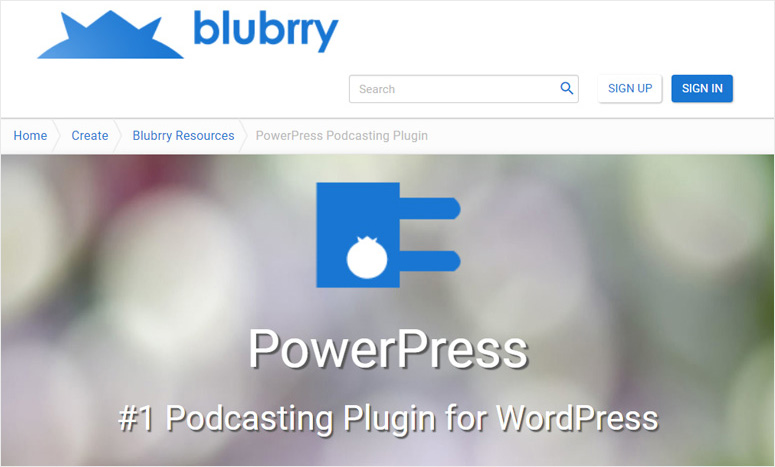 This plugin supports both Apple and Google podcasts and features an integrated HTML5 media player with embed support from sites such as YouTube.
You might also want to check out WordPress Podcast plugins.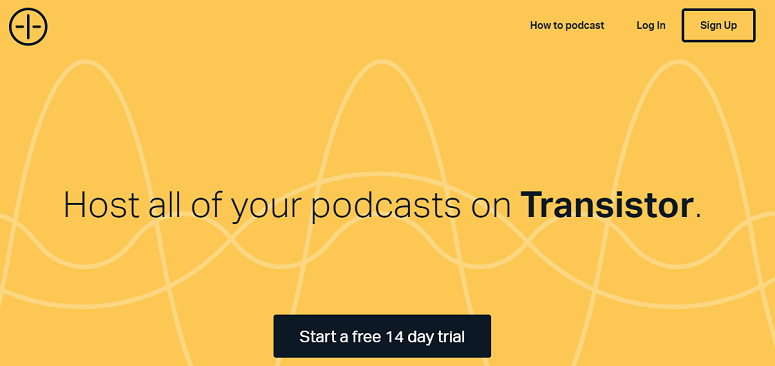 Transistor is yet another fantastic podcasting hosting for all podcasters. With Transistor, you can have almost everything you need for your podcast channel under one roof. It lets you create as many shows as you want. You don't have to pay anything extra for that.
You can also allow your team members to edit your episodes and promote it as well. To reach out to more audience, you can use its social share feature and share your episode across different social platforms. You can also import your shows quickly and easily. Just enter your current RSS feed and Transistor will take it from there.
5. Libsyn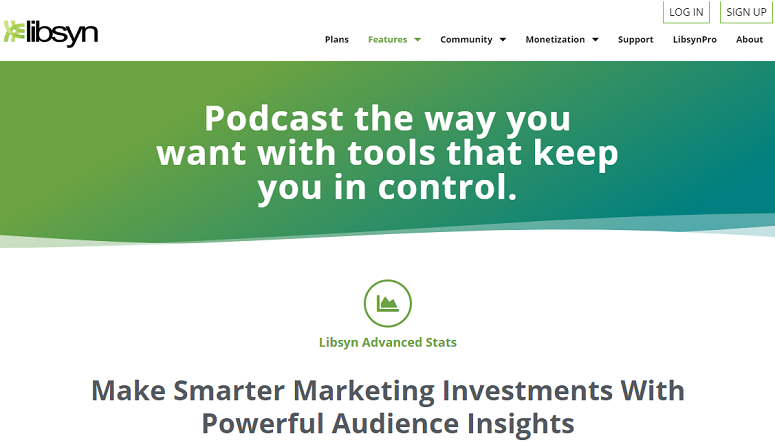 Libsyn is a great solution for all podcasters like you. It lets you control everything related to your podcasts like hosting, promotion and monetization as well. It also lets you check your statistics so you know how your podcast is doing.
With its custom mobile apps, you can easily customize your shows too. With Libsyn, you can have great uptime and you reach out to several experienced podcasters if you ever face a problem.
6. SoundCloud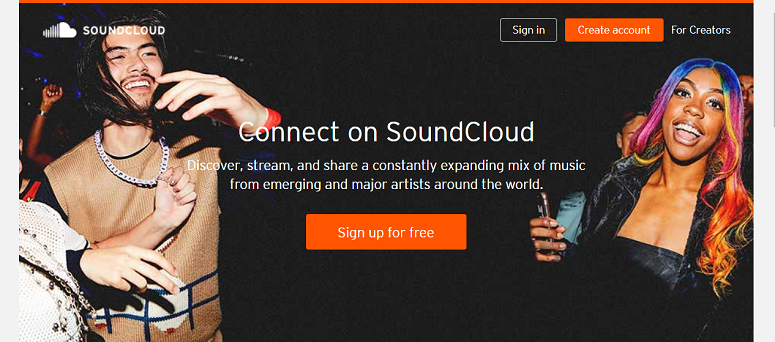 SoundCloud is one of the leading and extremely popular podcast hosting platforms. With SoundCloud, you can easily upload your episodes, connect with podcasters like you. You can also embed players, Twitter cards, and timed comments.
SoundCloud is available on Web, iOS, Android, Sonos, Chromecast, and Xbox One. It comes with a free plan which lets you upload episodes that are up to 3 hours long. You can also check out your stats and get the basic reporting with this plan. If you want more features, you can easily upgrade your plan.
These are some of the podcast hosting options that you can check out. We hope that you find this article helpful. If you've already decided which one to go for, you might also want to check out our article on Best WordPress Themes for Podcasting.
If you want to promote your podcast better, you can check out our guide on How to Build A Podcast Landing Page to Boost Subscribers.