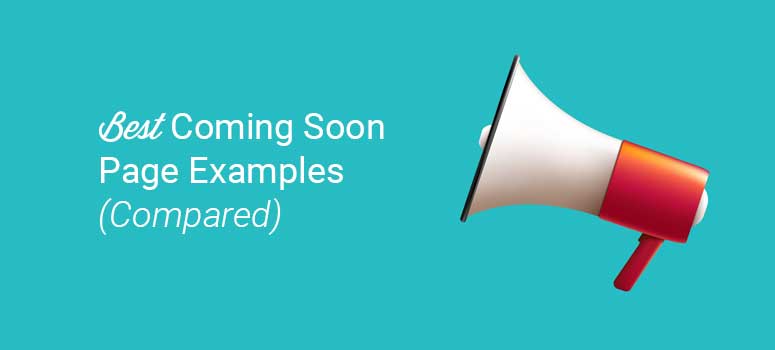 Do you want to create a coming soon page for your website?
Coming soon pages are great if you want to give your website launch a quick boost. With a strong coming soon page, you can create a sense of excitement about your business even before you officially launch it.
Plus, coming soon pages can be a powerful way of increasing your followers on social media and building a targeted email list of people who are already interested in your product or services.
In this article, we've put together some of the best coming soon page examples from around the web. These examples can inspire you to create a coming soon page for your website that can help you grow your business.
But before that, let's have a quick look at why you need a coming soon page for your website.
Why You Need a Coming Soon Page for Your Website
A coming soon page can have several benefits for your business. If you know how to design this page properly, you can use it to create a sense of excitement and anticipation among your audience while you're still working on your website.
By doing that, you can compel visitors to come back to your website as soon as you launch it. This means that you can use your coming soon page to:
Another benefit of a coming soon page is that it will also help with your SEO efforts. It takes time for any new website to rank on the first page of Google. But a coming soon page lets Google start indexing your website for SEO even without any content at all.
By putting up a coming soon page with proper keywords and images of your business, you can start your SEO game even before the launch.
There are a number of good coming soon page plugins that can help you create a beautiful page that converts. But we recommend you to use SeedProd, the best drag & drop landing page builder for WordPress that comes with easy coming soon page and maintenance mode functionality.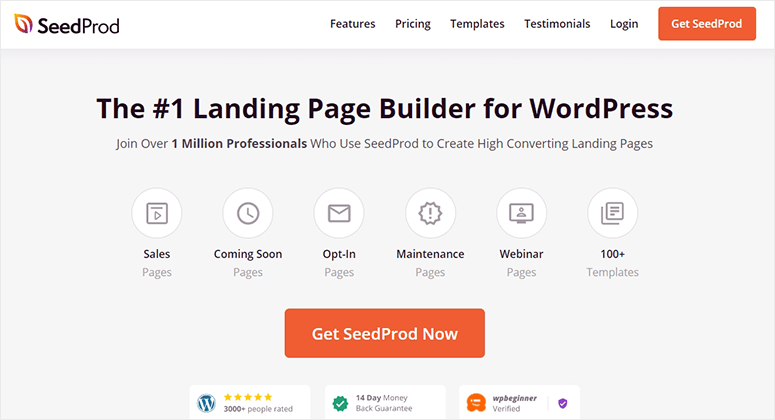 SeedProd makes it easy to create stunning coming soon pages for your website in minutes. Plus there's zero coding required. It offers various pre-built templates that can be imported with a single click. You can use the SeedProd drag and drop builder to add different elements to your coming soon page like social links, countdown timer, and more.
Now, let's check out some of the best coming soon page examples that you can start using today.
1. Fixers Coming Soon Page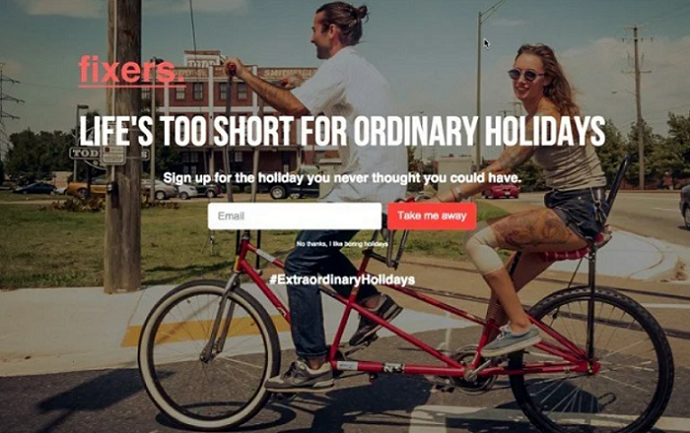 Fixers' coming soon page is a great example to kick things off with. It has all the crucial information concerning its business: the name of the company, the tagline that tells a story, and a picture that resonates with the business idea.
The page also gently asks visitors for their email address and adds a CTA with the words 'take me away' on it. The hashtag at the bottom of the page is a great way to expand its reach, which can help increase conversion rates.
2. Teek Tak Coming soon Page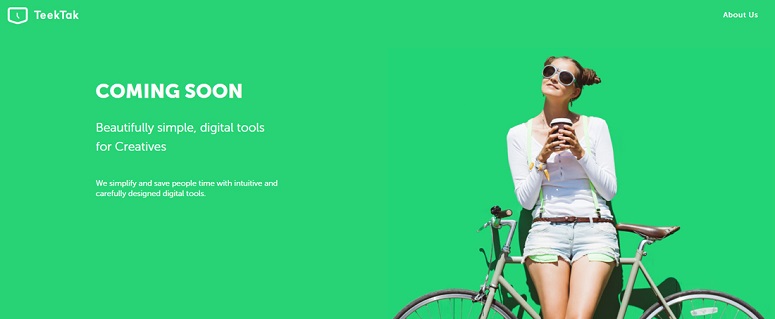 Teek Tak's coming soon page is simple yet effective in letting people know what their business is about. It added the business description so that people know what's coming. If someone wants to know more about the business, they can use the About Us page to find out.
3. CleverDever Wherever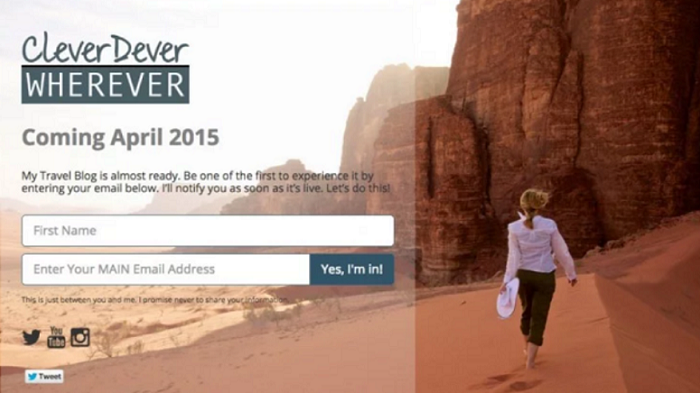 CleverDever Wherever's coming soon page is very impactful. It tells its visitors when to expect the blog and what it's all about. It also tells visitors that they will be notified via email as soon as the site goes live (if they submit their email address, of course).
It also assures visitors that their email address is safe, and their private information won't be shared. The image helps a great deal in justifying the business idea.
4. UP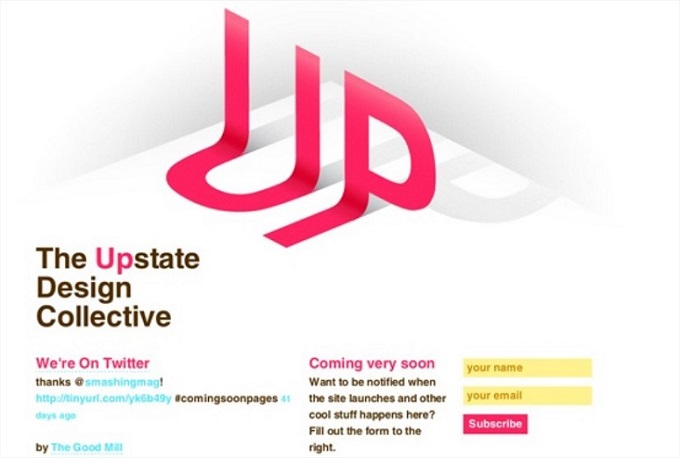 UP's coming soon page is simple yet effective. We especially like its catchy 3D effect design. Being a designing company, they put some effort into showing off their skills with their beautiful logo.
It also lets visitors know about its presence on Twitter and gives due credit to those who have helped them in designing the page. The CTA button helps them collect the email addresses, too.
5. WiseJack Cooking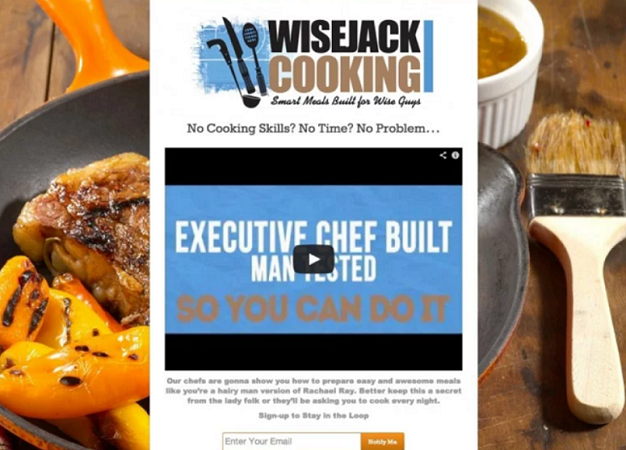 Wise Jack's coming soon page is the perfect example of what your coming soon page should be like. It tells the audience what the business does and how it can be helpful for you.
To make it more convincing and engaging for its audience, WiseJack Cooking added a video, too. The video has a share option so users can easily share it with their friends and followers. This is a great idea to reach more people who might be interested in your business. Towards the end, it asks visitors to submit their email addresses so they can stay in the loop.
6. Taptser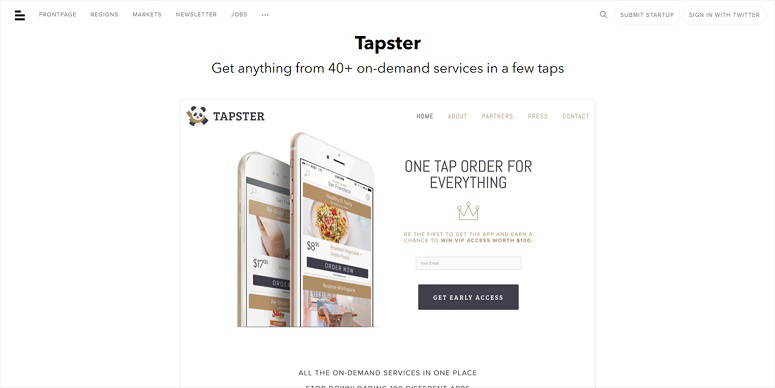 Taptser's coming soon page is slightly different. Instead of directly asking for an email address, it offers a small bonus to its early birds. This is a good way of attracting more visitors to become subscribers of your site.
Apart from that, it also adds links to different pages on the site, so that people stay on the site for longer. Taptser is cleverly using the site to market their service even before its launch.
7. Revista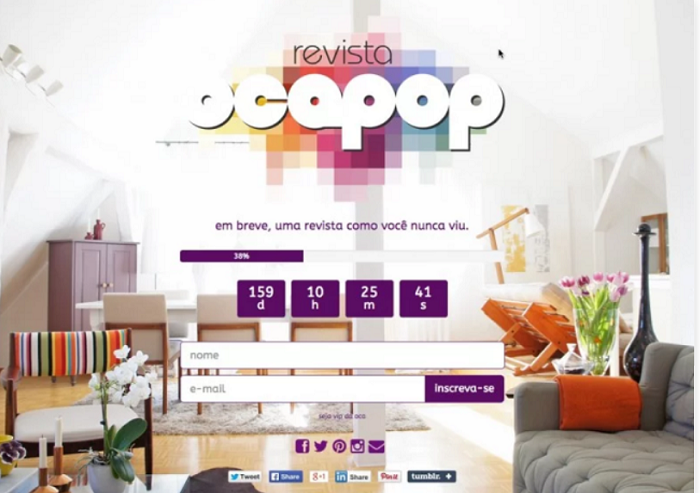 Revista has a beautiful and vibrant coming soon page that invites people to submit their email address. It has also added different social icons so people can quickly and easily access Revista's social platforms.
8. Accentuate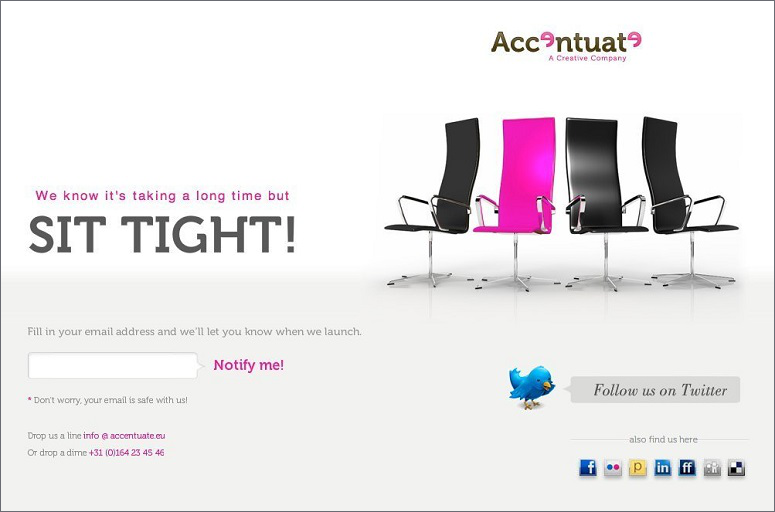 Accentuate's coming soon page is a good one for letting its visitors know that it's under construction. Meanwhile, visitors can drop their email addresses to get notified about future events.
It has also added links to its social profile so that users can easily find and follow them. Visitors can send them an email or call using the details found on the coming soon page.
9. Landapart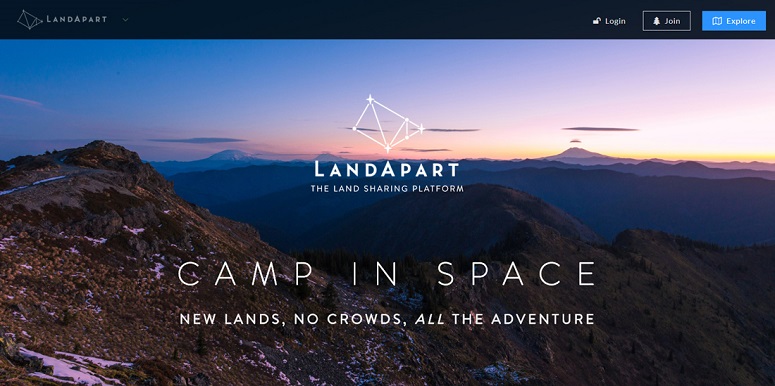 Landapart's coming soon page is another striking example that can inspire you. It doesn't directly ask visitors to submit their email address. Instead, they use a smart option that says Join. When someone clicks on it, they'll be asked to submit their email address so that they can be notified about the latest news.
10. Indus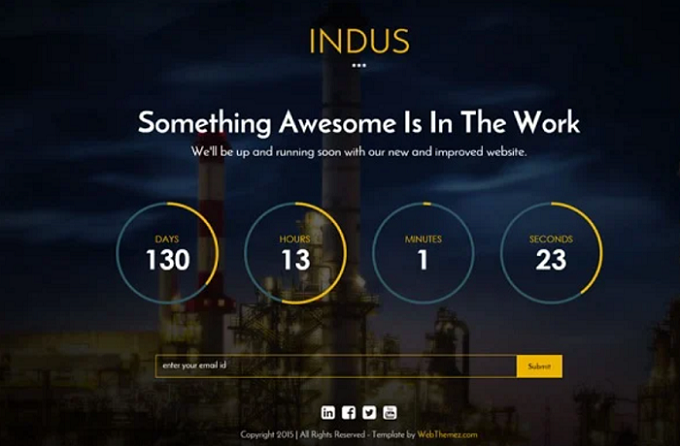 This coming soon page is slightly different from the others. Unlike any of the above examples, Indus adds a count down timer to the page. This will let people know how many days are left for the website to go live. Until then people can submit their email addresses and keep themself updated about any new events that take place. They can also like and follow the social page if they want.
11. Artmill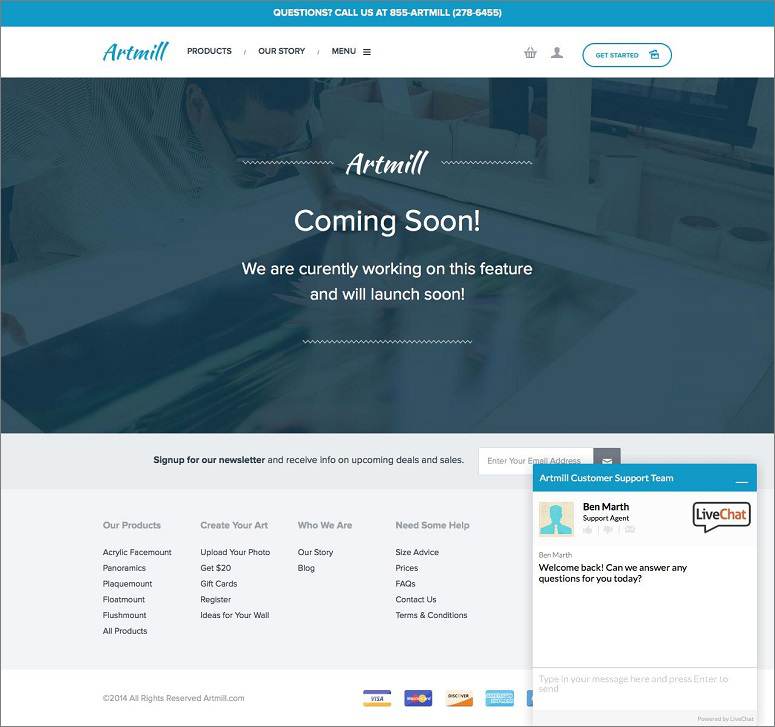 Artmill has a very informative coming soon page. Apart from saying that they are working on that particular page, it also has links to different sections that are already live. Visitors can navigate to these parts to learn more about the business. It also has their contact number and a chatbot to answer any questions that visitors may come up with.
12. Viewple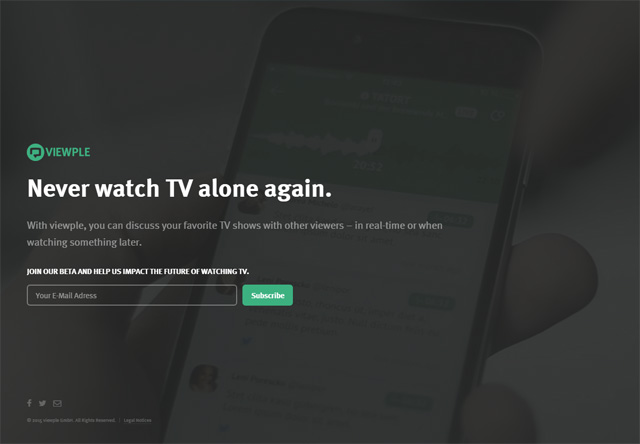 This is yet another comprehensive page that offers a good understanding of the business. Not only can you subscribe to their newsletter by submitting your email address, but you can also follow their social pages with a single click.
13. Phloem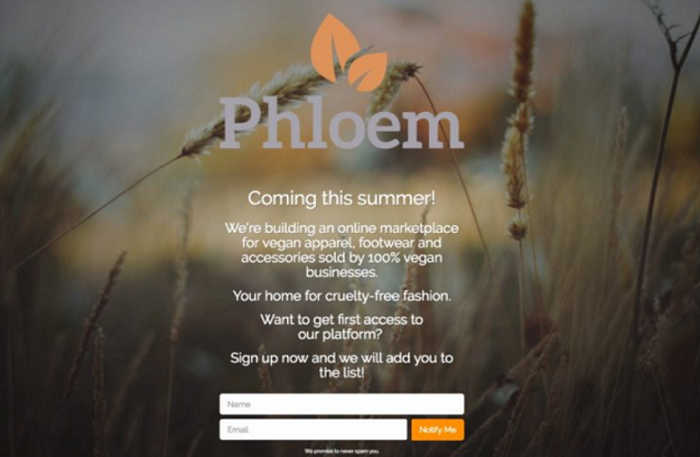 Phloem's simple coming soon page offers a quick overview of what the business is about. Anyone visiting this page for the first time will know what to expect from Phloem. They can also sign up for early access to the platform by submitting their email address.
14. Pitchplace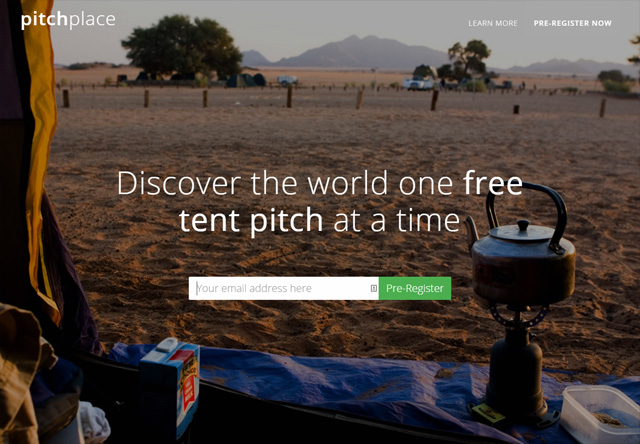 Pitchplace clearly knows how to give its business a boost even before the launch. It very cleverly uses the CTA button with the words Pre-register to attract more visitors to signup.
15. Onbok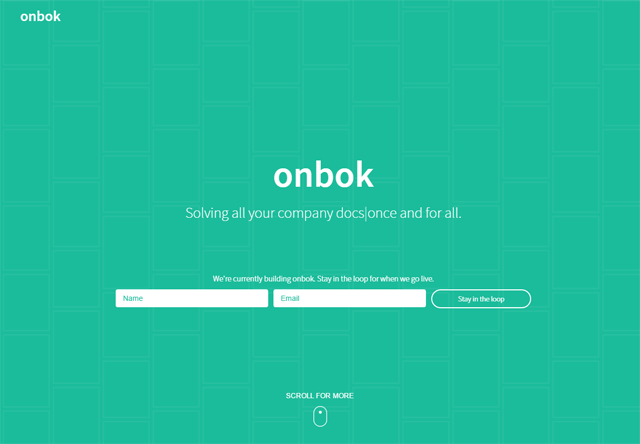 Onbok's coming soon page is a simple and minimalist one. It uses just a single sentence to describe how the company can help its customers and adds a CTA to encourage visitors to signup. It doesn't add a lot of other information to the page which is a good thing because it's less distracting for the visitors.
16. Center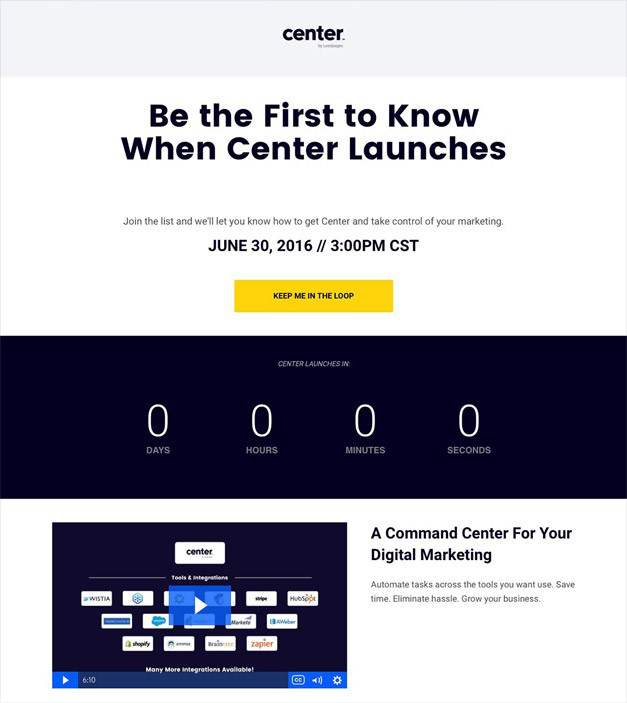 Center's coming soon page has a few unique aspects to it. First, there's a countdown timer to build a sense of urgency around their site's launch. And, second, it adds a descriptive video to tell people more about its business. This is a great way of engaging visitors on the site for longer.
17. LAB Petite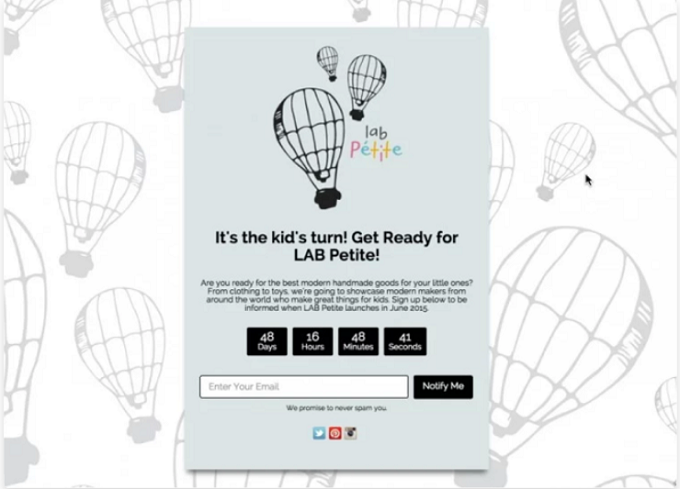 LAB Petite uses a very smart way of designing its coming soon page. In the background, it has a number of hot air balloons in the form of a faded grey pattern. Against that, it has its main window where everything has better visibility. This draws the visitor's attention right where it wants to. The faded background covers the bigger frame making the design look unique and different.
18. Mind Journal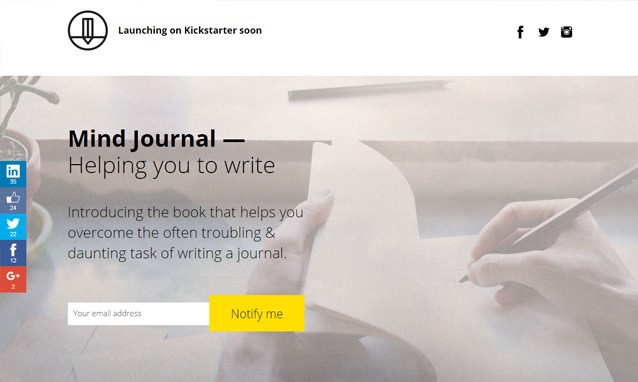 Mind Journal's coming soon page is another great example that can inspire you. It tells people how the company's services can help. Visitors can also use its social icon buttons to check out their social pages. Plus, it displays the social share count to encourage people to join in.
19. Maria Mentiras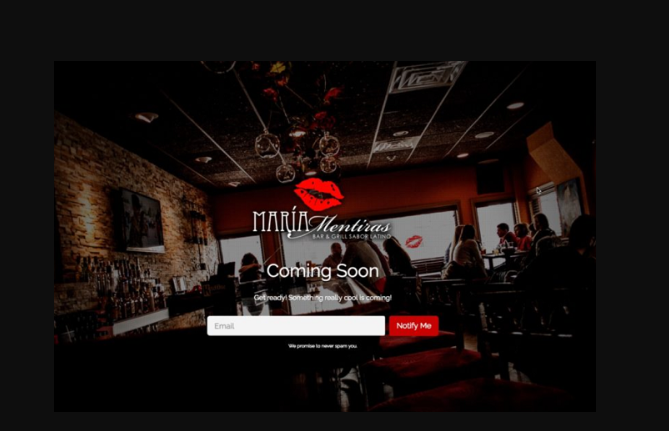 Maria Mentiras page beautifully reflects what the business is about. The vibrant red color of the CTA button complements the logo beautifully. This simple coming soon page is a good reminder that sometimes less is more.
20. BirdBox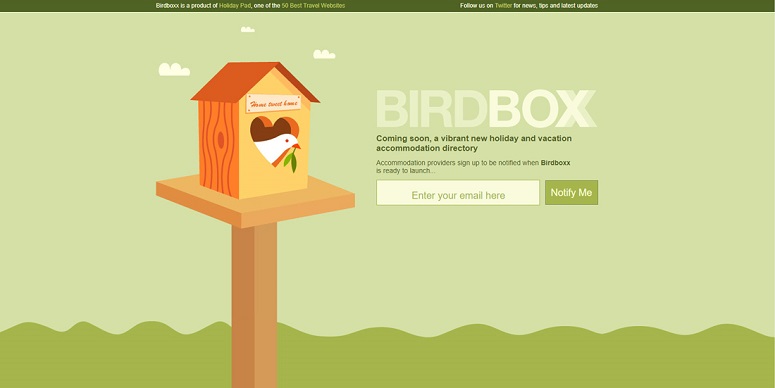 BirdBox is another example that you can check out. It adds a birdbox graphic to its coming soon page and adds a green color in the background.
The animated birdbox on the page resembles the product that's going to be listed in the directory. Plus, the CTA looks great in a slightly darker shade against the lighter green in the background.
21. ChkchkBoom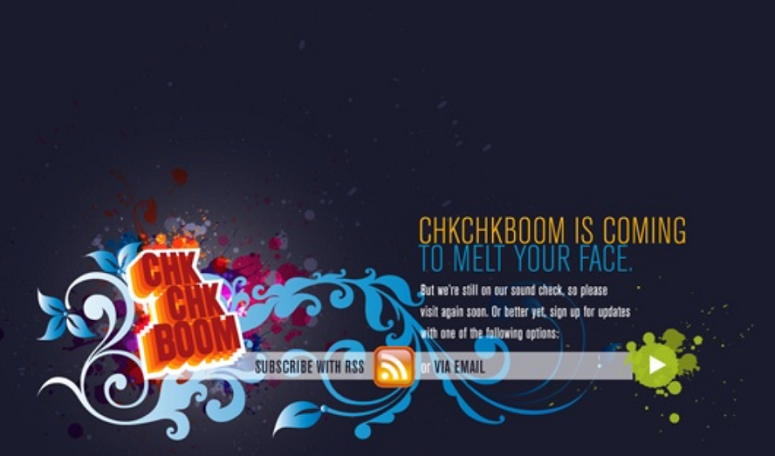 ChkchkBoom is relies heavily on their clever writing. They have a bold headline stating that they're going to "melt your face." This coming soon page is daring, colorful, and great at grabbing its visitors' attention.
22. Self Made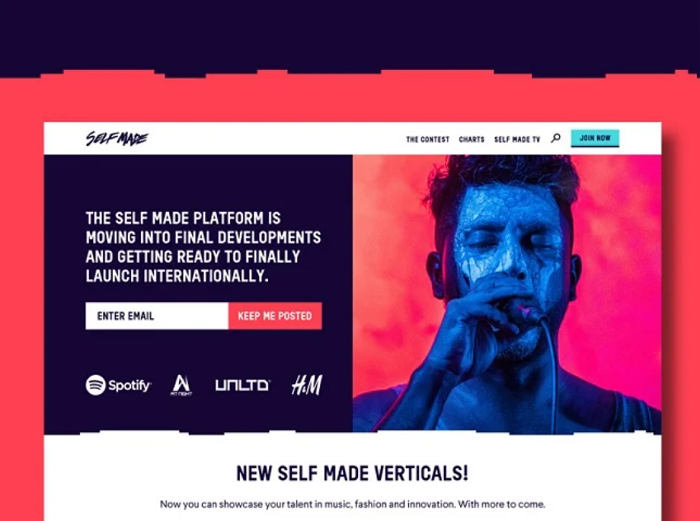 You'll definitely love how striking and vibrant Self Made's coming soon page is. The colors in the background are an excellent complement to the CTA. To make certain parts of the page "pop," they added a small window in black. This makes it easy for users to read the content which has been added in white.
23. Turbo Store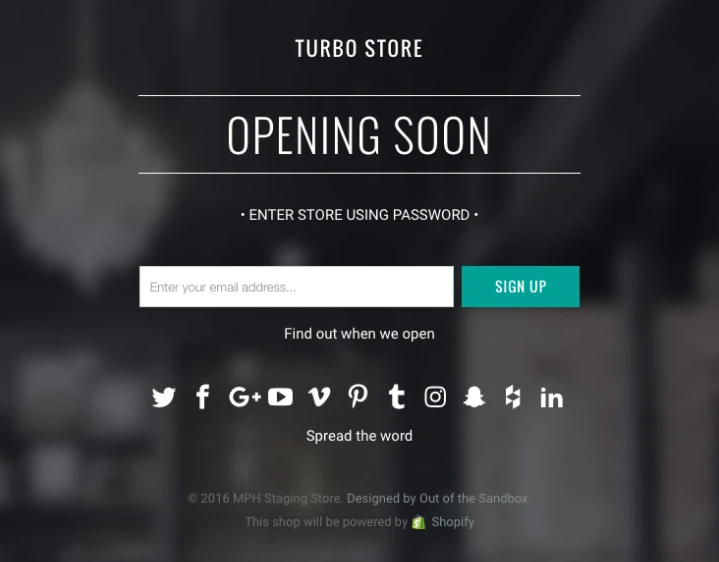 Turbo Store's coming soon page is a brilliant example that can inspire you for your upcoming design. It shows the name of the store and tells visitors that it's opening soon. To help people spread the word, it adds several social media icons on the screen. People can simply click on it and share the page with their friends. The CTA button in green looks beautiful against the dark background.
24. PandaDoc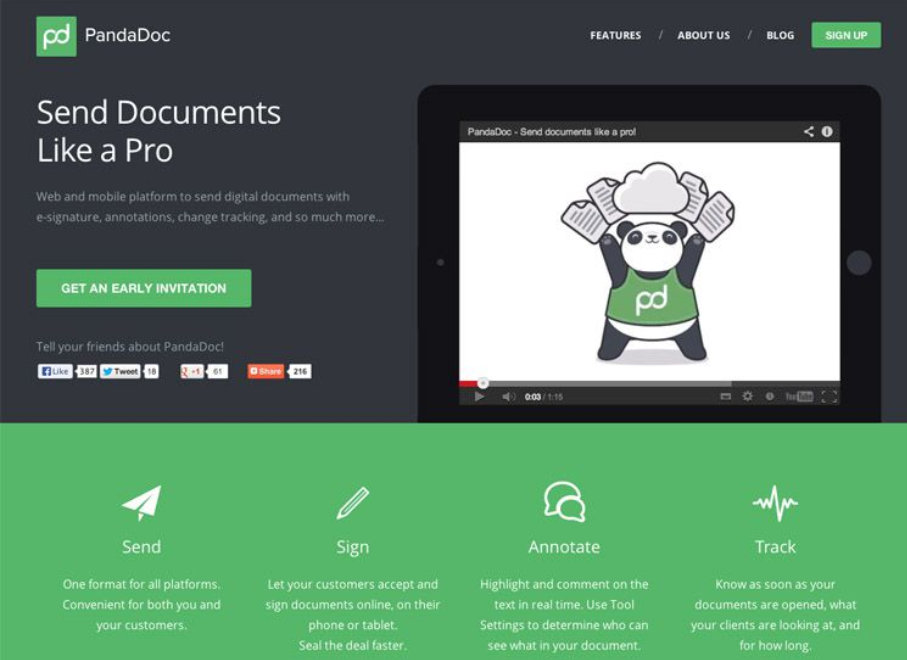 The coming soon page of PandaDoc looks elegant and professional as it uses green and dark grey to contrast on the page. The text in the CTA is interesting and engaging. The page also displays the social share counts and explains how the business works in the green section below the main area. Finally, visitors have the option to navigate to other parts of the website by using the links added to the page.
So these are some of the best examples that can help you figure out how to design a coming soon page for your website. We hope you find this article helpful. If you did, you might also want to learn how to design a coming soon page in WordPress so that you can give your website launch a serious boost.