Shortcodes Ultimate is one of the most popular and highly rated free plugins in the WordPress.org directory. It adds dozens of shortcodes to your WordPress site, making it quick and easy to add all kinds of content and styling to your posts and pages. Find out all the details in our Shortcodes Ultimate review.

Why Use Shortcodes Ultimate?
Blogging is a visual medium, so your words aren't the only thing that matters. Style, formatting, typography, and multimedia are all important for grabbing and holding onto your readers' attention.
But implementing these things into your blog can be tricky — especially if you're using a simple free theme.
WordPress's built-in shortcode feature makes it much easier.
A shortcode is, as the name suggests, a shortcut for code. Instead of copying and pasting a bunch of unwieldy code into the middle of your posts and pages, you can use a short, legible shortcode.
WordPress has just a few built-in shortcodes, like [gallery] and [video].
But the Shortcodes Ultimate plugin expands that list so that you can easily use all kinds of fancy formatting, styles, and content in your posts and pages.
(See this tutorial to find out how to use shortcodes in your sidebars.)
What Shortcodes Are Included?
Using the Shortcodes Ultimate plugin, you can easily add the following to your posts and pages:
accordions
spoilers (hidden/expandable content)
vertical or horizontal tabbed content
column layouts
video and audio
buttons in different colors, styles, and sizes
animations
QR codes
galleries, carousels, and sliders
tables
quotes, pullquotes, and dropcaps
…and more
How to Get Started
After installing and activating the plugin, you'll see a new Shortcodes menu option in your WordPress dashboard.
If you navigate to Shortcodes » Examples, you'll see several code examples you can copy and paste, and modify if you choose, in your posts and pages.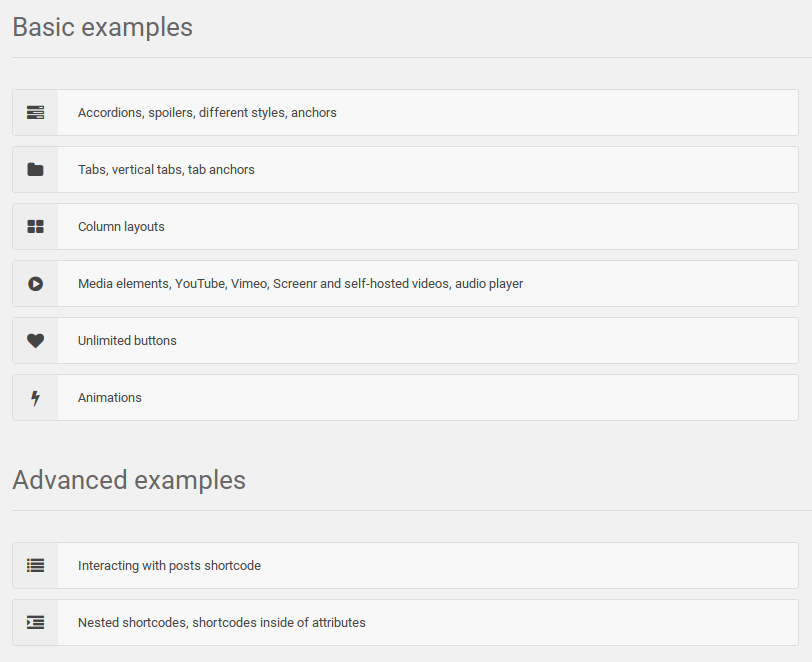 Each example has a Get the Code button you can click to see how the example is generated using shortcodes.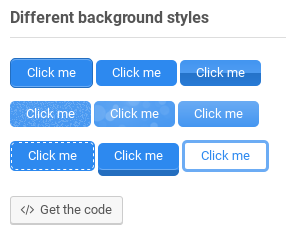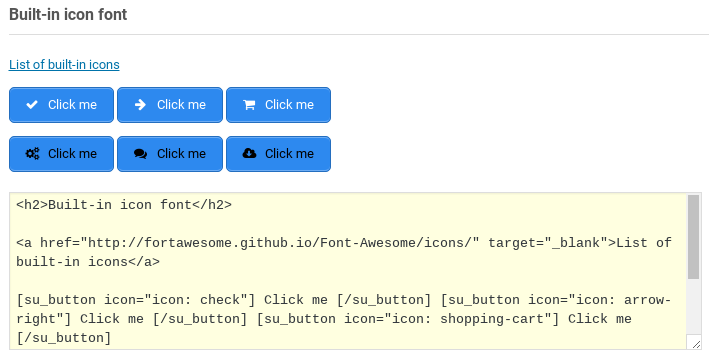 But those are just a few examples of the possible shortcodes. For a full list, along with possible attributes, you can go to Shortcodes » Cheatsheet.

Premium Add-ons
There are a few premium add-on plugins available that will add even more shortcodes to the plugin.
They include:
Extra Shortcodes: adds 15+ more shortcodes, including pricing tables, icons, and testimonials
Additional Skins: 60+ style skins for shortcodes such as spoilers, tabs, quotes and headings
Shortcode Creator: allows you to create your own custom shortcodes
Instead of buying each individually, you can save money by purchasing the Add-ons Bundle that includes all three.
Documentation and Support
The plugin includes a complete list of shortcodes and a few examples right within your WordPress dashboard. There's also an in-depth knowledgebase filled with 107 articles and tutorials and which helps with troubleshooting.
For support, you can post in the WordPress.org support forums. Almost every thread is well answered and the help from the community has improved over time.
Our Verdict
Shortcodes Ultimate is an easy way to add some advanced functions to any WordPress theme. It's easy to use and can help make your site more eye-catching and professional-looking.
Some shortcode features, such as the gallery or slider options, are very bare-bones and not very easy to customize. We recommend using more specialized plugins for those advanced features, such as Envira Gallery and Soliloquy. They're much easier to use, have lots more options, and will give you a more professional result.
We give Shortcodes Ultimate 4 out of 5 stars. Here is the breakdown of our review scores:
Get Shortcodes Ultimate Now »