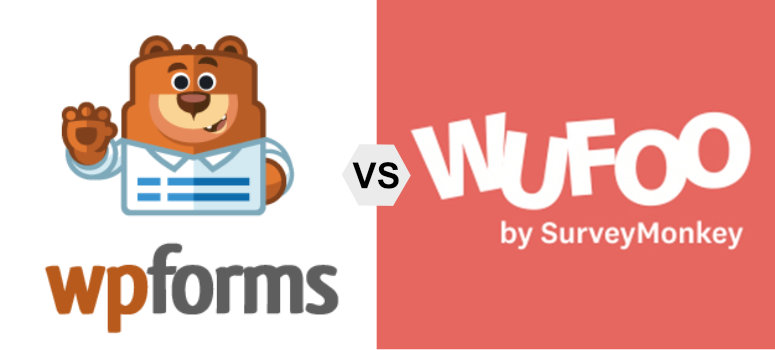 Are you looking for a Wufoo alternative? If you want to add a contact form to your WordPress website, making sure you pick the contact form plugin that's the best choice for you is important. So, if you're curious about which is the better contact form builder, WPForms vs Wufoo, you're in the right place.
In this article, we'll compare WPForms vs Wufoo so that you can determine which plugin is the best for your website.
We'll break down each contact form plugin and see how they measure up in each of the following categories:
Ease of Use
Features
Support
Price
Ready to dive in to the comparison between WPForms and Wufoo? Ok, let's get started!
Ease of Use: WPForms vs Wufoo
Being able to easily create forms with your contact form plugin of choice is important, especially for beginners. If you're have difficulties creating a form, you're wasting precious time and you'll be missing out on connecting with customers and converting website visitors into leads and sales. After all, what good is a contact form plugin if you don't even know how to use it.
Wufoo: Ease of Use
Wufoo is an online contact form builder by SurveyMonkey that claims users can create a beautiful contact form in minutes with their drag and drop builder.
To add a form field to your contact form, you simply drag the form field from the list of choices on the left over to your contact form on the right. You can also use one of their pre-made templates to get you started.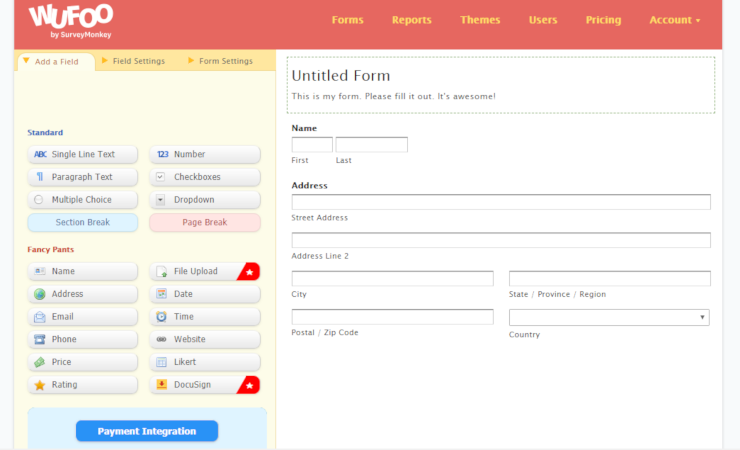 While adding form fields to your contact form seems simple enough, the rest of the Wufoo interface looks dated and isn't very user-friendly. The Field Settings and Form Settings are limited in what you can customize as well.
Wufoo gives you the option of choosing a theme in the form builder too. But you can't preview what each theme will look like. You have to pick a theme blindly and then hit the View Form button which will open up a new tab.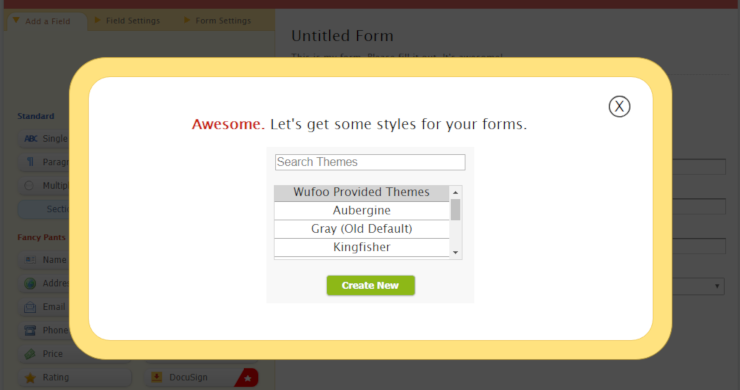 When you use their Theme Designer, the interface isn't drag and drop like they implied it was. There are also a ton of options for customization which can be overwhelming. If chosen, some of these styles can really end up hurting your brand more than helping it.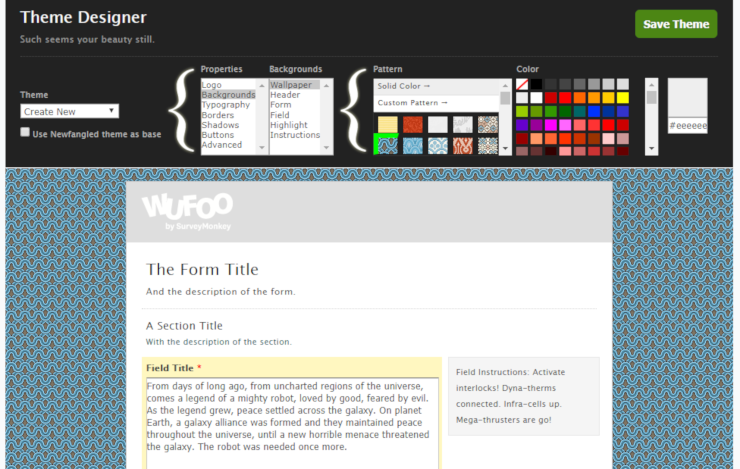 Plus, there's another issue when you embed a form onto your site. The background, header, and border style all disappear in order to make sure the form integrates on your website perfectly. This means if you want to keep everything you've just designed, you've got to go back and apply those elements with HTML or CSS. Which can be a complicated task for beginners.
So, while Wufoo claims you can create a form in no time at all, it actually takes a lot of A/B testing, experimenting and clicking around to create a form.
WPForms: Ease of Use
On the other hand, WPForms is the most user-friendly contact form builder available. WPForms focuses on usability and simplicity and it truly is a drag and drop contact form builder that requires no coding at all.
WPForms comes with a number of pre-designed templates for any type of form that you want to create. While Wufoo offers more templates, they're very difficult to locate in your account. But you can access all of WPForm's templates right in the WPForms Form Editor.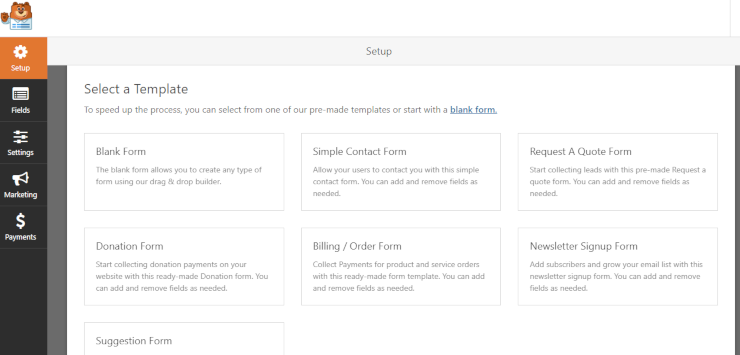 Adding new form fields to your contact form is super easy with WPForms. Simply drag and drop the form field you want onto your contact form. You can click on the form fields to make changes and you can see your changes in real-time on your form with the preview panel.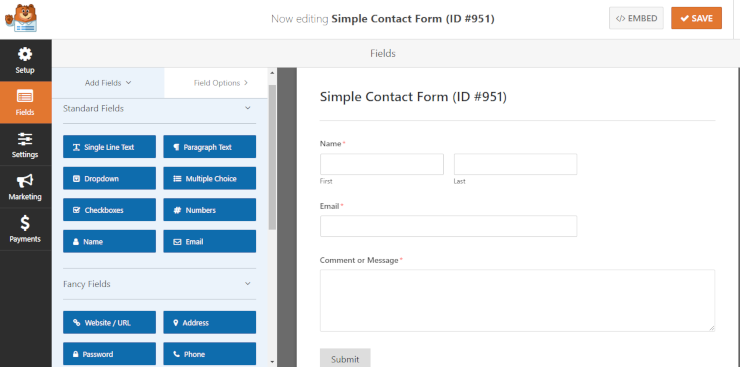 Plus, WPForms offers a variety of form fields for your contact form right out of the box. For instance, some of their unique form fields include:
File Upload
Star Rating
Checkboxes
GDPR Agreement
CAPTCHA
Password
Net Promoter Score
WPForms also allows you to make money online easily with their built-in payment form fields like Single and Multiple Items, Dropdown Items, Credit Card, Total, and more so that you can accept online payments right from your WordPress website.
On top of all of the awesome elements you can add to your contact form, once you're finished designing, you can embed your contact form on your website with 1 click.
So, if you want a contact form plugin that makes it easy to create a contact form right away and comes with a ton of extra built-in features, WPForms is the way to go.
Winner: WPForms
Features: WPForms vs Wufoo
Not only does a contact form plugin need to be easy to use, but it should also come with all the features you need to create a powerful contact form for your website. If you choose a contact form plugin and find out you can only accomplish the basics with it, or have to fork over a bunch more money for the extra features you need, then it's not a good choice. That's why having a variety of features is so important.
Wufoo: Features
Compared to WPForms, Wufoo's feature set is very limited. While Wufoo has a number of basic form fields like name, address, rating and file upload, they don't offer as many unique form fields like WPForms does.
In fact, here is a list of some of the features that Wufoo is missing compared to WPForms:
No specialty form fields like WPForms GDPR Agreement, Net Promoter Score, and others
Each Wufoo plan restricts the number of forms entries you can receive, even with the highest priced one
Since Wufoo hosts your forms for you, there are upload storage limitations
You can only track your analytics with the 2 most expensive plans
You can only accept online payments with the 2 highest plans
There are conditional logic limitations, even on paid accounts
So, not only is it more difficult to create a form on Wufoo but they don't offer many of the features you'll need for your contact form as your business grows. And when the limitations outweigh the features, it's time to consider a different contact form builder.
WPForms: Features
In comparison to the limited features of Wufoo, WPForms is bursting at the seams with built-in features. You'll have access to every element you need to make your contact form as powerful and unique as you need it to be.
The following is a list of just some of the stand-out features that WPForms offers:
Smart Conditional Logic – You can create as many conditional rules as you want
Unlimited Forms – You can create an unlimited number of forms and receive an unlimited number of entries, on any plan
Unlimited File Storage – Upload an unlimited amount of files and easily save and locate them in your media library
Entry Management – Manage all your entries right from the WPForms dashboard in an organized way
Spam Protection – Protect your forms from spam with built-in honeypot spam protection, CAPTCHA, customize your own CAPTCHA, or use Google reCAPTCHA
Automatic Form Confirmations – Let users know that you've received their entry with 3 different form confirmation types – Message, Show Page, and Redirect
Survey and Polls – Create surveys and polls for your site and get reports that display your results for easy analysis of data
Partial Form Saving – Don't miss out on leads with the ability to capture information partial form entries
Geolocation Tracking – Find out where your customers are located with geolocation tracking so you can send them messages that are relevant to them and their location
Post Submissions – Accept guest post submissions for your WordPress blog through the front-end of your website with post submissions for forms
Online Signature Capability – Collect signatures right on your forms for agreements and contracts
Form Permissions and Access Controls – You can protect your forms with passwords, schedule start and stop dates for your forms, and limit the number of entries you'll accept
Email Marketing Integration – Connect your form to email marketing services like SendinBlue, Constant Contact which is a great alternative to MailChimp and others.
With the outstanding number of WPForms features you get for almost any of their plans, your options for creating high-converting forms are limitless.
Winner: WPForms
Support: WPForms vs Wufoo
Even if you're experienced with form builders or websites, things can go wrong sometimes and you'll want to know that you have help any time a problem arises. When choosing a new contact form builder, you need ample support in case you run into any issues when creating your forms or managing your account.
Wufoo: Support
With Wufoo, you only have 2 ways of accessing support: You can either send them a message through their generic contact form or you can search through articles in the Help Center.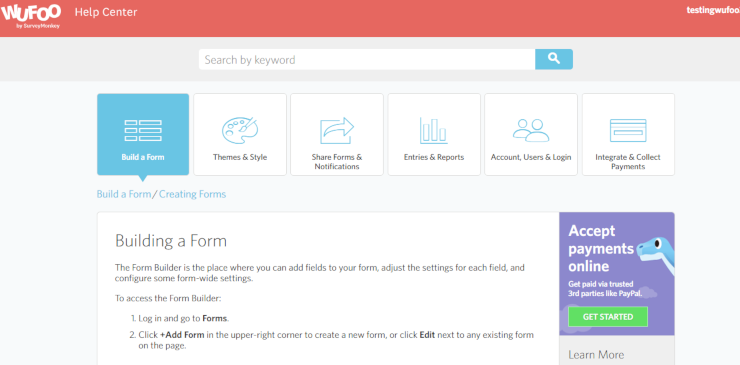 Wufoo gives no guarantees or assurances for when they'll answer your message if you use their contact form for support. They could take a few hours to reply or a few days, you just don't know.
The Help Center isn't always useful either. For example, when we typed in "not getting email notifications" into the keyword search bar, no articles came up for troubleshooting this issue. In a similar circumstance, customers would be forced to contact Wufoo via their contact form and hope for a speedy reply.
WPForms: Support
On the other hand, WPForms offers a variety of support channels for their customers. Not only does WPForms offer more support but you can rest-assured that your questions will be answered as soon as possible.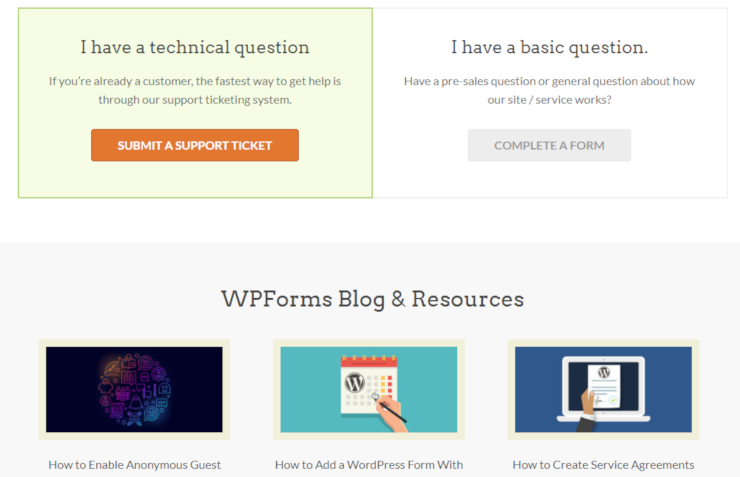 You can access the support ticket system to get your questions answered. The WPForms team lets customers know that they answer support tickets within 24 hours on weekdays. So, you won't have to wonder when you'll get a solution to your problem.
They also provide you with a Documentation section that includes documentation, reference materials, and tutorials in categories such as:
Getting Started
Functionality
Styling
Extending
Addons
Account Management
WPForms also offers another amazing resource for support, their blog. You can find a ton of articles and tutorials, with screenshots included, that will show you how to do pretty much anything with WPForms. Plus their blog gives you tips and tricks on how to create high-converting, beautiful forms.
If you're looking for more comprehensive support for a form builder, look no further than WPForms.
Winner: WPForms
Price: WPForms vs Wufoo
The cost of the online form builder you choose is typically one of the most important factors, especially if you're just starting out and budget is an issue. You never want to pay too much and get too little in return, so remember to do your research to compare price vs. what you get.
Wufoo: Price
Wufoo has 5 different plans to choose from. They offer a free plan, but like we mentioned previously, you can only create 5 forms and receive 100 entries. Clearly, the free plan is not suited for any business.
They offer 4 expensive premium plans, ranging from $14.08/month to $183.25/month. When billed yearly the Professional plan works out to be a whopping $349.00 (more if you pay monthly), and you're still only allowed to receive 5000 entries. The Advanced plan costs a staggering $889/year for 25,000 entries and access to all the features they offer. And to be able to get 200,000 entries, you'll have to fork over an astounding $2199/year.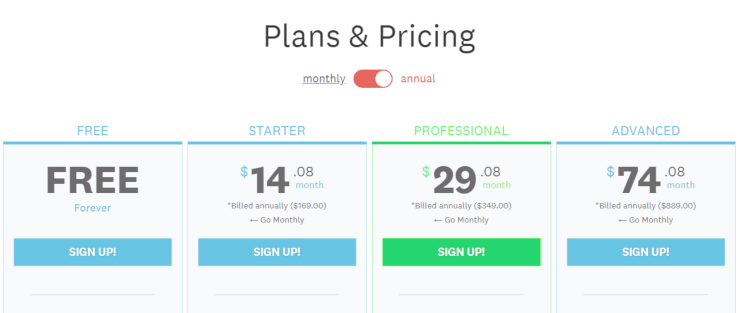 Wufoo also charges you if you exceed the amount of entries allowed for the month. You'll get charged $0.05 for each entry you receive that's over the limit, which can really put you in the red.
So, with Wufoo, you're paying a ton of money and not getting a lot to show for it.
WPForms: Price
WPForms on the other hand is much more affordable and you get a lot more bang for your buck. They offer a free version and 4 different premium plans ranging from $39.50/year for the Basic plan to $299.50/year for the Elite plan.
As you can see, all of WPForm's premium plans are far less costly than even Wufoo's Basic plan with a ton of limitations.
All of WPForms premium plans are unlimited. You can create as many different forms as you want and receive an unlimited number of form entries.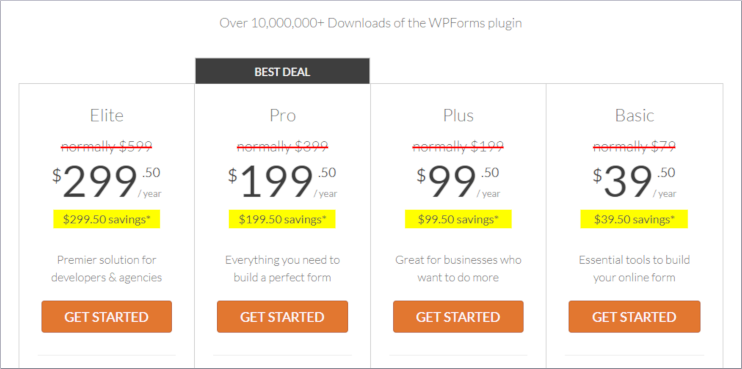 With WPForms most popular plan, Pro, you only pay $199.50/year and you get access to almost every feature they offer including email marketing service integration. But with the equivalent Wufoo plan, you'll be paying $349.00/year.
Overall, with WPForms you'll be paying way less for an amazing, easy-to-use tool that's chock full with a ton of features. And with Wufoo, you'll be paying an arm and a leg for less than half of the features that WPForms offers.
Winner: WPForms
Conclusion: WPForms vs Wufoo: Which is Better?
While Wufoo appears to be a user-friendly contact form builder, upon closer inspection it's much more difficult to use. Not only is there issues with the interface but Wufoo just doesn't have a feature set to write home about. You'll also have to take a big handful out of your wallet every month to use it and you don't even to receive as many form entries as you want. And who wants to put a limit on the leads and sales you could be getting?
WPForms is the clear winner. You want a contact form builder that's easy-to-use and comes with a ton of features that will make your contact form even mightier. You can get all that with WPForms, and for a reasonable price too. Get Started with WPForms Today!
We hope we've helped you find an awesome alternative to Wufoo in WPForms. If you liked this article and want to check out more of our contact form plugins comparisons, check out our article on the 7 Best Contact Form Plugins Compared.