Twenty Sixteen is the default theme for WordPress created by Automattic. Whenever WordPress is installed for the first time, Twenty Sixteen is installed and activated along with it, making it one of the most used WordPress themes in the directory. Find out about its features in our Twenty Sixteen review.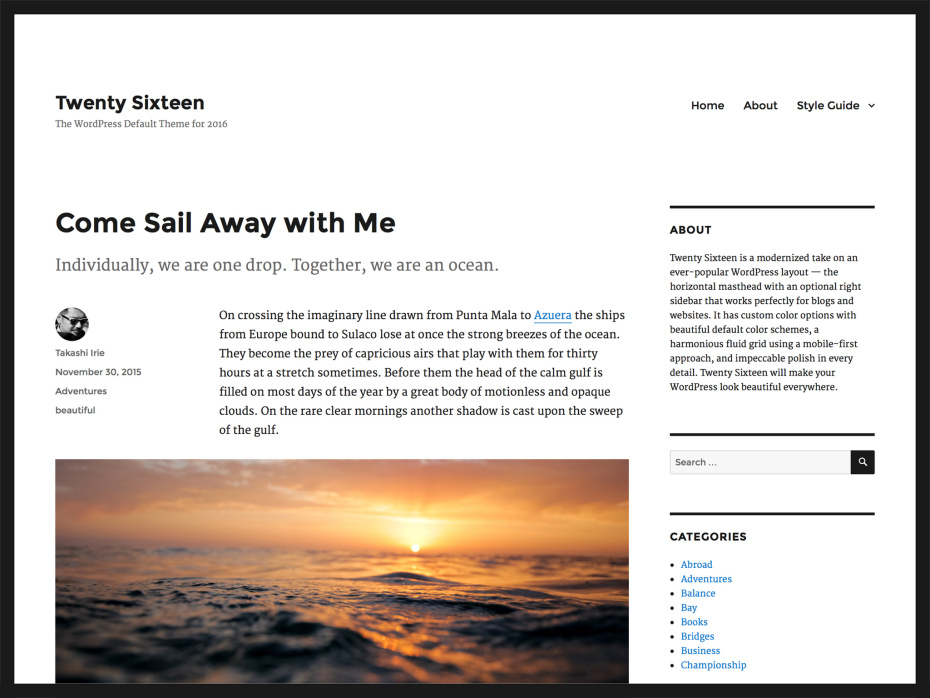 About Twenty Sixteen
The Twenty Sixteen theme belongs to Automattic's series of default themes for WordPress, each named after a year. Like Twenty Fourteen and Twenty Fifteen, Twenty Sixteen was designed by Takashi Irie.
Twenty Sixteen was first released in August of 2015 to coincide with the release of WordPress 4.4.
It's designed to be a modern, minimalist take on the traditional WordPress blog layout, with a focus on good typography and design principles.
"Twenty Sixteen is a modernised approach of an ever-popular layout — a horizontal masthead and an optional right sidebar that works well with both blogs and websites. It has custom color options that allow you to make your own Twenty Sixteen. The theme was designed on a harmonious fluid grid with a mobile first approach. This means it looks great on any device."

Takashi Irie
Features of Twenty Sixteen
As a default WordPress theme, Twenty Sixteen doesn't have the advanced features of premium WordPress themes. Instead, it focuses on the basics: minimalist design with good typography in a theme designed especially for bloggers.
Fully Responsive
Twenty Sixteen is fully responsive and designed to look good on any size screen. On smaller screens, your sidebar is moved to the bottom of the page and your menu is hidden behind a Menu button at the top of the page.
Images also automatically expand and contract to fit the screen size.
Large Overhanging Images
With Twenty Sixteen, you can show off your large images within your post, without them getting in the way of your other content. On large screens, images that are larger than 840px (the width of the main column) will automatically overflow onto the left side of the page: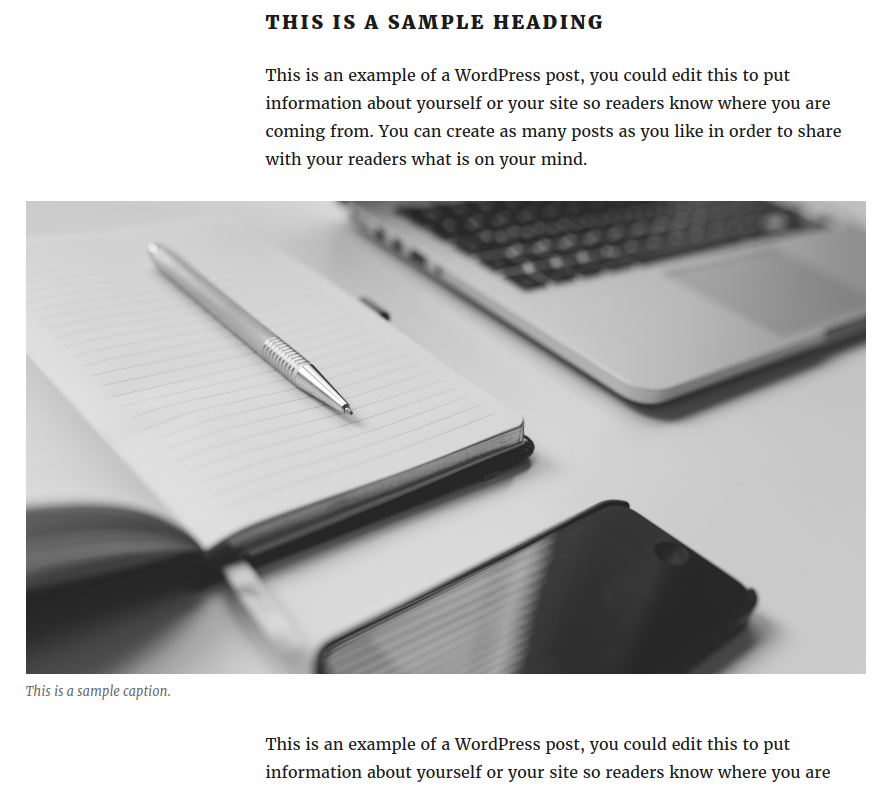 And if you're using the full-width, no sidebar layout, your featured image can expand up to 1200px.
Unique Typography
Twenty Sixteen has some unique typography features to give the minimalist design some interest.
One is a pullquote feature that's sure to grab your readers' interest. If you add the class alignleft or alignright to any blockquote, it will be automatically styled as a pullquote that overhangs the column.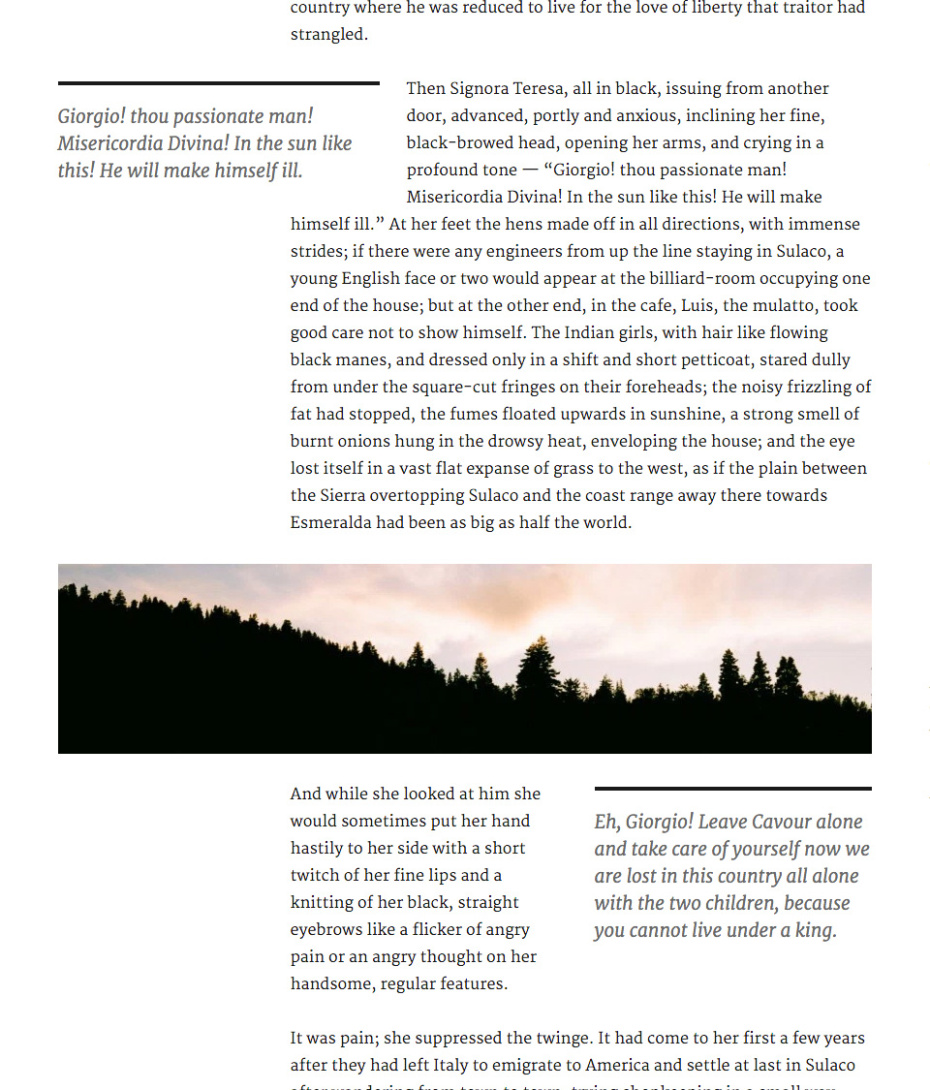 There's also a neat post intro feature. Just add an Excerpt to your post (available in the More Options area of the Post Editor sidebar).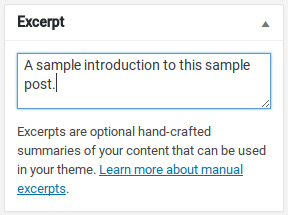 Now the excerpt will appear as a subheading under your post title, right above your featured image.

Design Customization Options
You can choose from four different background color options, or select your own colors, by navigating to Appearance » Customize and clicking on Colors in the left menu.

Using the Customizer, you can also upload your own header image, background image, and site logo.
Widget Areas
Twenty Sixteen includes three widgetized areas: one for a right sidebar, and two that appear below your content.

If you have widgets in the sidebar, it will appear on every page and post.
(If you prefer a full-width layout with no sidebars, just remove all widgets from the sidebar area and the content will automatically fill the full width instead.)
The "Content Bottom 1" and "Content Bottom 2" widget areas won't show up on the front page of your site. They only appear on individual posts and pages.
On pages, the widgets will appear right after your page content, in the same column — it's not a full-width footer.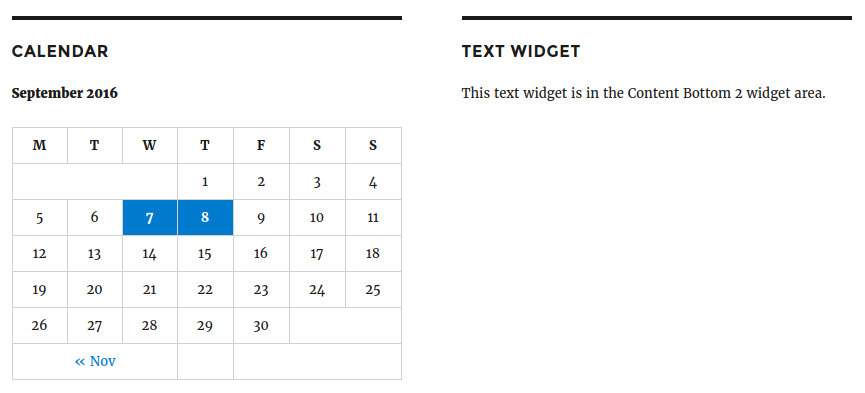 On your individual posts, the widgets will show up after the previous/next post navigation: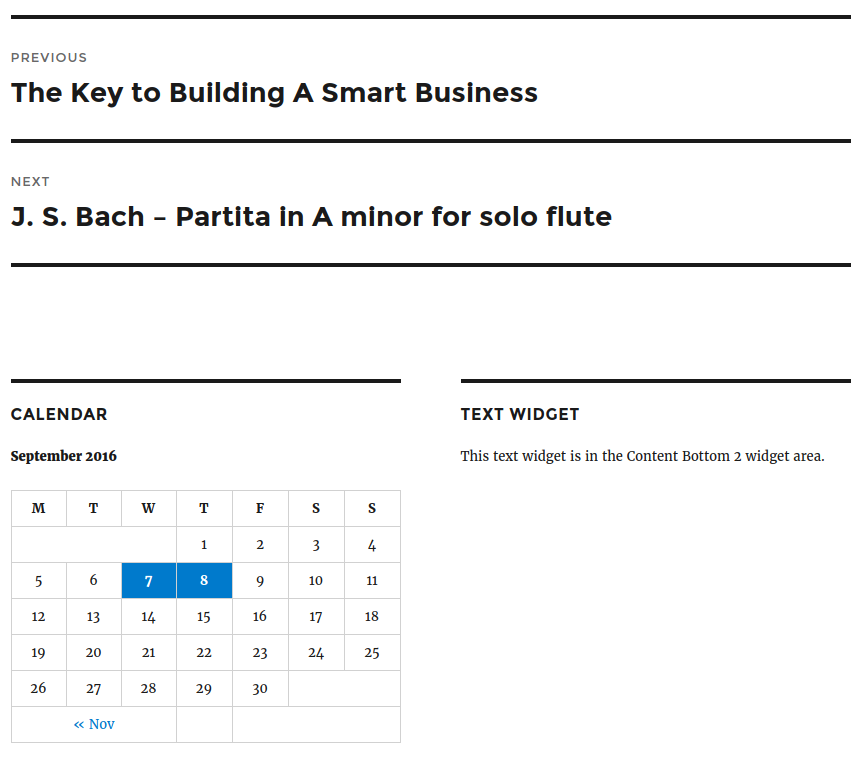 Pagination Options
At the bottom of your blog, users can navigate using both numerical pagination and arrows.

Two Menu Locations
Twenty Sixteen includes two built-in menu locations: the primary menu (located in the header) and a "Social Links Menu."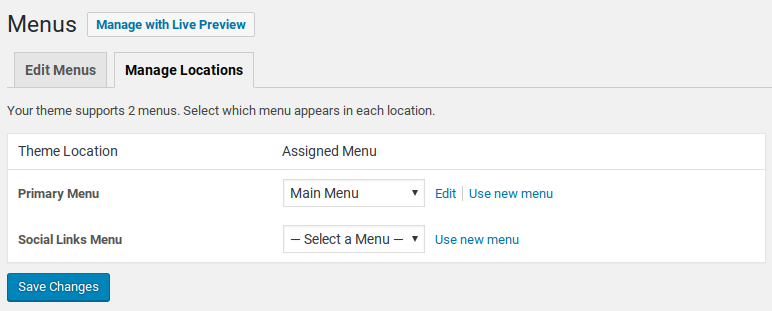 The social links menu is designed to automatically change social media links into icons. You'll need to create a new menu using custom links to your social media profiles, and then set it as the Social Links Menu.
Once you do, it will automatically turn those links into icons, placed on the right side of the footer.
Documentation and Support
Twenty Fifteen is the default WordPress theme included with every installation, and is also available for free on WordPress.org. There you can find basic documentation on its features and how to get started.
Because it's the default theme, most plugins are tested using this theme and are likely to be compatible.
If you come across any problems with the theme, or need help setting it up, you can post in the WordPress.org support forums and the community may be able to help.
Our Score
As a basic theme, Twenty Sixteen may be a good choice for simple personal blogs. It's a nice looking theme with some basic customization options that can help you to make it more your own.
Twenty Sixteen is a nice basic theme, but we did find some of the design decisions a bit odd. For example, some bloggers might find it inconvenient to have "Content Bottom" widgets appear only on single posts or pages, but no footer widgets available. The Social Links Menu is a little awkward to use and could have been more easily achieved as a widget. Also, the CSS used to underline links is non-standard (using "box-shadow" instead of "text-underline") and can interfere with the CSS of your plugins.
If you're looking for more advanced features and customization options, or just a different look than the WordPress standard used by millions of others, you'll need to invest in another theme. Check out our top WordPress theme reviews for more options.
We give Twenty Sixteen 3 out of 5 stars. Here is the breakdown of our review scores:
Get Twenty Sixteen Now »