Twenty Fifteen is one of the default WordPress themes. It came pre-installed and activated on new WordPress installs. Many users didn't change it and used it for their blogs which made it one of the most widely used WordPress themes. Find out more in our Twenty Fifteen review.

About Twenty Fifteen WordPress Theme
Since 2010, WordPress started releasing a new default theme for each year. Twenty Ten was the first theme that was released as part of this tradition. Twenty Fifteen, as the name suggests was the default WordPress theme for the year 2015.
Twenty Fifteen was first released in December 2014 with WordPress 4.1. It was preceded by Twenty Fourteen, and succeeded by Twenty Sixteen. It remained the default WordPress theme during three major WordPress releases 4.1,4.2, and 4.3.
Takashi Irie designed Twenty Fifteen theme. It is blog centric theme with the focus on mobile-friendliness and readability across devices.
Features of Twenty Fifteen Theme
Twenty Fifteen is a default WordPress theme, which means it does not have the whistles and bells of a premium WordPress theme. It comes with fewer standard features and focuses more on the design, typography, readability, and usability.
Large Featured Images
Twenty Fifteen allowed users to use large high quality images as featured images on their site. The recommended size for featured images was 826 pixels.
For images smaller than the recommended sizes, it adds padding on both sides to center the image. This kind of looks incoherent and can be an issue for site owners who are thinking about switching the theme.
Beautiful Typography
Twenty Fifteen was designed with the mobile-first approach. The design emphasized on improving the readability on smaller devices like mobile phones and tablets.
It used Google's Nato Font family, which provides a wide range of character sets for many of the world's most commonly used languages. This step ensured that Twenty Fifteen was equally usable for sites in any language.
The theme features slightly larger font sizes in the content area and smaller in the sidebar. There is plenty of padding and margin used in content area to create an spacious reading space.
Unlimited Colors
Twenty Fifteen came with six built-in color schemes. The default color scheme is light, other schemes included are Dark, Yellow, Pink, Purple, and Blue.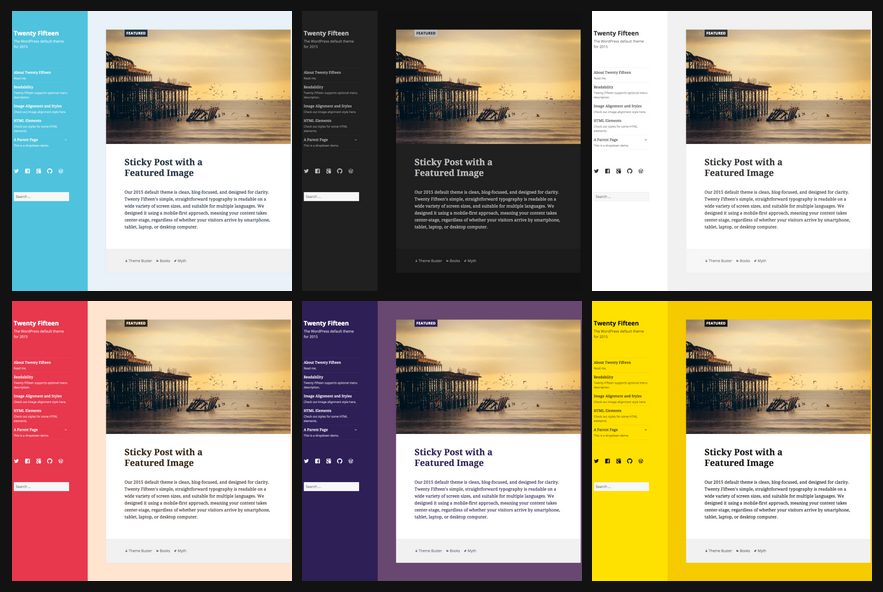 Twenty Fifteen also allows users to change colors using the Theme Customizer. Users are able to change sidebar and header text colors, sidebar and header background color, and the main background color. This feature provided an unlimited number of color choices that users can use on their website.
Header and Background Images
Twenty Fifteen comes with custom header and background feature. It allows users to upload and use their own background images in the header and background area. It is important to note that the header in Twenty Fifteen is the same as sidebar.
Two Menu Locations
Twenty Fifteen came with two menu locations. One menu location is for site navigation and the other menu location is for social icons.
Documentation and Support
Twenty Fifteen comes as part of WordPress and hence documentation and support is provided through WordPress.org support platform.
It has its own documentation page on the WordPress codex. Apart from that users can also use WordPress support forums to post their questions about the theme or troubleshoot issues. It is used by thousands of users so there are lots of child themes and tutorials available for it.
Twenty Fifteen is a default theme so most plugin developers test their plugins on it. This means it supports any popular plugin that you may want to use.
Our Score
Twenty Fifteen is a good choice for personal sites and small blogs. If you do not want to add any new features to your site in the coming days then you can use Twenty Fifteen. However, in the long run users will find it limiting in several ways.
We will give Twenty Fifteen 3 out of 5 stars.
Get Twenty Fifteen Now »