Are you looking for a Pinterest style WordPress theme? Themify Pinboard is a flexible theme that offers variety of features for a personal blog or any other image and video site. In this Themify Pinboard review, we'll show its features in details and help you decide if it is the right theme for your needs.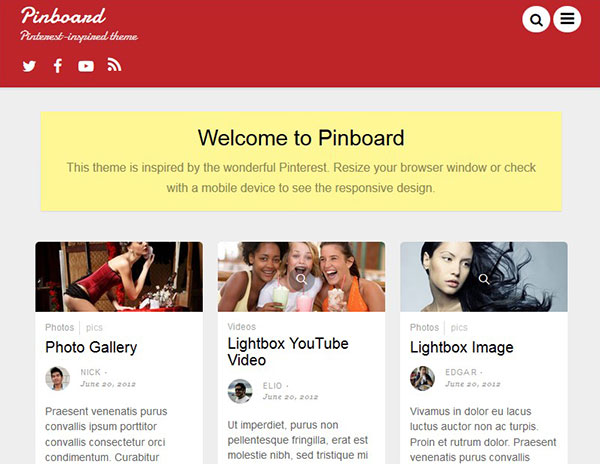 About Pinboard
Themify Pinboard is a theme for Pinterest lovers, with a similar display and presentation for your posts. It's a fully responsive theme with a stacking layout that adjusts to any screen size. Like Pinterest, it also has an infinite scroll, so your users can see as many posts as they want on one page.
The theme layout allows you to post images, photo galleries, lightbox, videos, and more. It's a versatile theme that can be used on a personal blog, portfolio site, videography site, and others.
Features of Pinboard
The theme has multiple features like infinite scroll, auto stacking layout, sticky header, social share options, welcome message, multimedia postings and more.
Let's take a detailed look into the features of Themify Pinboard to see if this is the right theme for your needs.
Auto Stacking Boxes
The layout of Pinboard theme is similar to Pinterest, with your posts stacked beautifully on all screen sizes. Having the post boxes will make it easier to display posts responsively on mobile and tablet devices.
You can customize the spacing between the posts. It also allows you to manage the number of containers in a row according to your need.
Welcome Message
Themify Pinboard displays a welcome message below the header when the site loads in your computer browser or mobile. This welcome message can be anything that you want your users to read in the first look.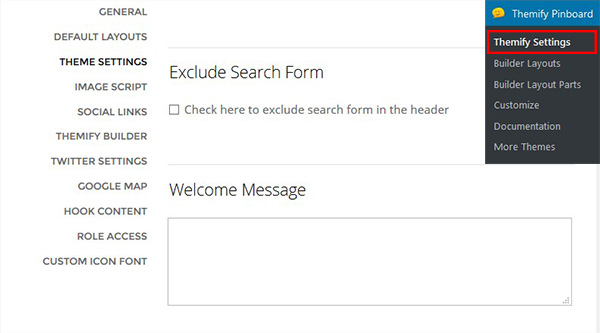 By default, it is disabled. To add this welcome message, you need to go to Themify Pinboard » Themify Settings » Settings » Theme Settings and scroll down to the Welcome Message field. You can customize the styling of this welcome message from the theme customizer.

The default styling of the welcome message is very attention-grabbing, and the engagement of the visitors will increase your page visit time which is good for the search engine rankings of your site.
Skins
This theme offers multiple skins (layouts) that changes the color of all the banners. You can easily shift to any of the available skins by going to Themify Pinboard » Theme Settings » Skins.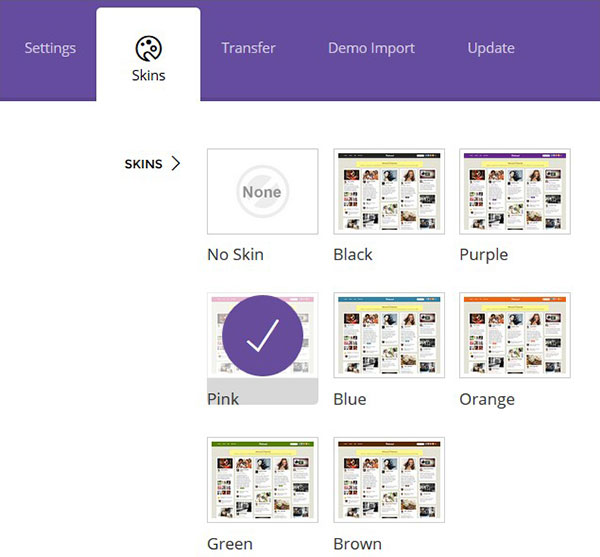 There is an option to select No Skin that will display the default layout of Pinboard theme on your WordPress site.
Theme Customizer
It works similar to the default WordPress customizer with a lot of editing options for the theme. You can completely customize the font, border and space settings. Font settings include the color, style, size, and more.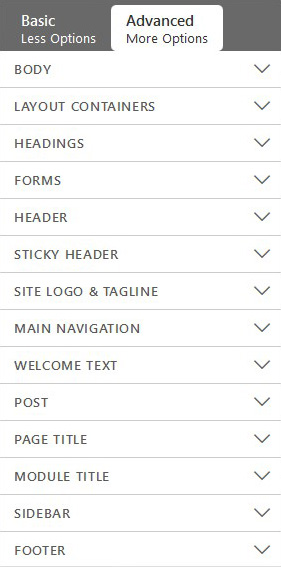 In the advanced options, it allows you to modify the styling of the header, headings, body, forms, navigation, welcome message, posts, pages, and more. It has a detailed styling options that covers every bit of your need.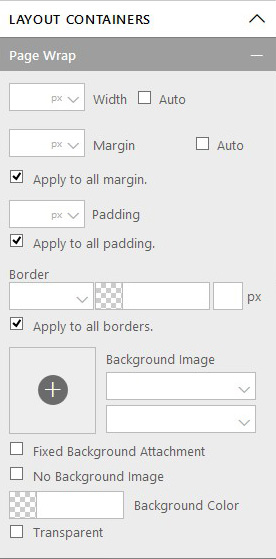 The image above shows the Layout Containers options covered by advanced customizer which is almost similar to each setting of the theme. It also lets you manage the spacing with margin and padding.
Multimedia Posts
Pinboard supports multimedia postings in the featured area of your posts. It can be the video, image, lightbox, or photo gallery. The lightbox will display a search icon to popup the image, and video will show a play icon that let you play the video in the thumbnail. However, it has the option to play video on the fullscreen.
Image gallery will popup in the lightbox and display the photos. This photo gallery may not have the navigation. If you are looking for a powerful WordPress gallery, then check out this guide on how to create an image gallery on your site.
Documentation and Support
The documentation of Themify Pinboard has a long scroll that walks you through the installation of theme and list of features. All tutorials are well explained step by step with screenshots.
In case you need any assistance you just need to check out the documentation provided, and you will get to know the solution for your query.
Themify offers support on their own forums and emails. You can post your questions to these forums for a quick response.
You can purchase Themify Pinboard for a one-time fee of $49. It comes with a buy one get one offer, so you can download another theme for free. You are allowed to install the theme on as many sites you'd like.
If you don't like this theme for any reason, then Themify offers a 30-day money back guarantee. It's valuable time to learn more about the theme you purchased and decide whether to keep it.
Themify themes comes with one year support and updates. To access all the Themify themes, you can join their Theme Club for just $79.
Our Score
Themify Pinboard is a WordPress theme for portfolio sites, personal blogs, photographers and videographers. With its infinite scroll, it can engage your users for a longer period.
The media options allow you to add images, videos, lightbox and more other media to the posts with an author image, comments, and few more options.
We give Themify Pinboard 5 out of 5 stars. Here is the breakdown of our review scores:
Get Pinboard Now »