Do you want to create a stunning parallax floating effect on your website? Themify Float comes with tons of parallax floating layouts to choose from, so you can import a layout or design a brand-new one using its built-in drag and drop builder. In this Themify Float review, we'll show you its features and explain why it is the best theme for creating parallax floating effects on your site.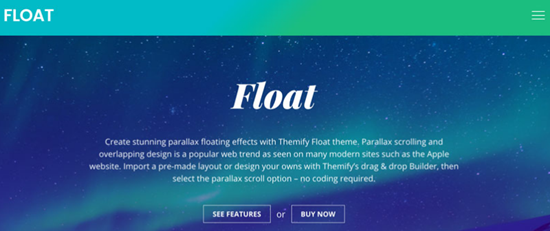 About Themify Float
Themify Float is a WordPress theme that is focused on creating various parallax floating effects on your site. Parallax effects are one of the popular web design trends, and it's used on many modern sites including the official site of Apple.
A parallax effect is when the background content or image moves at a different speed than that of foreground content.
Just like every Themify themes, Float is also bundled with many built-in features like Themify drag and drop builder, WooCommerce support and much more.
Features of Themify Float
The main benefit of using Themify Float is that you can easily build any kind of parallax effect with ease without having to write a single line of code. The theme is coded with WordPress SEO best practices in mind. It is bundled with tons of different layout editing options, so you can easily edit the look and feel of your site.
Let's take a look at some of its awesome features below.
One-click Demo Setup
Upon theme activation, you'll be given an option to import the demo site with just a single click. You can import the demo and edit its content later. If you prefer not to import the demo right away, you can import it later using the Import tab of the Themify Panel.

Alternatively, you can build a custom layout from scratch using the Themify framework.
Powered With Themify Framework
Themify Float is bundled with drag and drop builder that lets you create any kind of layouts with live preview. You can see a Themify Custom Panel in both your post and page editor. With this panel, you can easily build any type of layouts by dropping a module on the grid where it says 'drop module here.'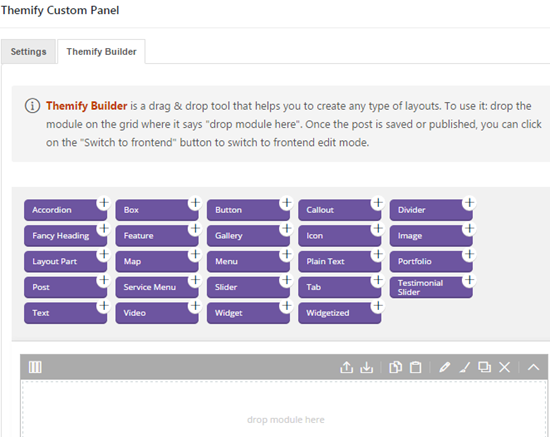 After saving the post, you can click on the Switch to frontend button to switch to frontend edit mode.
Best of all, the drag and drop builder works regardless of the device you're using whether it is computer, tablets or mobile.
Themify Portfolio Posts
Themify Float recommends that you install the plugin Themify Portfolio Post. This plugin creates a new custom post type known as portfolios. This custom post type can be an excellent feature for you if you want to showcase your work in masonry style.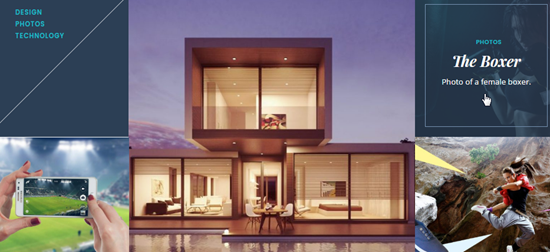 In addition, by enabling an infinite scroll feature on your site, you can show more posts to your visitors when they approach the bottom of your page.
Parallax Layouts
With the drag and drop builder, you can easily create a custom parallax layout from scratch or choose from a list of pre-built parallax layouts. After choosing the layout, you can double click on it to edit the content.
Built-in Shortcodes
Themify Float comes with a list of shortcodes to pick from. It helps you to quickly insert content like Flickr photostream, columns, and custom sliders with just a single click without having to write a single line of code.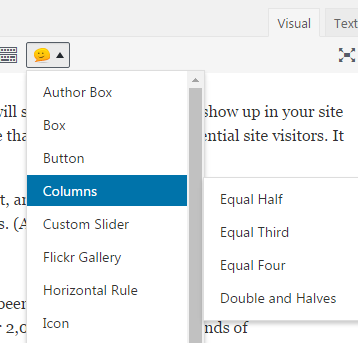 Advanced Theme Customizer
With the default theme customization options, you can change the appearance of the site by looking at the live preview. In Customizer, you'll find two tabs: Basic and Advanced customization options.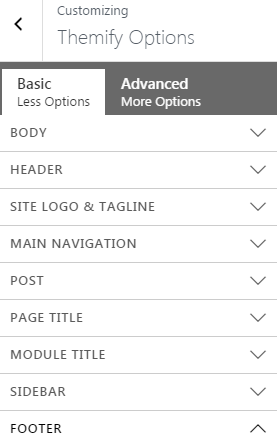 The main difference between those two tabs is that the basic tab gives you fewer options to customize whereas advanced tab gives you more customization options.
Infinite Scroll Pagination
Infinite scroll feature allows your visitors to see the next page of your site without having to click on the pagination. To enable infinite scroll pagination, go to Themify Float » Themify Settings. Then, select the option Infinite Scroll.
Documentation and Support
The Themify Float theme's documentation explains everything you need to know about building a beautiful website with parallax floating effect.
Every tutorial is documented as a step by step guide with useful screenshots. It also contains a video that explains how to design custom parallax layouts with Themify Float. You can post your support questions on the Themify forums. Themify is well-known for its fast response time.
Themify float is available for a one-time fee of $49. When you purchase Float, you can download another Themify theme for free.
You can use the Themify themes on unlimited sites.
Our Score
Themify Float can be a great fit for you if you're looking for a powerful theme that allows you to easily create parallax floating effect on your site.
Out of the box, the theme comes with lots of customization options. It is also 100% responsive, so it looks great on any modern device and resolution.
Best of all, Themify Float is powered with Themify builder, one of the easiest drag and drop page builders for WordPress.
We give Themify Float 5 out of 5 stars. Here is the breakdown of our review scores:
Get Float Now »