Looking for a professional news WordPress theme? News Pro is a beautiful and eye-popping designed theme for content-heavy news websites powered by Genesis framework. In this StudioPress News Pro review, we'll show its features and help you decide if it is the right theme for your needs.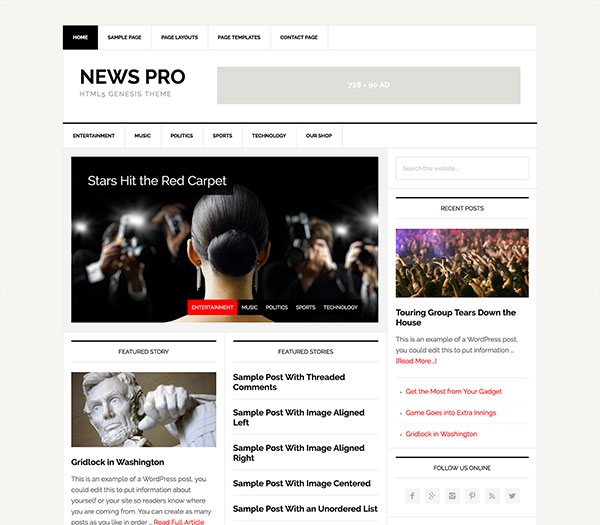 About News Pro
News Pro is a StudioPress theme, known for their powerful and simple WordPress themes in the web industry. Most of the StudioPress themes are powered by Genesis Framework which is powerful, fast, and easy to set up. News Pro is the perfect theme for professional news websites and online newspapers that posts a lot of articles, images and audio and video content.
The theme is made easy by the powerful widgets and widget areas for each area of the website to add content, links, images, and more.
Features of News Pro
StudioPress News Pro has a range of widget areas from header to footer to add your content. The customization panel covers all the website colors, header image, breadcrumbs, menus and more.
Let's take a detailed look into all the features of News Pro:
Widget Areas
In any WordPress theme, the first thing you should check is their widget areas. Most of the StudioPress themes has amazing widget areas, so the set up becomes simple. These widget areas help the users to add the content and links on the website easily.
News Pro have over 10 amazing widget areas for header, sidebar, footer and more.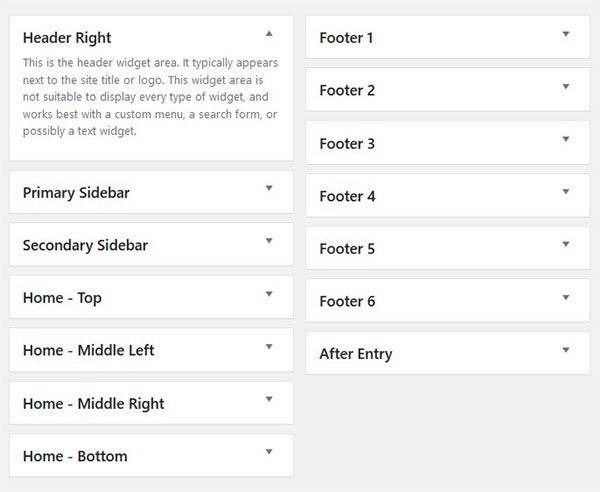 Let's talk about few of the important widget areas in this theme:
Header Right: This widget area is available in most of the news themes by StudioPress. It is not suitable for all the widgets. The widgets added here will display next to the logo or site title. The recommended widgets are mentioned in the widget area box.
Homepage: Homepage widget areas are like Home – Top, Home – Middle Left, Home – Middle Right, and Home – Bottom. These widget areas will help you arrange your content beautifully on the homepage. The home top widget area is for the image or video slider. However, the middle left and middle right are for the featured stories. Same is for the home bottom area.
Footer: News Pro theme has 6 widget areas for the areas. It means you'll have 6 columns to add your links, text and more.

News websites have different content categories. These widget areas makes it easy for you to add easy navigation for your users.
After Entry: It is an important widget area for the news websites. The widgets added in this area will be displayed after every post.
Featured Stories
The Genesis widgets has featured posts widget. This widget has amazing details for adding the featured stories on your website. It is recommended to display the featured stories on the homepage using the widget areas.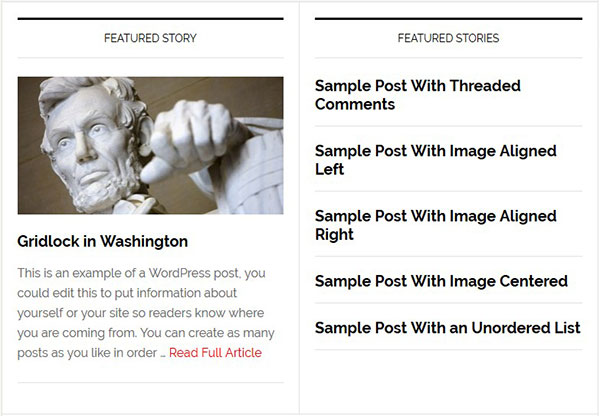 You can rearrange the settings of this widget in different widget areas to display featured content for users uniquely.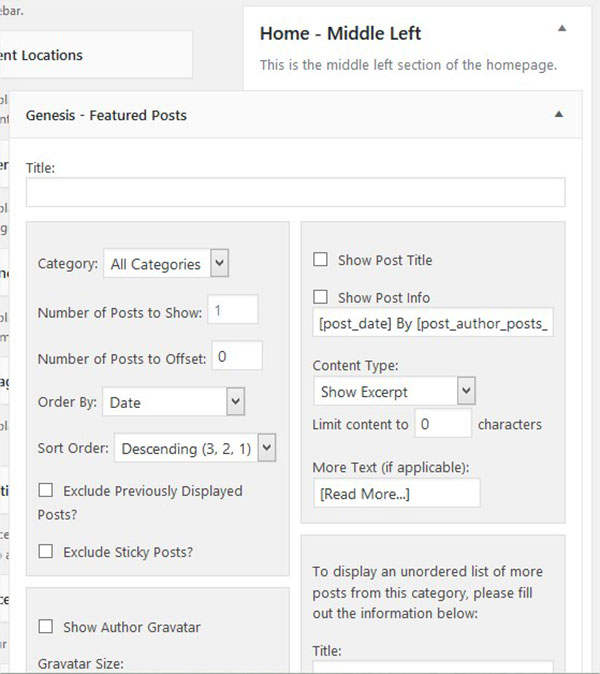 It allows you to increase or decrease the number of posts, author details and more.
Custom Panel
Every WordPress theme has a standard custom panel to easily manage the settings. These settings has a preview on the right side of the screen. The custom panel of News Pro theme has the options for colors, header image, background image, menus, widgets and more.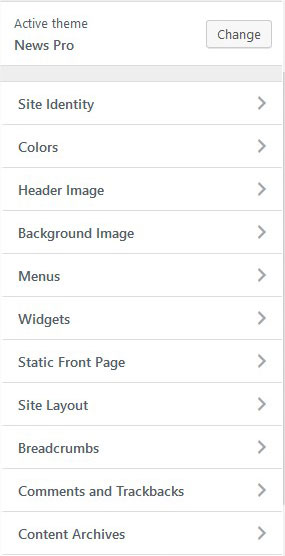 Few of the important settings in the custom panel are:
Colors: In this setting, you can change the colors of the links, footer links, hover links and buttons.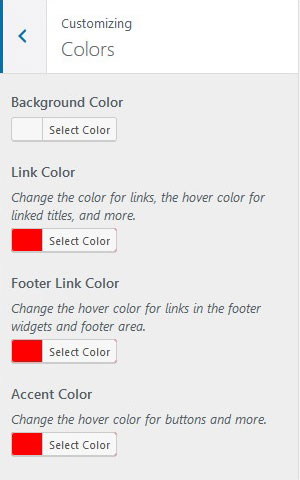 Header Image: The header image has a size mentioned. You can add the image easily from the header image option.
Background Image: It allows you to display a fullsize background image. Simply upload the photo and check the preview on the right side of your screen.
Site Layout: There are 6 layouts available in this theme. You can easily shift to any site layout and see the preview.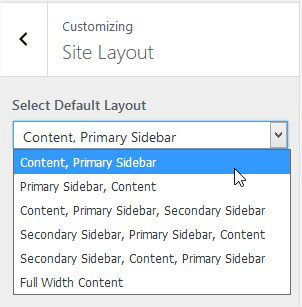 The settings can be changed anytime till you get the desired result.
Breadcrumbs: Simply enable or disable breadcrumbs from this option for the different pages, posts including homepage.
Comments and Trackbacks: You can easily enable or disable comments and trackbacks for the pages and posts from here.
Content Archives: News websites has content archives option to manage listings of the blogs. The settings in the custom panel covers all you need to manage your content archives.
Responsive Design
News Pro theme has a responsive design to arrange the content beautifully on any screen size. The theme adjust your posts, images, and videos automatically for any mobile device.
Documentation and Support
With News Pro you get access to detailed, step-by-step tutorials on how to set up the theme for your site just like the demo.
StudioPress News Pro is available for a one-time purchase fee which allows you to use the theme on an unlimited number of sites. You also get access to unlimited email support. StudioPress is known for the quality and speed of their user support.
If you're a fan of the Genesis framework, you can save a lot of money by investing in StudioPress ProPlus. With a one-time fee, you get access to all StudioPress themes, plus lifetime updates and support. You'll also get automatic access to any new themes they release in the future.
Our Score
StudioPress News Pro is a WordPress theme for content heavy and professional news websites and online newspapers. The layout of the theme is simple with easy navigation for your users.
Also, we found the theme to be easy to use with just enough customization options. It is built on the Genesis framework, which is fast, lightweight, and well-coded. Plus, it includes excellent unlimited support and lifetime updates for just a one-time fee.
We give StudioPress News Pro 5 out of 5 stars. Here is the breakdown of our review scores:
Get News Pro Now »
If you liked this article, then please consider following us on Twitter and Facebook. If you have any questions, please let us know by leaving a comment below.